This post contains affiliate links. As an Amazon Associate, I earn from qualifying purchases.
This shop has been compensated by Collective Bias, Inc. and its advertiser. All opinions are mine alone. #PrepSealSave #CollectiveBias
Maple pecan pie is a classic dessert for the holiday table. Using maple syrup gives it a wonderful special flavor.
Pecan harvest season in the South lines up neatly with the holiday season. More than once we've been gifted with the overflow from our friends' trees, and I'm not one to turn down an edible present.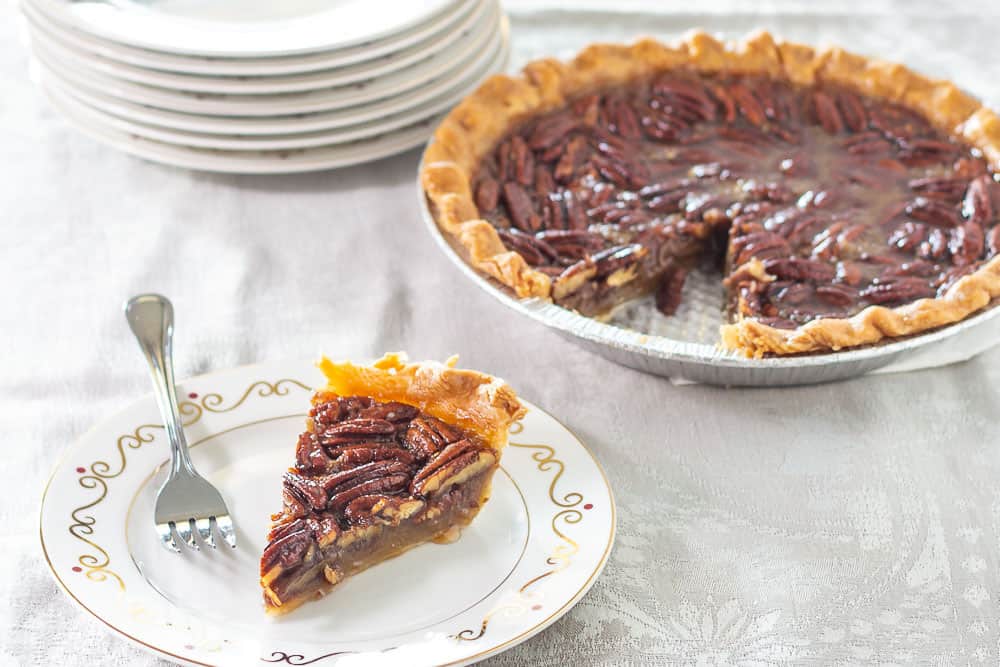 Fittingly, I didn't eat pecans until I moved to Texas, but now I love them. Their warm, slightly sweet flavor makes them perfect to bake with, such as in cranberry pecan streusel coffee cake or in salted caramel pecan blondies.
And, of course in pecan pie, like this maple pecan pie I made the other day for Thanksgiving.
Yep, you heard me right. I baked this pie last week so we could eat it when Thanksgiving rolls around. I am all about making food in bulk and ahead of time (hello big batches of pickled red onions!) and so when I got the opportunity to try out the FoodSaver® FM3941 Vacuum Sealing System I started making a mental list of everything to use it with.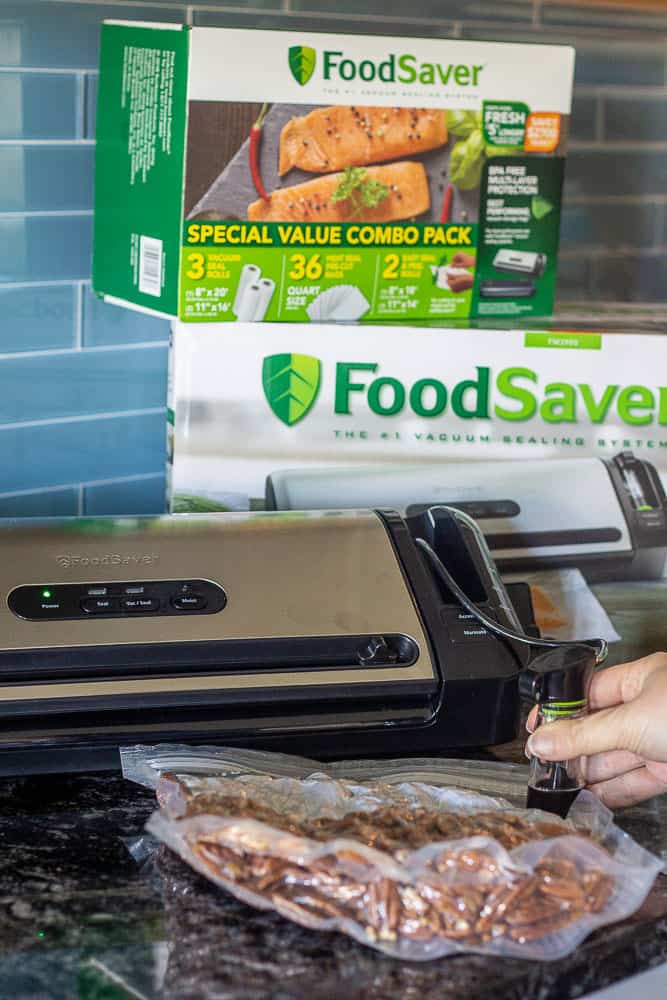 Jumping in with holiday prep work was a no brainer. While we all love the food that goes with Thanksgiving and Christmas, the hours and hours of cooking and sometimes be a bit too much to handle.
Being able to get some of that work done ahead of time? Possibly the best gift ever.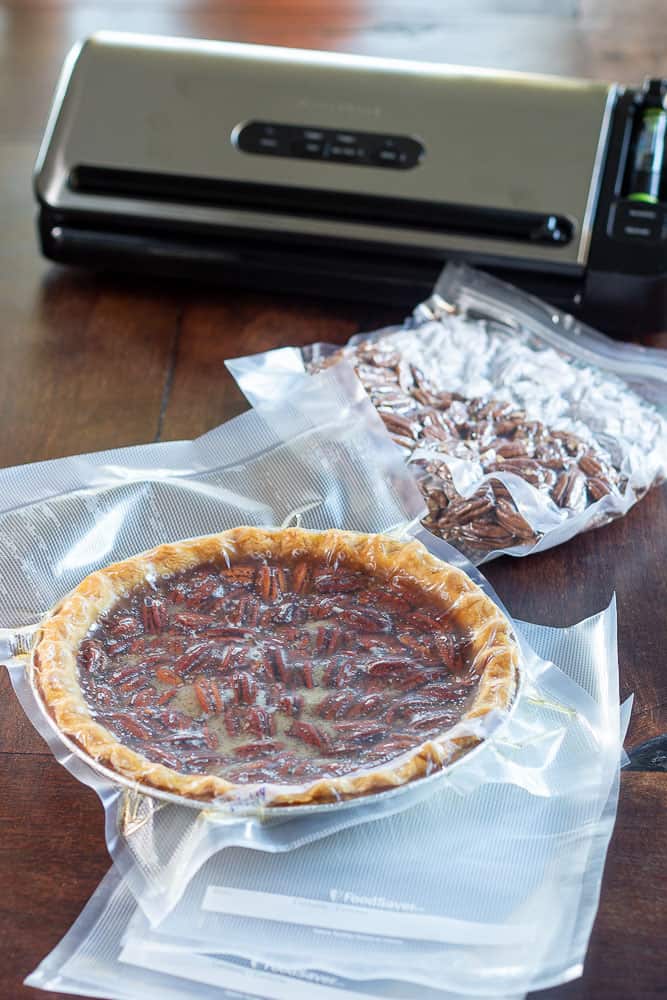 how to freeze pecan pie
Have you ever wondered how to freeze pie easily? I've tried freezing things in regular plastic bags before, and it tends to just make a mess of my freezer.
Using the FoodSaver® FM3941 Vacuum Sealing System makes freezing pies incredibly easy. Making and cutting bags is easy with dedicated roll storage and a built-in cutter, so you can create exactly the size you need, whether it is standard or mini pies.
To freeze pecan pie, bake it as directed in the recipe, then cool to room temperature. Freeze the pie for 1-2 hours, until completely frozen, then remove and place the pie in a FoodSaver® bag.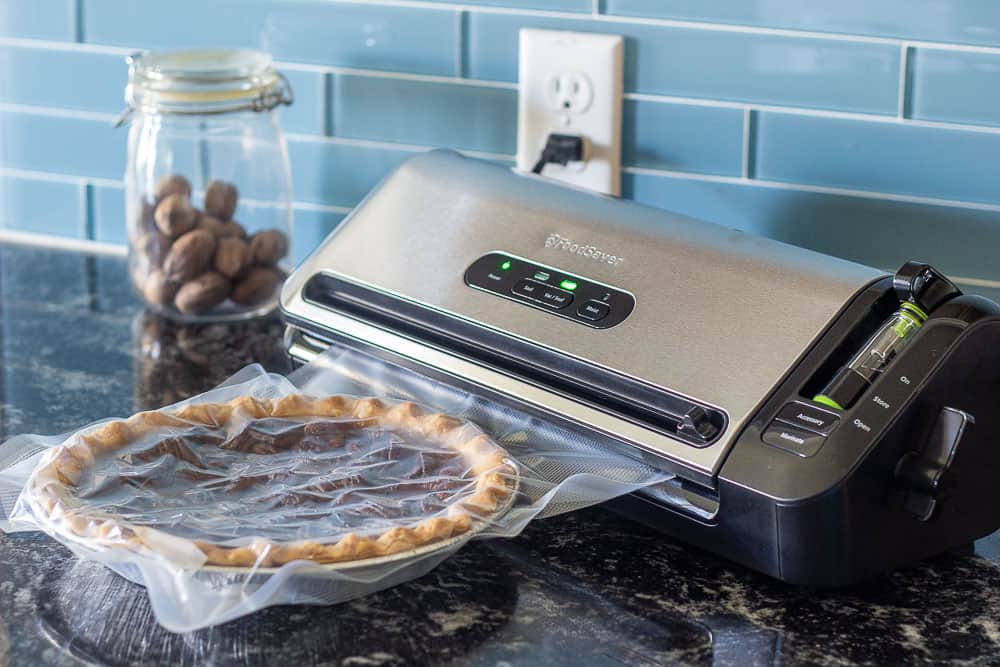 Turn latch to Open and place open end of bag into the Vacuum Channel, then close lid and turn latch to On, and press the Vacuum / Seal button. In just a few sections the pie will be airtight and sealed!
The FoodSaver® Bags and Rolls Value Pack multi-layer, BPA-free vacuum-seal bags are flexible enough to hug food and seal effectively without gaps, so each bit of the pie is protected without damaging it the tender crust.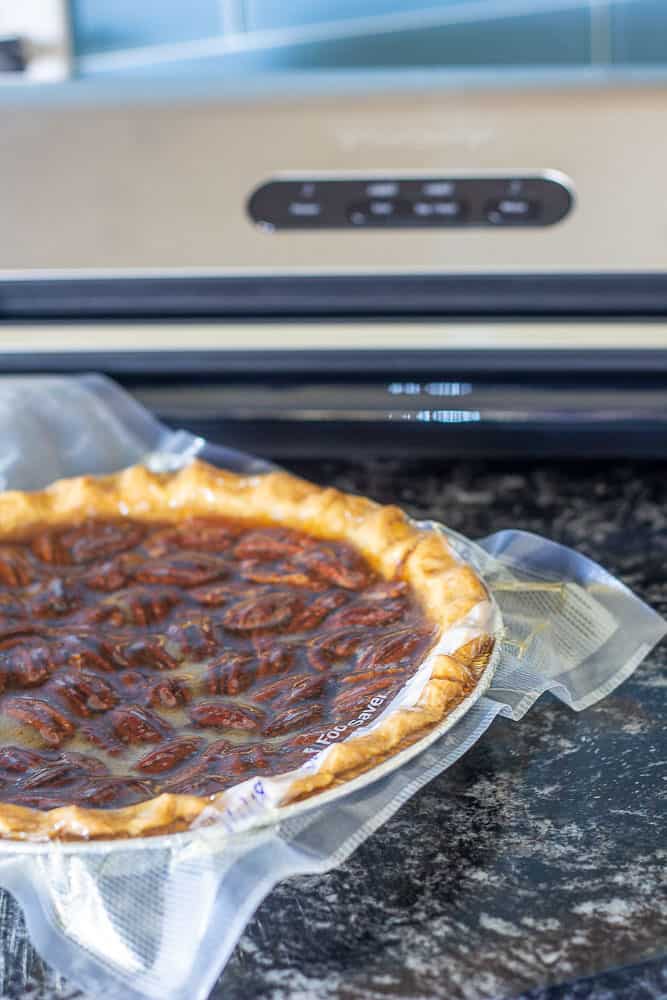 how to thaw pecan pie
Thaw your pie overnight in the refrigerator and bring it to room temperature to serve.
Alternately, you can remove the pie from the vacuum bag and reheat in the oven for 20 minutes.
Don't forget to use a disposable pie pan when making the pie. This will prevent the frozen pie plate from breaking in oven.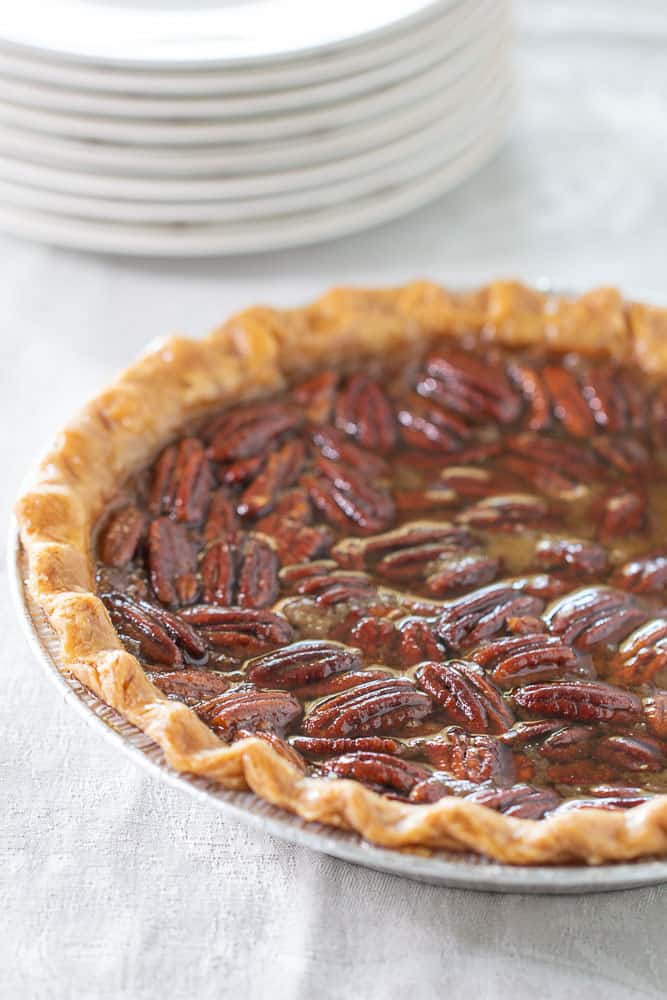 where to buy a foodsaver®
I've already used the FoodSaver® FM3941 multiple times. I love how it has built-in features to easily preserve food in the freezer or refrigerator.
Not only have I gotten my Thanksgiving pies done, I've also sealed the extra pecans for the freezer, leftover cheese for the fridge, and chili that we'll be bringing for an upcoming camping trip.
With holiday baking season in full swing now, there's going to be plenty of cookies to freeze. Not to mention all the make-ahead breakfasts that will get you through the busy weeks leading up to Christmas. (You can use the FoodSaver® FM3941 if you want to freeze pancakes!)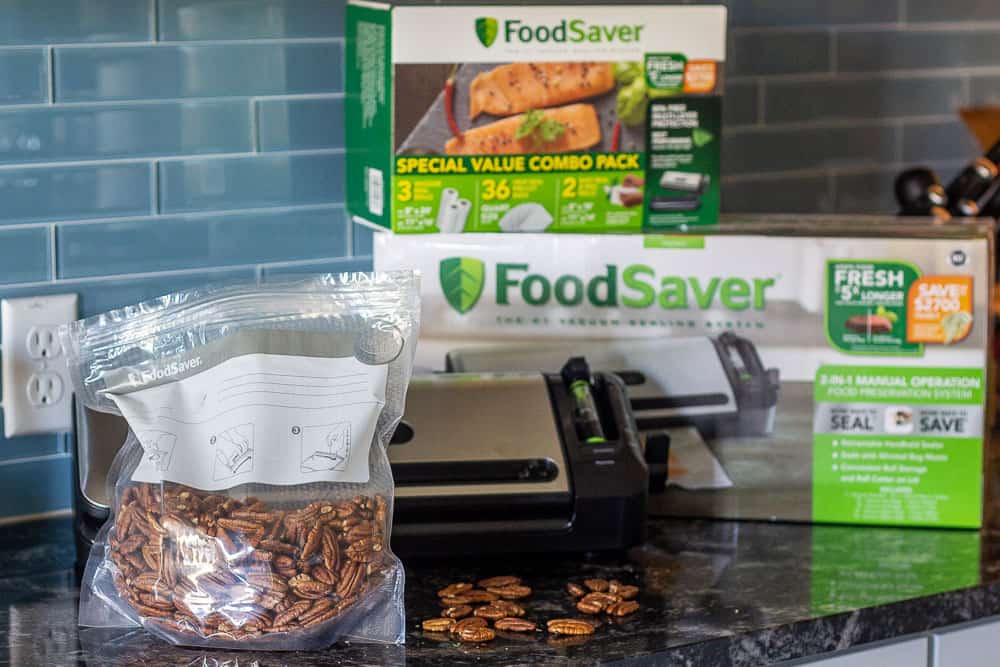 I love knowing I have a stocked freezer and time saved. And, even if we don't eat all that food during the holidays, I know it will still be fresh if I get a craving for maple pecan pie in February.
If you want to get your own, Costco members are in luck! TheFoodSaver® FM3941 Vacuum Sealing System will be $40 OFF in November, and FoodSaver® Bags and Rolls Value Pack will be $10 OFF in November.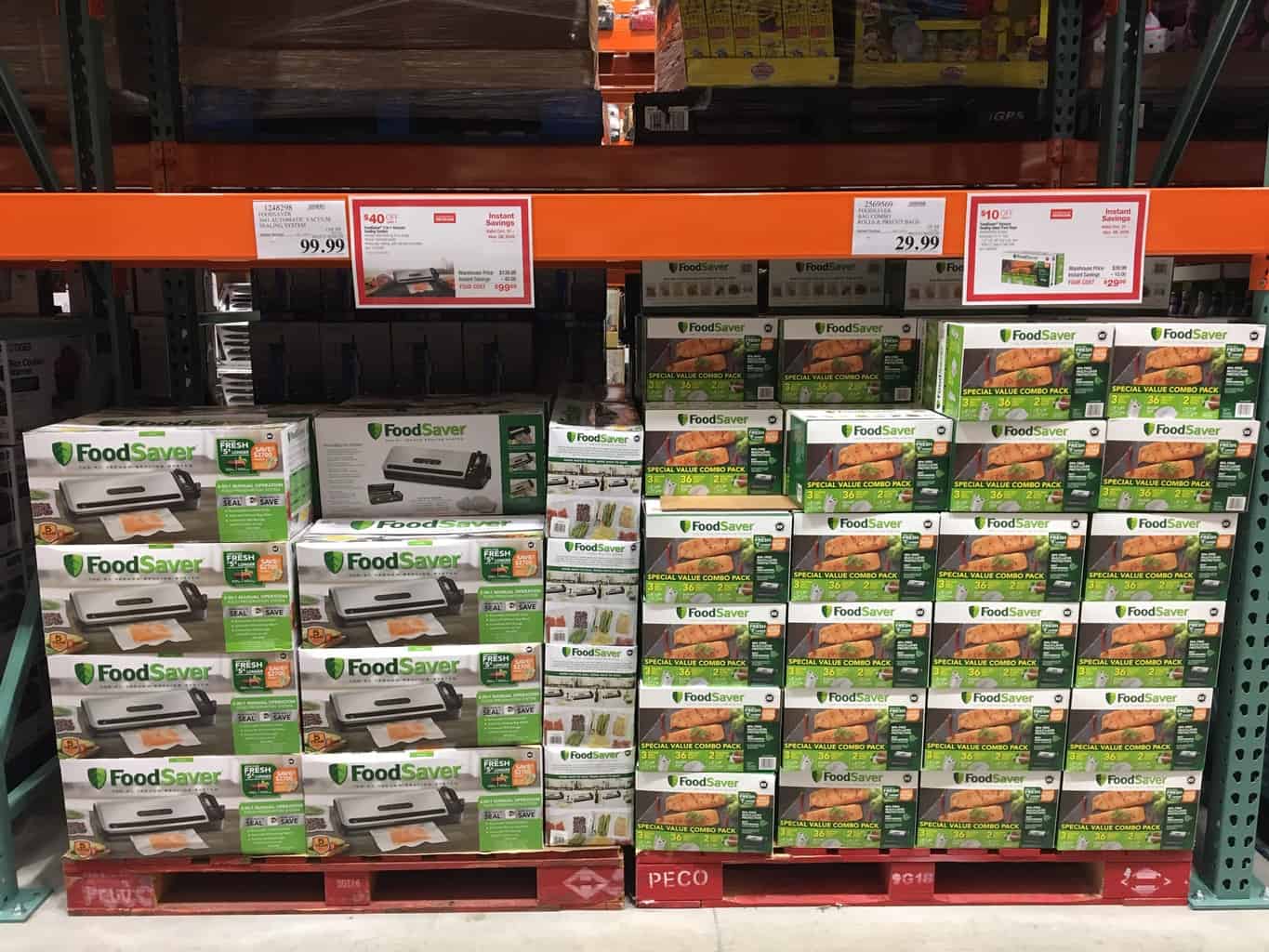 While you're there, pick up the ingredients to make a few of these maple pecan pies. Not only will you be the hero of your own Thanksgiving feast, but you'll have extra pies on hand for all those holiday parties.

how to make maple pecan pie
Maple pecan pie is crazy easy. So much so that I actually couldn't believe how easy it was — but that's probably because I refused to eat it as a child. I'm glad I've changed my ways.
The hardest part is making the pie crust, but you can always opt for the premade version here. Or you can make extra pie crust and freeze it with the FoodSaver® FM3941!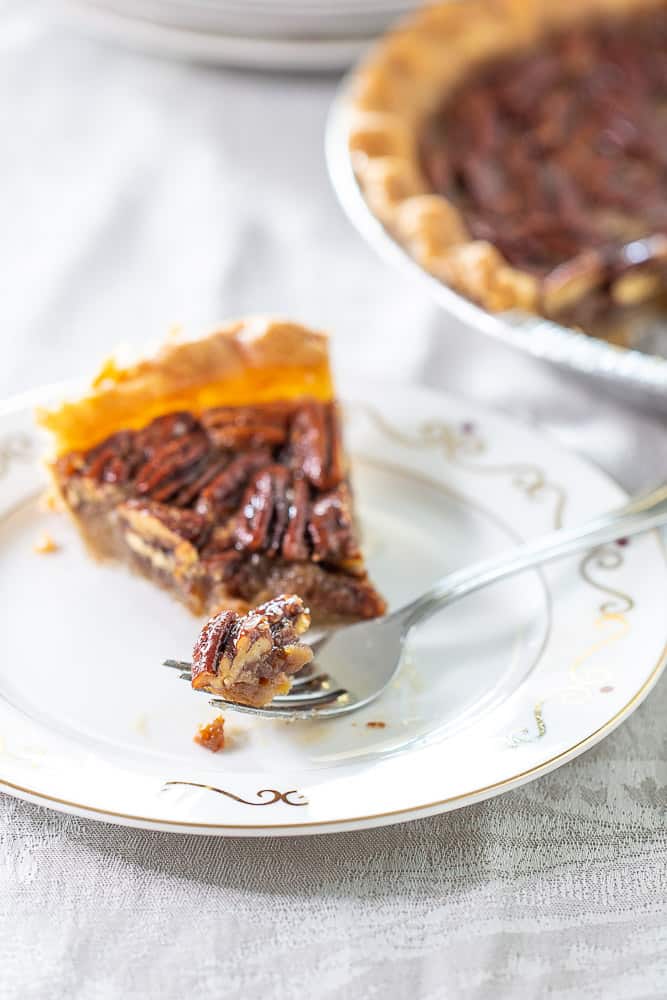 To make maple pecan pie, you first parbake the crust to ensure it is fully cooked on the bottom. You can use pie weights for this, but I just keep a jar of pinto beans saved. Be sure to line the crust with parchment or foil before adding the weights or beans, or you'll have a hard time removing them from the crust.
Once the crust is ready, simply whisk together the rest of the ingredients. You can get fancy and arrange your pecans, but there's really no need. Pecans already look lovely in a pie.
I use maple syrup here instead of corn syrup because I adore maple syrup flavor. I also rarely have corn syrup on hand, and I prefer to bake with ingredients already in my pantry.
Personally, I think maple syrup makes the pie so much better! Just be sure to use the pure maple syrup, and not pancake syrup.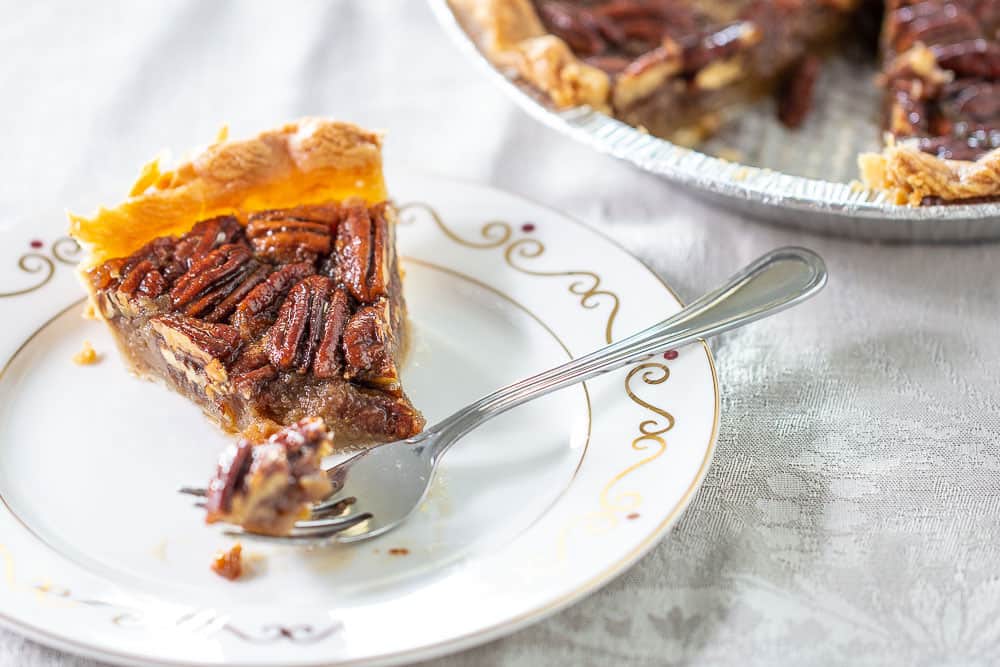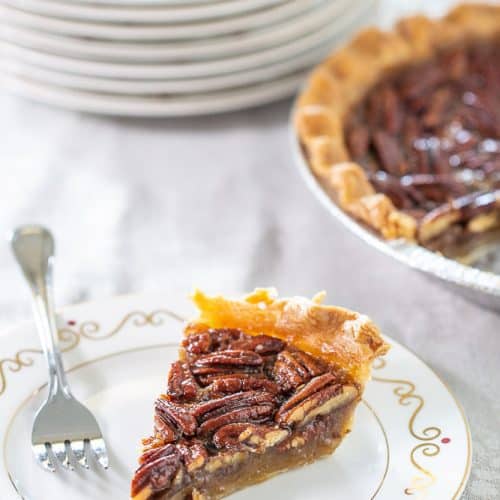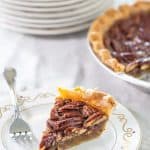 Maple Pecan Pie
Maple pecan pie is a classic for the holiday table. This sweet dessert couldn't be any easier.
Print
Pin
Save
Saved!
Ingredients
1

unbaked 9-inch pie crust

3

large eggs

1

cup

pure maple syrup

1/2

cup

brown sugar

1

teaspoon

pure vanilla extract,

or vanilla bean paste

2

tablespoons

unsalted butter

,

melted and cooled

1/4

teaspoon

fine sea salt

1 1/2

cups

pecan halves
Instructions
Preheat the oven to 350°F. Roll out pie crust to fit a 9-inch pie pan and transfer it to the pan. Fold under the edge and crimp as desired. Line inside of pie crust with foil and fill with dried beans (or

pie weights

) and bake for 8 minutes. Carefully remove foil and beans and let cool.

In a large bowl, whisk eggs until frothy. Whisk in syrup, sugar, vanilla, butter and salt to blend completely, then mix in pecans.

Pour mixture into prepared crust and place into the oven. Bake 50-60 minutes, then cool completely.
Notes
Tip: After pouring mixture into crust, use a fork to turn pecan halves over so the nub-side is down.
Nutrition
Serving:
1
slice
Calories:
440
kcal
Carbohydrates:
54
g
Protein:
5
g
Saturated Fat:
5
g
Cholesterol:
77
mg
Sodium:
194
mg
Fiber:
2
g
Sugar:
38
g