Cranberry pecan streusel coffee cake is a great way to use leftover cranberry sauce.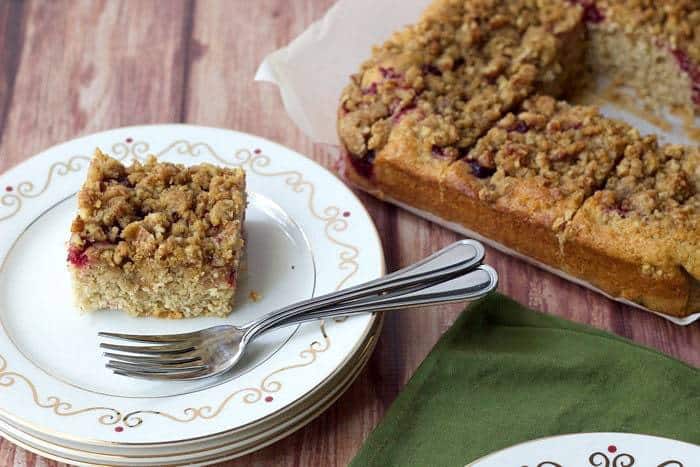 These days, the stillness of night is being broken by wails coming from the toddler's room. At first we thought it was teething, then the suffering that comes along with a stuffy and runny nose, and then we decided he just gets possessed every night around 11:00.
Going through the 18-month regression means his only comfort is being snuggled into the crook of my neck, and my only comfort comes from working out the kinks in my back from sleeping every night curled up with a toddler. This too shall pass, I know, but for now, my mornings need to be filled with optimism, lots of coffee, and something sweet to dive into.
Coffee cake is one of the things I grew up eating a lot of, being an easy segue from my first muffin baking experiments. We tended to fill ours with plump berries, scatter on plenty of streusel topping, and then slather on extra butter while the slices of cake were still warm. No judgement on butter consumption here, folks.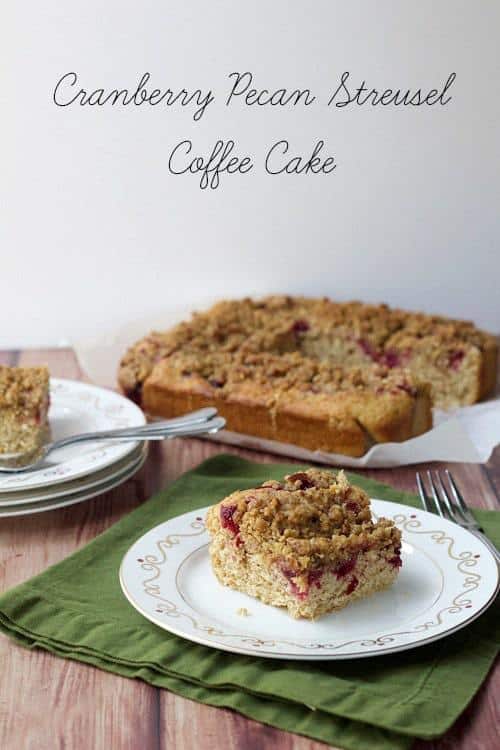 This cranberry pecan streusel coffee cake uses up the last of your cranberry sauce and features Texas pecans, because, well, Texas. If you're all out of cranberry sauce, feel free to swap in your favorite preserves instead — blackberry is especially good here. (These peanut butter & jelly waffles are also really good for using up preserves!)
The recipe makes enough to share, so it's perfect to serve up on Christmas morning or a lazy snow-bound Saturday. It's best warm from the oven, but it stores well in an airtight container and can be rewarmed in the microwave in seconds. Don't forget that extra butter on top!
Serve up this cranberry streusel coffee cake with a steaming mug of coffee or hot chocolate, and all will be right with the world again.
Other cranberry recipes you might enjoy:
Cranberry Sticky Buns by My Kitchen Addiction
Cranberry Apple Crumble by Stetted
Coffee-Rubbed Steak with Cranberry Salsa by Healthy Delicious
Cranberry-Orange Dark 'N' Stormy Cocktails by Food For My Family
For more morning inspiration, check out my Breakfast board on Pinterest!
Follow Megan Myers | Stetted's board Breakfast on Pinterest.