Peach coffee cake is a summery breakfast treat. It's a great way to use up less-than-perfect peaches you might have lingering in your fridge.
This summer has already been a weird one. I know that summer only technically started yesterday, but when you live in Texas summer basically starts the first time you have to turn on your AC.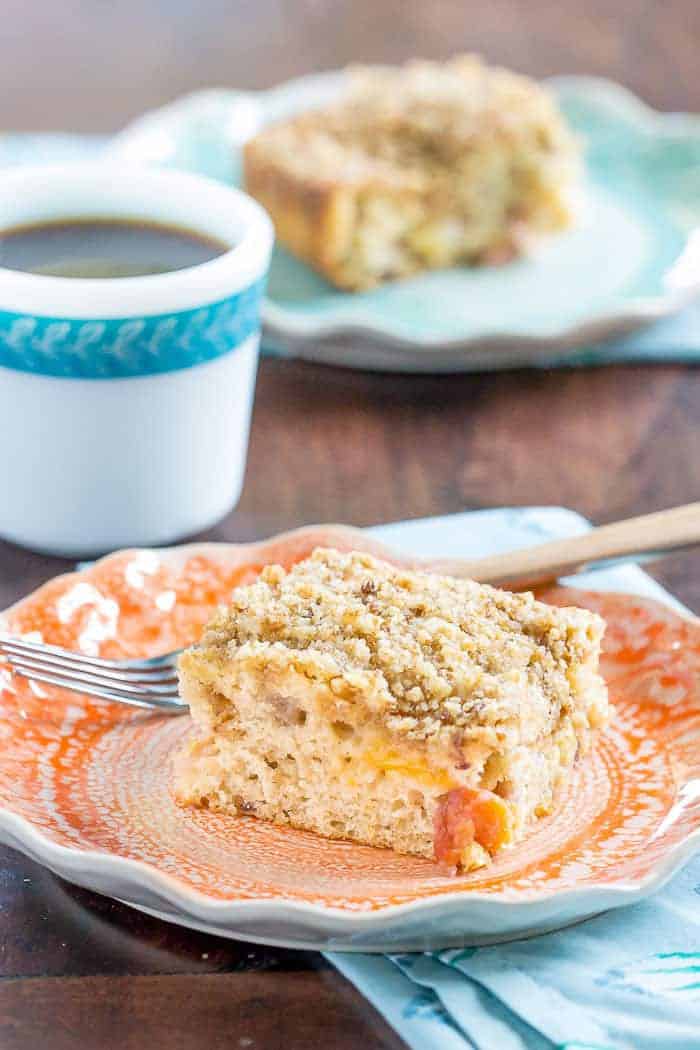 I can't put my finger on exactly what has turned this summer inside out, but things just feel funky. We're going to the pool, growing things in our garden, getting our tomatoes canned, all the things we normally do in summer — yet it's all just a bit… off.
Determined to get out of that, I went back to the kitchen and got to work. Trying to remember that feeling of calm while cooking, while preparing food for my family, I pickled onions, roasted tomatoes, and made this peach coffee cake.
Back in the early days of Food Fanatic I had made an apple coffee cake, and when faced with a few slightly forgotten peaches, the recipe popped back into my brain.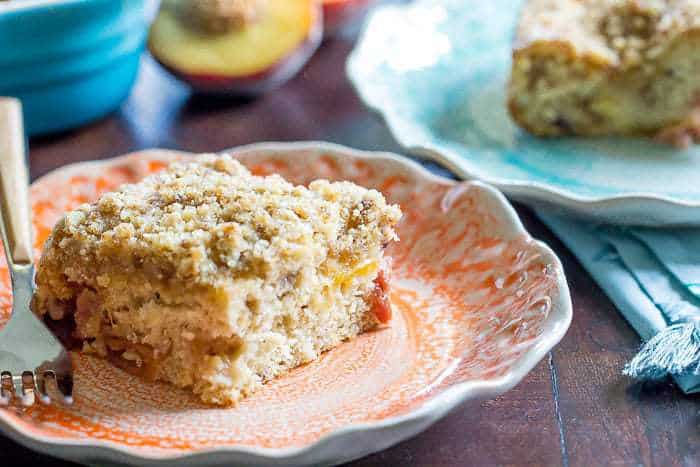 Coffee cake is one of my favorite things to make and eat (hello, espresso streusel coffee cake and coffee cake in a mug) but I hadn't yet taken the opportunity of gorgeous Texas peaches in a coffee cake.
The original recipe calls for pie filling, but fresh peaches work just as well in this recipe. Fresh peaches are already so wonderfully juicy and melt-in-your mouth that I only gave them a few minutes of maceration in brown sugar to really bring out the flavor.
Now, I'm not saying that this peach coffee cake will cure your summer blues. But it's hard not to feel a little calmer, a little more at peace, when you're absorbing the heady perfume of fresh peaches in a cinnamon-tinged cake. Grab a cup of coffee and you're all set.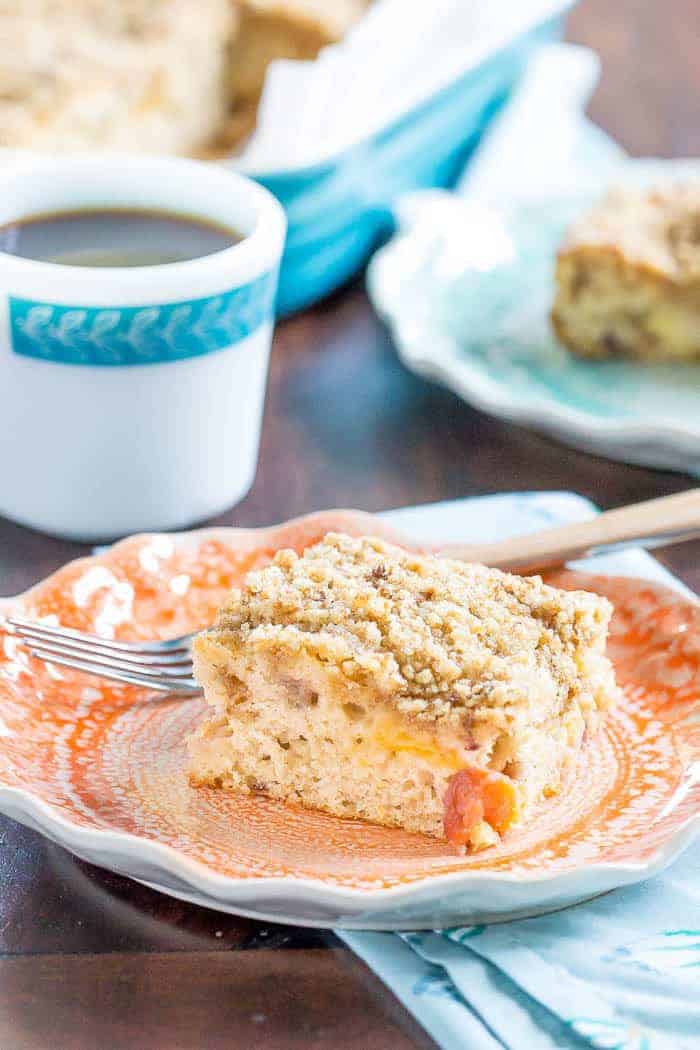 Tips for making Peach Coffee Cake
Peeling the peaches isn't necessary. The peels will fall apart in the batter as the coffee cake bakes. You can of course peel if you like, but don't worry about it if you're crunched for time.
To remove the pit on a peach, slice from top to bottom (as with an avocado) and twist carefully. Some clingstone peach varieties have pits that are harder to remove; if you squish the peach a little while twisting that's OK!
I like to use parchment paper to line my pans for coffee cake. This eliminates the use for additional butter or oil. If you leave a little bit of extra above the top of the pan, you can also easily remove the cooled cake from the pan for slicing.
You can skip the streusel topping, but why would you?
Swap the cinnamon for ground cardamom, or even ginger, if you like.
If your peaches are a bit wrinkly and slightly past their prime, all the better! We don't need picture-perfect fruit for an amazing cake.
The baking time will depend on the kind of pan you use and your oven. My oven runs slightly hot, and I used a stoneware baking pan — my personal baking time was 30 minutes. I recommend starting at the lower end and checking it until you achieve your desired doneness.