How to Cook Butternut Squash
This post contains affiliate links. As an Amazon Associate, I earn from qualifying purchases.
Butternut squash is an essential vegetable in the fall and winter! Learn how to cook butternut squash and use it in a variety of ways.
Do you have a favorite squash?
It might seem weird, but absolutely do. I get so excited when butternut squash starts showing up at the farmers market, it's hard to not buy them all!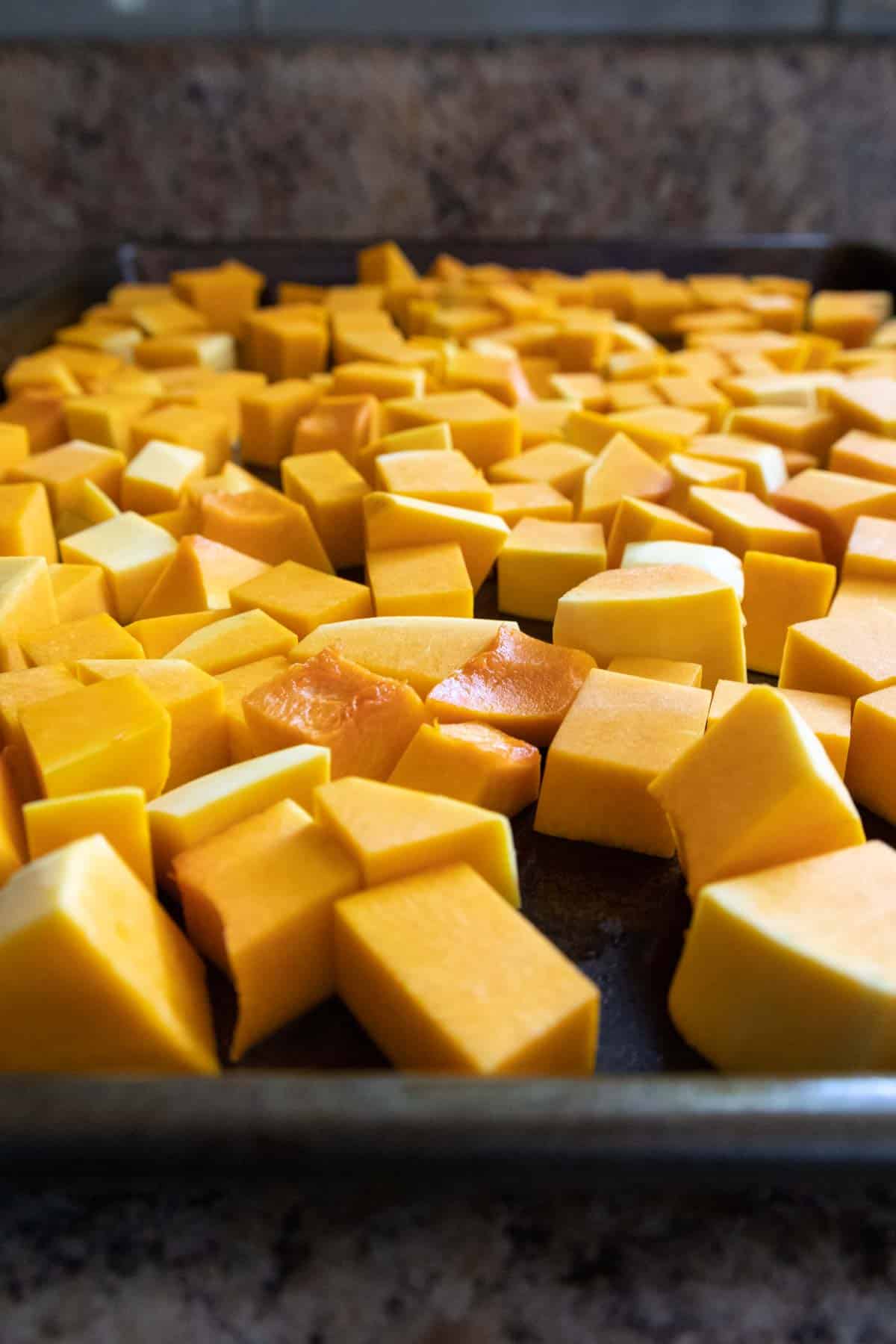 These sweet winter squash are easy to prepare and can be used for a wide variety of recipes.
After trying a few, you might find yourself stocking up on butternut squash as well!
What is butternut squash?
While there are more than 100 varieties of squash, butternut is one of the more popular.
Butternut squash, also known as butternut pumpkin in some other countries, is a winter squash with a vibrant orange inside.
The term "winter" squash can be somewhat misleading, because they do not grow in the winter. Instead, they are named for their ability to keep well during the cold winter months, thanks to their thicker skins.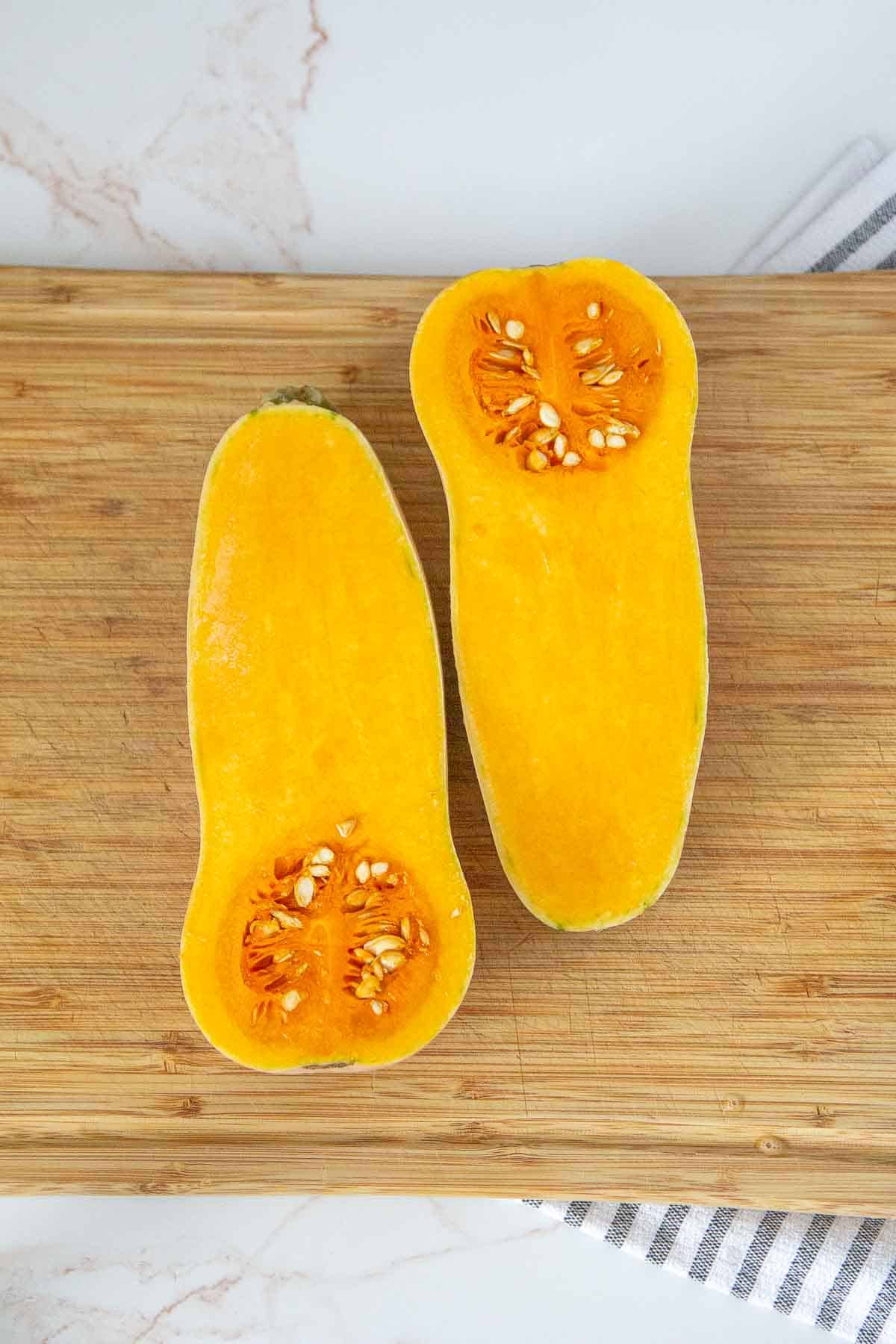 After they are harvested in summer, they are set aside to cure, letting the skin harden for long term storage.
Butternut squash are somewhat tubular in shape, with a long neck and a bulbous flower end. The flower end contains seeds, which can be roasted like pumpkin seeds.
The skin of a butternut squash is smooth and hard. It's not suitable for eating, unlike the skin of acorn or delicata squash.
Remove the skin with a sharp vegetable peeler, or cut it away from the flesh after first cutting the squash into smaller pieces.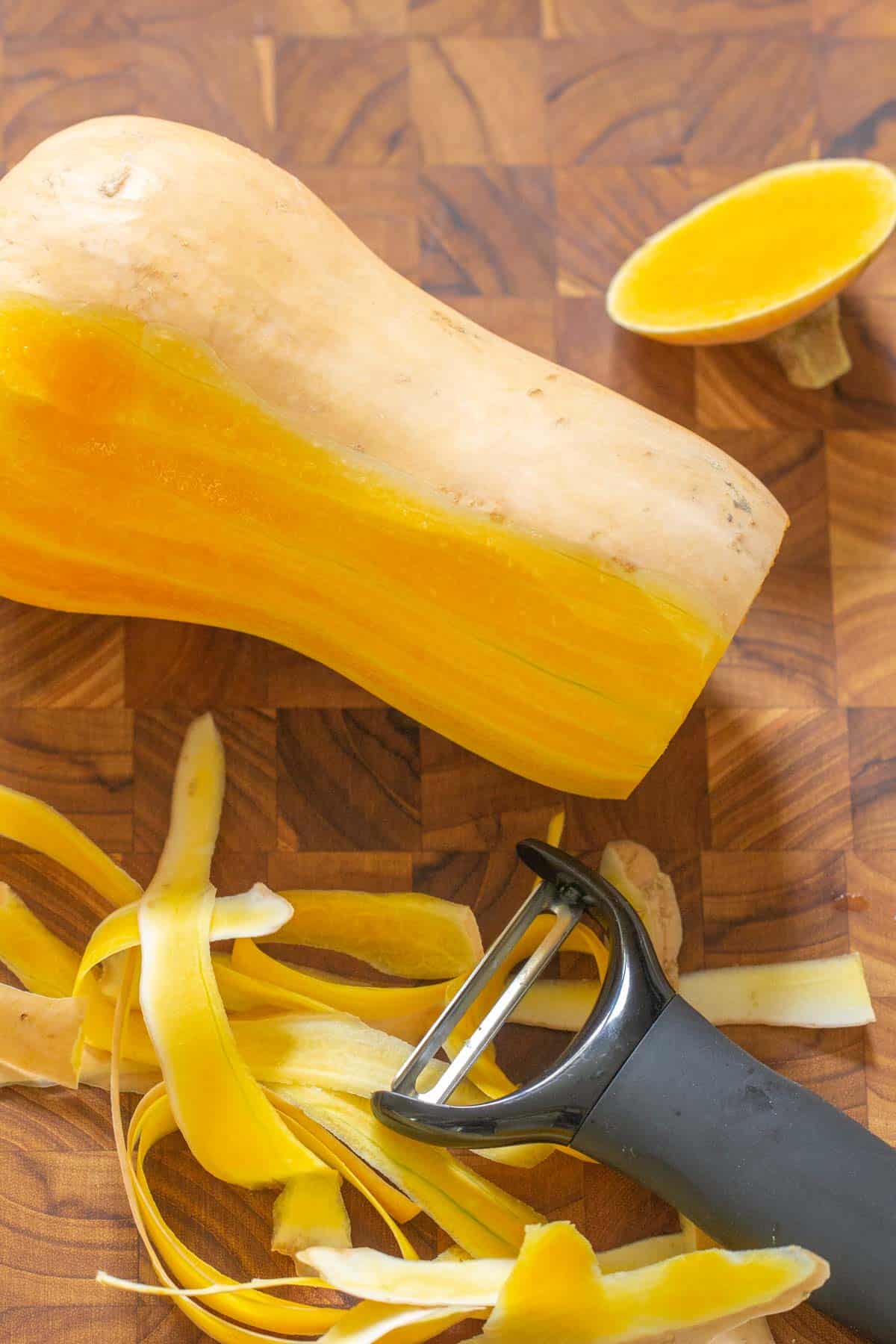 How to cook butternut squash in the oven
I prefer to cook my squash in the oven, because it brings out the natural sweetness of the squash.
It cooks evenly, and adds a little caramelization to the edges.
First, decide if you want to have butternut squash cubes or a mash/puree.
If making mashed butternut squash, slice it vertically from the stem to the bottom.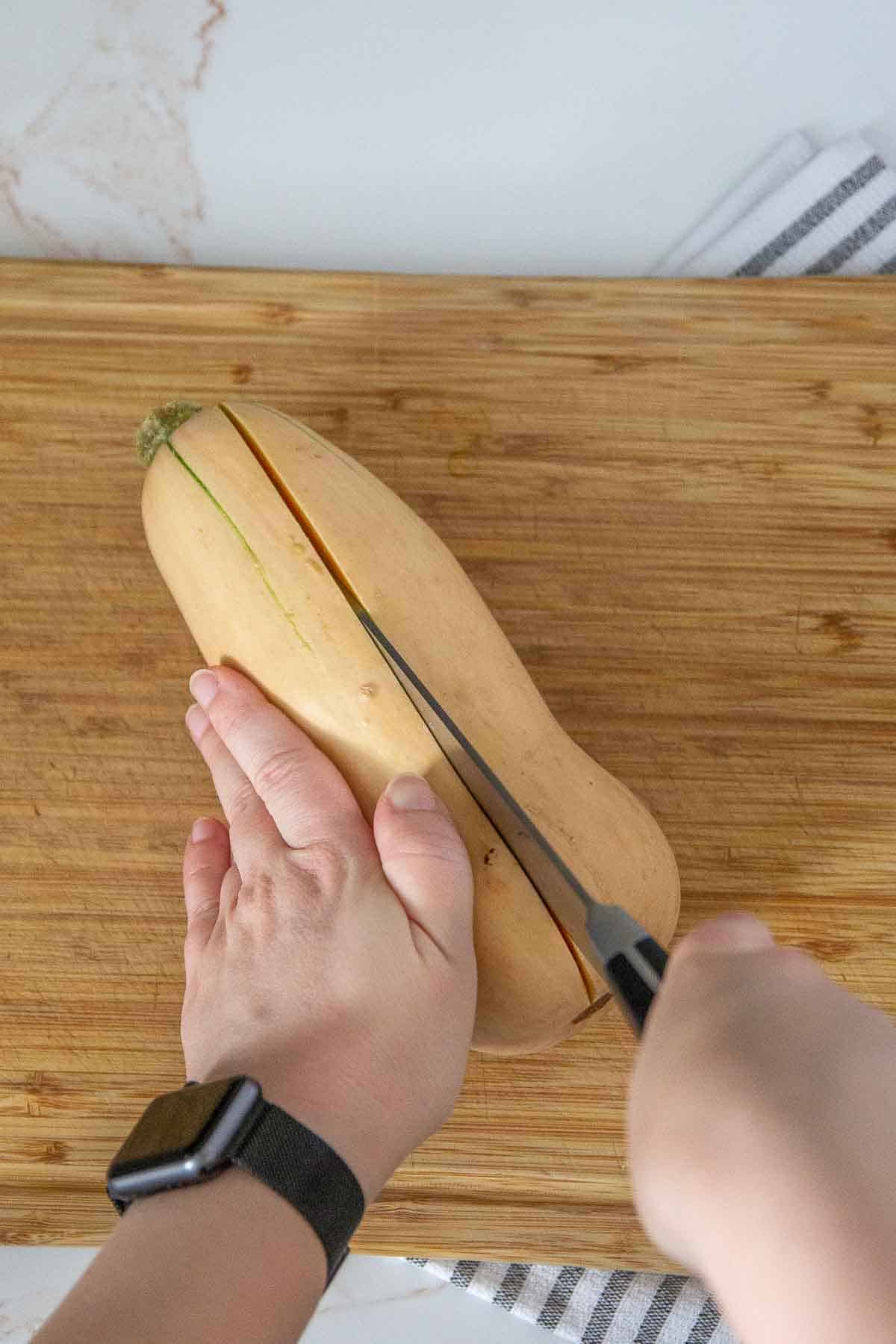 I prefer to lay the squash down to cut it, as it can be a bit difficult to get through the hard skin and flesh. Be sure to keep your fingers out of harm's way!
Once halved, scoop out the insides and either discard or save for another use.
I use a melon baller to remove the seeds and stringy insides, because the slightly sharp edges are perfect for scraping into hard squash.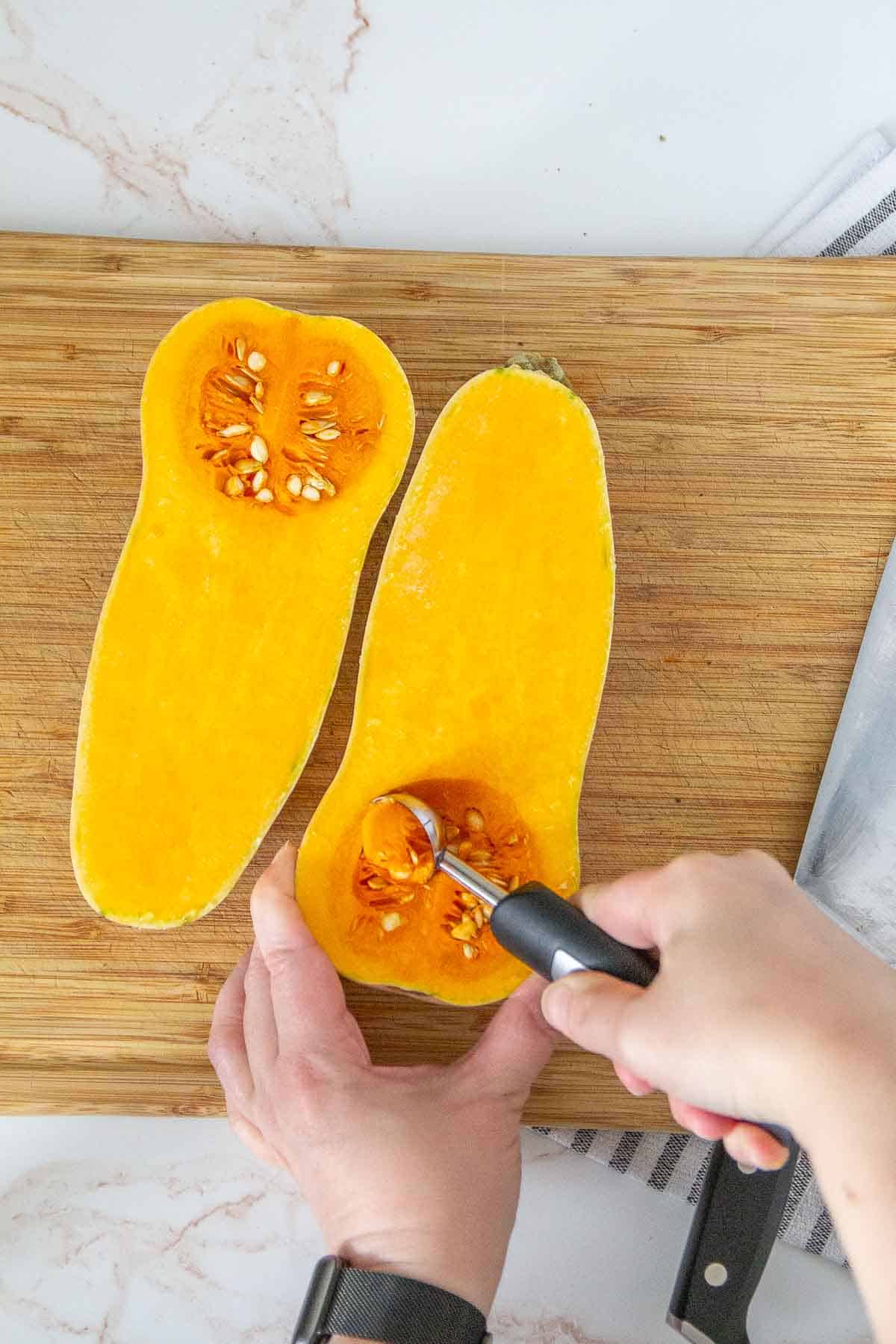 Rub the cut sides of the squash with just a little bit of olive oil or water.
Leave it unseasoned if you're not sure what you plan to do with the squash, or sprinkle with salt and pepper. For sweet squash you can sprinkle with brown sugar and cinnamon or add to the cavity where the seeds were.
Place the squash cut-side down on a rimmed baking sheet, or cut-side up for sweet squash.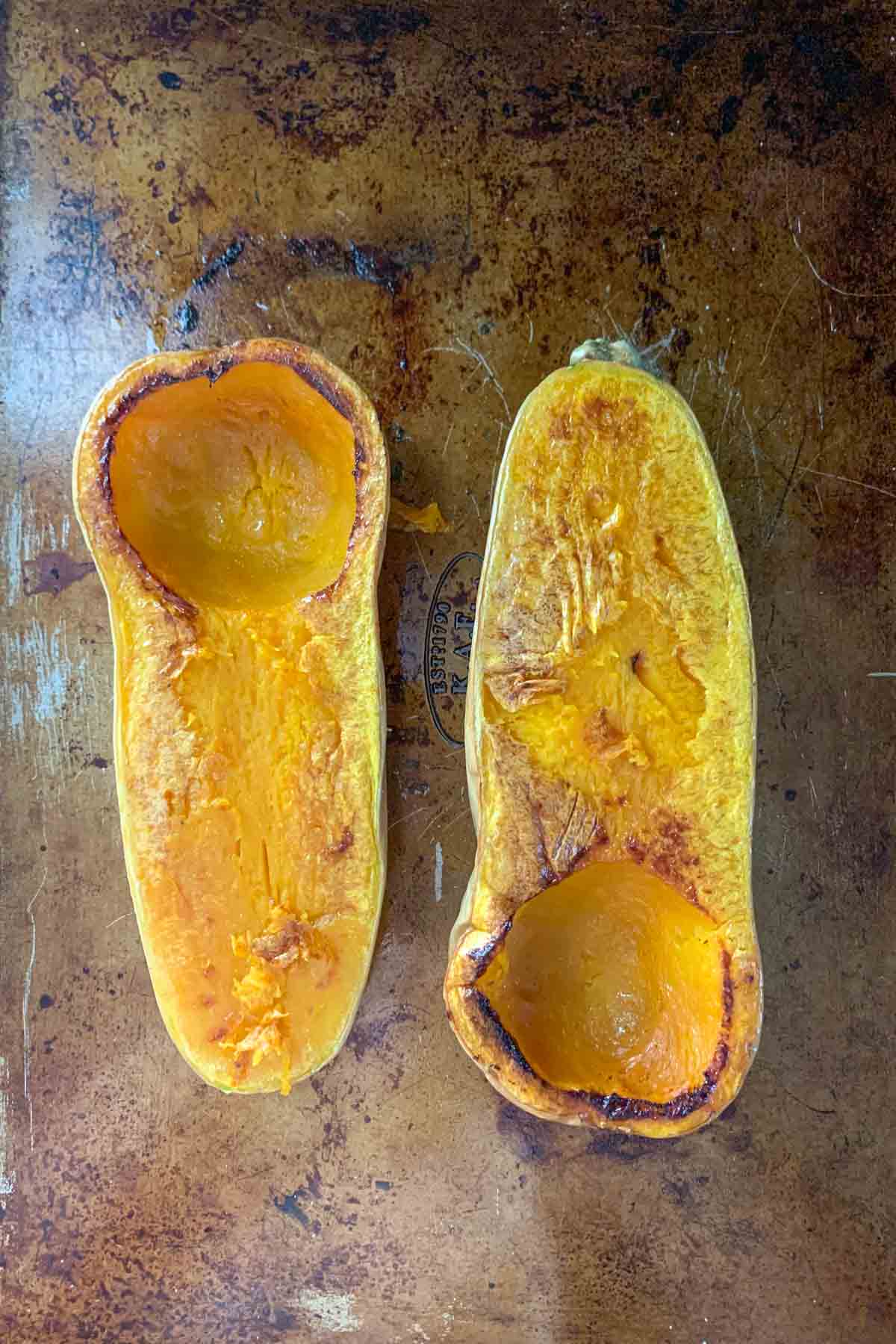 Roast the squash for 45-60 minutes at 400 degrees, until soft. Flip the squash halves over and let cool until easy to handle, then scoop out flesh. Mash or puree in a food processor or blender.
To make cubed butternut squash, peel squash, then slice the neck from the bulbous end. Halve each, remove seeds, and cut into 1-inch pieces.
Toss the butternut squash cubes with olive oil and season with salt and pepper.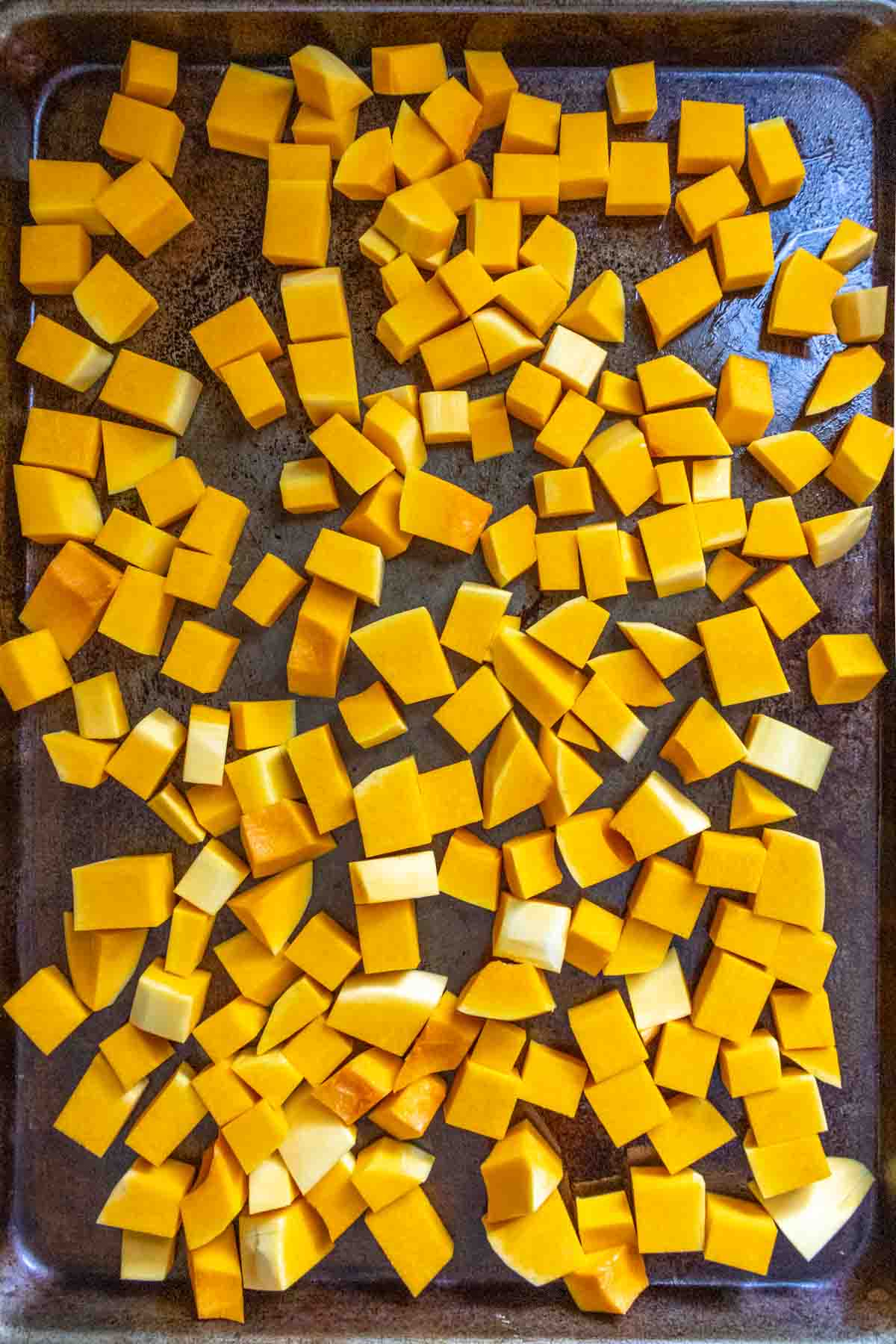 Spread in an even layer on a rimmed baking sheet and roast for 30-45 minutes, until the edges are lightly caramelized. Stir halfway through for even cooking and to prevent sticking.
How to use butternut squash
Butternut squash is incredibly versatile. It's great in both sweet and savory recipes, and can easily be used in place of other winter squash.
Ways to use roasted butternut squash cubes
Even if I don't have a recipe in mind, I like to make a batch of roasted, cubed squash to add to my favorite dishes.
Use cubed squash for butternut squash tacos, butternut squash pilaf, or kale butternut squash saute.
You can also enjoy the cubed squash as a side dish on their own, seasoned with salt and pepper or your favorite spice blends.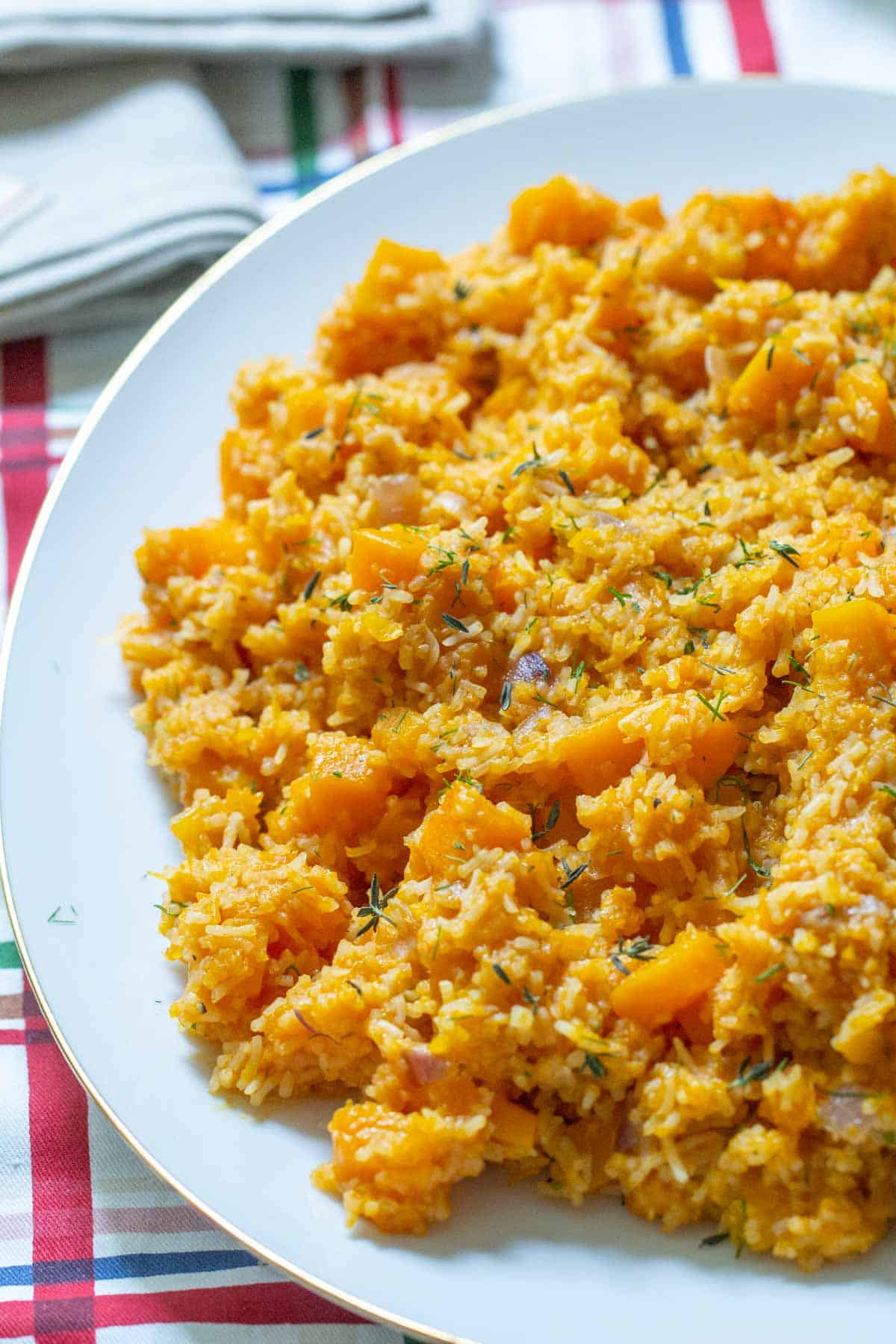 Ways to use butternut squash puree
Butternut squash puree is a great stand in for pumpkin puree. The flavor and color is more vibrant, and actually more closely resembles the canned "pumpkin" puree from the store.
Try using it for butternut squash pie, butternut souffle, or butternut squash lasagna.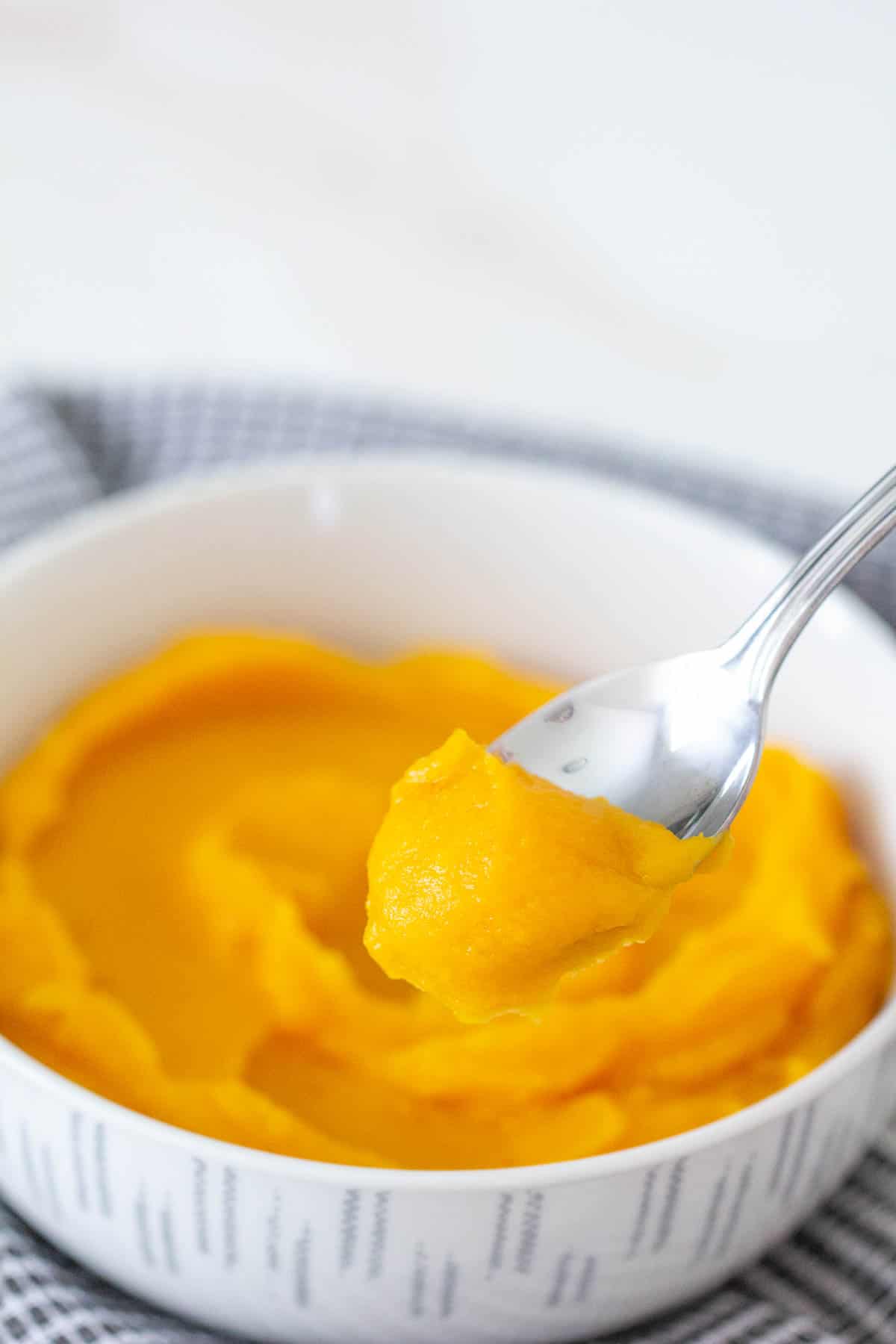 Flavor variations
Butternut squash can take on a variety of flavors, so feel free to experiment with spices and herbs.
Drizzle with maple syrup and sprinkle with nutmeg, or toss with apples and dried cranberries.
Sprinkle with chopped parsley, oregano, or thyme.
Serve with grains like farro, couscous, or quinoa with spices like za'atar, smoked paprika, and cumin.
Storage tips
Butternut squash lasts a long time when stored properly, making it the perfect vegetable for enjoying all winter.
Whole butternut squash will keep for 2-3 months when stored in a cool, dry place.
Check the squash periodically for any soft spots or mold, and discard.
A squash that is past its prime will also become more stringy inside, with seeds that seem slimy instead of lightly damp from juices.
Cut butternut squash should be used within 4 days. Store it in an airtight container in the refrigerator.
To store cut winter squash for longer, freeze it.
Peel the butternut squash and cut it into cubes. Spread the cubes onto a lined baking sheet in a single layer.
Place the baking sheet in the freezer and chill until completely frozen. This will take 1-2 hours.
Once frozen, transfer the cubes into freezer bags, remove excess air, and seal. Don't forget to label the bags!
Frozen squash will last up to 6 months.
Love this recipe? Please leave a 5-star review below! It means so much when you enjoy my recipes, so let me know how it goes and leave a comment if you have any questions.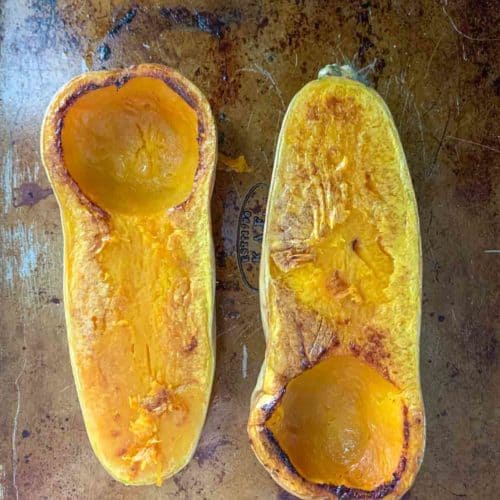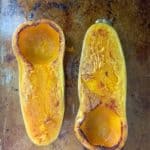 How to Cook Butternut Squash
Butternut squash is an essential vegetable in the fall and winter! Learn how to cook butternut squash and use it in a variety of ways.
Print
Pin
Save
Saved!
Ingredients
1

butternut squash

1

tablespoon

olive oil

Salt and pepper

,

optional
Instructions
For roasted mashed butternut squash
To roast halves, slice vertically into two pieces. Scoop out seeds and discard. Rub olive oil or water onto cut edges and place cut-side down onto a rimmed baking sheet.

Roast for 45-60 minutes, until soft. Flip over and let cool until easily handled, then scoop out flesh and mash or puree.
For roasted butternut squash cubes
Peel squash and cut neck from bulbous end. Halve both ends, scoop out seeds and discard. Cut squash into 1-inch cubes.

Toss with olive oil and salt and pepper. Spread in an even layer on a rimmed baking sheet and roast for 30-45 minutes, until tender and edges are lightly caramelized.
Nutrition
Calories:
115
kcal
Carbohydrates:
22
g
Protein:
2
g
Fat:
4
g
Saturated Fat:
1
g
Sodium:
8
mg
Potassium:
660
mg
Fiber:
4
g
Sugar:
4
g
Iron:
1
mg
Nutrition information is provided as a courtesy and is an estimate based on online calculators. Any nutritional information found on Stetted should be used as a general guideline only.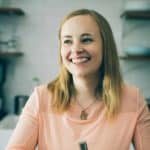 About Megan
I focus on fresh ingredients and easy methods, with spins that keep meals interesting. Dinnertime shouldn't be stressful or complicated, and I'm here to help you enjoy the time spent in the kitchen. Read more…