Butternut squash pilaf is a family-friendly side or main dish that comes together easily in one pan.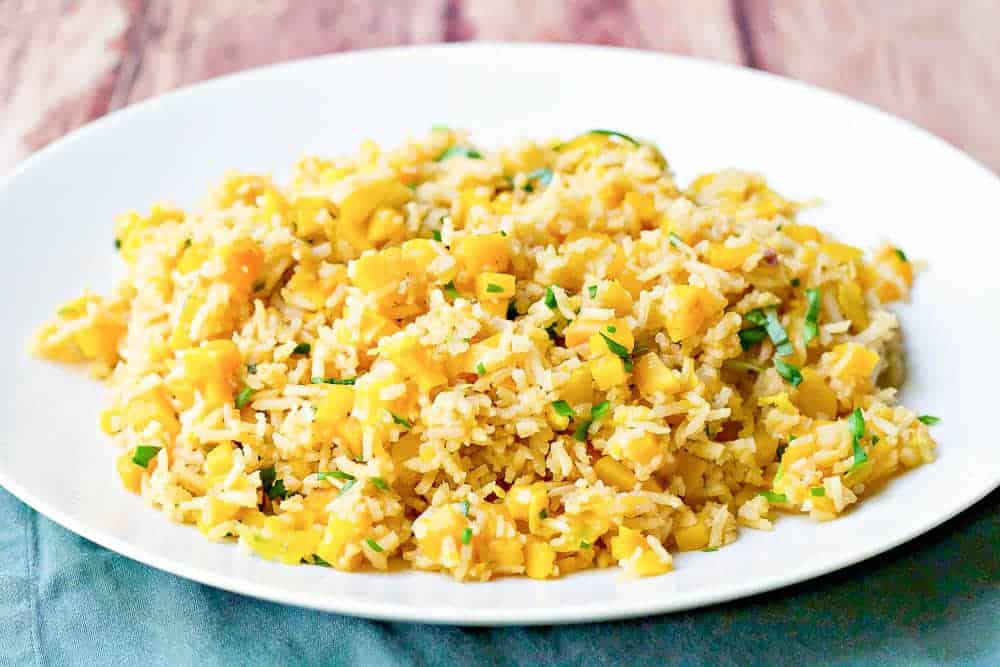 We're very much into routine at my house. With a 15-month-old, I feel we need to be — every small change adds up and increases his frustration level. After all, he is only just beginning to explore the world. It's not fair that once he has his bedtime cues down pat I head off on a business trip, upending the entire system.
Or at least, that's what he would have you believe by his too-early-for-terrible-twos tantrums and nightly screamfests.
Despite travel or events, I do what I can to keep things constant. Family dinner is our main constant, and no matter what we're eating, it's together around the table.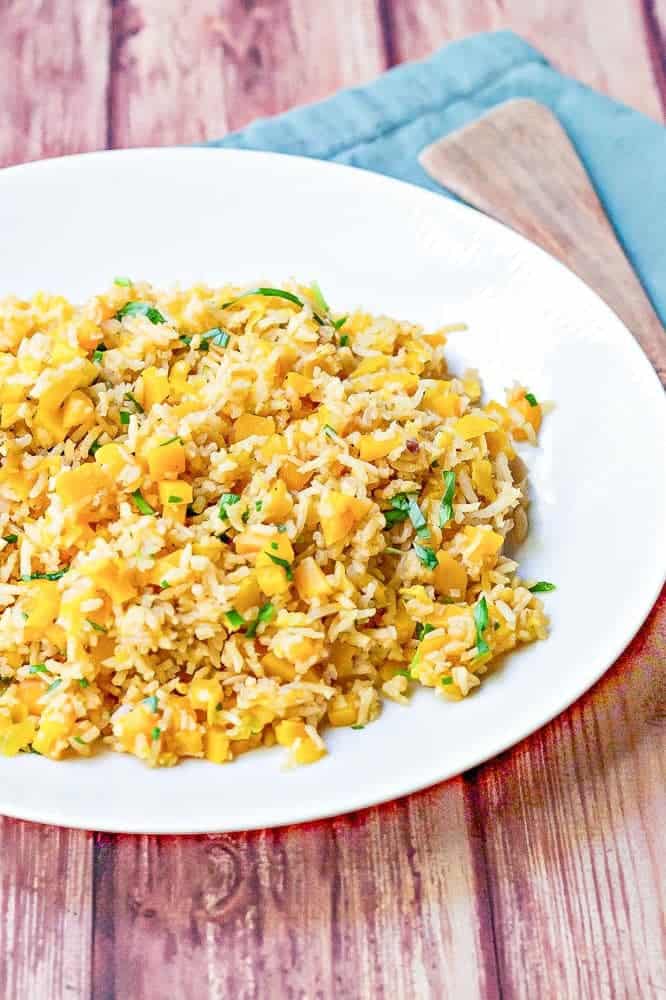 Just because we're together, though, doesn't mean we don't have our share of struggles. The younger one has taken to dropping things on the floor and saying "Uh-oh!" while the older one turns up his nose at steak (of all things!).
While there are some standard dishes I know I can serve, I'm always foisting new recipes upon them in an attempt to broaden their taste buds. I'm happy to report this butternut squash pilaf was a winner for everyone at the table.
Made of both grated and cubed squash, this dish is a wonderful vegetarian side dish or even main. I love that it uses brown rice, and the rest of the family love sweet, mild squash flavor.
Butternut squash is a favorite in our house, always making appearances in dishes from butternut squash tacos with black beans to butternut cheddar frittata, but I'm still pleasantly surprised whenever any dish is gobbled up.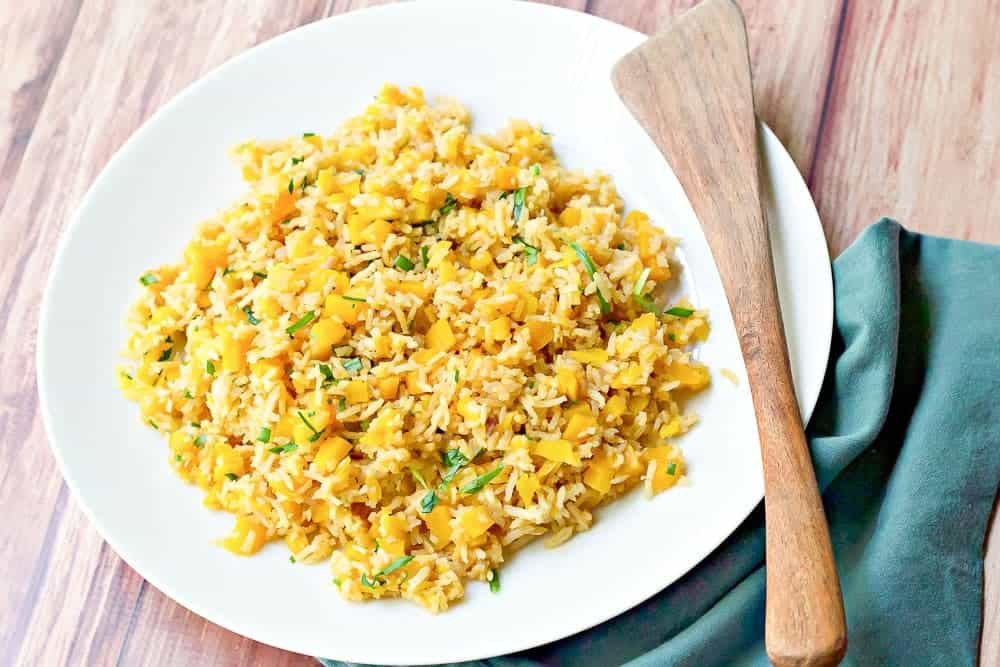 The original recipe calls for fennel fronds, but I grabbed a handful of chives from the garden instead. My chives have been growing for years in the same pot, experiencing a rebirth every time the weather gets too cold and then warms up again.
I'm always surprised at their tenacity, those tender chives, and this year I've decided to reward them by popping chives into as many recipes as possible.
The burst of allium with light herbal quality is something I love, and pairing it with sweet butternut squash makes for a family-friendly dish that is making repeat appearances on our dinner table.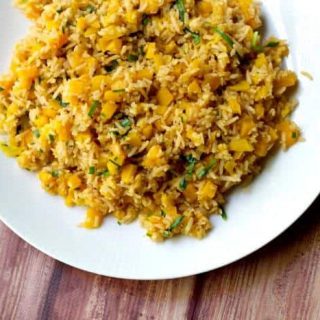 Butternut Squash Pilaf
Yield: 6 servings
Prep Time: 10 minutes
Cook Time: 45 minutes
Total Time: 55 minutes
This pilaf makes for an interesting side dish during the holidays, or even a weeknight meatless main.
Ingredients
1 medium butternut squash
3 tablespoons extra-virgin olive oil
1 red onion, finely chopped
2 cloves garlic, minced
1 tablespoon tomato paste
1 cup brown or jasmine rice
2 1/4 cups vegetable broth
1/2 cup chopped fresh chives
2 tablespoons chopped fresh oregano
1 teaspoon salt
1/4 teaspoon ground black pepper
Instructions
Peel and seed the butternut squash. Grate half of the squash using a box grater. Cut the other half of the squash into small cubes.
Heat oil in a large nonstick skillet over medium-low heat. Add onion and garlic and cook 10 minutes, until soft and lightly browned.
Combine 2 tablespoons water and tomato paste and stir into the pan. Add rice and stir to coat.
Add the squash and stir until it has reduced enough to cover the pan.
Increase the heat to medium-high, pour in broth, and bring to a boil.
Reduce the heat to medium-low, cover, and cook stirring occassionally, until the rice has absorbed most of the liquid and the squash and rice are tender. Depending on the rice used, this should take 25 to 30 minutes.
Stir in chives, oregano, salt, and pepper. Remove from the heat and let stand covered, for 5 minutes before serving.
Recommended Products
As an Amazon Associate and member of other affiliate programs, I earn from qualifying purchases.
Nutrition Information:
Yield: 6
Amount Per Serving:
Calories: 128
Total Fat: 7g
Saturated Fat: 1g
Trans Fat: 0g
Unsaturated Fat: 6g
Cholesterol: 0mg
Sodium: 607mg
Carbohydrates: 15g
Fiber: 2g
Sugar: 2g
Protein: 2g