How to Make Pumpkin Puree
This post contains affiliate links. As an Amazon Associate, I earn from qualifying purchases.
Pumpkin puree is an essential fall ingredient. Learn how to make it at home using fresh pie or sugar pumpkins.
One of my favorite cooking projects in autumn is making my own pumpkin puree.
It's become my way to usher in the new season and get me dreaming of all the pumpkin pancakes, pumpkin bundt cake, and pumpkin turkey chili ahead of me.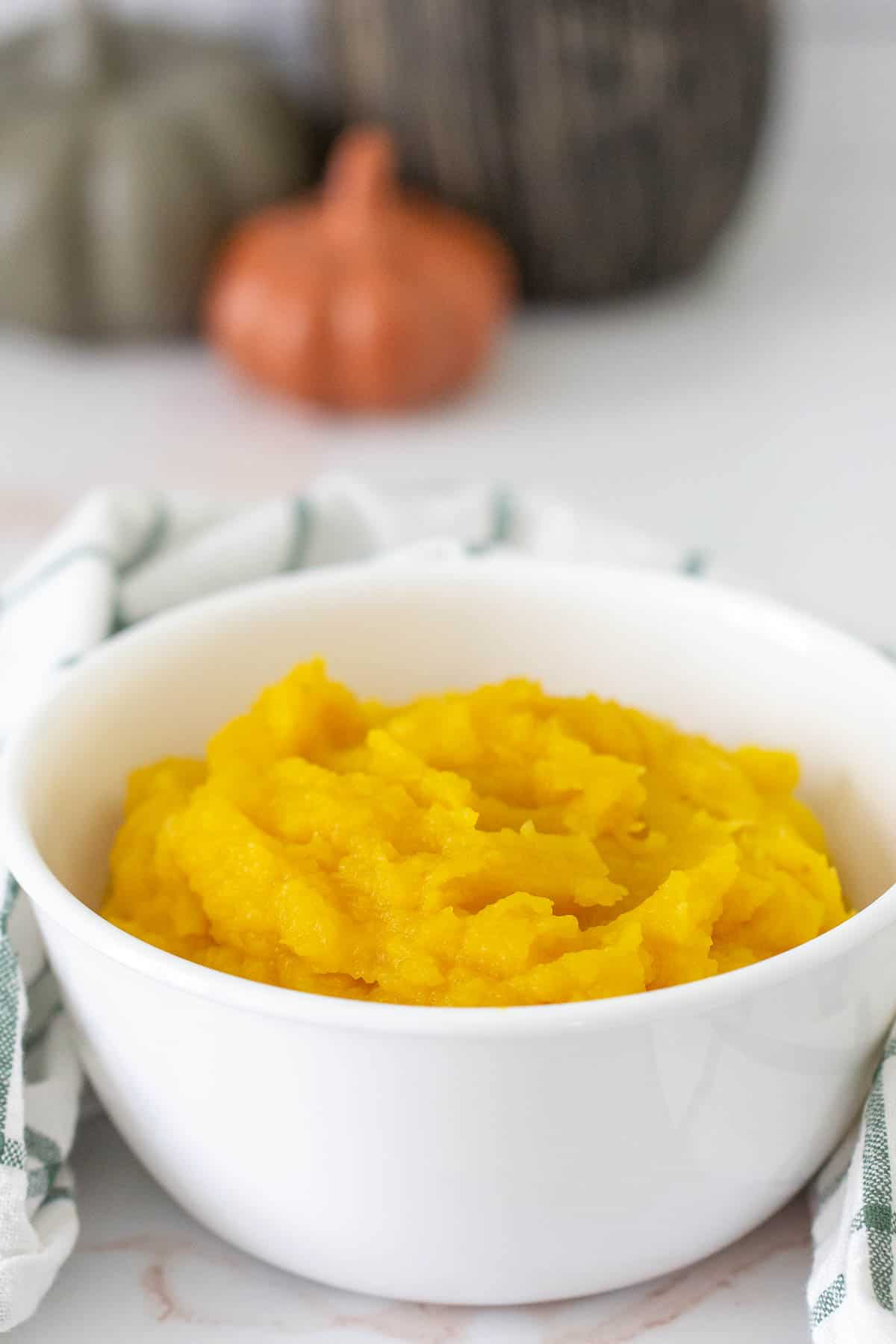 Homemade pumpkin puree is incredibly easy. All you need is a knife, a baking pan, and an oven. And the pumpkin, of course!
Choosing a pumpkin for puree
If you've never cooked with a whole pumpkin before, you might be a little confused about which kind to buy.
In the United States, grocery stores tend to offer lots of large pumpkins for carving and mini pumpkins for decor, but they don't always have pumpkins available for eating.
Look for smaller pumpkins labeled as sugar pumpkins or pie pumpkins. They are rounded and uniform in shape, and usually weigh between 3 and 6 pounds.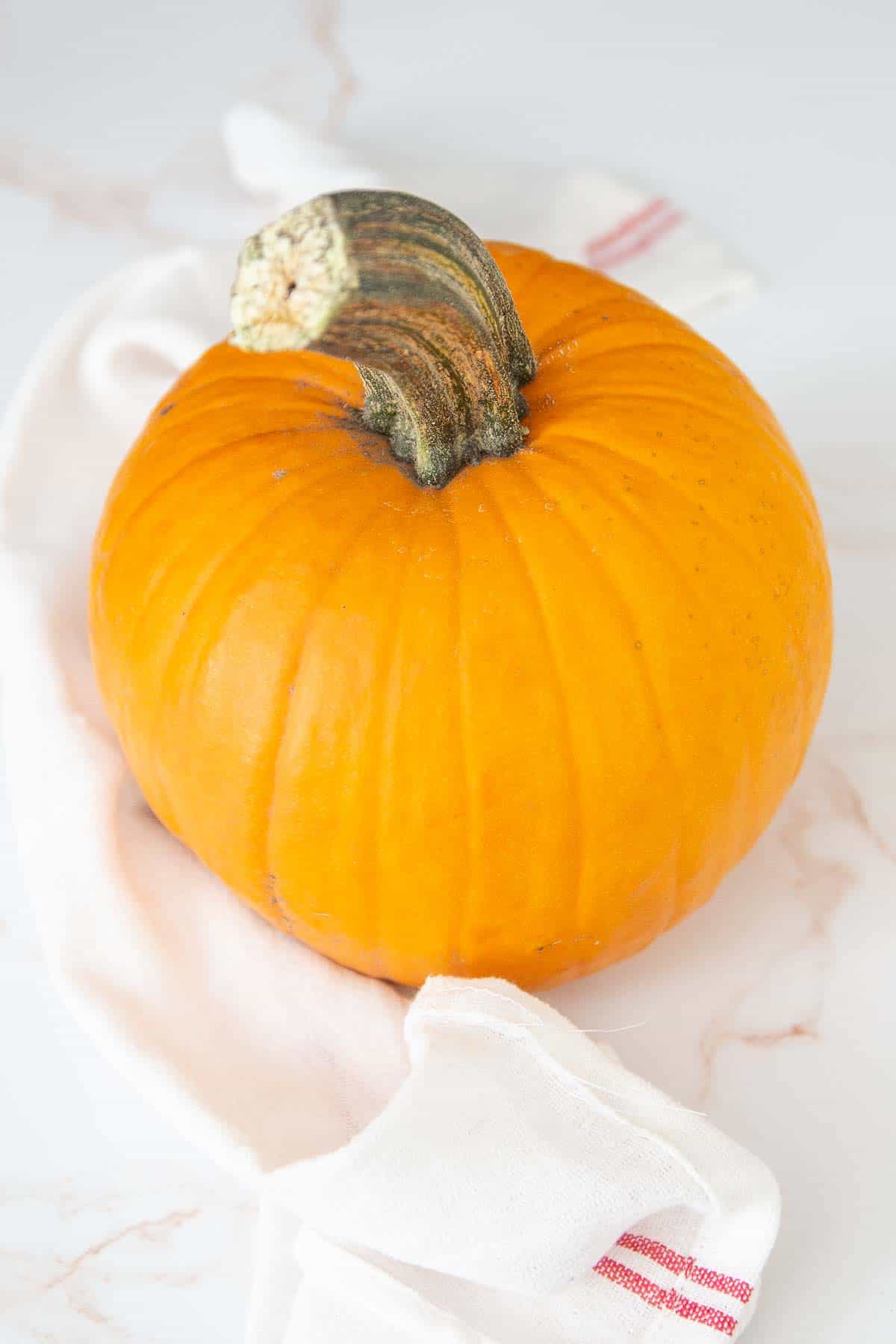 If you are shopping at a farmers market or local farm, they might have other varieties that are suitable for cooking. Be sure to ask the farmer, and try something new!
Canned versus homemade pumpkin puree
It's true that you can't beat the convenience of canned pumpkin puree, especially if you make a lot of pumpkin recipes!
When you make your own pumpkin puree for the first time, you might notice something — it doesn't quite look like what you get from a can.
That's because homemade pumpkin puree is typically made from a sugar pumpkin (pie pumpkin), which is often lighter in color.
Canned pumpkin puree can be made from a variety of winter squashes that can fall under the umbrella term "pumpkin."
These varieties, such as Dickinson pumpkins, Hubbard squash, or butternut squash, are vibrantly orange, less stringy, and tend to be sweeter, which in turn makes a perfectly smooth puree that's ideal for pies and other baked goods.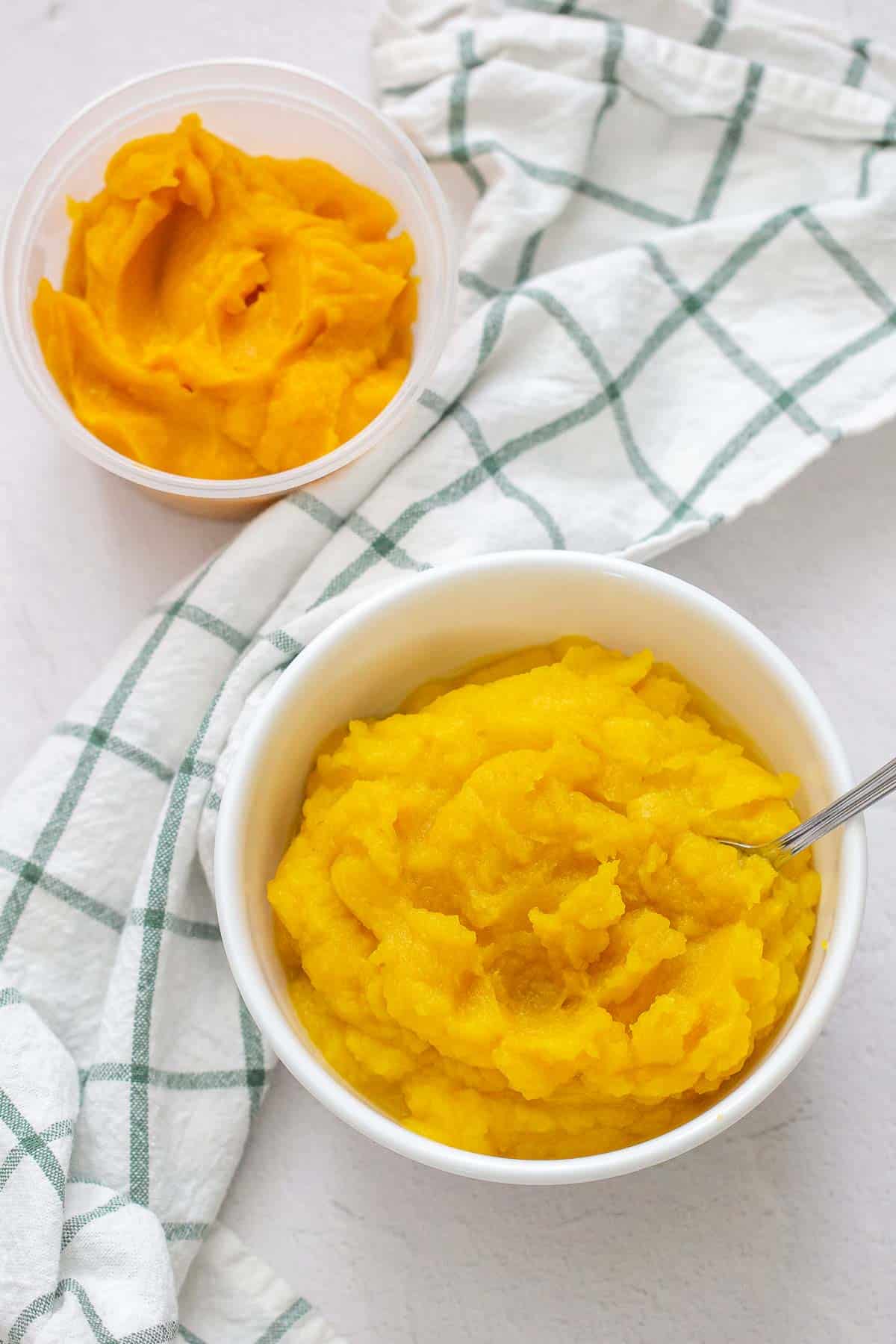 That doesn't mean you shouldn't try homemade pumpkin puree, of course!
Depending on the recipe and your pumpkin, the flavor and color might be less vibrantly "pumpkin" than you're used to from using canned, but no less delicious.
How to cook pumpkin
The first step in making pumpkin puree is cooking it.
My preferred method is simply to cut it in half and roast, as it takes less prep work.
Preheat your oven to 400°F.
You'll need either a rimmed baking sheet or a 9-x-13-inch baking pan. Do not use a sheet pan without a rim, as the pumpkin will release juices while it cooks, and you won't want a mess in the bottom of your oven!
Set the pumpkin on a cutting board. Using a large, sharp knife, carefully cut the pumpkin vertically down through the center.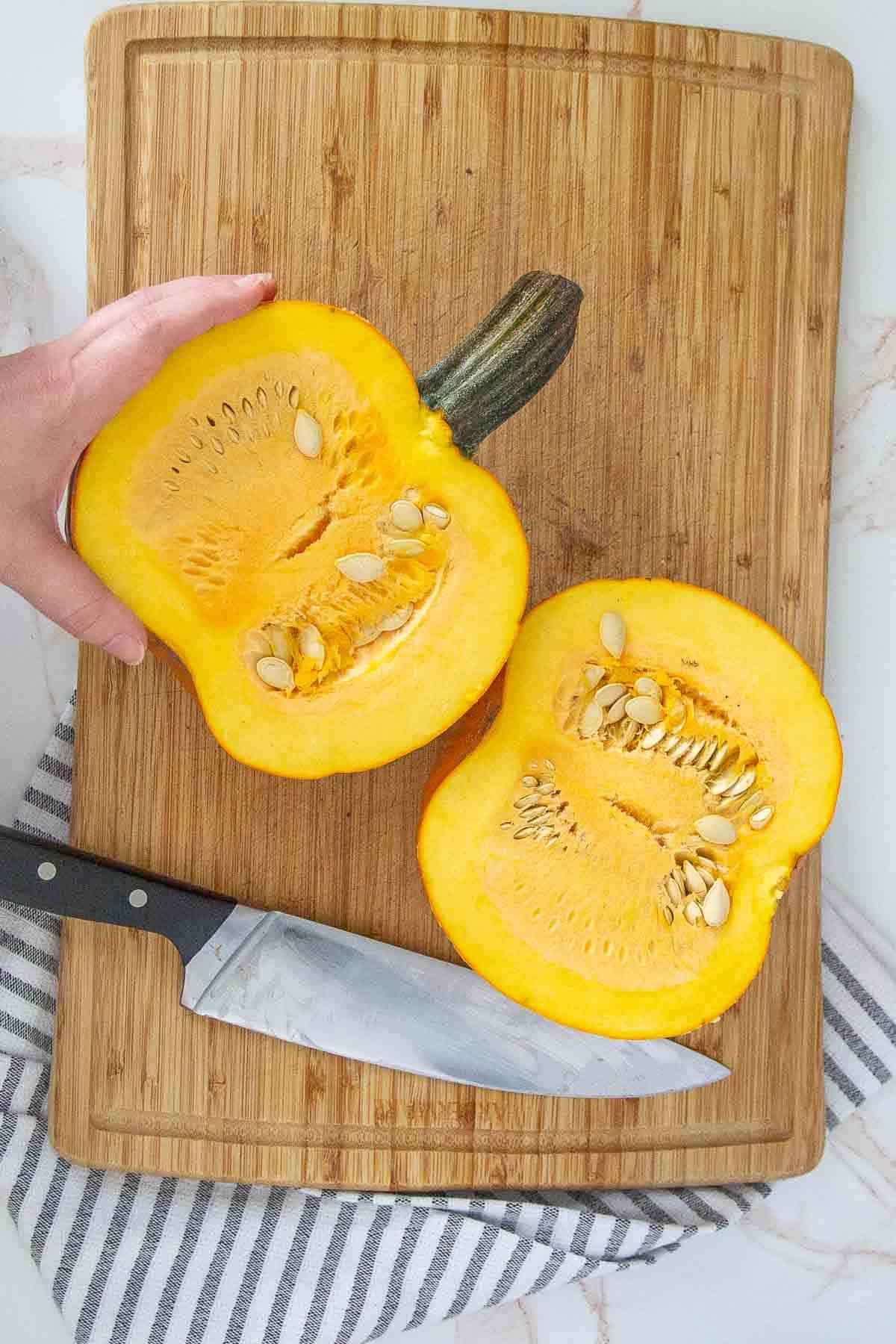 If you want, you can cut or break off the stem before halving. I tend to just cut around it and remove after halving.
Remove the seeds and stringy pieces around them. You can use a spoon, but a melon baller works wonderfully for this.
The sharp edges of the melon baller help scrape the insides of the pumpkin cleanly.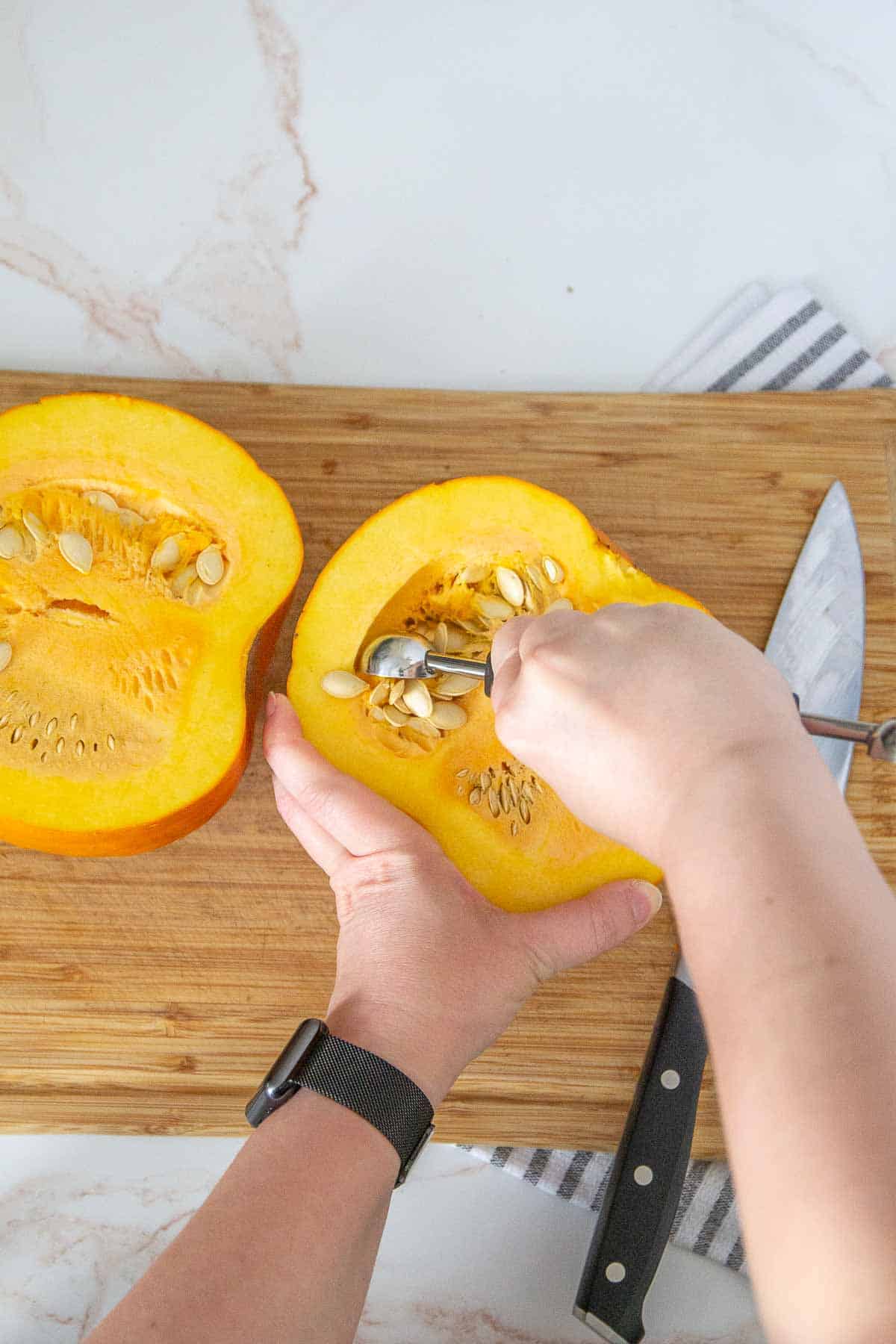 Scoop the insides into a bowl. The pumpkin seeds can be used to make roasted pumpkin seeds or air fryer pumpkin seeds.
Rub a small amount of olive oil around the cut flesh.
This is mainly to prevent the pumpkin from sticking to the pan, not flavor, so if you prefer you can use a little water instead.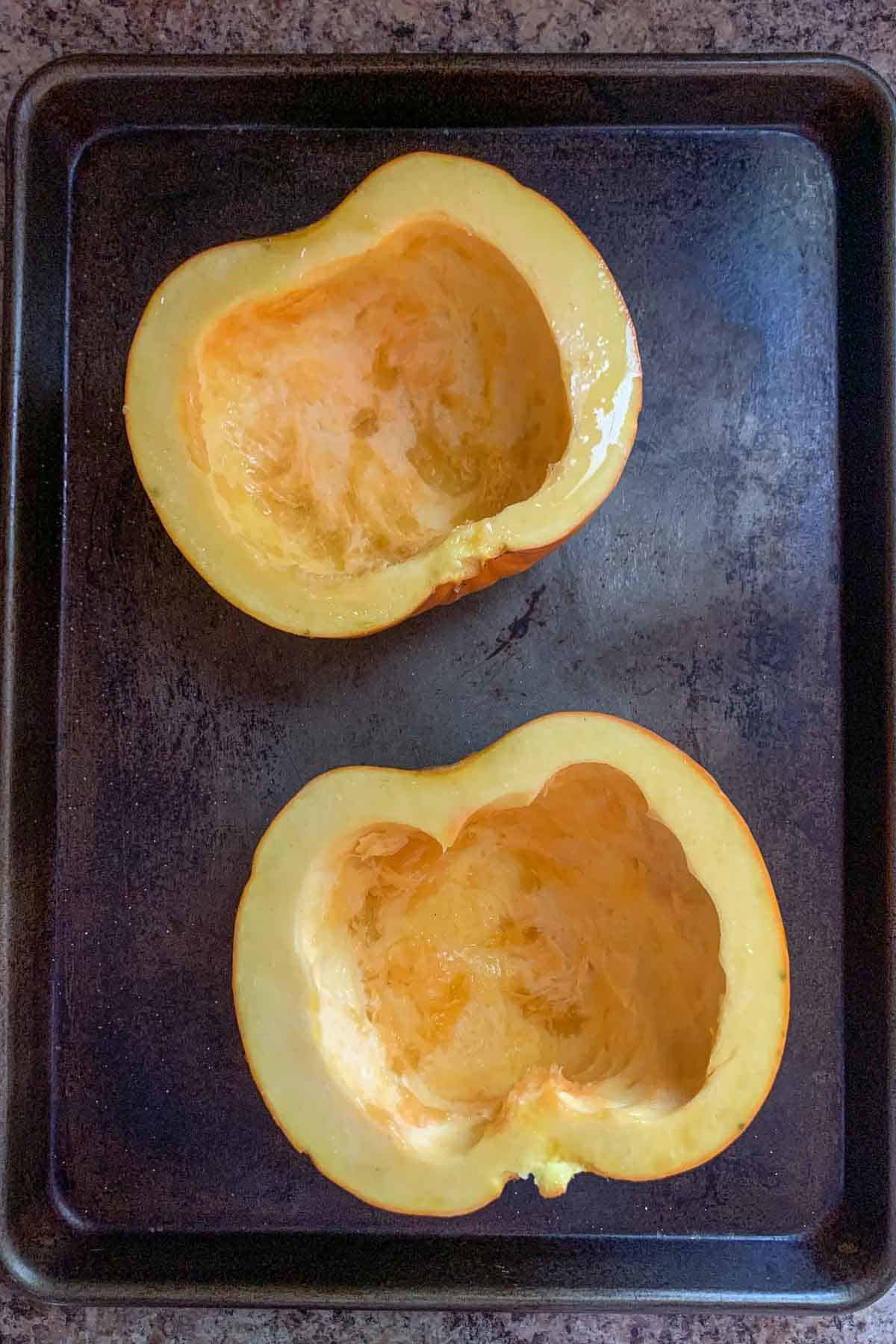 If you plan to use your puree for a savory recipe, you can add a sprinkle of salt and pepper. I prefer to keep my pumpkin unseasoned so I can use it for any recipe later on.
Place the pumpkin halves cut-side down on your baking sheet. Roasting this way will help create steam on the underside that will help the pumpkin cook fully.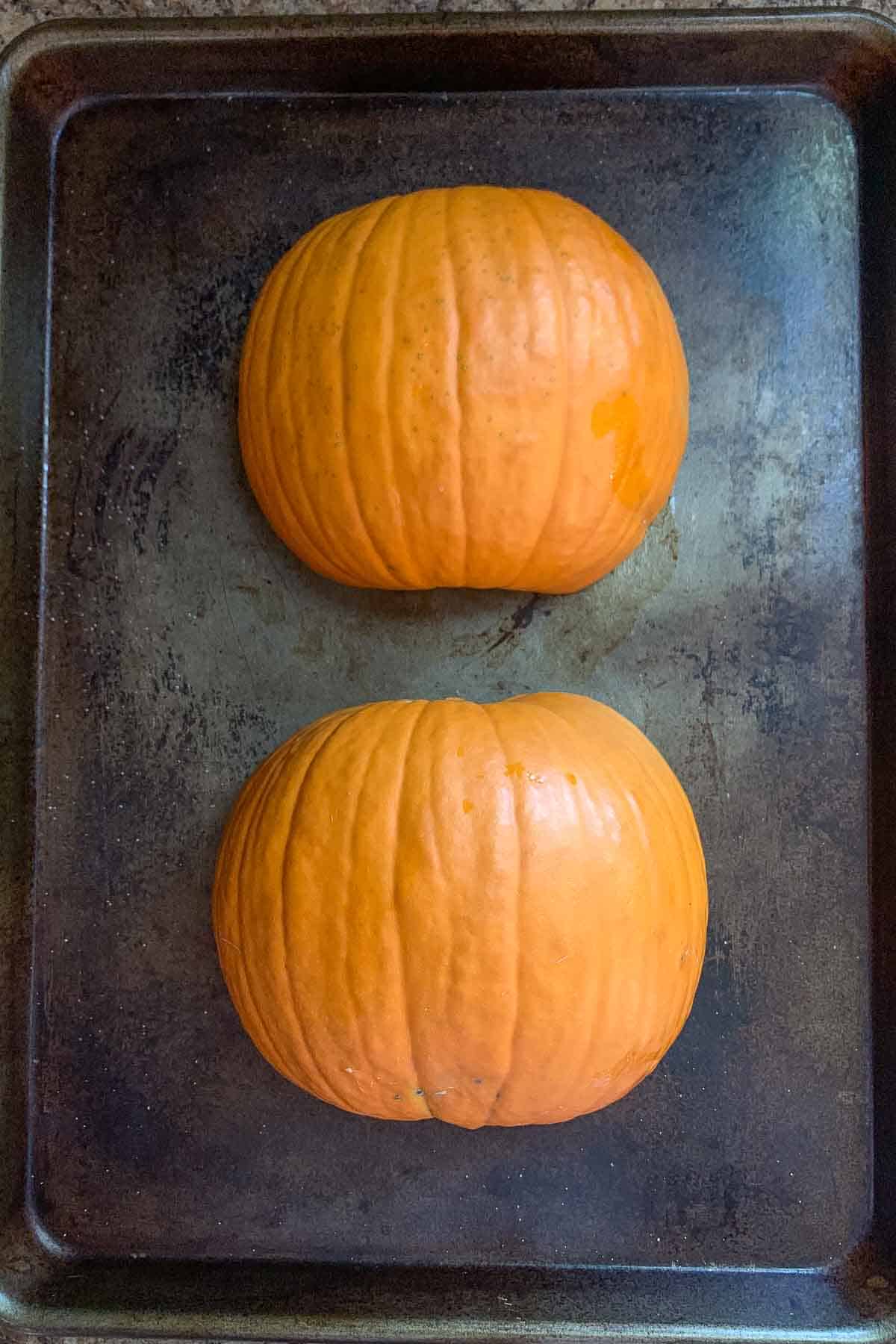 Roast the pumpkin for 35-60 minutes, depending on the size. It should be soft and almost collapsing in on itself.
Flip the halves over and let cool until easily handled.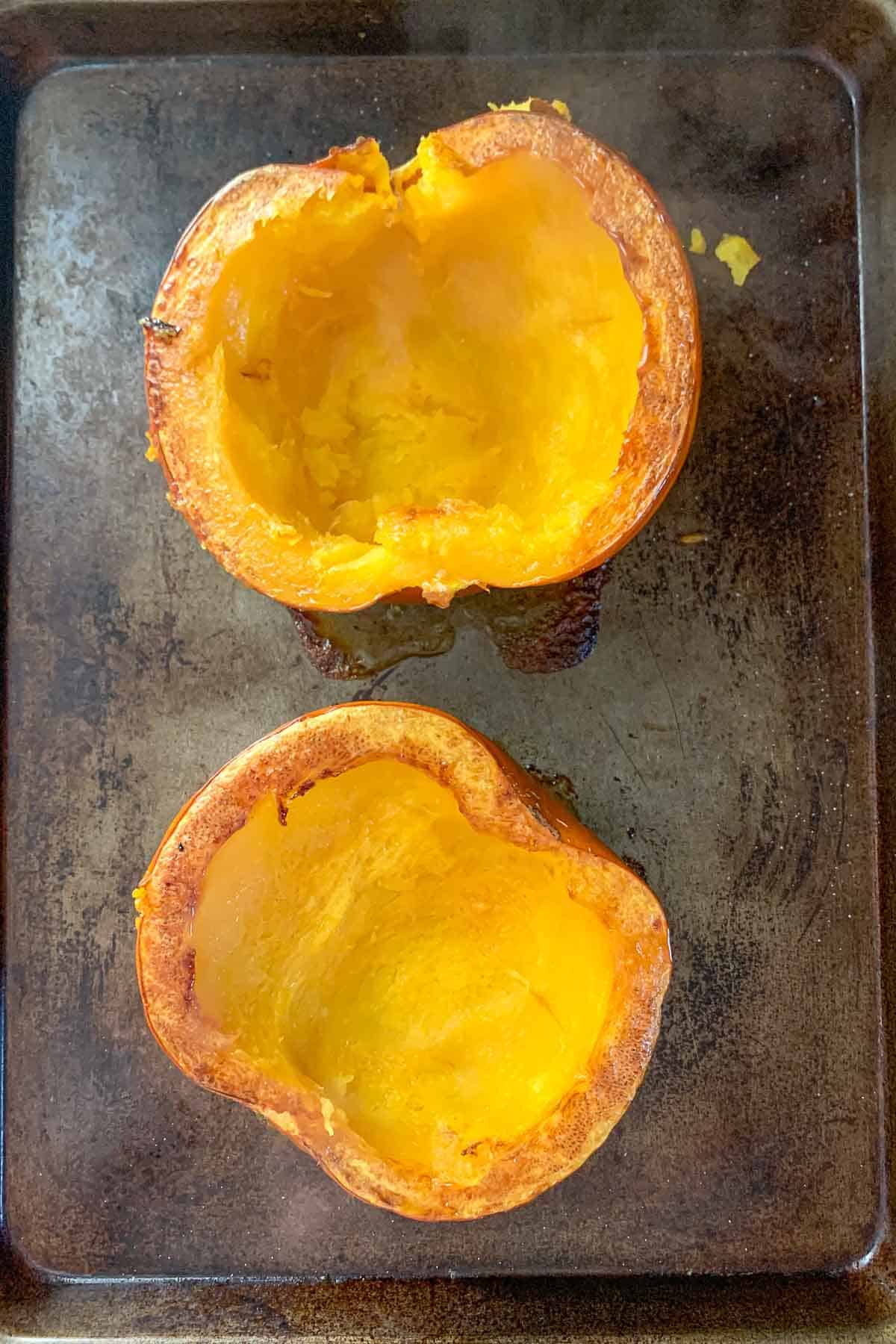 Scrape the cooked pumpkin out of its skin. If it is soft enough, you can also peel the skin off the pumpkin in chunks.
Transfer the cooked pumpkin to a food processor and puree until completely smooth, working in batches if needed.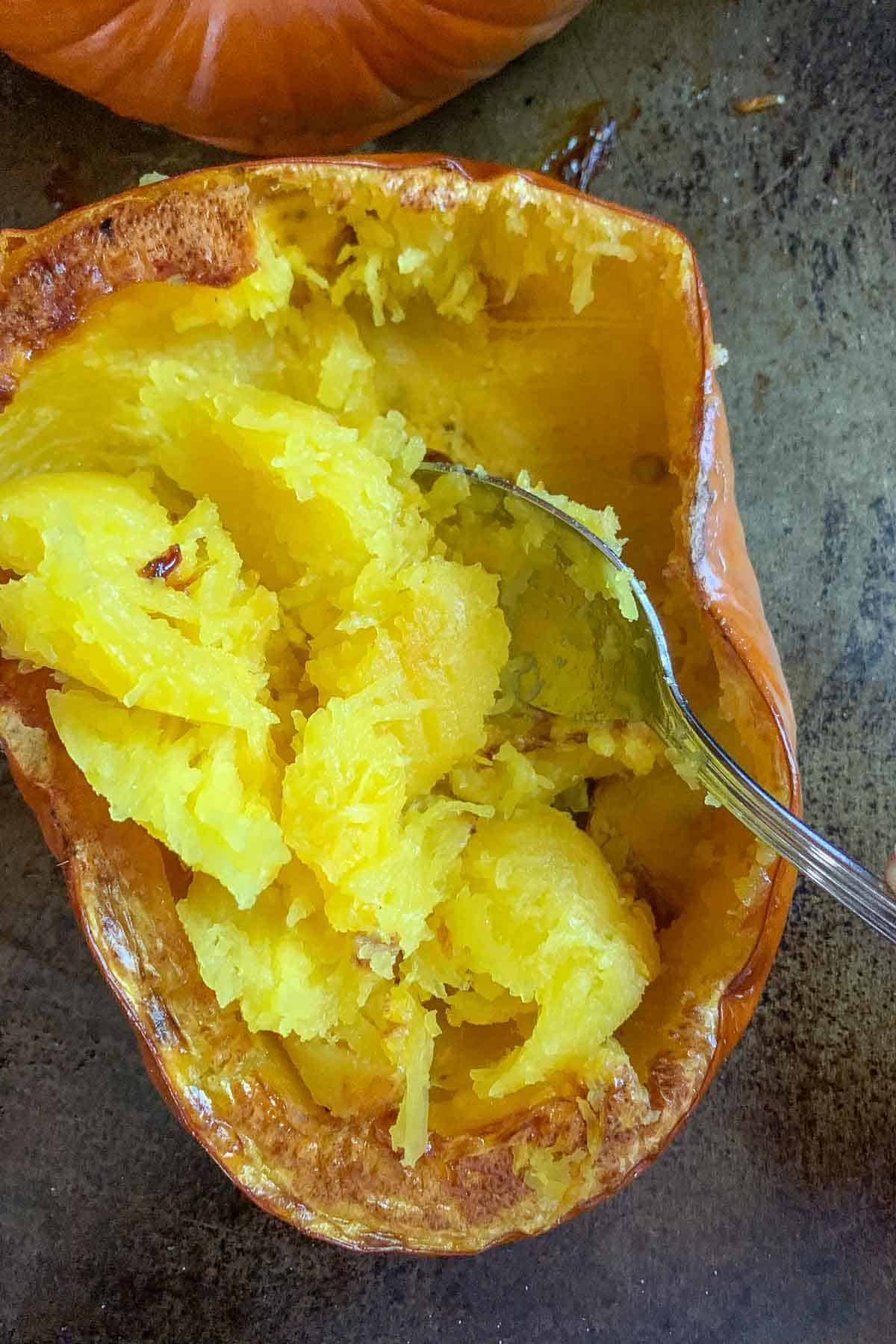 Scoop the puree into an airtight container and chill until ready to use.
Storage tips
Fresh pumpkin puree will keep in the refrigerator for about 1 week.
Keep it in an airtight container, such as a deli container.
Note that some excess liquid can rise to the top as it rests. You can either stir it back into the puree or drain it off.
For longer storage, freeze the puree.
To freeze, make sure the puree is completely cooled. Scoop into freezer bags in 1- or 2-cup portions.
Remove excess air, seal, and label. Lay the bags flat, pressing the puree into an even layer. Once frozen, stack or store upright in the freezer.
Frozen pumpkin puree will keep for about 6 months.
To thaw, place in the refrigerator overnight.
important!
Pumpkin puree is not shelf stable and must be stored in the refrigerator or freezer. It is NOT suitable for canning, even in a pressure canner!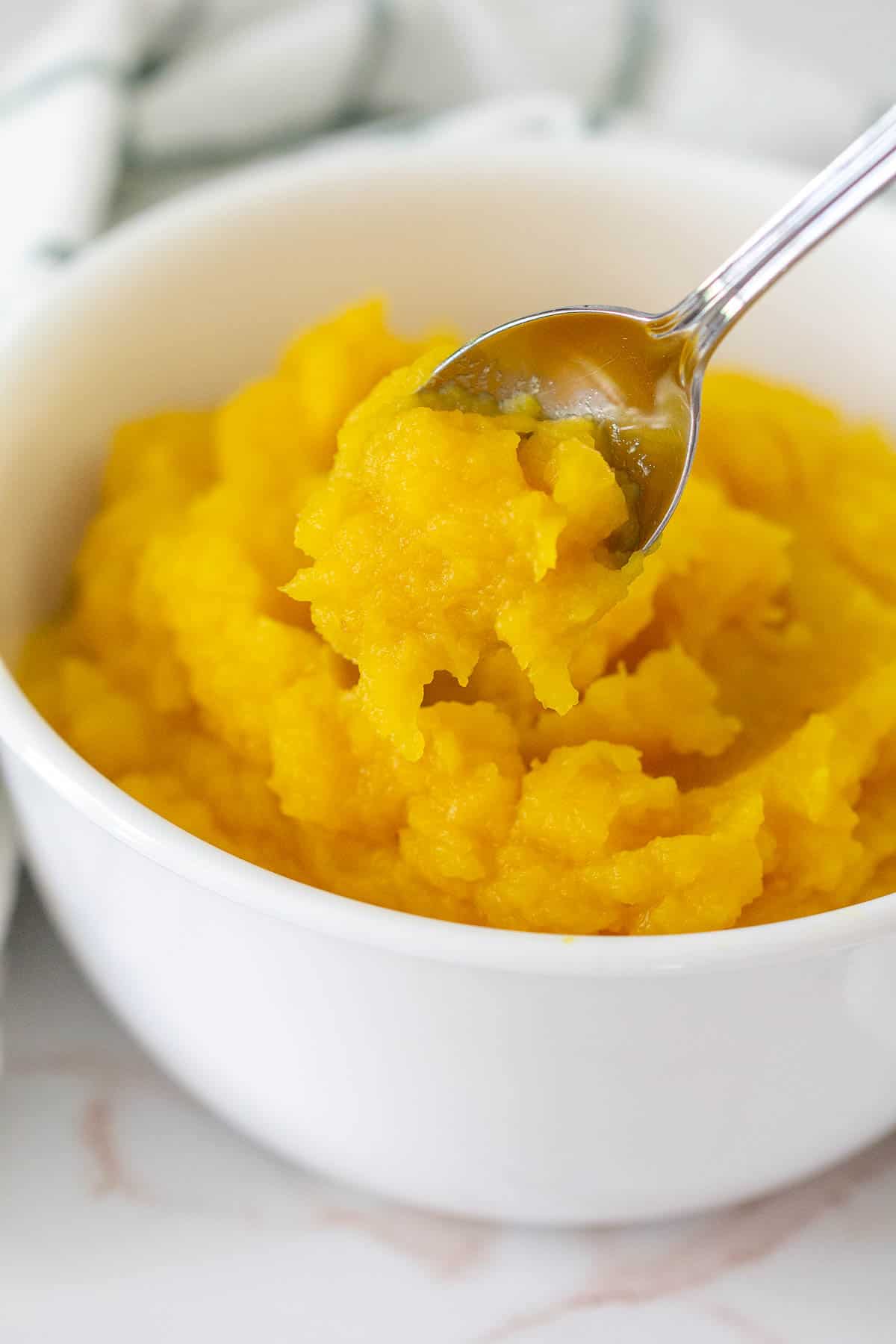 Recipes for using homemade pumpkin puree
There are so many ways to use your pumpkin puree. Use it any place you normally use canned puree!
Pumpkin breakfast recipes
Pumpkin desserts
Savory pumpkin recipes
No matter how you use it, homemade pumpkin puree is a great recipe to keep in your back pocket.
Love this recipe? Please leave a 5-star review below! It means so much when you enjoy my recipes, so let me know how it goes and leave a comment if you have any questions.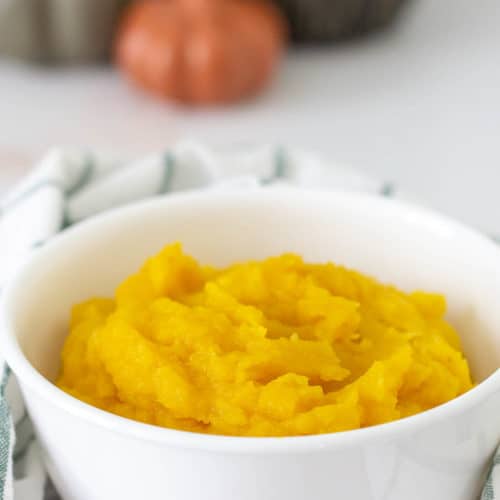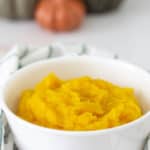 How to Make Pumpkin Puree
Pumpkin puree is an essential fall ingredient. Learn how to make it at home using fresh pie or sugar pumpkins.
Print
Pin
Save
Saved!
Instructions
Cut pumpkin in half vertically. Scoop out the seeds and set aside. Rub the cut edges of the pumpkin with a small amount of olive oil or water, then set cut-side down on a rimmed baking sheet.

Roast for 35-60 minutes, depending on the size of the pumpkin, until soft. Let cool.

Scoop out pumpkin from the skin and transfer to a food processor. Puree until completely smooth.

Transfer to an airtight container and store in the refrigerator until ready to use, or freeze for longer storage.
Nutrition information is provided as a courtesy and is an estimate based on online calculators. Any nutritional information found on Stetted should be used as a general guideline only.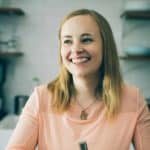 About Megan
I focus on fresh ingredients and easy methods, with spins that keep meals interesting. Dinnertime shouldn't be stressful or complicated, and I'm here to help you enjoy the time spent in the kitchen. Read more…