Pumpkin-turkey chili makes chili night even more warming and filling.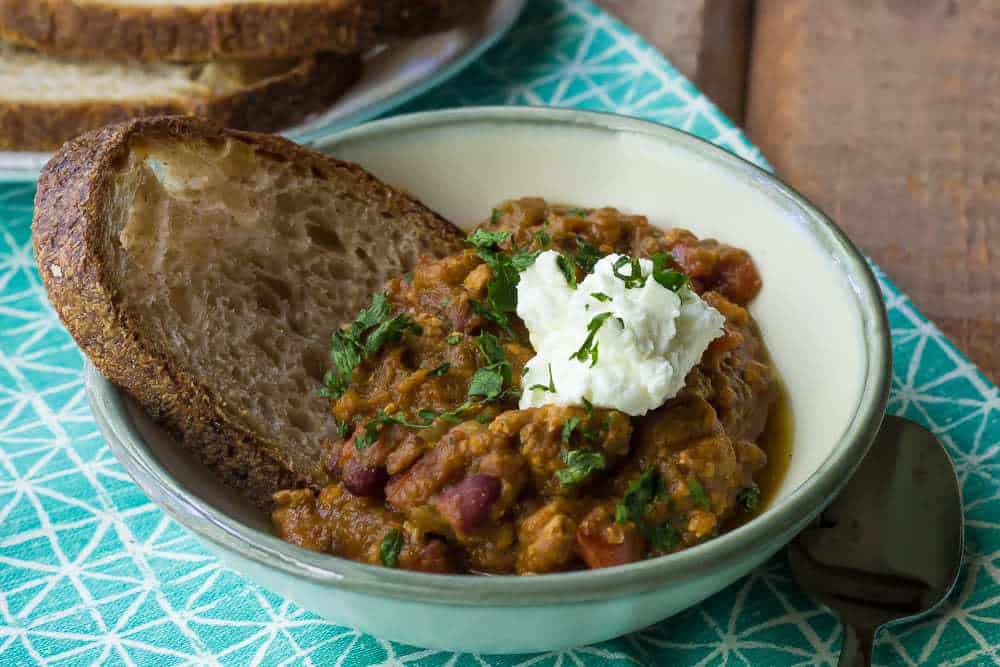 Over the weekend we celebrated Halloween, like many others across the country. My older son is a pro at this by now and spent the night racing from house to house with a few of his soccer buddies, while my other child was new to it all. Once he understood that he just had to knock on a door and look at the homeowners with his big blue eyes, he was all in, and amassed quite the haul.
Truth be told, the candy the kids get generally is ignored after the first few days. That goes for Christmas, Easter, and Valentine's Day candy as well — they're just not that interested. I'm not sure how I managed to make that happen, but I'll take it and let my son donate his candy to the dentist. (He's trading kids' candy for money and then sending the candy to troops.)
All this is to say, Halloween is over, and for me that starts the real beginning of winter weather. Though temperatures don't drop much here until January, I'm giddy over the ability to open our windows again and indulge in some warm bowls of slow-cooked soups and stews.
Chili is one of our family favorites, and with good reason. It's easy to customize to account for differing taste buds, as well as offer toppings on the side. My kids aren't keen on too much spice of course, so this pumpkin-turkey chili is a great recipe for the whole family. By stirring in pumpkin puree, it brings down the spice level while adding richness and a bit of sweet flavor.
I used a mix of beans in this chili, which worked well. I think it would also be a hit with chickpeas instead and a bump of flavor from garam masala and turmeric in place of some of the chili powder.
Be sure to serve it up with some hearty bread, and stash away some leftovers for tomorrow's lunch!
Get the recipe for Pumpkin-Turkey Chili over at my post on Recipe.com!
For more tasty inspiration, check out my Soups and Stews board on Pinterest!
Follow Megan Myers | Stetted's board Soups and Stews on Pinterest.