Raspberries & cream pie is just the thing to round out your summer.
There's always a magical time in summer when the organic raspberries go on sale for a ridiculously low price and I sort of lose my mind. Since there is no way to get local raspberries, those little containers are pretty pricey.
But every year in the height of the season in California the little gems are priced to move, and I am grateful. So are my kids, who do their best to eat them all before I even get a crack.
If you're lucky enough to sequester a few boxes from tiny hands, I highly recommend you make this pie. It's incredibly easy, especially because there is no fruit prep involved aside from washing. I adore pies where you basically just dump things in, and think more pies need to exist this way.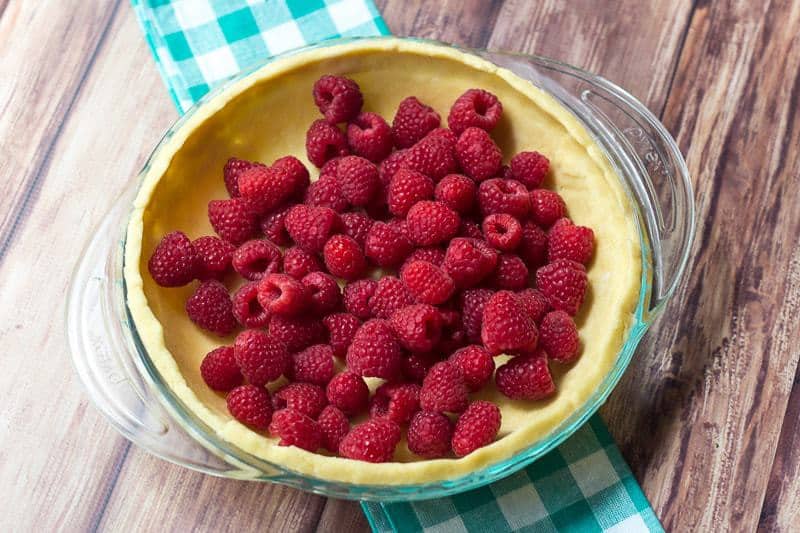 The filling that surrounds the tart berries is a custard of sorts, made with sour cream, eggs, and a few other ingredients. I'm sure someone is going to ask if you can swap in Greek yogurt for the sour cream, and I'll say sure! but be aware I haven't done it. Either way you'll end up with a pie, and I don't think that's a bad way to go.
After you pour the filling in, the pie gets topped with a streusel topping because why not. It all works beautifully together, with the tart and tangy and buttery and sweet vying for attention on your tongue. This is a go-to summer pie.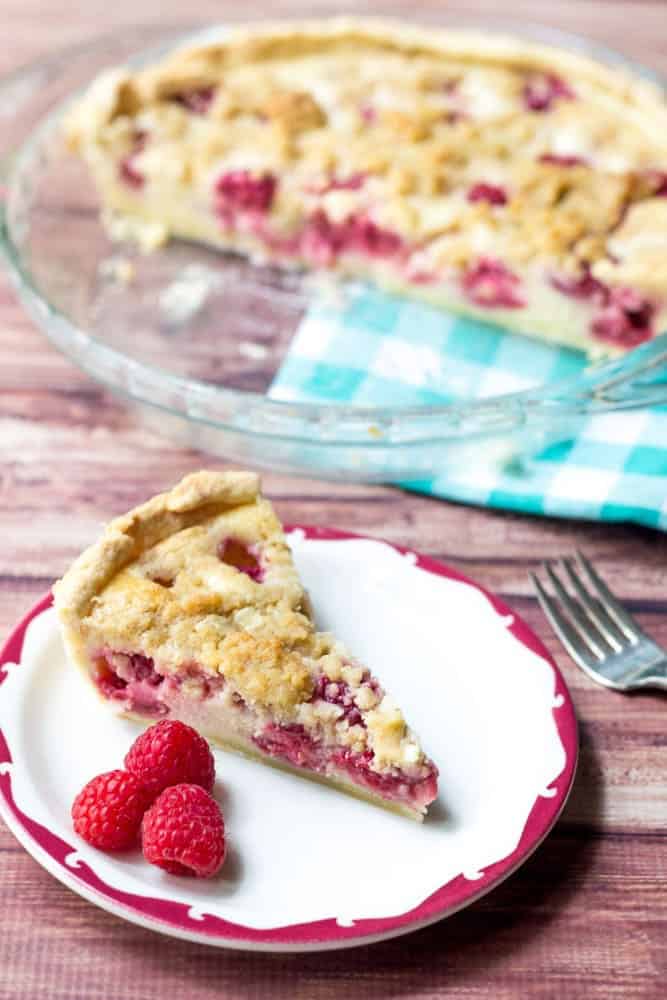 A raspberries & cream pie is also great for celebrations, like the little virtual birthday party we're having today for my friend Kimmie over at Bake Love Give. She had the fun idea of having us make treats to share on our sites, since we all live too far from one another to actually celebrate in person. (OK, technically Kimmie lives in Dallas now but have you ever driven IH-35 on the almost-weekend? It's not pretty.)
Check out the rest of the posts!
Happy Birthday to Me – Bake Love Give
Big N' Soft Baked Dark Chocolate Donuts – Cupcake Rehab
Drunken Chocolate Cupcakes – JavaCupcake
Peanut Butter Oreo Truffles – Sarah's Bake Studio
Brown Butter Crispy Rice Treats – A Less Processed Life
No-Bake S'mores Cheesecake – The Seaside Baker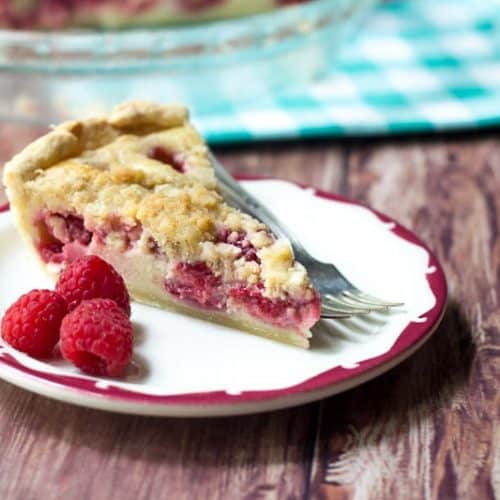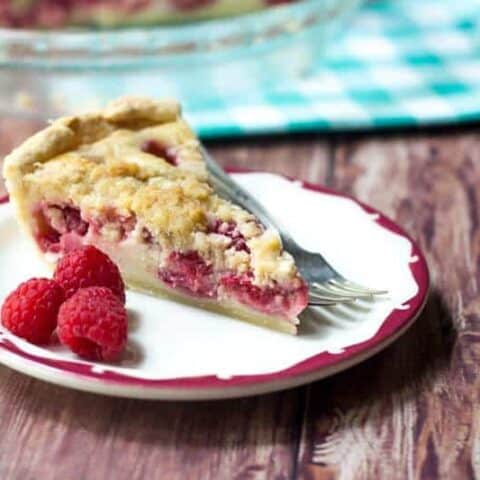 Raspberries & Cream Pie
Yield: 8 servings
Prep Time: 10 minutes
Cook Time: 50 minutes
Total Time: 1 hour
Raspberries & cream pie is just the thing to round out your summer.
Ingredients
1 pie crust
3 cups raspberries, washed and patted dry
1 cup granulated sugar
1/3 cup all-purpose flour
2 large eggs
1/2 cup sour cream
1 teaspoon pure vanilla extract or vanilla paste
For the topping
2 tablespoons brown sugar
2 tablespoons granulated sugar
1/2 teaspoon cinnamon
1/8 teaspoon grated nutmeg
1/4 cup melted butter
1/2 cup plus 2 tablespoons all-purpose flour
Instructions
Preheat oven to 350°F and lay your pie crust in a 9-inch pie pan.
Dump raspberries into pie crust.
In a bowl, mix together 1 cup sugar and 1/3 cup flour. In another bowl whisk together eggs, sour cream, and vanilla until blended, then stir into sugar-flour mixture and whisk until smooth. Pour over raspberries.
For the topping, mix together brown sugar, remaining 2 tablespoons granulated sugar, cinnamon, grated nutmeg, melted butter, and flour together with a fork until it is blended and crumbly. (You can also do this in a food processor using the pulse function.) Scatter over the top of the pie.
Bake for about 50 minutes, until top is golden. Let cool completely before cutting.
Notes
You can make this recipe gluten free by using a gluten free pie crust and swapping the flour for gluten free flour or almond meal.
Recommended Products
As an Amazon Associate and member of other affiliate programs, I earn from qualifying purchases.
Nutrition Information:
Yield: 8
Serving Size: 1 slice
Amount Per Serving:
Calories: 368
Total Fat: 16g
Saturated Fat: 7g
Trans Fat: 0g
Unsaturated Fat: 7g
Cholesterol: 70mg
Sodium: 160mg
Carbohydrates: 54g
Fiber: 4g
Sugar: 34g
Protein: 5g