Blueberry waffles are bursting with summer sweetness to start your day.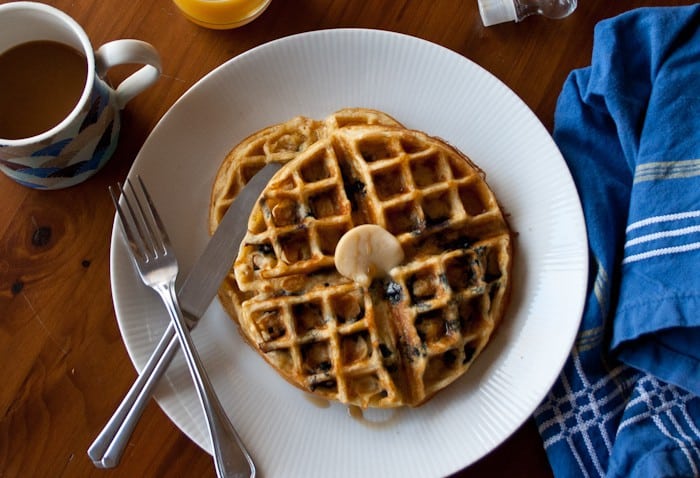 A few Christmases ago I received a double Belgian waffle maker, the kind that you rotate in order to make two waffles at once. It's hard not to make waffles all the time when you get your hands on one of those. (I know for certain I'm not the only one who loves the waffle makers hotel chains have been putting out for DIY breakfasts.) Although sometimes I like to get crazy and make things like peanut butter & jelly waffles or beer cheddar waffles, there are times when I just want a classic breakfast. Out come the blueberries.
I admit, blueberry waffles are not new or innovative. They're fairly standard in the realm of home cooks, though blueberry waffles tend to not make it on restaurant menus. Unless you count waffles doused in overly sweet blueberry compote, which I do not.
Waffles seem to get a reputation for being fussy and difficult, but I promise you they're really not. Even if you don't have a double waffle maker,  I promise you that these are only slightly longer to prepare than pancakes. Probably the most difficult part is waiting for the batter to rest, and even then you can mix it up before you go to bed so you can be turning out waffles while the coffee bubbles.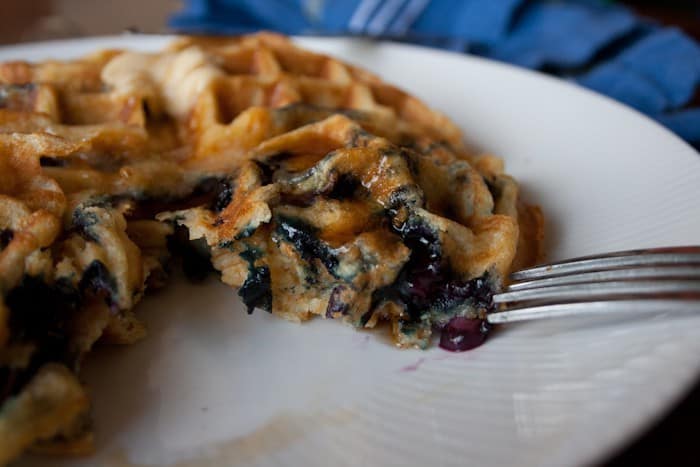 Use plump fresh berries when you can for these waffles. Make sure to toss any scraggly looking berries and check that the stems are completely removed; I almost always have a few stems in my berries.
The absolute best blueberries I've had came from a stand at the Mill City Farmer's Market in Minneapolis, but if you don't live in an area where you can get berries at the farm stand — in the words of Ina — store bought is fine. If using frozen berries, thoroughly thaw them and pat dry as best you can.
What to serve with waffles? Butter and maple syrup, as nature intended.
For more morning inspiration, check out my Breakfast board on Pinterest!
Follow Megan Myers | Stetted's board Breakfast on Pinterest.