This post contains affiliate links. As an Amazon Associate, I earn from qualifying purchases.
Creamy zucchini risotto is easier to make than you might think. Stir in grated zucchini or other seasonal vegetables for this simple side dish or meatless main.
Risotto is one of those things that seems to be so difficult.
At least, that's what cooking competition shows have told us, with contestants nearly always failing on the risotto front.
However, risotto is not actually very hard!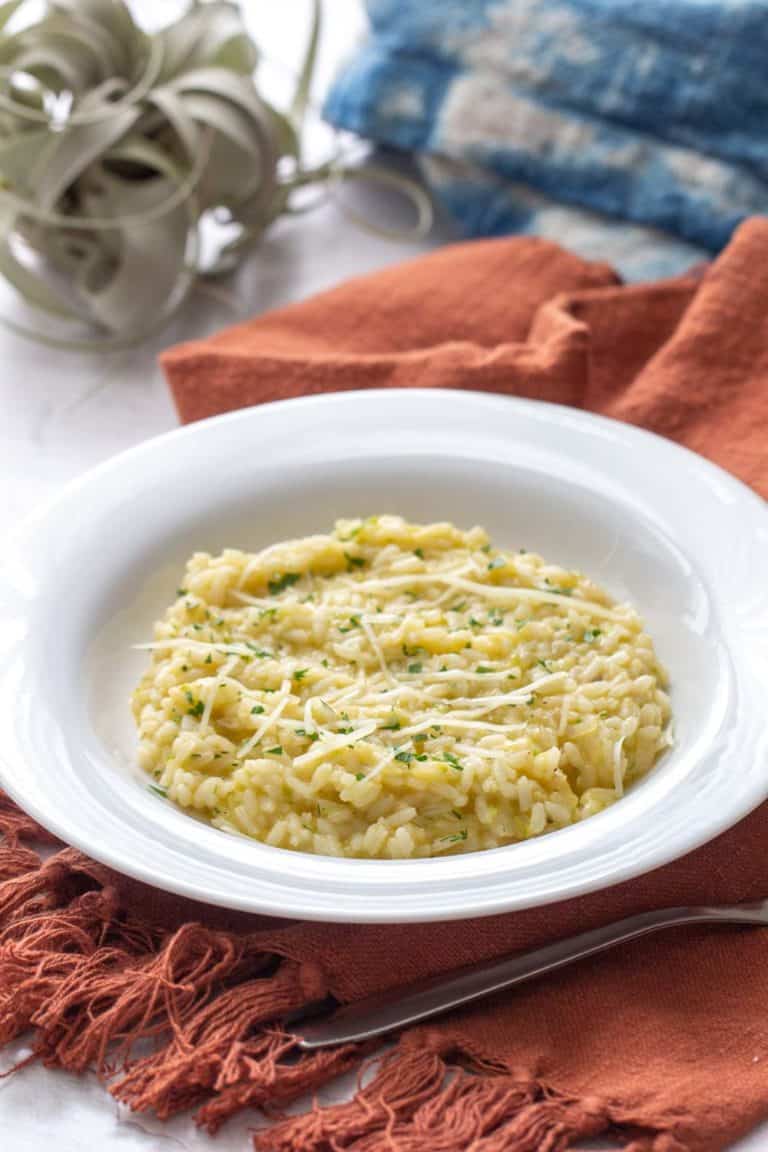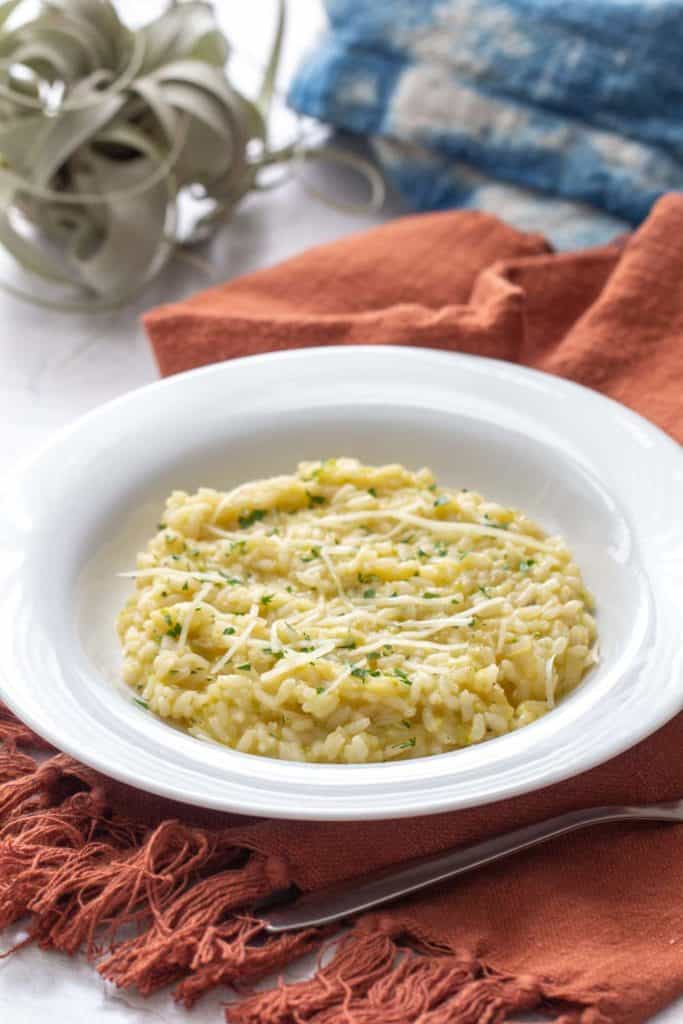 Yes, there is some time standing over the stove and stirring required, but if you're anything like me you relish the chance to just stand still and let your mind relax as you methodically stir.
Risotto is super versatile too, so you can add just about anything to change up the flavors.
In the summer and early fall I always have extra grated zucchini in the fridge from making zucchini bread. 
Since it's already prepped it's perfect for adding to this risotto. Plus, it requires minimal cooking time, so you can add it near the end of the process.
You can use anywhere from 1 to 2 cups of grated zucchini in this recipe. Be sure to drain off excess liquid before adding it to the risotto!
Tips for making risotto
The main thing to remember about cooking risotto on the stovetop is to go slowly.
It's tempting to just add all of the broth at once, but the small, slow additions at a lower temperature ensures the rice gets cooked to be perfectly tender.
This slow addition also helps release the starches that give risotto its signature creamy texture.
Keep your broth simmering in another pot. You want it to be warm so that the cooking process is not halted when adding it to the warm rice.
I like to finish my risotto with butter and cheese, but you can go for just cheese, or a bit of heavy cream.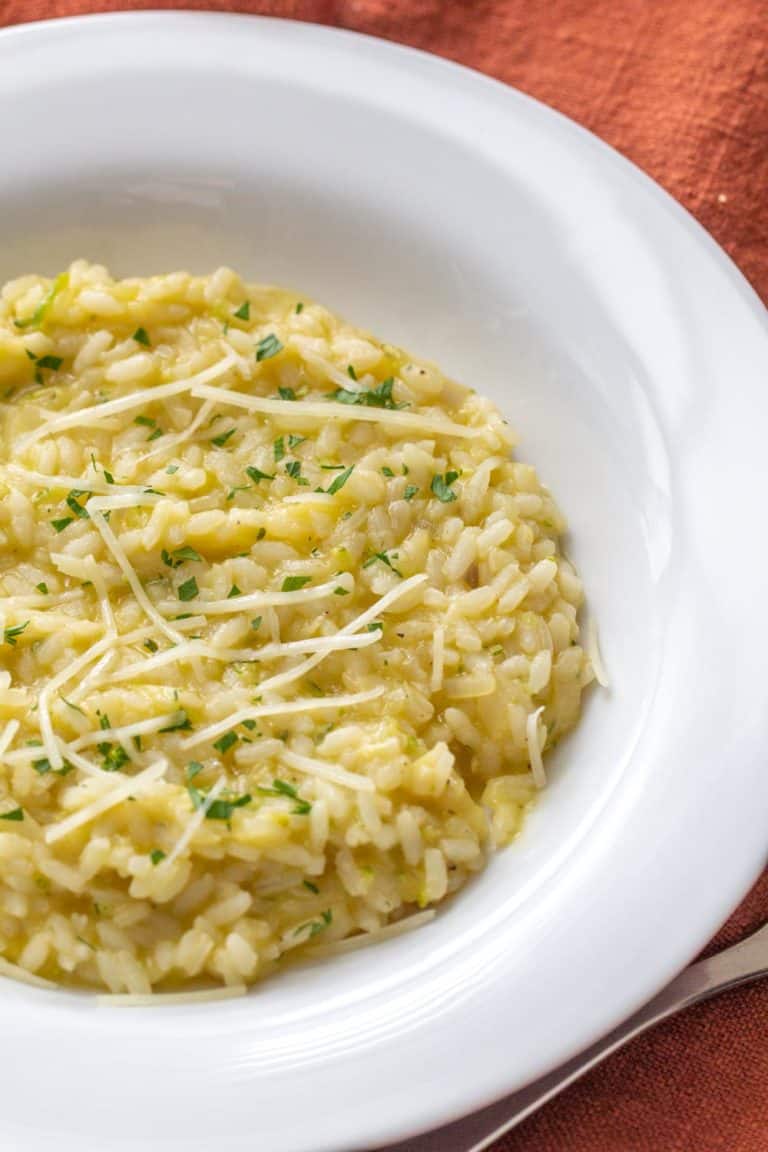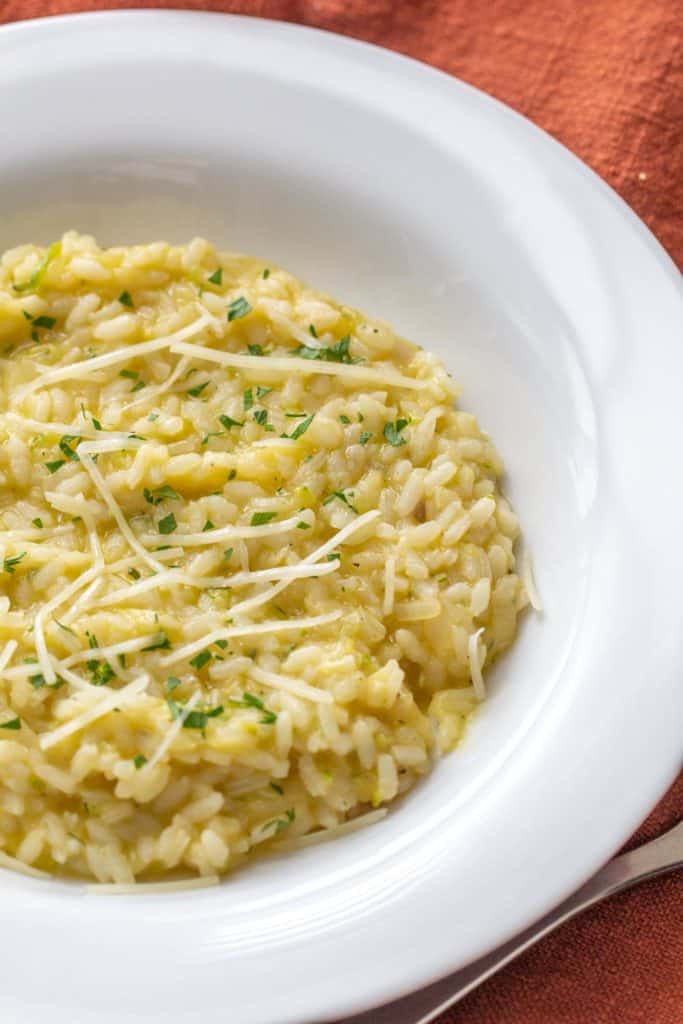 What kind of rice do I need for risotto?
Risotto is usually made with arborio rice. Arborio rice is a starchy, short-grain rice that absorbs less liquid and provides for a creamy risotto.
You can also use other Italian short-grain rices like carnaroli, nano, or baldo, but arborio is the most common in the United States.
If you can't find arborio, another medium- or short-grain rice will still work. In fact, I've used sushi rice for risotto and it works perfectly.
Don't use long-grain rices like jasmine or basmati, which do not have enough starch to make a creamy risotto.
Do I need wine for risotto?
While risotto is a good excuse for me to open a bottle of white wine, I don't always add it to my dishes.
Wine adds flavor and acidity to dishes. The acidity helps cut the richness that many associate with risotto, but you can also use white wine vinegar, red wine vinegar, or lemon juice for the same purpose.
If you prefer to not use alcohol, don't like the flavor, or simply don't have any on hand, you can skip it.
This particular recipe uses lemon juice instead of wine, but if you like, you can add ¼ cup just after sautéeing the shallots.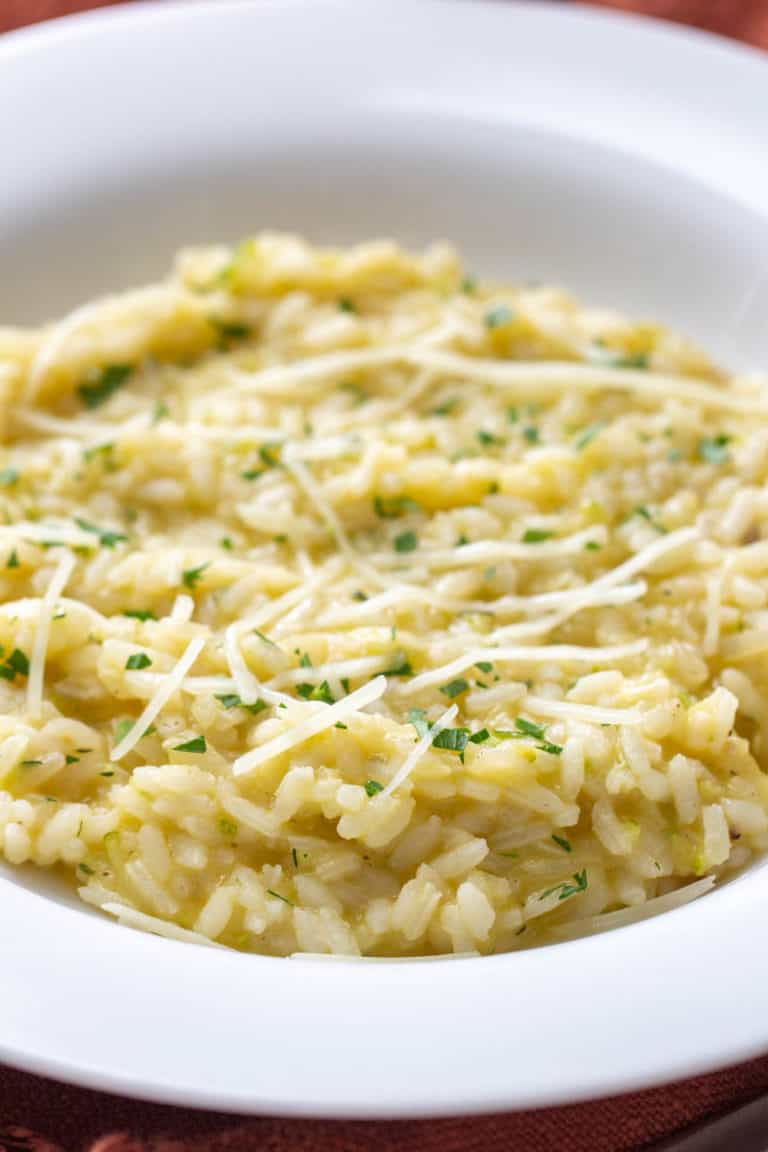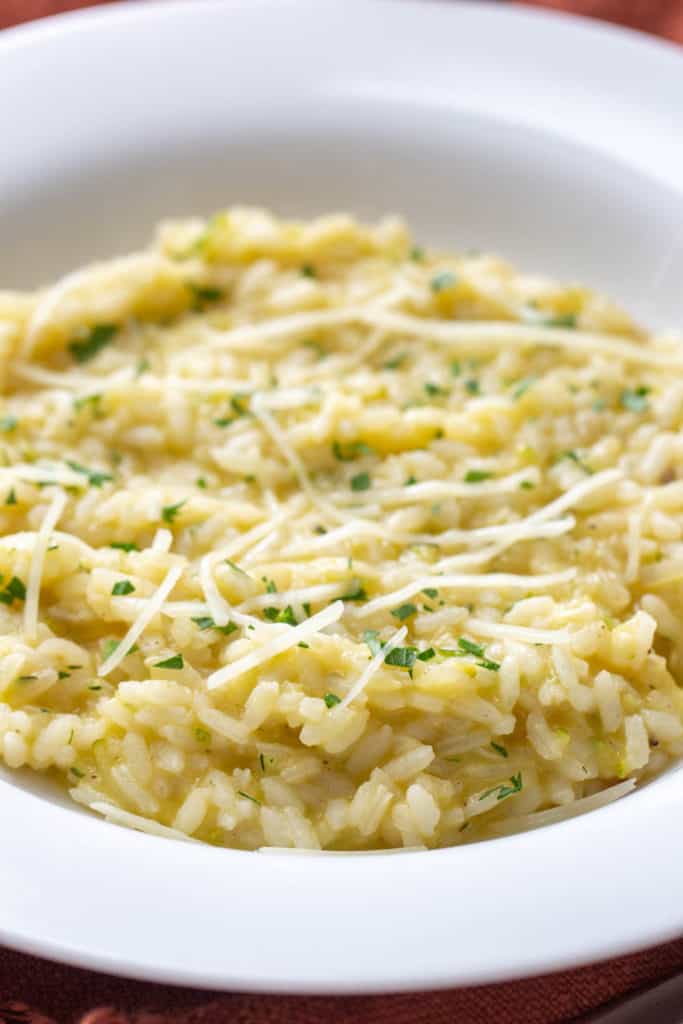 Can risotto be frozen?
Risotto can be frozen, but there are a few tricks to remember to reheat it.
The creamy texture is what you're going for with risotto, and freezing it can make the rice hard and overall texture grainy.
Reheated risotto will not taste quite the same as fresh from the pot, whether you store in the freezer or the fridge.
Freezing the risotto flat in a resealable bag will make it easier to reheat, but you can also freeze in portion-size blocks. Thaw in the refrigerator overnight, if you can.
For the best texture, heat some broth in a saucepan and add the thawed or refrigerated risotto. Break up the risotto as it warms, adding extra broth as needed to keep it from being too dry.
Can I make zucchini risotto in the Instant Pot?
Even though risotto traditionally takes a lot of hands-on time, you can make risotto in the Instant Pot!
I've done this method for my bacon and egg risotto, and it works with other recipes as well.
Saute your shallots in the Instant Pot, then stir in the rice to completely coat.
Stir in a small amount of the broth (or ¼ cup wine if using), scraping the bottom as needed to release any stuck bits.
Pour in remaining broth and zucchini, stir, and place the lid on.
Set the valve to "seal" and set to Manual High Pressure. Set the timer for 5 minutes.
Once the cook time is complete, release the pressure and add remaining ingredients, seasoning to taste.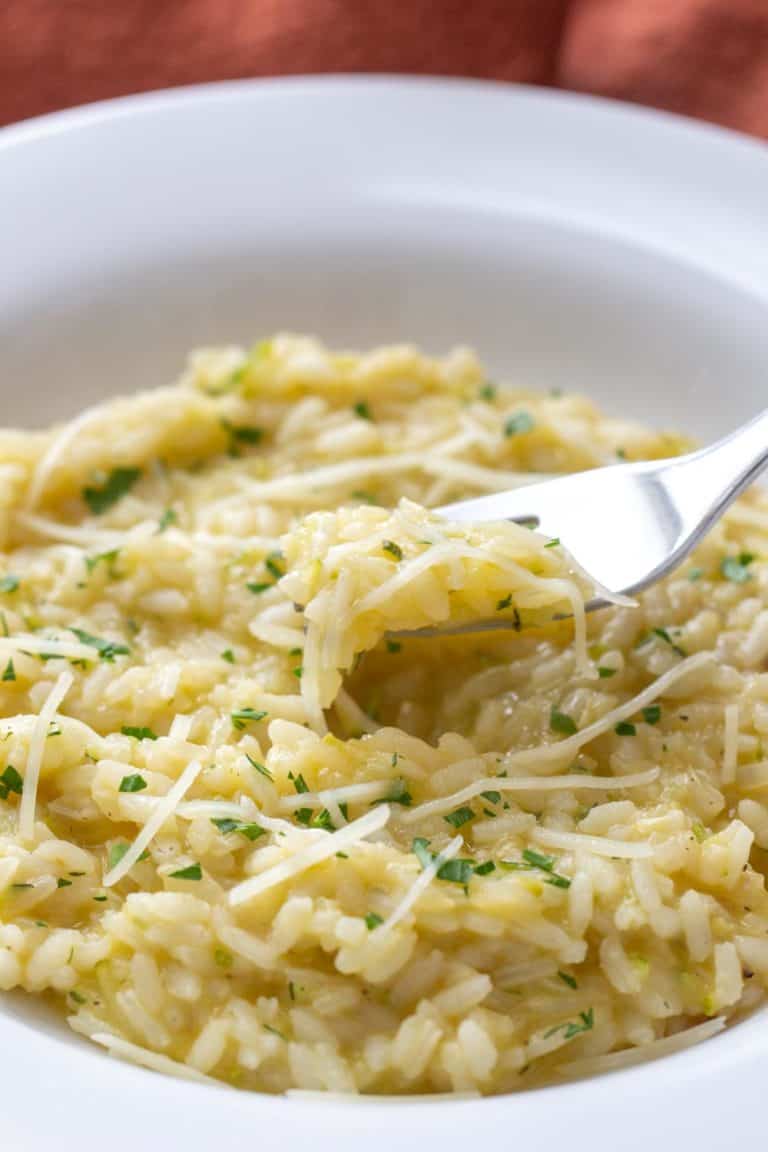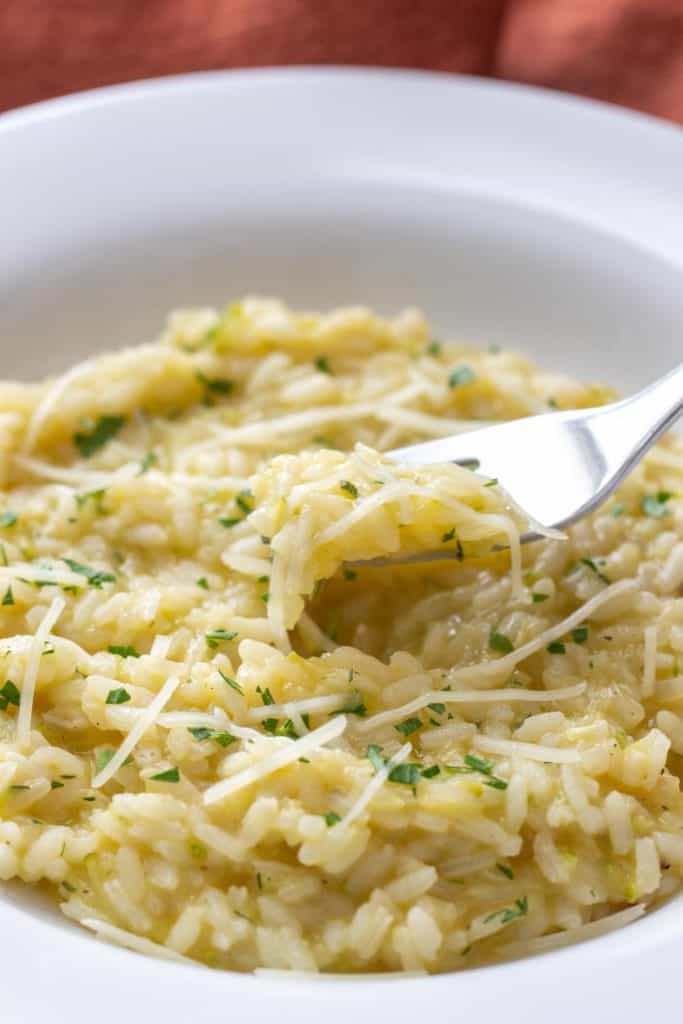 This zucchini risotto is perfect with some buttermilk herb rolls on the side!
Love this recipe? Please leave a 5-star review below! It means so much when you enjoy my recipes, so let me know how it goes and leave a comment if you have any questions.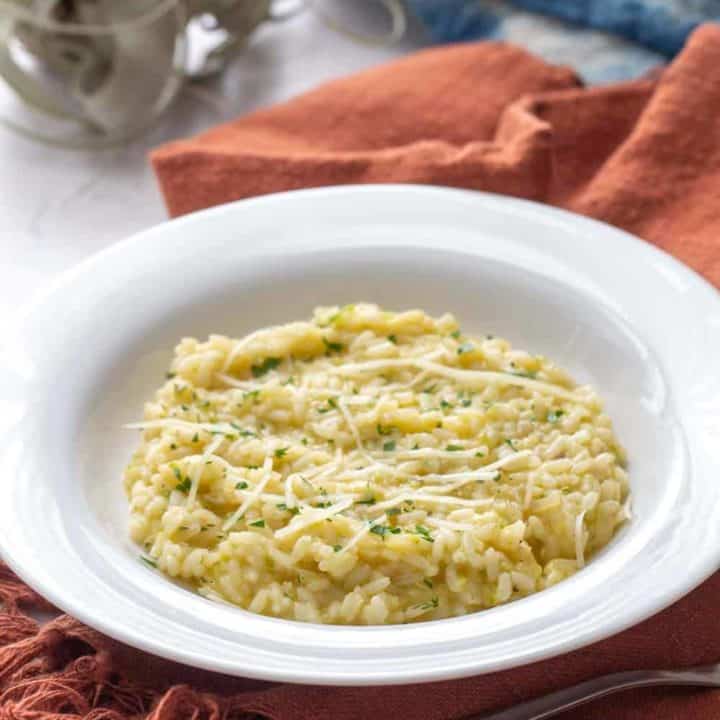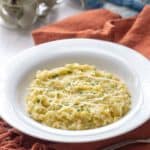 Zucchini Risotto
Creamy zucchini risotto is easier to make than you might think. Stir in grated zucchini or other seasonal vegetables for this simple side dish or meatless main.
Print
Pin
Save
Saved!
Ingredients
4

cups

vegetable broth

2

tablespoons

olive oil

1/2

cup

diced shallot

,

or onion

1

cup

arborio rice

½

teaspoon

salt

,

plus more to taste

1 to 2

cups

grated zucchini

1

tablespoon

butter

1

teaspoon

lemon juice

,

plus more to taste

½

cup

grated parmesan

Ground black pepper

,

to taste
Instructions
Bring the broth to a boil, then reduce heat to a low simmer.

Heat another medium-size saucepan over medium low. Add oil and shallots and cook until translucent and tender.

Turn up the heat to medium, add the rice, and cook, stirring constantly, for 2-4 minutes or until the grains are mostly translucent and only white in the center.

Add about 2 cups of the broth and salt and cook, stirring occasionally, until most of the liquid is absorbed. Make sure the rice isn't sticking to the bottom of the pan. Add more liquid ½ cup at a time as the rice absorbs it, and stir. The less liquid you have in the pot, the more you have to stir, but resist the temptation to pour in all the liquid.

After about 15 minutes of cooking, add the zucchini and continue adding broth and stirring so the rice doesn't stick. Taste every few minutes and turn off the heat when it is tender but not mushy.

Add more broth or hot water if risotto looks stiff. Stir in the butter, lemon juice, half the cheese, and black pepper. Taste and adjust seasoning as needed. Serve with the remaining cheese sprinkled on top.
Nutrition
Calories:
362
kcal
Carbohydrates:
51
g
Protein:
8
g
Fat:
14
g
Saturated Fat:
5
g
Cholesterol:
18
mg
Sodium:
1481
mg
Potassium:
316
mg
Fiber:
3
g
Sugar:
6
g
Iron:
3
mg
Nutrition information is provided as a courtesy and is an estimate based on online calculators. Any nutritional information found on Stetted should be used as a general guideline only.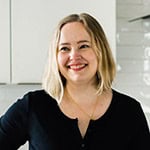 About Megan
I focus on fresh ingredients and easy methods, with spins that keep meals interesting. Dinnertime shouldn't be stressful or complicated, and I'm here to help you enjoy the time spent in the kitchen. Read more…