Risotto is one of those things that seems to be so difficult. At least, that's what I gather from watching seasons of Top Chef, where someone always makes a risotto and it always ends up mushy.
I've never ordered risotto in a restaurant, but I've made it a couple times, and while I don't know if I'm doing it correctly, I know it isn't turning out mushy.
I found this recipe months ago and for some reason never got around to making it today. I'm one of those people who has arborio rice lurking in the back of her pantry, so I thought I would finally make this dish tonight.
The original calls for white wine, which you can add, but I thought it was great without. I would have tried adding the blush we had on hand, but I knew my toddler was going to be eating it and I didn't feel like giving him whatever effects the wine might have caused so close to bedtime.
On the other hand, maybe it would have made bedtime easier.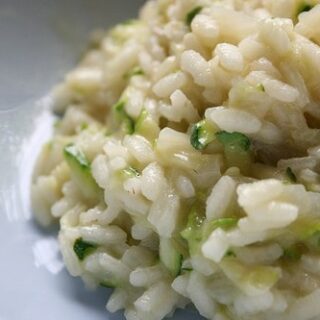 Zucchini Risotto
Yield: 2 (entree) or 4 (side)
Prep Time: 5 minutes
Cook Time: 30 minutes
Total Time: 35 minutes
Ingredients
4 cups low sodium vegetable broth
2 tablespoons olive oil
1/2 cup finely diced shallot or onion
1 zucchini, grated
1 tablespoon butter
Lemon juice
½ cup grated parmesan
Salt, to taste
Instructions
Bring the broth to a boil, then reduce heat to a low simmer.
Heat another medium-size saucepan over medium low. Add oil and shallots and cook until translucent and tender.
Turn up the heat to medium, add the rice, and cook, stirring constantly, for 2-4 minutes or until the grains are mostly translucent and only white in the center.
Add about 2 cups of the boiled liquid and ½ tsp salt and cook, stirring occasionally, until most of the liquid is absorbed. Make sure the rice isn't sticking to the bottom of the pan. Add more liquid ½ cup at a time as the rice absorbs it, and stir. The less liquid you have in the pot, the more you have to stir, but resist the temptation to pour in all the liquid.
After about 15 minutes of cooking, add the zucchini, salt to taste, and continue adding water and stirring so the rice doesn't stick. Taste every few minutes and turn off the heat when it is tender but not mushy.
Add a bit more water if risotto looks stiff. Stir in the butter and half the cheese. Reserve the rest of the cheese to sprinkle on top during serving. Add about a squirt or two of lemon, to taste, and adjust lemon and salt as needed.
Recommended Products
As an Amazon Associate and member of other affiliate programs, I earn from qualifying purchases.
Nutrition Information:
Yield: 2
Amount Per Serving:
Calories: 494
Total Fat: 27g
Saturated Fat: 10g
Trans Fat: 0g
Unsaturated Fat: 16g
Cholesterol: 37mg
Sodium: 1098mg
Carbohydrates: 52g
Fiber: 4g
Sugar: 10g
Protein: 13g