Month of Meals: Pumpkin Tortellini with Parmesan Lemon Cream Sauce
This post contains affiliate links. As an Amazon Associate, I earn from qualifying purchases.
Central Market makes this awesome frozen pumpkin tortellini. The problem is, I couldn't figure out what kind of sauce to put them in. Last time we did olive oil and herbs, and that was OK, but something wasn't right about it. Cream sauce makes sense, but there's a problem with that as well: I suck at making cream or cheese sauces. I always follow the directions (at least I thought I did) but I end up with glops of cheese in a pool of liquid. Sigh. But for some reason I thought I would give it another go, and magically it all came together tonight.
Parmesan Lemon Cream Sauce
adapted from Dinner with Pati and Bruce
3 tbsp butter
1 cup half-and-half
1/2 cup lemon juice
1 cup grated Parmesan cheese (I used a bagged 4-cheese Italian blend)
salt, pepper, and parsley
Melt butter in a saucepan, then add the half-and-half and all the lemon juice.
Simmer on medium heat about 8 minutes. Cook pasta while sauce is simmering. Add 3/4 cup cheese, salt, and pepper. Stir and remove from heat.
Drain pasta, return to pot, and stir in sauce and remaining cheese. Cook a couple minutes more until heated through. Serve with parsley sprinkled over the top.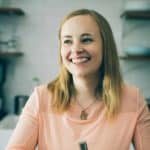 About Megan
I focus on fresh ingredients and easy methods, with spins that keep meals interesting. Dinnertime shouldn't be stressful or complicated, and I'm here to help you enjoy the time spent in the kitchen. Read more…