French Fridays with Dorie: Gnocci a la Parisienne
This post contains affiliate links. As an Amazon Associate, I earn from qualifying purchases.
I might be the only one of my food blogging friends that didn't get cookware, gadgets, or cookbooks for Christmas. That's fine with me – I'm particular about my cookbooks and prefer to choose them myself. As it turned out, I had some money left over from an Amazon gift card and was able to buy myself a few books I'd had my eye on.
First on that list? Around My French Table by Dorie Greenspan. Thanks to lots of friends (and NPR podcasts) I knew I had to get it. And once it was in my hands and I started flipping through, I knew I had to join the French Fridays with Dorie group, because there were so many recipes I wanted to cook there was no point in adding my little Post-It flags.
If you haven't heard of French Fridays with Dorie, it's similar to Tuesdays with Dorie, Baked Sundays, and any other cook-through-the-book group. Each week we all cook the same recipe from AMFT and discuss our results on the blogs.
I was a bit nervous about doing the gnocci à la parisienne, but it was so simple. And it was the ideal dish for the chilly nights we've been having. This isn't the heavy gnocci many are used to, but a much simpler dumpling that can only be likened to a fluffy, comforting pillow. Covered in Béchamel and cheese.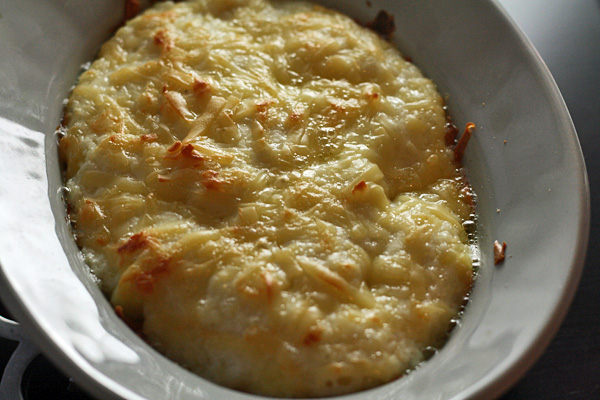 I had trouble making the sauce smooth, as I don't have much experience making Béchamel. However, the extra bits of roux went unnoticed in the final dish. The recipe calls for Gruyère, Comté, or Emmenthal, and I used a Swiss blend I had on hand. I considered adding more cheese than the recipe calls for, but decided to follow the instructions best I could before fiddling with it, which is usually the opposite of what I do. (I can't help it, I'm a recipe fiddler.) I think it would be excellent with the addition of a fresh herb, but it is perfectly satisfying without.
This is a great recipe to keep in my back pocket for any time we need to escape in a bowl of food. It's easy enough to make on a busy weeknight. Try it out one night instead of your usual macaroni and cheese.