This post contains affiliate links. As an Amazon Associate, I earn from qualifying purchases.
It seems at every turn I'm being accosted by vegetables that seem to say, "Oh yeah? You think you're so great with your home cooking, farmers' market shopping, and canning obsession. But you can't beat me."
Cauliflower, turnips, radishes, kale. All things I previously hated or had no experience with stepped up to the plate and dared me to cook them. They've been roasted, sauteed, and mashed to a pulp.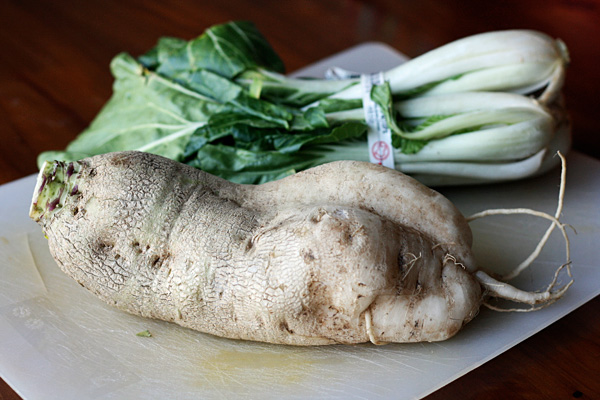 Apparently this isn't lesson enough for the other vegetables, because this weekend two more decided to jump in the ring – bok choy and daikon.
Bok choy is fairly innocent looking, but daikon reminds me of an alien baby, particularly because the one I got in my produce box is about the size of those flour-bag babies you get in high school health class.
(Not in my health class though – our fake babies were laminated pieces of paper. How that made any sense is beyond me, but we did get extra credit for making paper clothing for our shiny babies.)
One way to put both of these veggies in their place is to make eggrolls. Oddly enough, eggrolls are yet another thing that I had to grow up to like, even though I had developed an affinity for Asian food by the time I was in high school, thanks to patient teachings by my mother and aunt. It's probably a cabbage thing – sorry, cabbage. Good thing there is crispy fried magic surrounding it.
I don't remember why I decided to try making eggrolls at home, but they're a lot easier than they seem. If you decide to buy the wrappers at the grocery store they come together even faster, but I like making the wrapper dough myself.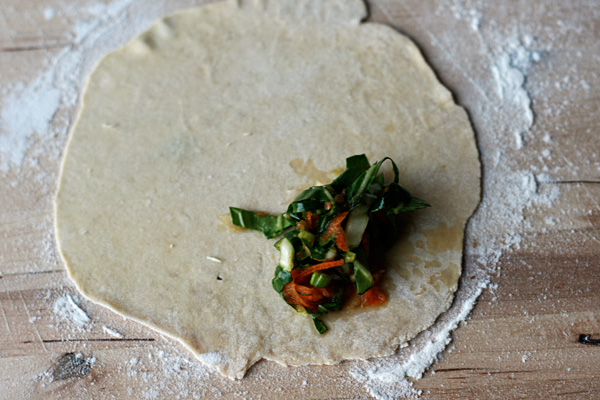 It only takes about 30 minutes to get it together and let it rest, and that resting time can be spent chopping the vegetables you're going to need. I always think people are intimidated by recipes like this because on the surface the preparation time seems exhausting, but a lot of recipes just come down to organization.
Mise en place sounds like a silly concept for the home cook, but getting everything ready ahead of time sure does cut down on the rush around the kitchen when it's time to cook. And if you have a willing helper in the kitchen, you can speed up this process by having one person roll out the dough while the other adds the filling.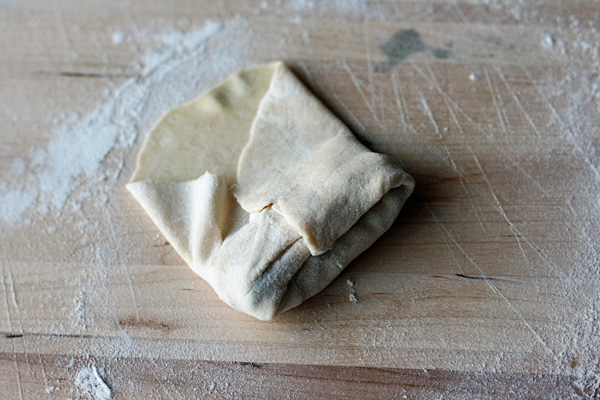 This recipe is adapted slightly from the one given to me by a local mom. When I tried it the first time I thought the wrapper dough was a little hard to work with, likely due to the flour content being all whole wheat.
It made for a tough dough that was difficult to roll thin enough and resulted in a final product that was too doughy for my liking. I changed the flour to a white-whole wheat ratio of 50-50 and was careful to roll it as thin as possible.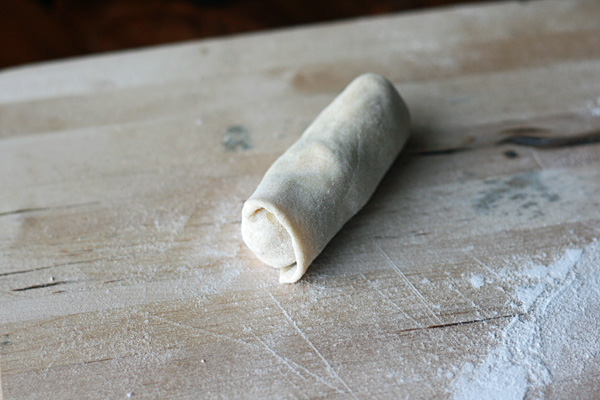 Even though I have some Chinese-style barbecue pork sausage hanging in my freezer, I decided to keep these rolls vegetarian.
However, it's easy to add some cooked ground meat to the filling; just be sure to reduce the amount of vegetables or double the recipe for the wrappers. For my filling I used bok choy, carrots, scallions, and some grated daikon.
The remaining daikon? I'm watching you.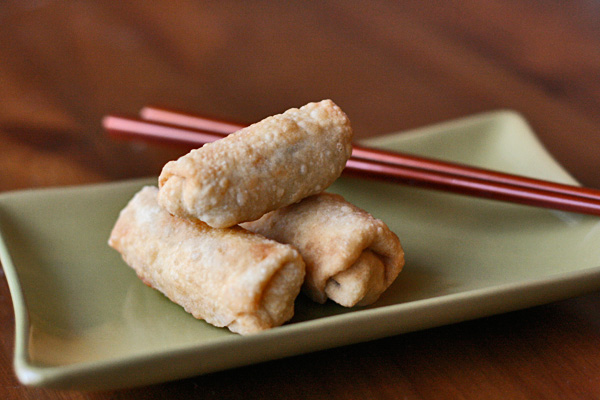 Love this recipe? Please leave a 5-star review below! It means so much when you enjoy my recipes, so let me know how it goes and leave a comment if you have any questions.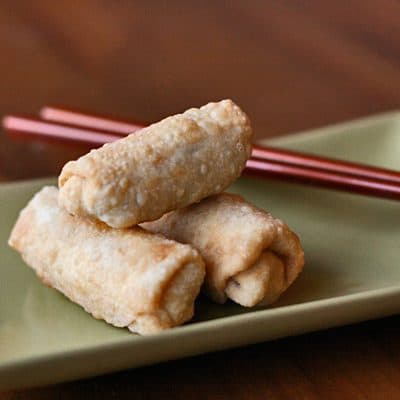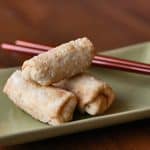 Ingredients
For the dough
1

cup

wheat flour

1

cup

all-purpose flour

2

teaspoons

salt

2

eggs

,

beaten

1

cup

very cold water
For the filling
1

medium head bok choy

,

about 3/4 lb.

2

medium carrots

,

grated

2

scallions

¼

cup

grated daikon

1/4

cup

soy or teriyaki sauce
Instructions
For the dough:
Mix all ingredients together and knead into a cohesive ball. Let rest for 30 minutes, while you prepare the filling.
For the filling:
Finely chop the bok choy and scallions. Mix together with the carrots and daikon. Stir in the sauce, making sure the vegetables are well-coated.
To prepare:
Pinch off dough into 1-inch balls. On a floured surface, roll out dough as thin as possible. Try to make it square-ish, as it is easiest to work from corner to corner. In the lower right corner, place a tablespoon of filling.

Roll up from the corner, then fold over each end.

When you get to the end, dip your finger in the water and brush across the edge of the dough. This will help it adhere and not open while cooking. Finish rolling and set aside on a plate. Repeat until you run out of dough or filling.

Heat a deep pan filled with an inch of vegetable oil over medium. (I used a wok.) Fry a few eggrolls at a time for 2-3 minutes on each side, or until browned and crispy. Remove with a slotted or mesh spoon to a paper-towel lined plate; continue through the rest of the eggrolls.

Serve with your favorite dipping sauce or as a stir fry side.

Leftovers can be frozen and reheated in a 350-degree oven for 10 minutes.
Nutrition
Calories:
80
kcal
Carbohydrates:
15
g
Protein:
3
g
Fat:
1
g
Cholesterol:
25
mg
Sodium:
489
mg
Fiber:
1
g
Sugar:
1
g
Nutrition information is provided as a courtesy and is an estimate based on online calculators. Any nutritional information found on Stetted should be used as a general guideline only.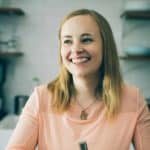 About Megan
I focus on fresh ingredients and easy methods, with spins that keep meals interesting. Dinnertime shouldn't be stressful or complicated, and I'm here to help you enjoy the time spent in the kitchen. Read more…