Recovering Sanity with Menu Planning
This post contains affiliate links. As an Amazon Associate, I earn from qualifying purchases.
I mentioned in my last post that we do menu planning, and quite a few people were interested in how it works. I really can't sing the praises of this enough. While menu planning is a huge thing on the web, my husband and I were doing it before we even got married to help cut expenses as we were planning for our wedding and move to Texas. Now that we're busy with a preschooler, it's even more important to have dinner squared away ahead of time. While we don't do it every week, the weeks we don't are quite a bit more frazzled than the weeks we do.
Steps for Success
1. Pick a day to plan, and stick with that day. I like to plan on Sundays for Monday through Sunday. This way I can incorporate my farmer's market purchases into the menu, take stock of the weekend leftovers, and get a good look at our busy schedules. I don't use coupons, but Sunday is the perfect planning day for those who do. Another good choice is the day your grocery store circulars arrive, or when you pick up your CSA share.
2. Know what's in your pantry. When I say "pantry" I also mean freezer, refrigerator, and anywhere else you keep food. Americans tend to buy far more food than they need, and we all have stuffed freezers and cupboards to prove it. Make sure you don't have an extra bag of pasta lingering in the back or three pounds of ground beef under the frozen veggies before you run out and buy more. We have check-off lists on the fridge, so when we run out of something it gets checked off. When it comes time to menu plan and grocery shop, I take the list and check for hidden foods. My husband often puts jam, ketchup, pasta sauce, and salsa on the list, even though we have quite the stash from my canning efforts. He just doesn't know where to look for them.
3. Plan your big meals for the weekend. Or the day that is your most relaxed, depending on your schedule. Obviously one of the benefits is not having to do a lot of prepwork and cooking after a long day when everyone is clamoring for dinner. Another benefit, at least in our house, is that you can then use the leftovers from your big meal as lunches for the following week. When the weather is cooler, we like to do soup, chili, or stew every Sunday.
4. Think about multi-meal foods. This may be as simple as saving half a can of tomato sauce and small amounts of chopped veggies for pizza, or cooking a big roast and crafting meals from it all week. Think of Thanksgiving – almost no one has leftovers, and you need to repurpose that turkey! The same goes for other meals. With one beef roast we are able to have barbecue beef sandwiches, pizzas, empanadas, fried rice, baked pasta, and maybe even more. Stretching out proteins in this way is also really great for reducing costs.
5. Consider theme nights. We're transitioning to Soup Sundays, take part in Meatless Mondays, and already do pizza almost every Friday. You can choose whatever theme you like. Some ideas are pasta nights, breakfast for dinner, and a fend-for-yourself night where dinner is cobbled together from leftovers or small bits of this and that.
6. Try to limit new recipes. I'm guilty of trying something new every single week, because I don't like eating the same thing over and over again. However, experimenting multiple nights a week can result in excess of odd ingredients and burning out on cooking. You want it to still be fun, right? Plus it can sometimes be exhausting for the others you're feeding to try a new thing every night. Rotate new recipes with family favorites and everyone will be happy. I try to have my computer or a few inspirational cookbooks at hand when I'm planning so I can easily look up that fun new dish I saw earlier in the week.
Menu planning can seem daunting, but it really can help you rethink your approach to dinner. Just like budgeting with your money, you'll need to make tweaks here and there. But it's worth finding what works for you.
Do you meal plan? What are your tricks for a winning week?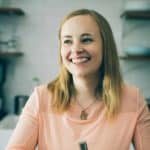 About Megan
I focus on fresh ingredients and easy methods, with spins that keep meals interesting. Dinnertime shouldn't be stressful or complicated, and I'm here to help you enjoy the time spent in the kitchen. Read more…