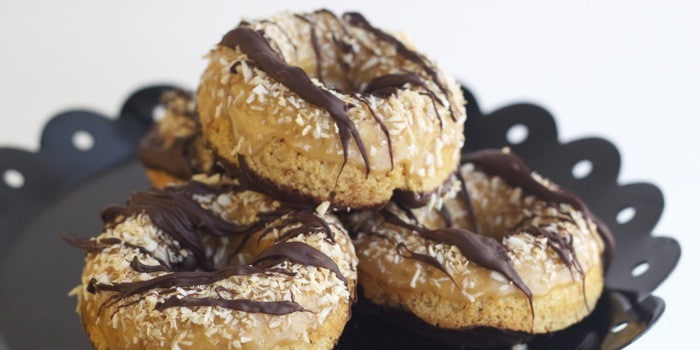 This year, cookie season almost passed us by completely.
When I was a Girl Scout, selling cookies meant giving the form to your parents and their co-workers placing orders. These days (at least in Central Texas) it means standing outside the drugstore or local restaurant and offloading the boxes you have on hand. It's hard to say no to them when you're waiting for a table and hungry.
Somehow, though, we managed to avoid the cookie-selling locations right up until the very last week, when we were out at dinner and a couple scouts were setting up right as we were leaving. Despite being stuffed full of chips and salsa, I immediately bought some boxes, going right for the big three: Thin Mints, Tagalongs, and Samoas.
Samoas were Caramel Delights when I was a kid, but the cookie itself seems to have stayed the same, and soon after the cookies were gone, I knew I had to do something with that flavor combination. As all great ideas are, the idea to make these donuts was born in the shower.
It's just a simple baked donut, made more wholesome with whole wheat flour and raw sugar. Granted, yes, you're dipping it in chocolate and butterscotch sauce, but small steps, right? You can certainly use more coconut than I did, or a different percentage chocolate, but I found this combination was just right. It evokes the flavor of the Samoa without being tooth-achingly sweet, making it still worthy of breakfast (but perfectly fitting for dessert).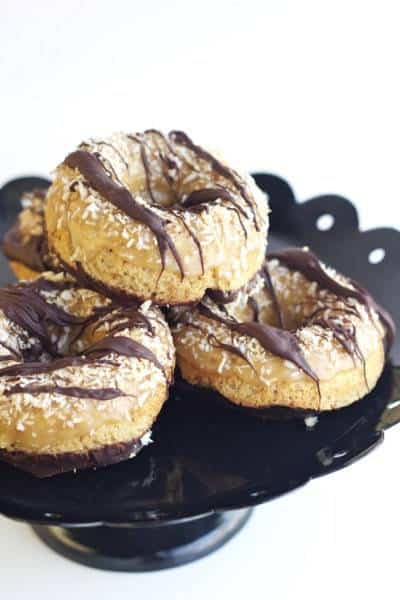 If you've never made baked donuts, it's super easy. All you need is a pan like this Wilton Nonstick 6-Cavity Donut Pan
, and be sure to grease it well before putting the batter in so your donuts come right out.
I had extra butterscotch when I made these, so you can either make another batch of donuts, or save the sauce in the fridge. It's fantastic for using on ice cream, drizzling on top of brownie batter just before baking, or just stirring into your favorite coffee. If your vehicle of choice is a spoon, I won't judge.
More donut recipes you might like:
Baked Chocolate Glazed Doughnuts – Taste Love Nourish
Baked Toasted Coconut Doughnuts – Lemons for Lulu
Boston Cream Doughnuts – Foodie Crush
Chocolate Avocado Mini Donuts – Stetted
Strawberry Doughnuts – Stetted
For more morning inspiration, check out my Breakfast board on Pinterest!
Follow Megan Myers | Stetted's board Breakfast on Pinterest.