Fennel-celery salad from Brown Eggs & Jam Jars is a bright and crunchy addition to your seasonal table.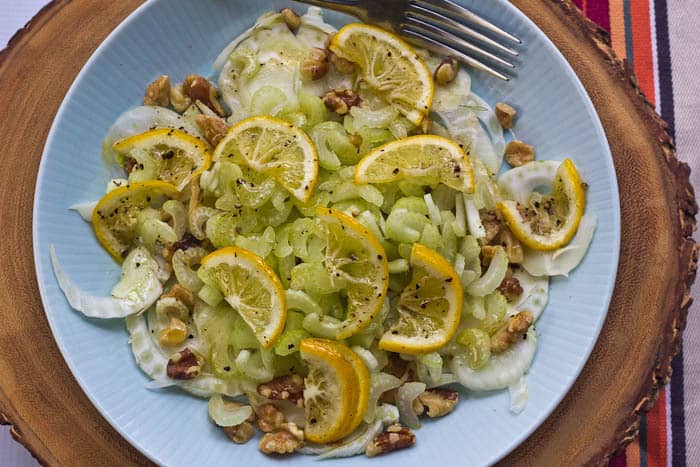 How many times do you get to have the pleasure of being moved to tears as you turn the pages of a cookbook?
Yes, I say pleasure, because there are a few things in life as wonderful as holding the success and hard work of a friend in your hands. When I received my copy of Brown Eggs & Jam Jars by Aimée Wimbush-Bourque, the creator of Simple Bites, all I could think about was a conversation the two of us had years ago about her book-writing dreams.
I was a guest poster on Simple Bites for years, and I could not be more thrilled for Aimée and her beautiful new book. Every recipe I have made from the book is solid, with straightforward instructions and of course, delicious results. I love that the book reflects Aimée's sensibilities and seasonal focus.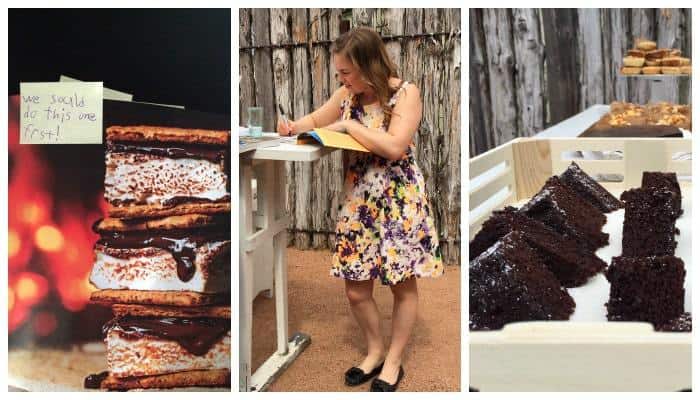 My older son looked through the book and in addition to flagging pretty much every dessert, he bookmarked many of the pages that cover teaching your kids about cooking, camping, and foodways. These small sections are interjected throughout the book, showing that educating can be as seamless as the process of making marshmallows.
Aimée has graciously allowed me to share a recipe from the book with you, and I think this fennel and celery salad is the perfect transition to spring. Yeah, it's not quite springish, but there have been flutters of it and plenty of hoping, so make this salad to inspire happy sunshine thoughts.
Featuring Meyer lemon, the salad is crunchy, bright, and wonderfully refreshing; an idea dish to pair with heavier meats, or fish for a light dinner. Be careful with the salt — depending on the size of your fennel bulb, the amount called for might be too much for your personal tastes. The salad is best enjoyed immediately, so if you need to prep in advance just keep the dressing separate until ready to eat.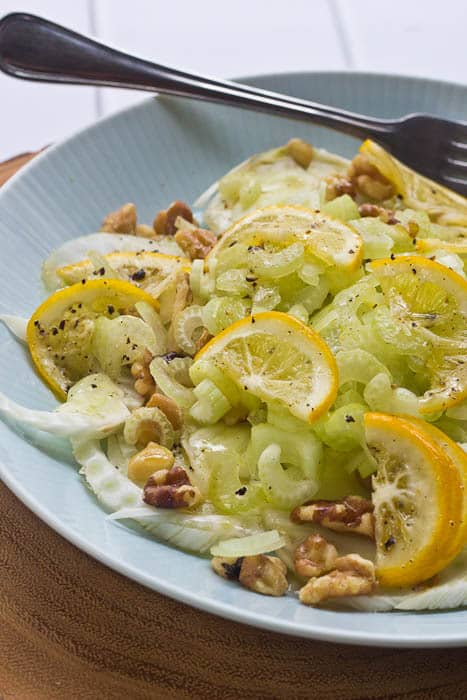 Also, because I love the book so much, I've decided to give one away! Just leave a comment with your favorite use for eggs and I'll draw a winner next Wednesday, March 4. Open to everyone; ships directly from Amazon.
Fennel-Celery Salad with Meyer Lemon and Walnuts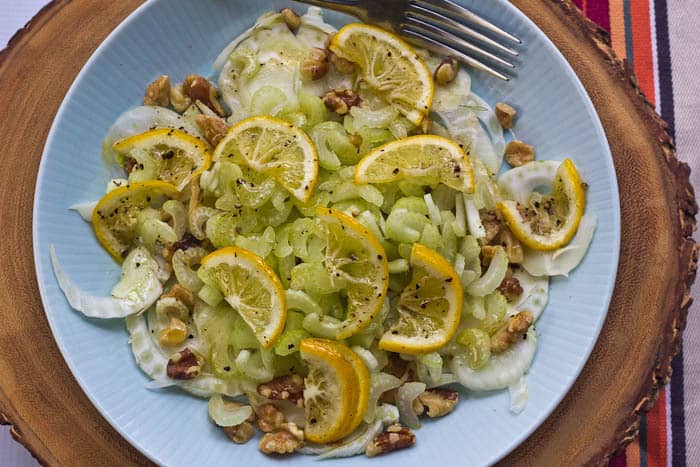 Ingredients
1 Meyer lemon , scrubbed
2 tablespoons 30 mL extra-virgin olive oil
1/2 teaspoon 2 mL sea salt
1/4 teaspoon 1 mL black pepper
1 fennel bulb , trimmed
5 inner tender ribs celery
3/4 cup 175 mL walnuts, toasted
Instructions
Cut Meyer lemon in half from top to bottom. Lay one half cut side down and slice as thinly as possible. Discard seeds.

Juice the remaining lemon half into a bowl. Add olive oil, salt and pepper. Whisk the dressing with a fork and then add the sliced lemons. Set aside to marinate while you prepare the salad.

Thinly slice fennel crosswise and place in a medium salad bowl. Slice the celery. Chop walnuts. Add celery and walnuts to the fennel.

Pour in the lemon dressing and toss the salad thoroughly. Taste for seasoning and add more salt if needed. Serve at once.
Recipe Notes
If your fennel has fronds attached, save them for another use. I like to use them as a bed for roasting fish.
For more meatless inspiration, check out my Vegetarian board on Pinterest!
Follow Megan Myers | Stetted's board Vegetarian on Pinterest.