Once you've been out of commission on the cooking and blogging front, it's amazingly hard to scrape back in. Even for someone who loves cooking and writing. I'd blame my new job, where I spend much of the day typing up recipes, uploading photos, and putting up blog posts – but I love the job. It would be kind of hard not to, considering they pay me to do the things that I already have been doing on my own.
But the commute is what depletes my cooking battery. My previous job was five minutes from my house, so this hour-in hour-out daily schedule has been dampening my spirits. As a result, we haven't been eating as well as we used to, relying far more on takeout than I would like.
Thankfully, I seem to have kicked that to the curb, all thanks to this two-ingredient recipe for salmon that made for a killer (and extremely quick) dinner.
I used Honey Ridge Farms Sundried Tomato Tarragon Honey Vinegar, which is full of flavor but mild enough that my son didn't think there was anything "weird" going on his plate. He loves salmon, so I knew this tangy-yet-sweet glaze would be a fun change from merely baking the fish with lemon.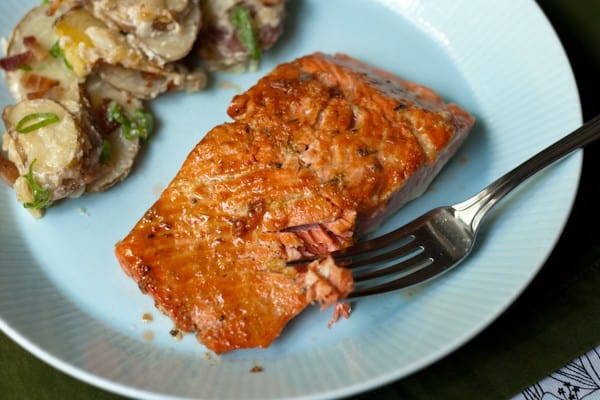 Happily, everyone gobbled it up, and I have a good portion of my bottle of honey vinegar to use for fish night again. I know my interstate-glazed eyes and brain will appreciate it.
Honey Vinegar Glazed Salmon
Servings: 2 (or perhaps 2 adults and 1 preschooler)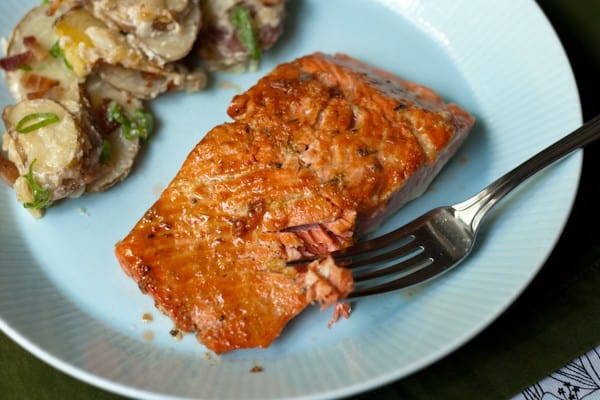 Ingredients
1 tablespoon grapeseed or olive oil
2 salmon fillets , 4-6 ounces each
1/2 cup Sundried Tomato Tarragon Honey Vinegar
Instructions
Heat oil in a nonstick straight-side skillet over medium. Set salmon, skin side up, in the pan. Cook approximately 3 minutes, then flip fillets over and cook another 3 minutes. Remove to a plate and set aside.

Add honey vinegar to hot skillet and increase heat to medium-high. When the liquid starts to get bubbly, return salmon, skin side up, to the pan. Cook until the liquid has reduced and the salmon is glazed, 3-5 minutes. Remove to a plate and serve.
This post is part of my continuing relationship with Honey Ridge Farms and their Spread the Love campaign.
For more tasty inspiration, check out my Seafood board on Pinterest!
Follow Megan Myers | Stetted's board Seafood on Pinterest.