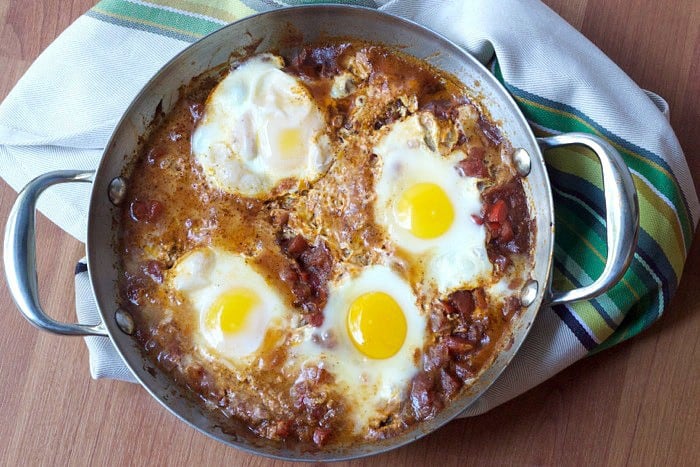 I ate a lot of toast when I was a kid. It was my breakfast of choice almost every day, slathered with margarine (butter was only for special occasions like Thanksgiving) and eaten with relish. Sometimes it accompanied scrambled eggs, which I ate carefully, alternating each bite with the toast so that I would finish the meal with toast. My toast addiction worked its way into my subconscious, and I clearly remember a dream in which I was being chased by two triangle points with cartoon arms and legs.
My dreams didn't extend to eggs, but I didn't like eggs much then and only ate them scrambled, with seasoned salt — no exceptions. But once I became an adult my eggs were no longer in one basket, as it were. Learning to cook and bake meant that eggs were around all the time, and, well, it's hard to ignore an ingredient that is just begging you to experiment.
Shakshuka is a great way to eat eggs, especially if you like your breakfasts with a heady kick of spice. The sauce comes together quickly and then the eggs poach in the sauce until just barely set (though you can cook them longer if you like). It's excellent served with plenty of bread for dipping, and also makes wonderful lunchtime leftovers served over rice.
Double or halve the recipe depending on if you have guests or are dining alone. (Dining alone is no reason to resort to cold boxed cereal for breakfast.) If you don't like za'tar, find a spice blend that works for you, or invent your own and come up with a new take on shakshuka! In the Mediterranean where this dish is popular, every family serves it a different way, so don't be afraid to work outside the confines of the recipe. Add meat, a shaving of cheese, or whatever you have in the crisper drawer that needs to be used up.
More egg recipes you might enjoy:
Butternut Cheddar Frittata – Stetted
Copycat Starbucks Breakfast Sandwiches – Stetted
Grandma Mack's Breakfast Delight – Bluebonnet Baker
Grilled Poblano and Corn Frittata – Edible Perspective
Tortilla Espanola – Savvy Eats
For more meatless inspiration, check out my Vegetarian board on Pinterest!
Follow Megan Myers | Stetted's board Vegetarian on Pinterest.