This post contains affiliate links. As an Amazon Associate, I earn from qualifying purchases.
Zucchini hummus is a cool, creamy dip you'll love. This no-cook dip is a great way to use up any extra zucchini you have this summer.
I am in awe of anyone who is able to work through the copious amounts of zucchini they grow in their garden or get via CSA.
Zucchini is one of my favorite vegetables, and yet once we get past a certain point in the season, I find the need to hide it in my food.
Night after night, when it comes time to cook dinner, I just can't seem to bring myself to pull out the zucchini yet again.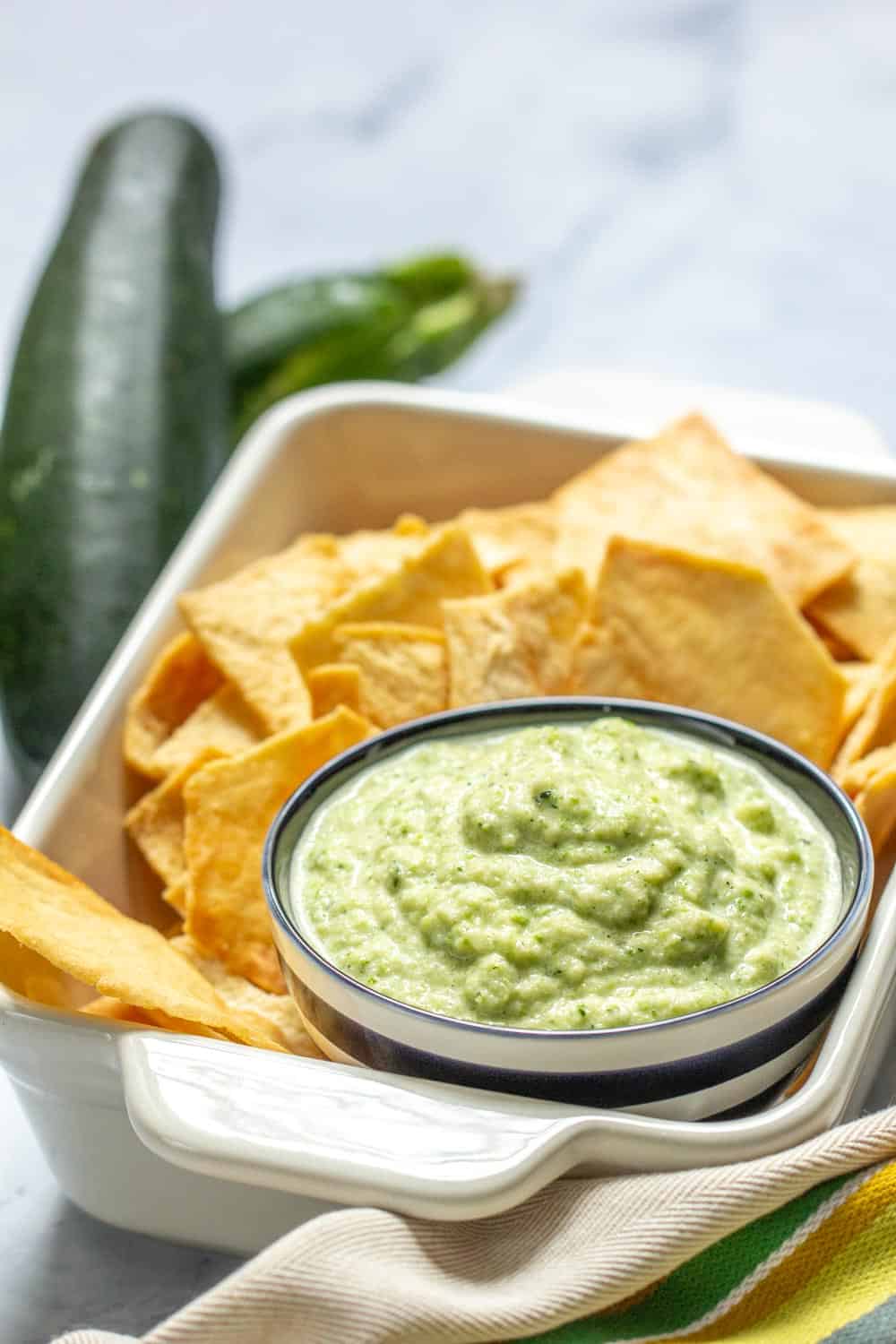 While we love zucchini bread pancakes and zucchini taco boats, sometimes I want something that takes less prep time but still uses up the veggies.
This hummus was inspired by a raw-food restaurant in Austin. As it turns out, zucchini hummus is big in the raw-food world, so you can feel extra virtuous eating it.
Plus it helps eliminate that possible bean-on-bean overload you might get from eating things like falafel with hummus.
Yes, hummus literally means chickpea, but the multitudes of variations on hummus over the past 10-15 years have brought this name more into the vernacular as a generic term for dip.
Whether you call it hummus or simply dip, I love the bright flavor, and the nuttiness of the tahini.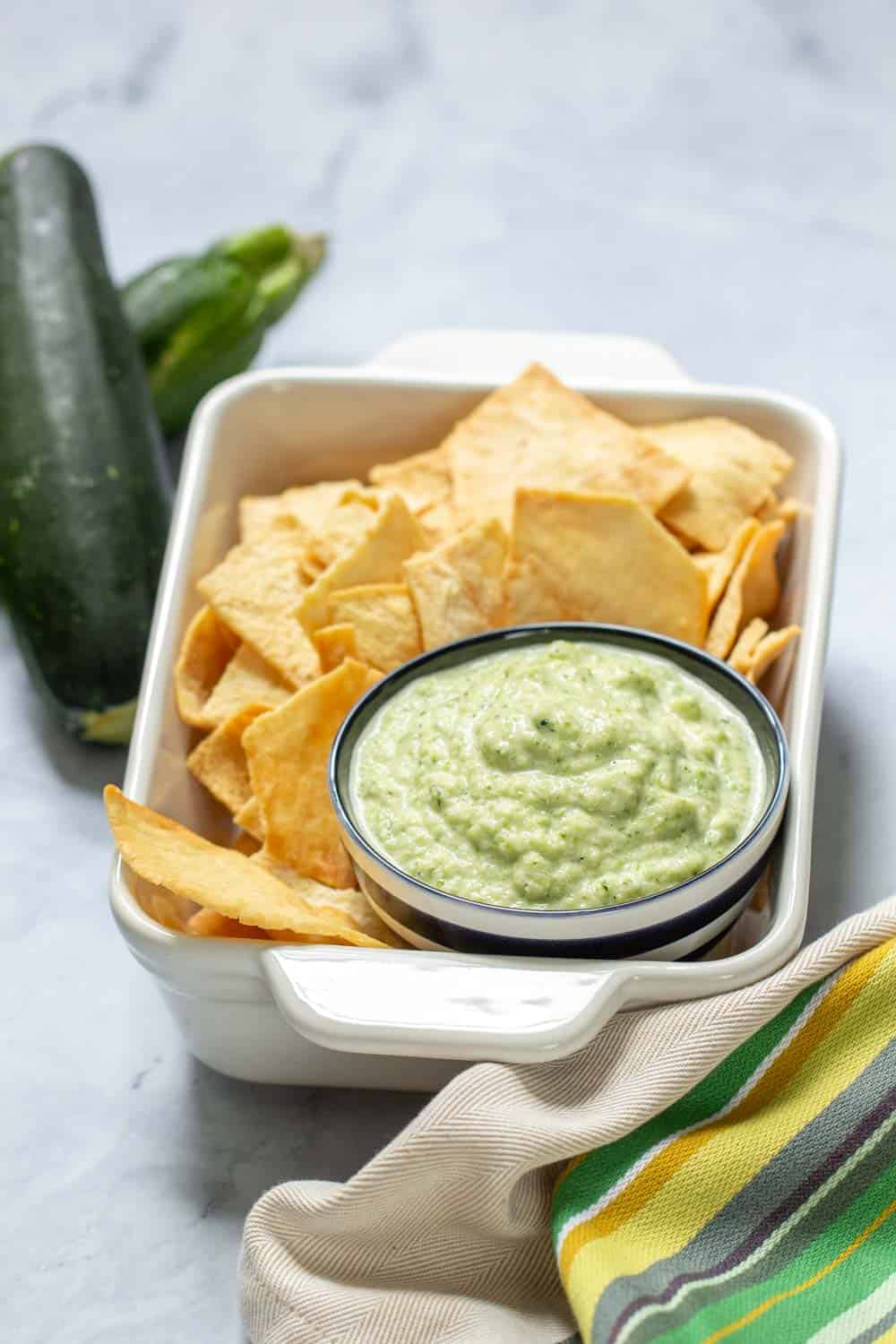 What kind of zucchini do I need for dip?
When you are selecting zucchini to use, in this recipe size doesn't matter.
This recipe is perfect for the standard zucchini, but you can also use globe zucchini or yellow crookneck squash if that's what you have on hand.
If using a larger squash, discard the seeded center and use only the outer part. This will help prevent the zucchini from being too watery.
A spoon or melon baller makes scooping out the center a cinch.
Peeling the zucchini is unnecessary. Not only does the skin hold great nutrients, but it also adds color to the dip!
This dip is raw, so no need to cook the zucchini! However, if you have leftover roasted zucchini, it can be used in place of the raw zucchini.
No matter what you use, be sure to drain any excess liquid after blending the zucchini, to ensure a smooth and creamy dip.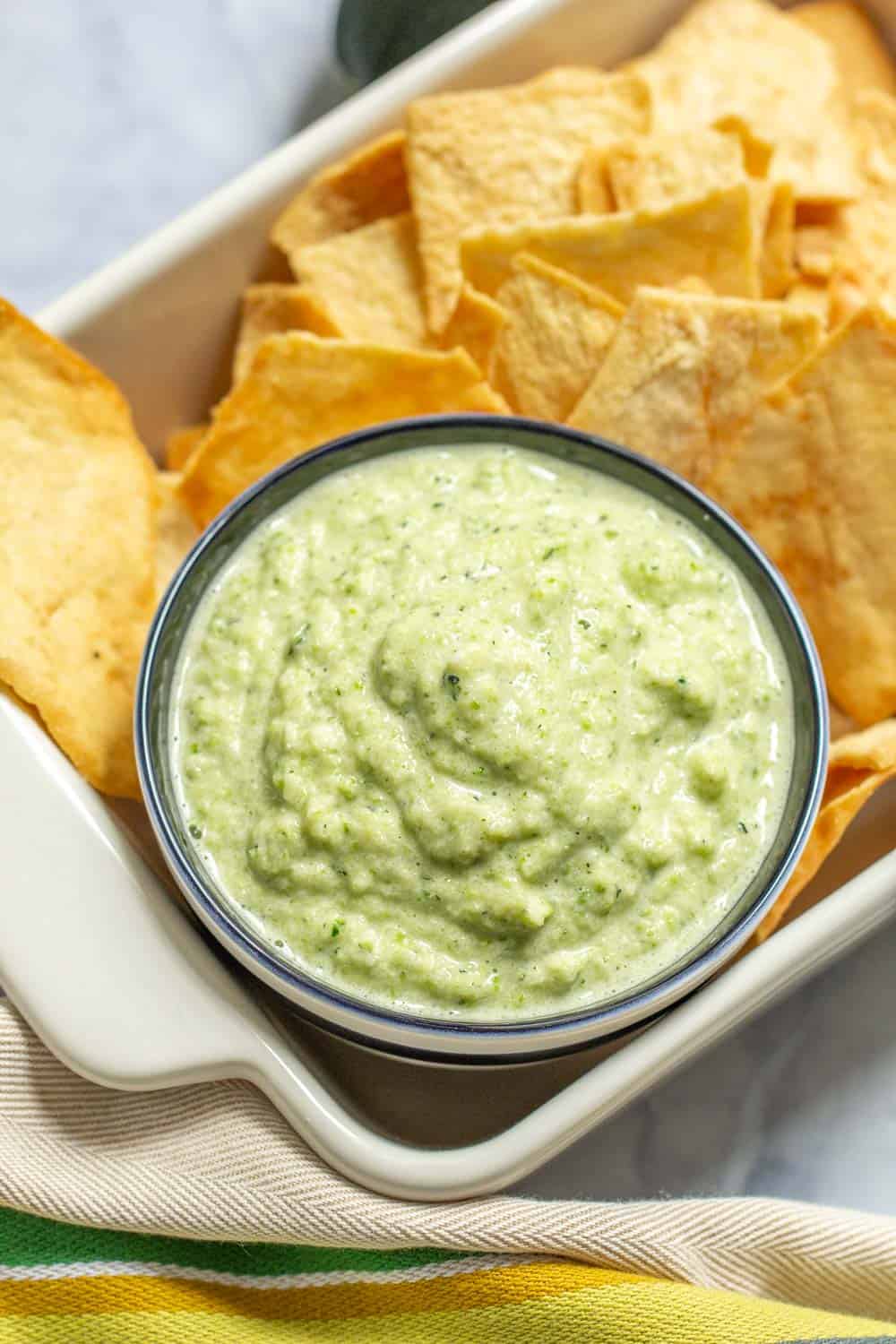 Can I freeze zucchini hummus?
Any leftover dip can be stored in an airtight container in the refrigerator for up to a week.
If you choose to store in the freezer, keep in mind that the dip will lose some of its creaminess.
Thaw overnight in the refrigerator.
Drain off any extra liquid that forms after storing or stir back into the dip (similar to whey and yogurt).
Be sure to use any thawed dip as soon as possible, as it will not last as long as fresh once thawed.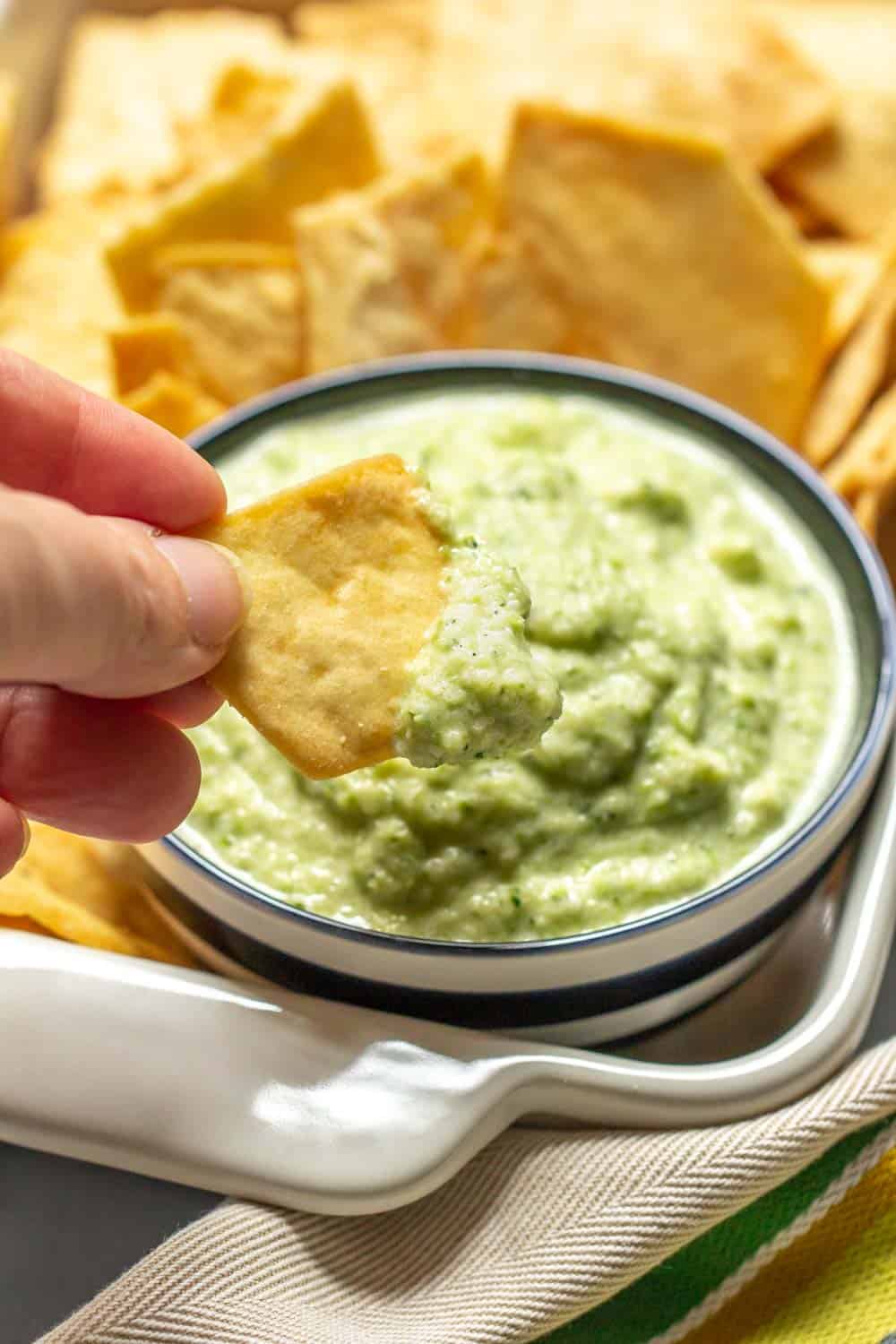 What can I serve with zucchini hummus?
This dip is perfect for serving with sliced raw vegetables like carrots, sweet peppers, radishes, or any of your favorites.
I like to tuck it into a pita or spread it on a wrap for a sandwich base.
Try it with your favorite seeded crackers, pita chips, or topped onto falafel or bean burgers.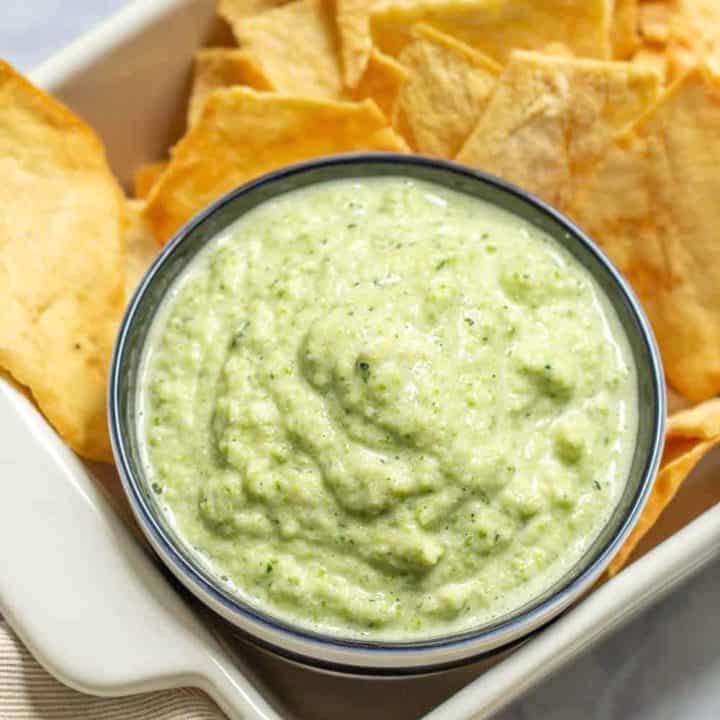 Zucchini Hummus
This simple zucchini dip is wonderful with pita chips or crudites.
Ingredients
2 medium zucchini, cut into chunks
2 cloves garlic
3 tablespoons tahini
1-2 tablespoons olive oil
1 tablespoon lemon juice
1 teaspoon salt
Instructions
In a food processor or blender, add the zucchini and pulse to chop into small pieces.
OPTIONAL: Scoop out the zucchini and put into a mesh colander and press with the back of a spoon to remove excess water. Return to processor.
Add the garlic, tahini, 1 tablespoon olive oil, lemon juice, and salt, and blitz everything together until smooth. Add the second tablespoon of olive oil if desired.
Store in the refrigerator until ready to serve.
Notes
The zucchini will create excess liquid as the dip rests; stir it back into the hummus or carefully drain before serving.
Recommended Products
As an Amazon Associate and member of other affiliate programs, I earn from qualifying purchases.
Nutrition Information:
Yield:

8
Serving Size:

¼ cup
Amount Per Serving:
Calories:

73
Total Fat:

7g
Saturated Fat:

1g
Trans Fat:

0g
Unsaturated Fat:

5g
Cholesterol:

0mg
Sodium:

269mg
Carbohydrates:

3g
Fiber:

1g
Sugar:

1g
Protein:

2g