This post contains affiliate links. As an Amazon Associate, I earn from qualifying purchases.
We had been talking about remodeling our kitchen for a while now. At least four years of discussing options, pricing out things like cabinets, and ultimately deciding that it was a big chunk of change we couldn't handle at the time. We replaced the appliances, as they were the inefficient, noisy ones that came with the house, and let that satisfy our home-improvement desires for a time.
At some point this fall our thinking shifted and it really was time to go ahead with this. Maybe I was sick my husband's obsession with visiting the IKEA showrooms all the time, or maybe I just can't handle seeing those cabinets for another year.
Either way, we're now scrambling to get our final decisions made, because my in-laws will be coming to help with the project in February or March, and it absolutely has to be finished before the baby comes.
We started off with a quick project just before the year ended: the pantry. This came first because we are planning on installing mostly open shelving, which means a lot of the storage space we currently have for spices and dried goods would be going away. Having those items already safely stashed while we work on the rest of the kitchen will be an asset.
Here's some "before" shots: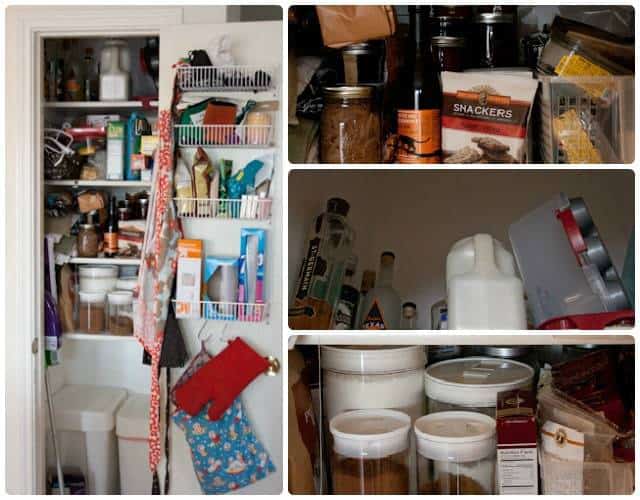 So messy! I try to keep it fairly organized, but the shelves are so deep and at an awkward distance from each other that it's hard to find things sometimes. It was tiresome to have to remove things every time you wanted whatever wasn't in the front. Also, there is a lot of wasted space at the top – about two feet between the top shelf and the ceiling. There used to be one more shelf on the bottom, but we knocked it out years ago in order to put the trash and recycling in there (as there was no other option but out in the open).
We decided to replace the wood shelves with ventilated elfa shelves. The pantry is an awkward size, making it somewhat difficult to plan out a efficient shelving system – partly because it was my hope to have shelves on all three sides of the pantry, creating a beautiful jar-filled larder. Practially speaking, this would have added more shelving but made the space cramped at the same time.
Elfa shelves are two feet at their shortest width, but The Container Store smartly offers to cut them to your desired width. We opted for a width of 18 inches. These shelves are for the back wall, and right side gets the elfa door/wall rack with bins for spices and other smaller jars.
Before installing, we painted the pantry bright green (leftover from when we moved in) to freshen it up and hide the ugly marks from the old shelving installation. Putting everything in was really easy, and I love that we can move the shelves around if needed. As we use things like the tomatoes and jam, we'll probably be shifting things until we find the perfect setup. Below the shelves we added a couple of stacking bins, currently holding kitchen towels and canned cat food. The roller container on the side holds the dry cat food. To make the taller shelves more manageable, we used pull-out bins to store smaller items and ones that don't sit easily on a shelf, like mixer attachments, cupcake liners, and baking sprinkles. A hook added to the side holds our aprons.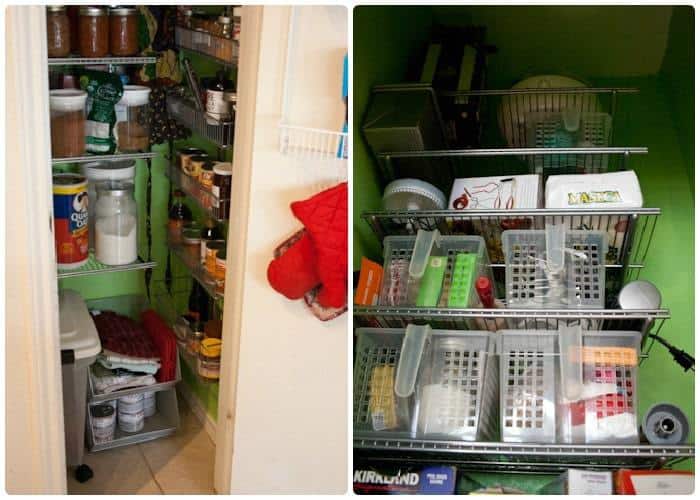 The total cost for all the shelves and various containers was about $275 (currently elfa is on sale). If we hadn't painted, the entire project would have only taken a couple hours.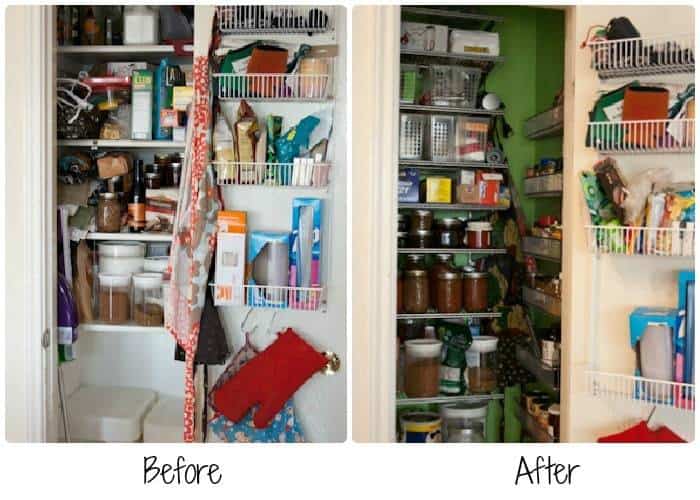 Organizing is so satisfying.
I'll be posting more about our remodel as it happens. In the meantime, if you have tips or your own remodel posts to share, I'd love to see them!
Note: This post is not sponsored by anyone. We used products from The Container Store because I think they are great.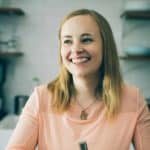 About Megan
I focus on fresh ingredients and easy methods, with spins that keep meals interesting. Dinnertime shouldn't be stressful or complicated, and I'm here to help you enjoy the time spent in the kitchen. Read more…