This post contains affiliate links. As an Amazon Associate, I earn from qualifying purchases.
Last week was a whirlwind.
Aside from my normal schedule of work, board meetings, blogger events, and the start of SXSW, the majority of our kitchen remodel happened. My in-laws arrived on March 1, and my husband and father-in-law dove into the task ahead of them. It was no small feat – they had a lot of work to get done in only a few days. And, somehow, they did it.
Here's what our kitchen looked like before when we bought the house, before moving in. We replaced the appliances a few years ago.
This is what the kitchen looks like today.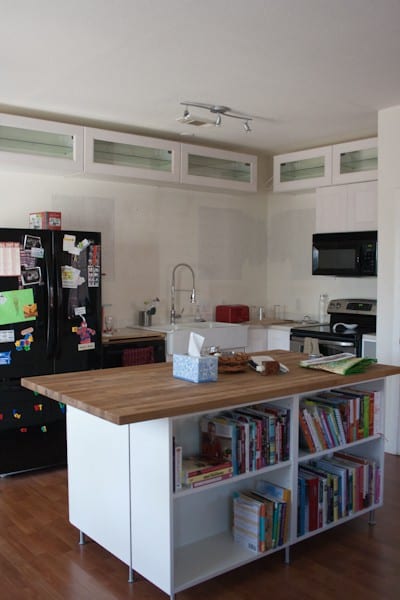 Since March 1, the floors have been ripped up and replaced, all the cabinets removed, new cabinets were installed, new sink/faucet/disposal was installed, the countertops were cut so we can use them temporarily, the island was removed, new island was installed with new butcherblock top, and lighting was installed in the upper cabinets.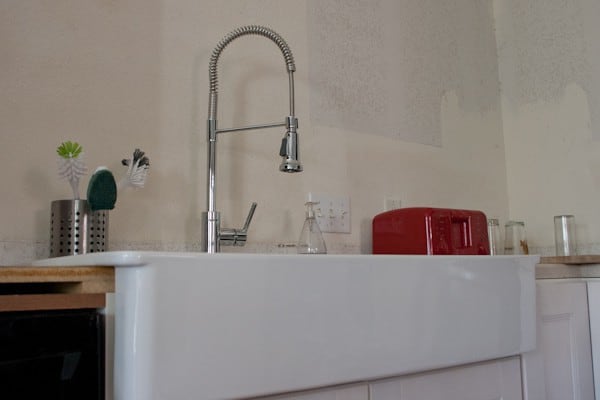 It has been a ton of work, even for me, who was not doing any of the heavy lifting. Planning, planning, planning, lots of discussion, rearranging plans when deliveries and appointments were delayed. Figuring out what to eat every day (and making sure we kept mealtimes on a semi-normal schedule) was difficult. The stove was behind my sofa and the refrigerator was next to the TV – we weren't really able to do any sort of cooking at home. Even the microwave was out of commission for a few days.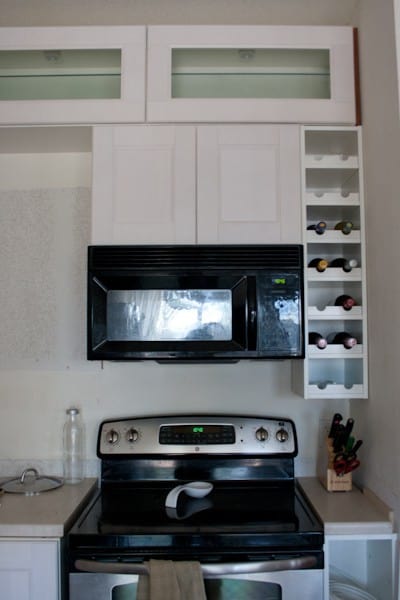 There is still lots to do, of course. (We're definitely not leaving the walls looking like that!) Aside from the big tasks, there are tiny tasks everywhere that add up. And probably fifteen more trips to Home Depot.
Still, I am so glad we are doing this ourselves. We've hand-picked every element and aside from installing the new counters and lighting to come, the grunt work stayed in the family. Even unfinished, every time I walk into the kitchen I look at it proudly and think, We did that.
Do you like to DIY? What are your favorite projects, big or small?
Related Posts: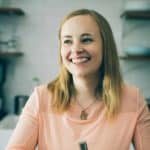 About Megan
I focus on fresh ingredients and easy methods, with spins that keep meals interesting. Dinnertime shouldn't be stressful or complicated, and I'm here to help you enjoy the time spent in the kitchen. Read more…