Kitchen Remodel: The Reveal
This post contains affiliate links. As an Amazon Associate, I earn from qualifying purchases.
We're done! We're done!
OK, actually we still need to hire an electrician to install some new lighting for us and there are a couple tiny projects left, but everything else is done!
Remember, here's what it looked like before we moved in (we replaced appliances a few years ago):
And what it looks like today…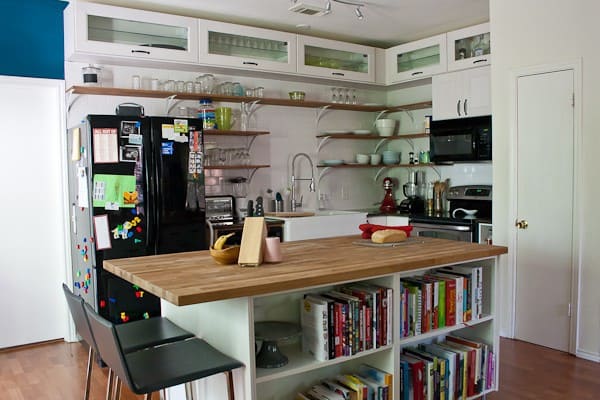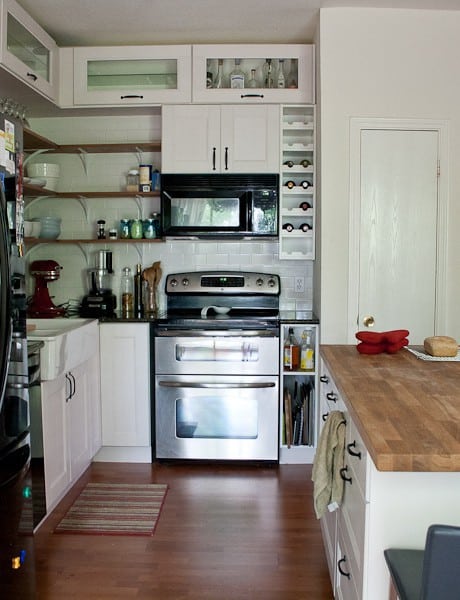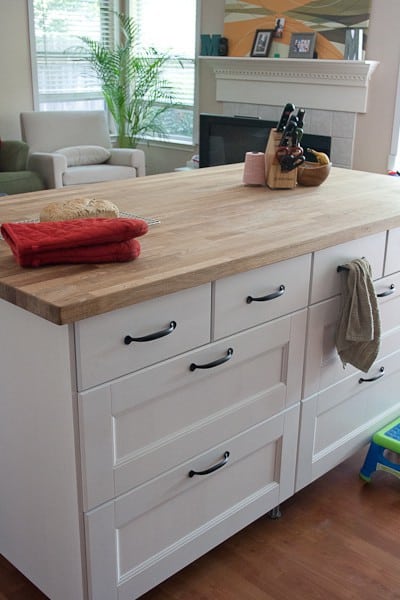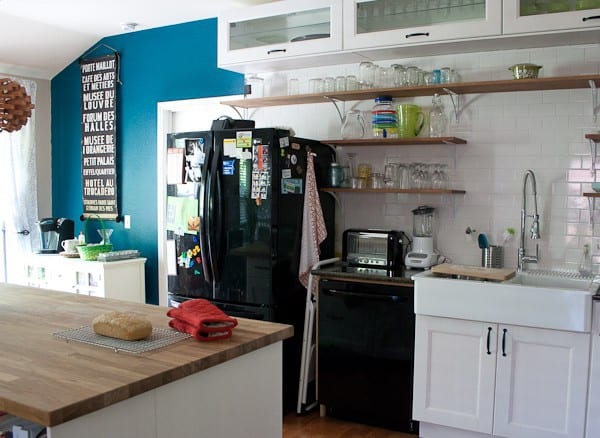 I'm really proud of my husband, who did pretty much all the work (along with his father the first week). Juggling regular life responsibilities, work, and staying up until midnight cutting and placing title is dedication!
We actually have more storage than we need now. Granted, not every single thing is put away – I have at least two dozen more canning jars to put on that shelf – but we have plenty of space to spread things out and store them more logically, rather than "wherever they would fit." While our small appliances take up a good deal of the along-the-wall counter space, the giant island gives us plenty of room to prep meals while our son perches on a stool to color, help, or have a snack. The floor plan has always been open, but with our changes I feel like the space is so much more welcoming and inspiring.
In short, I love it!
Source List
(The nature of blogging these days [especially kitchen remodels] means I need to note that none of our remodel was "sponsored" or "generously provided" by any brand. We chose what we did because we liked the functionality and design [and price].)
Fridge, dishwasher, microwave: LG
Oven: GE
Cabinets, island: IKEA Ramsjo
Sink: IKEA Domsjo
Island top: IKEA Numerar in Oak
Handles: IKEA Svep
Tile, brackets: Home Depot
Faucet: Glacier Bay
Shelving: Oak, stained cherry, from Fine Lumber and Plywood (Austin)
Flooring: Columbia Traditional Ciclette in Cherry, from FastFloors.com
Granite countertops: Uba tuba color, from Alpha Granite (Austin)
Related Posts:
Thanks for letting me share my excitement over the past few months!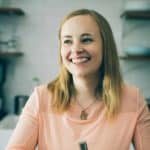 About Megan
I focus on fresh ingredients and easy methods, with spins that keep meals interesting. Dinnertime shouldn't be stressful or complicated, and I'm here to help you enjoy the time spent in the kitchen. Read more…