Glazed turnips are a simple way to transform the under-appreciated vegetable.
The other day I made tofu for dinner, and I liked it. Last night I made some turnips to go with our roasted chicken. 2012 might be turning out to be a topsy-turvy world for me. But when it comes to eating better, that isn't a bad thing.
I have to admit that last year I tried to cook with the turnips that came in our vegetable boxes, and whatever I did to them did not make me quick to return them to my mouth. But with the new year and my new determination to waste less food, I knew something had to be done.
I've done this glazing technique with carrots and tofu, so I thought it was worth trying out. The turnips stay just firm enough, and don't get overly sweet – the presence of turnipness doesn't get lost. Best of all, they take less than 30 minutes to prepare.
These turnips are a quick addition to any meal. Try variations by adding other root vegetables, such as beets, and swapping out the sage for other fresh herbs like thyme, or even a sprinkling of dried herbs de Provence.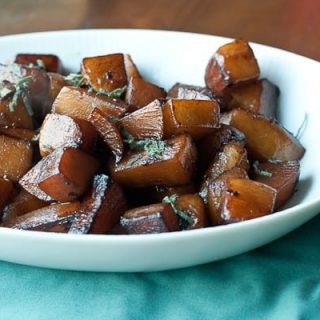 Glazed Turnips
Yield: 4
Prep Time: 10 minutes
Cook Time: 20 minutes
Total Time: 30 minutes
Glazed turnips are a simple way to transform the under-appreciated vegetable.
Ingredients
2 large turnips, about 1 1/2 pounds
1 1/2 cup water
2 tablespoons butter, cut into pieces
1 tablespoon light brown sugar
Salt
1/2 tablespoon chopped fresh sage
Instructions
Peel turnips and dice into 1-inch chunks. Arrange turnips in a single layer in a large nonstick pan over medium heat. Pour in water, and scatter butter and brown sugar over the top. Cover, and let cook for about 10 minutes, stirring occasionally.
Remove lid and continue to cook until liquid is evaporated, stirring to keep turnips from sticking. Once liquid is evaporated, salt to taste, and put turnips on serving dish. Sprinkle sage over the top and serve.
Recommended Products
As an Amazon Associate and member of other affiliate programs, I earn from qualifying purchases.
Nutrition Information:
Yield: 4
Amount Per Serving:
Calories: 75
Total Fat: 6g
Saturated Fat: 4g
Trans Fat: 0g
Unsaturated Fat: 2g
Cholesterol: 15mg
Sodium: 205mg
Carbohydrates: 6g
Fiber: 1g
Sugar: 4g
Protein: 1g