Every year it would sit on the table at Thanksgiving, and every year it went virtually untouched.
My grandmother insisted on a place for rutabaga, even though no one but her would eat it. As a child I didn't even know what it was and preferred to stick to the things I could easily identify, like turkey, corn, and potatoes. Eventually the rutabaga disappeared from the annual table, as did my memory of it at all.
Rutabaga recently made a surprise comeback in my life when it showed up in my CSA box. I stared at the thing for a while, wondering what to do with the darn thing. The fact that the ugly thing is also sometimes called a Swede didn't really help my annoyed Swedish self come to terms with yet another vegetable I had no idea how to cook.
Then I remembered one of Laurel's mantras: Everything tastes good with enough fat and salt.
Out came the cream, butter, and parmesan cheese. Prepared just like mashed potatoes, this is an easy side that just might make you think twice about rutabagas. It might still not be my go-to vegetable, but it's a dish I'd love to have been able to serve to my grandmother.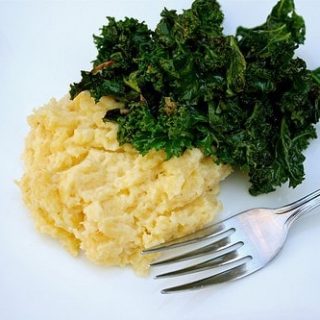 Parmesan Mashed Rutabaga
Yield: 4 servings
Prep Time: 10 minutes
Cook Time: 20 minutes
Total Time: 30 minutes
Ingredients
1 rutabaga
2 tablespoons butter
1/4 cup cream
1/3 cup grated fresh parmesan
Salt
Pepper
Instructions
Peel and chop rutabaga into chunks and toss into a pot of boiling water. Cook for about 20 minutes, until easily pierced with a fork.
Drain, return to pot, and add butter, stirring to coat and melt. Mash with a fork or potato masher. Mix in cream and parmesan, and salt and pepper to taste.
Recommended Products
As an Amazon Associate and member of other affiliate programs, I earn from qualifying purchases.
Nutrition Information:
Yield: 4
Amount Per Serving:
Calories: 151
Total Fat: 14g
Saturated Fat: 8g
Trans Fat: 0g
Unsaturated Fat: 4g
Cholesterol: 39mg
Sodium: 348mg
Carbohydrates: 5g
Fiber: 1g
Sugar: 2g
Protein: 3g