It snowed on Friday.
Yep, here in Austin, Texas, the flakes flew for about 15 minutes. Just long enough for half the adults in my office to run outside giggling. Weather is always interesting here, because instead it being part of the normal routine, anything other than 76 and sunny sort of makes people freak out.
So, Friday was our winter, and with winter there are cookies.
There are different versions of Mexican hot chocolate out there – some are mainly spiced with cinnamon, while others add in heat with the pepper. I like adding the pepper for just a little bit of warmth in the back of your throat. I recommend starting with the amount I listed here, then adjusting up if you like more power.
Mexican Hot Chocolate Cookies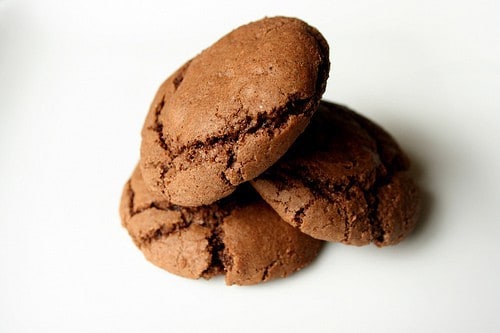 Ingredients
1 cup sugar
4 tablespoons butter , melted
2 eggs
1 1/2 cup flour
1/4 cup cocoa
1/4 cup hot chocolate mix , such as Ghirardelli
2 teaspoons cinnamon
1/8 teaspoon cayenne pepper
1 teaspoon baking powder
1/2 teaspoon baking soda
1/4 teaspoon salt
1/4 teaspoon pepper
Instructions
Preheat oven to 350.

In a large bowl, beat together the butter and sugar. Beat in eggs.

In a medium bowl, whisk together the rest of the ingredients. Slowly add to the sugar mixture and beat until well combined. Chill dough in fridge for about 30 minutes.

When chilled, roll pieces of dough into small balls and place on parchment-paper covered baking sheet. Bake for 12 minutes and remove immediately to wire cooling rack.
For more sweet inspiration, check out my Cookies board on Pinterest.
Follow Megan Myers | Stetted's board Cookies on Pinterest.