Double ginger molasses cookies are soft, spicy, and remind you of days gone by. They're comfort in a cookie.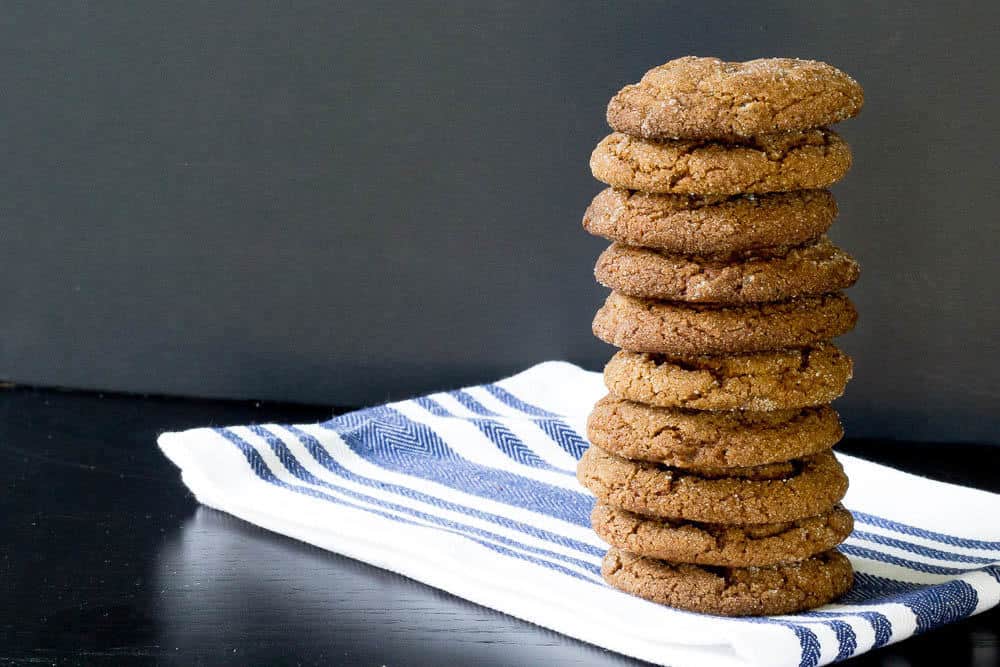 We're settling into the new house, bit by bit. After the initial move in rush, we've been taking things more slowly. Artwork on the wall here. A plant placed over there. Curtains finally hung. The cozier we make it, the more it feels like ours rather than a dream.
My office was the first place to get set up entirely, because I need my space. Every morning I get my coffee, open the window blinds, and look out at the small pond across the street, the pond that made us jump at this plot of land last Christmas. There's a fountain that makes the water move in constant ripple, and it soothes my stresses. I feel like I can get back to my routine, back to my kitchen.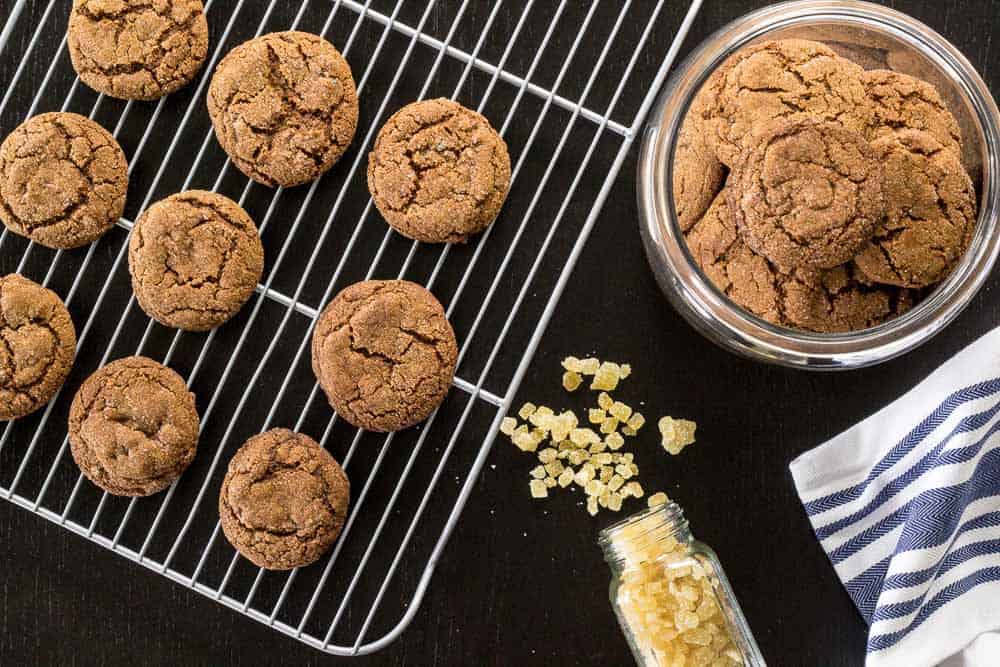 Sure, we've been making dinner. We've made the family favorite beef and green bean stir fry, we've had chili. But much of the time, making dinner just feels like going through the motions. Something that needed to be done.
My friend and I made a date to use this glorious kitchen I have, and last weekend we spent hours gabbing and laughing and ultimately creating. We broke out the deep fryer for our first foray into donuts, with fantastic apple fritters.
Standing in my kitchen while eating still-hot apple fritters woke me up. It flipped my switch, in a way, and I was filled with a burst of wanting to create everything.
So first things first, cookies.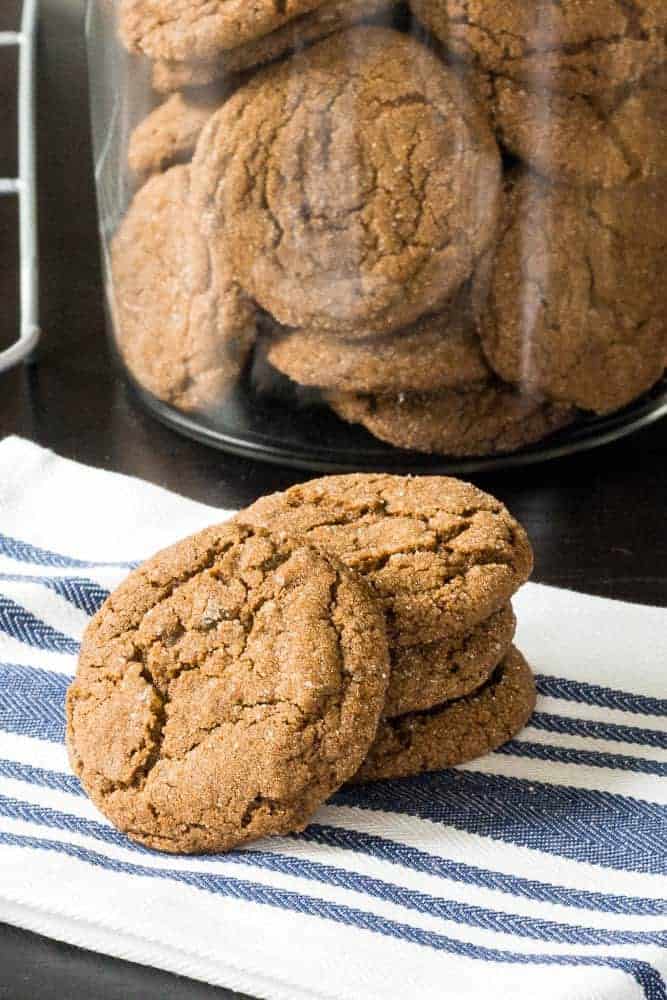 I made these double ginger molasses cookies because I wanted to. Because I wanted to embrace autumn and taste it, and taste what comfort is. I don't know about you, but molasses cookies are one of those things that floods you with memory, even if you can't quite place what that memory is.
If I was a good blogger, I'd research the SEO before making the recipe, spend two hours taking photos, and make sure to get my husband or kid to take the perfect Instagram shot of me in the kitchen or cutely holding the cookies.
After all these years though, I'm fine with not being a good blogger. I'm fine with being me, and doing what I love. What I love comes with an open-door policy and always cookies to share.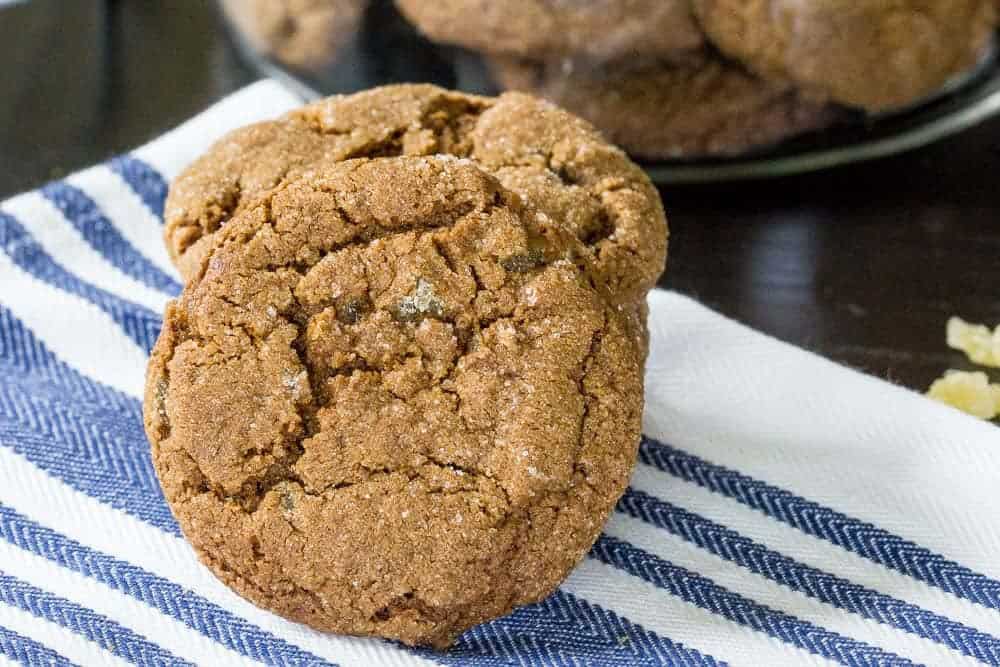 If you make these cookies, and I hope you do, be sure to remove them from the oven while they're still soft to ensure a chewy texture. I found that in my oven a lighter-color baking sheet works best, so if you only have a darker pan, reduce the time.
You can find crystallized ginger in a variety of places. I got mine in the spices and baking aisle.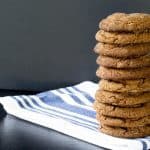 Double Ginger Molasses Cookies
Double ginger molasses cookies are soft, spicy, and remind you of days gone by. They're comfort in a cookie.
Ingredients
3/4

cup

butter

softened

1

cup

packed brown sugar

1

large egg

1/4

cup

unsulfured molasses

2

teaspoons

ground ginger

1/2

teaspoon

ground cardamom

1/4

teaspoon

ground cinnamon

1/4

teaspoon

ground cloves

2

cups

all-purpose flour

2

teaspoons

baking soda

1/2

teaspoon

salt

1/2

cup

crystallized ginger

cut into small bits if large

1/2

cup

granulated sugar
Instructions
Preheat oven to 375°F. Line baking sheets with parchment paper.

In a large bowl or the bowl of a stand mixer, cream together butter and sugar until fluffy. Beat in egg, molasses, ginger, cardamom, cinnamon, and cloves.

In a small bowl, mix together flour, baking soda, and salt. Add flour mixture to wet ingredients and stir until just incorporated. (The dough might seem wet.) Stir in the crystallized ginger.

Pour the sugar into a small bowl. Using a cookie scoop, scoop balls of dough and drop into the sugar. Roll each ball in the sugar to fully coat, then place on baking sheet. Repeat with remaining dough.

Bake for 10-12 minutes.
Recipe Notes
Adapted from My Baking Addiction.
Nutrition Facts
Double Ginger Molasses Cookies
Amount Per Serving
Calories 108
Calories from Fat 36
% Daily Value*
Total Fat 4g 6%
Cholesterol 14mg 5%
Sodium 131mg 5%
Potassium 54mg 2%
Total Carbohydrates 17g 6%
* Percent Daily Values are based on a 2000 calorie diet.