This post contains affiliate links. As an Amazon Associate, I earn from qualifying purchases.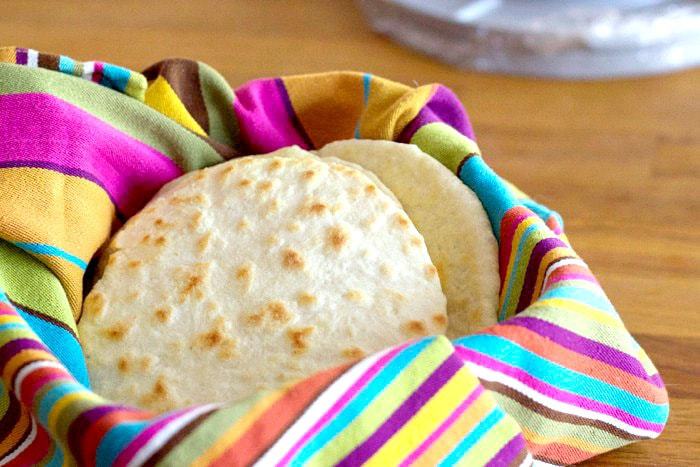 Living in Austin, we have no shortage of places that have great tortillas, and we always have some stashed in the fridge for breakfast, lunch, and dinner. Always having them, however, means we also always run through them pretty quickly, and there have been too many days where we've been without. I decided to finally embrace making tortillas at home.
Now, I'll admit it takes a little bit of practice to get your homemade tortilla method down, especially if you have never made tortillas before. You want to make sure to roll them thin enough, but not so thin they would fall apart once you have your taco fillings in.
I've used both lard and butter in my tortillas. I prefer lard, but only if I can get it from the local butcher – not those blocks from the grocery store. Good quality butter is a nice stand-in, though I don't recommend shortening unless you must, as it doesn't add any flavor to the tortillas.
This post is also a precursor to October Unprocessed, the monthlong challenge to avoid processed foods. While I cook most of our food at home, it's sometimes shocking how easily convenience foods sneak into the kitchen and our diets.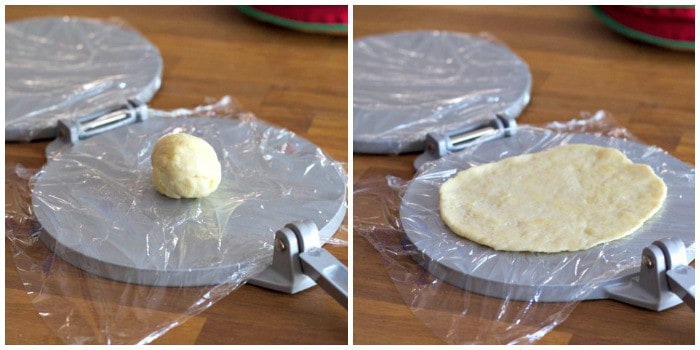 You can use a tortilla press if you prefer to not roll them out. Depending on your tortilla press, you might need to press more than once to get the thickness you like. A rolling pin can also be used, but be sure to not use too much flour or your tortillas can end up tough.
Tortillas are always best when they're made right before eating, but you can cook up the whole batch in advance as well. Simply let them cool and store in an airtight container, then reheat on a griddle pan as needed.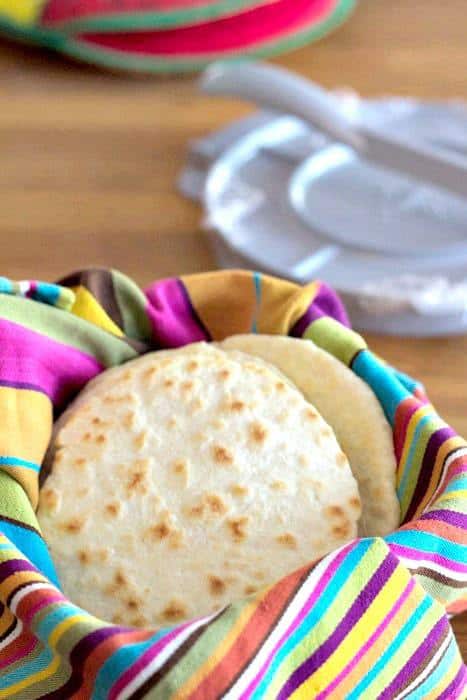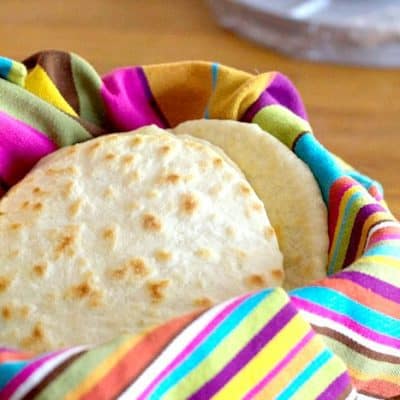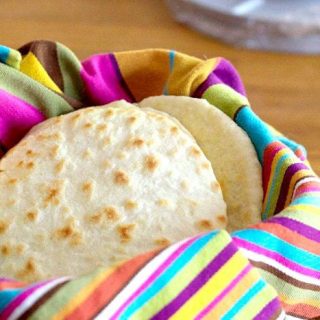 Homemade Tortillas
Ingredients
2 cups all-purpose flour
1/2 teaspoon baking powder
1/2 teaspoon salt
3 tablespoons butter or lard
3/4 cup water
Instructions
Sift together flour, baking powder, and salt.
Cut in butter or lard until mixture starts to clump together when squeezed.
Mix in water a little at a time (you may use less depending on your flour) until a rough dough forms. Knead dough until it comes together and forms a ball.
Let dough rest for 30 minutes.
After resting, line a tortilla press with plastic wrap. Divide dough into 8 pieces and roll each into a ball.
Place one ball on the tortilla press and squeeze down for about 10 seconds. Repeat with remaining dough.
Cook tortillas on a hot griddle for a minute or two on each side, then keep wrapped in a kitchen towel until ready to eat.
Recommended Products
As an Amazon Associate and member of other affiliate programs, I earn from qualifying purchases.
Nutrition Information:
Yield:

8
Amount Per Serving:
Calories:

166
Total Fat:

6g
Saturated Fat:

3g
Trans Fat:

0g
Unsaturated Fat:

2g
Cholesterol:

13mg
Sodium:

198mg
Carbohydrates:

24g
Fiber:

1g
Sugar:

0g
Protein:

3g
Welcome to another edition of Progressive Eats, our virtual version of a progressive dinner party. If you're unfamiliar with the concept, a progressive dinner involves going from house to house, enjoying a different course at each location. With Progressive Eats, a theme is chosen each month, members share recipes suitable for a delicious meal or party, and you can hop from blog to blog to check them out.
We have a core group of 12 bloggers, but we will always need substitutes and if there is enough interest would consider additional groups. To see our upcoming themes and how you can participate, please check out the schedule at Creative Culinary or contact Barb for more information.
This month's theme is Tex-Mex, hosted by Milisa of Miss in the Kitchen.
Appetizer
Salad
Soups
Main Course
Bread
Sides/Veggies
Beverage
Desserts