My son bursts into the house at the end of each day, his cheeks ruddy from exertion and his stomach ready for a snack. The school year is slowly, slowly winding down for us, and we're all exhausted.
From making sure the homework is done (homework! in kindergarten!) to keeping up with his growing appetite, summer can't come quick enough.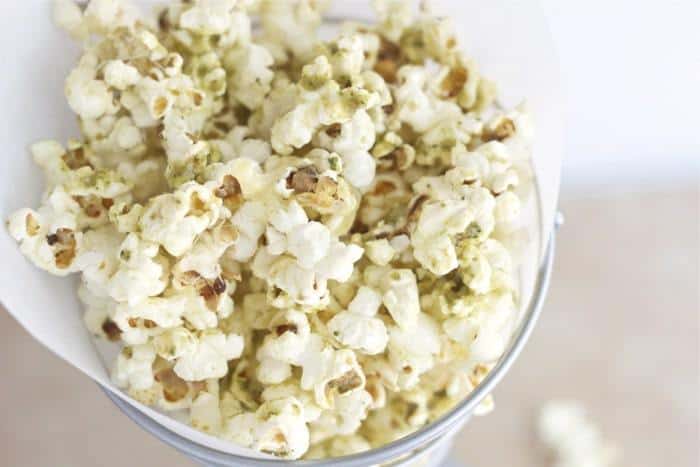 I can't really blame my son for his hunger after a long day. After all, I'm a snacker.
This is probably a learned behavior from my childhood, where snacks were ever-present and post-dinner noshing happened on the regular.
No matter how many documentaries I watch or food studies books I read, I can't seem to break myself of snacking. Luckily, this habit hasn't quite extended to the kindergartener.
He'd happily eat all day long if I let him, but if we ignore the presence of the kitchen (sometimes open floor plans have downsides) it isn't an issue. He gets busy and forgets. It's the same for me, often getting so busy that I actually forget real meals, and result in snacking to take their place.
But I'm working on it. Slowly and surely, I've been making sure the snacks we do have on hand are the more healthful ones, veggies and hummus and salsas and copious amounts of fruit.
I've learned that keeping things like potato chips in the house means there will soon be no potato chips in the house, replaced with a funny feeling in my stomach. Still, every once in a while I crave a savory, salty snack.
The other day when I was cleaning out my freezer I saw I had a smidge of pesto left from last summer. Since we're about to be flush with basil again, there was no point in saving this small amount, but I knew I could transform it into something more than pasta-for-one.
Mixed with melted butter and drizzled over popcorn, this might be my new favorite way to eat pesto. After all, there's only so many pasta dishes a girl can take.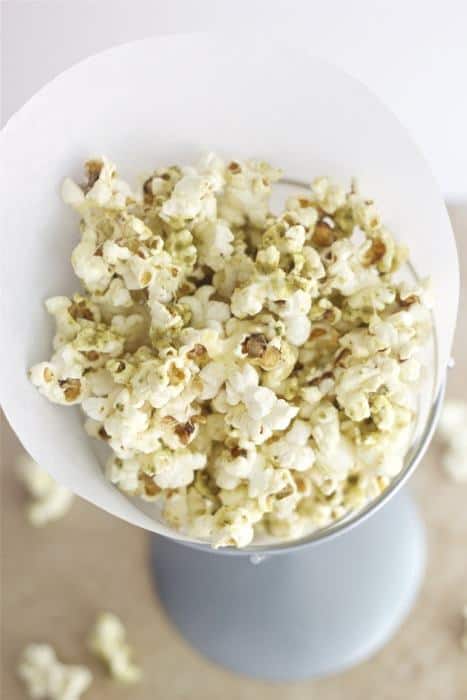 You can adjust the amount of pesto to your liking, but I think this is best when you get a smattering of taste throughout, especially if you're sharing it with pickier eaters.
Be sure to pour the popcorn into a bowl for mixing, otherwise the cheese can melt in the hot pan and make it quite messy.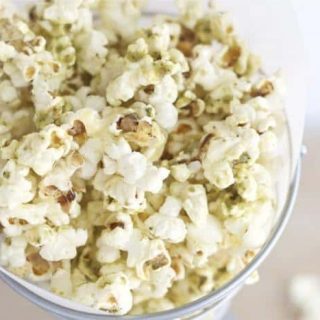 Pesto Popcorn
Yield: 7 cups
Prep Time: 5 minutes
Cook Time: 10 minutes
Total Time: 15 minutes
This savory, summery popcorn is a great way to use up leftover pesto.
Ingredients
2 tablespoons oil
1/4 cup popcorn kernels
4 tablespoons butter
1/4 teaspoon salt
2 tablespoons grated Parmesan
Instructions
Heat oil in a deep saucepan over medium, and add three popcorn kernels.
When the kernels pop, the oil is ready. Pour in the rest of the kernels and shake pan to evenly coat kernels in oil. Continue shaking every few seconds to help the kernels pop. Once the popping slows to 1-2 every 10 seconds, pour popcorn into a large bowl.
Melt butter in the microwave or in a small saucepan, and whisk in pesto.
Drizzle butter mixture over the popcorn and stir to coat, then sprinkle on salt and Parmesan and stir again. Serve!
Recommended Products
As an Amazon Associate and member of other affiliate programs, I earn from qualifying purchases.
Nutrition Information:
Yield: 4
Amount Per Serving:
Calories: 219
Total Fat: 23g
Saturated Fat: 9g
Trans Fat: 1g
Unsaturated Fat: 13g
Cholesterol: 35mg
Sodium: 318mg
Carbohydrates: 1g
Fiber: 0g
Sugar: 0g
Protein: 2g
More popcorn recipes you might like: