Spring Patio Decor with At Home
This post contains affiliate links. As an Amazon Associate, I earn from qualifying purchases.
My spring patio decor is ready for the sun and fun! Check out how I revamped my patio for a more inviting space. This is a sponsored conversation written by me on behalf of At Home. The opinions and text are all mine.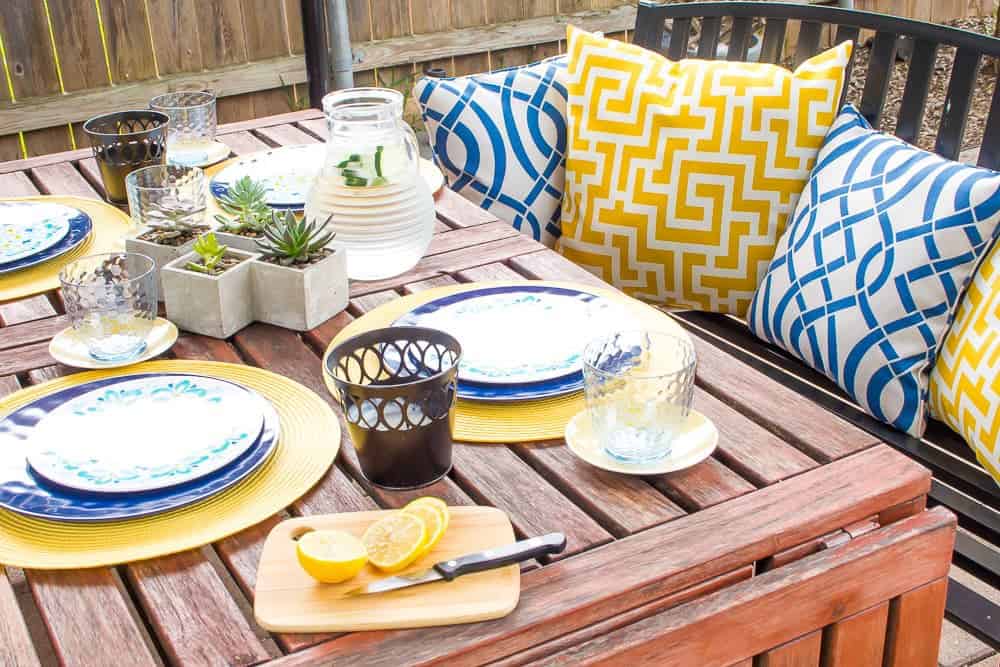 I'm excited to finally share with you what we did with our patio space! I only teased out a few of my patio picks so I wouldn't give it all away. We desperately needed a patio overhaul considering the post-winter state of things. Dead plants, leaves and dirt scattered everywhere, broken makeshift plant stand — it was just a mess. Using my own tips on shopping for home decor, I kept simplicity in mind and wanted to embrace a few trends while creating a space that would be timeless.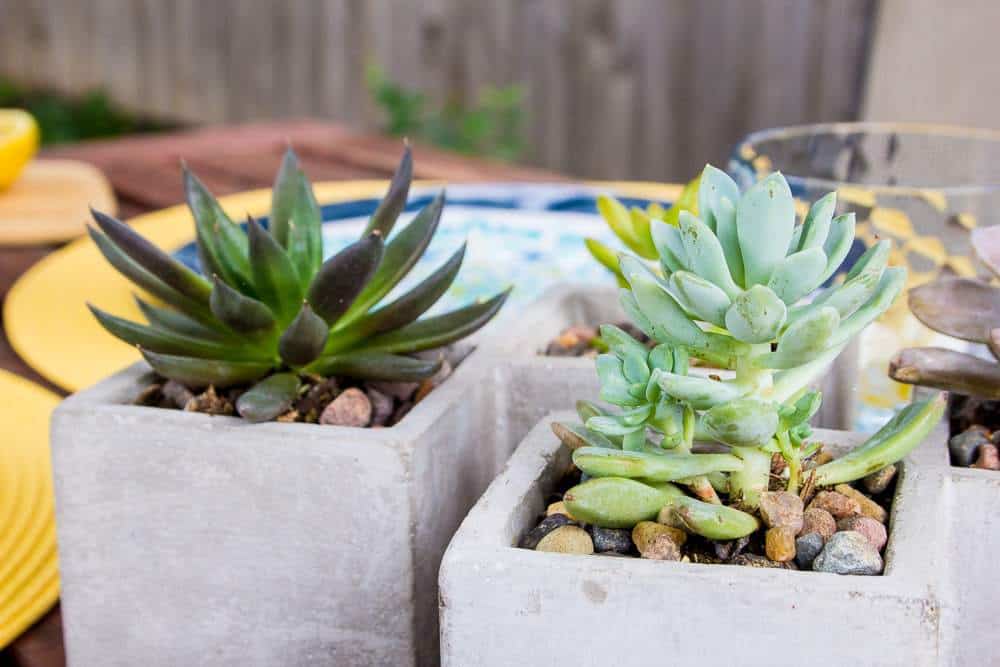 Staying on budget was important to me, so I spent a lot of time researching and making lists, and doing calculations when I was in the store. I was able to pick up everything I wanted at At Home for $500.89, just $.89 over my budget — and that was because I accidentally purchased an extra plate!
Because we already had some furniture, I focused on items that would make the space more inviting, like planters, colorful pillows, an umbrella (an absolute must in Texas summers), and tableware.
Sticking with classic colors and textures for the larger pieces means I can easily transition them based on the season or whatever my decorating whims might turn to.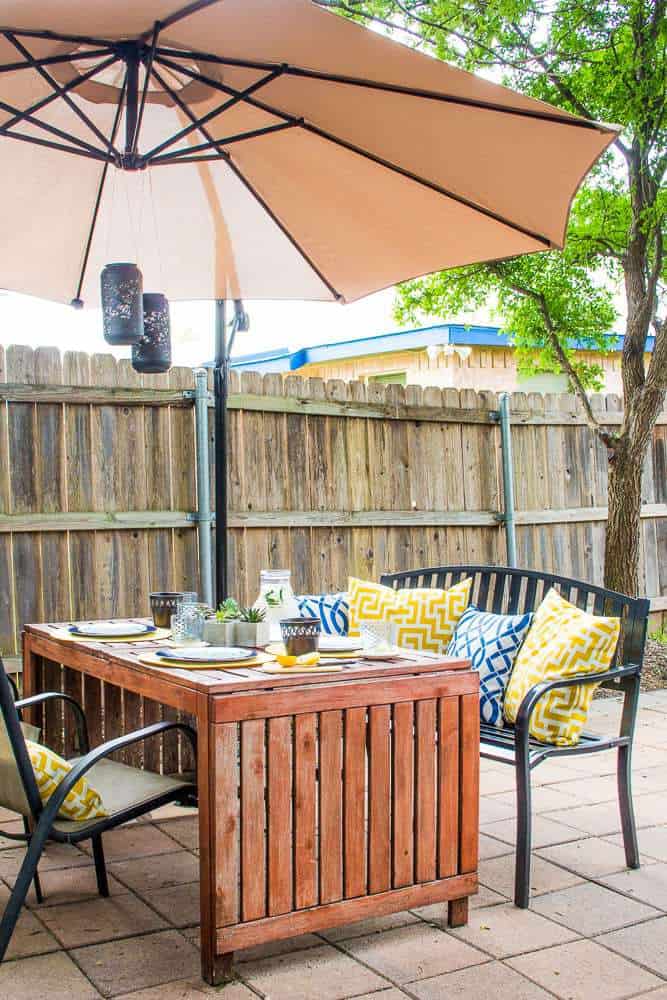 While I wanted a patio rug like those shown at the HGTV Spring House, it didn't make sense for my space, which often has leaves from the trees above. It also has been raining a lot this spring, and keeping that rug looking beautiful would be a task. Remembering things like that when shopping for your own decor can save a lot of hassle later!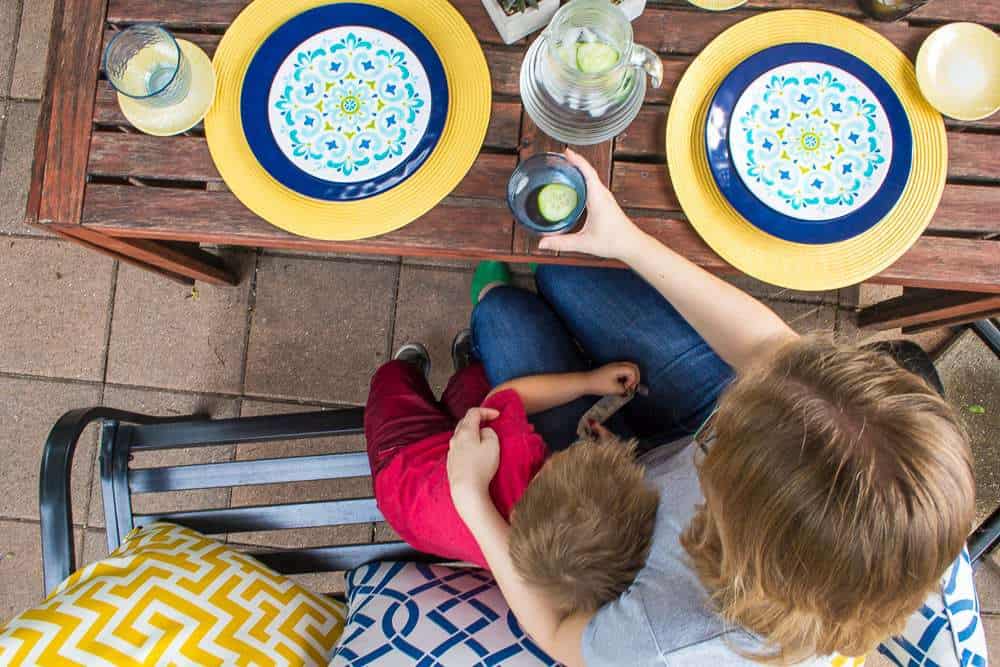 I decided on blue and yellow for the main colors because my yard already has quite a lot of green. These pillows are soft and the fabric is treated for the outdoors, so I know they won't fade immediately in our harsh sun if they accidentally are left outside. I love the bench because my toddler still loves to cuddle. (I do, too.)
The same colors are at play on the table, with woven placemats and plates. The smaller plates bring in a bit of the green and teal I was originally craving. Kid-friendly blue tumblers round out place settings, while stone planters filled with succulents and citronella candles add contrasting texture and color.
I love that I can just change the plates and pillows to create an entirely different look!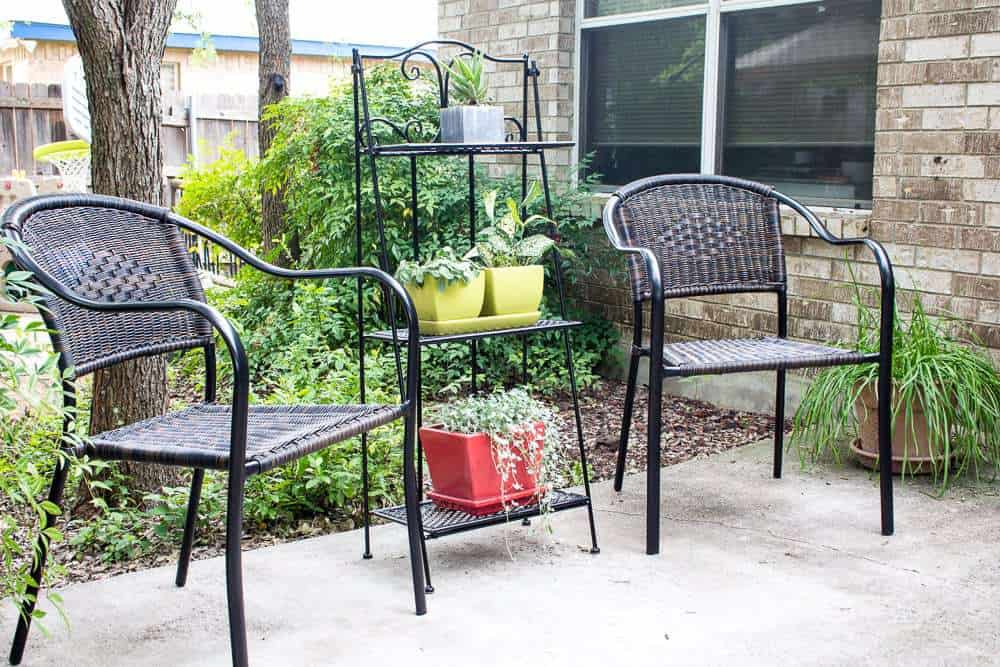 In our other patio area I opted for comfortable woven chairs and a plant stand that's perfect for perching a coffee mug. The chairs don't need pillows, but we can easily move them from the bench. All of the seating can easily be moved over to the fire pit, too, which makes entertaining incredibly easy. I love that we now have enough outdoor chairs to have lots of friends over, without resorting to fold-up camp chairs.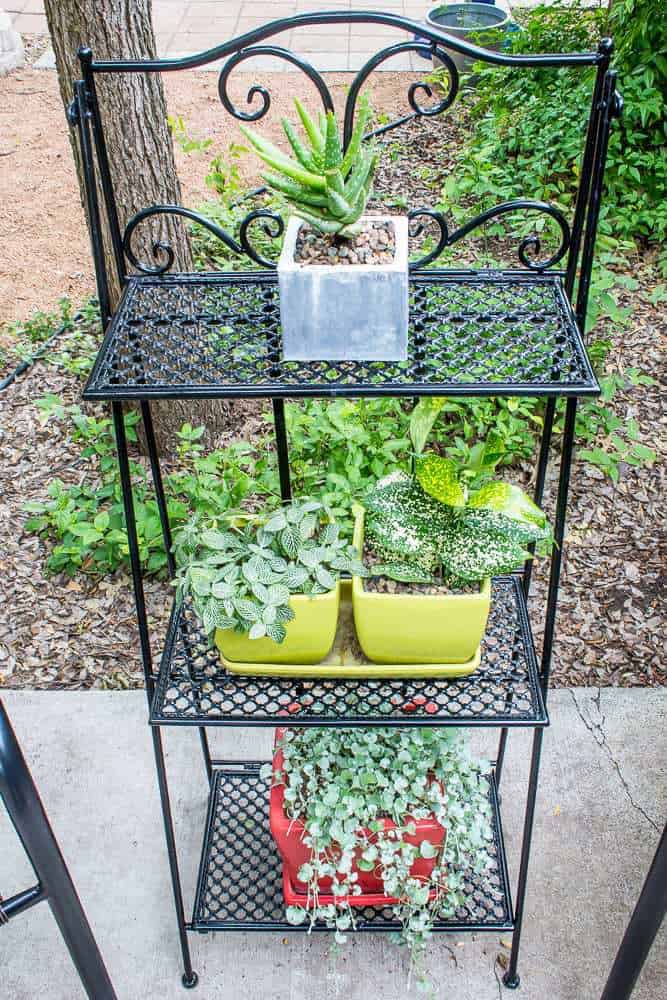 Of course, once we had everything set up that meant a family grill-out, s'mores, and relaxing by the fire pit as the fireflies danced around the yard. There was even a short-lived effort to sleep outside in the tent, so I think it's safe to say everyone loves our refurbished space.
The best part is that we can enjoy this space for our final summer at this home, making some more memories to take with us.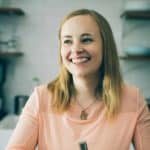 About Megan
I focus on fresh ingredients and easy methods, with spins that keep meals interesting. Dinnertime shouldn't be stressful or complicated, and I'm here to help you enjoy the time spent in the kitchen. Read more…