I love sweet salsas. Maybe it's just because I'm a bit of a wimp when it comes to heat (at least compared to others here in Texas) but I really like the play of spicy and sweet.
Our challenge in the Can Jam for September was stone fruits. Kind of hilarious in a way, because Kate, who chose this month's challenge, is a Texan living in Brooklyn who knows we're almost at the end of stone fruit season. Damn you, Kate! Luckily for her the farmers' markets have come through and I don't have to pretend to be mad at her anymore.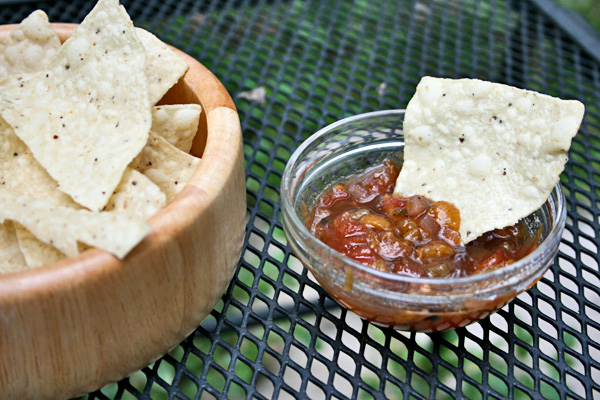 This recipe is tweaked from Canning with Kids who tweaked her recipe from the Ball Complete Book of Home Preserving. You can use hot or mild Hatch peppers, or a mix of both.
Also, I recommend that if you scale down the recipe due to not having enough tomatoes, you remember to scale down the honey and vinegar. Ahem.
Roasted Hatch Peach Salsa
makes about 6 half pints
4 cups diced tomatoes
4 cups diced peaches
1 cup diced white onion
1 cup diced roasted Hatch peppers
1/4 cup finely chopped cilantro
1/2 cup honey
1/4 cup balsamic vinegar
1/4 cup lemon juice
In a large saucepan or Dutch oven, combine tomatoes, peaches, peppers, and onions. Heat to a low boil over medium high.
Add remaining ingredients and simmer until thickened to desired consistency.
Ladle into jars and process in a water bath canner for 20 minutes, or put in freezer jars and let cool.