Grilled pound cake is unexpected for dessert, but it makes a wonderful ending to a summer evening cookout. Add your favorite fruits!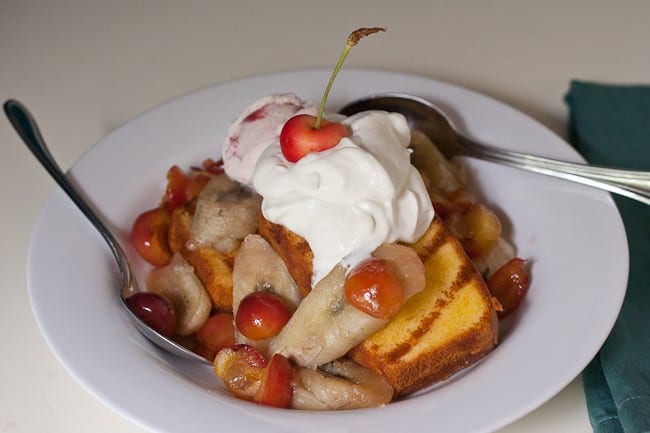 My favorite TV shows are always the ones that are quirky and a bit misunderstood – a little like myself. So it's no wonder that one of my favorites is Arrested Development. It's been years since this show was mistreated by FOX and taken off the air, but I still frequently quote it. I know I've found some good friends if they can quote along with me.
We still watch the show a lot thanks to DVDs and Netflix, so I was thrilled when it was confirmed that the long-rumored fourth season was actually happening, and it would be all released at once. Good thing May 26 is a Sunday, because I know I wouldn't be able to get any regular work done with new episodes hanging over my head.
And what's a show marathon without some excellent snacks?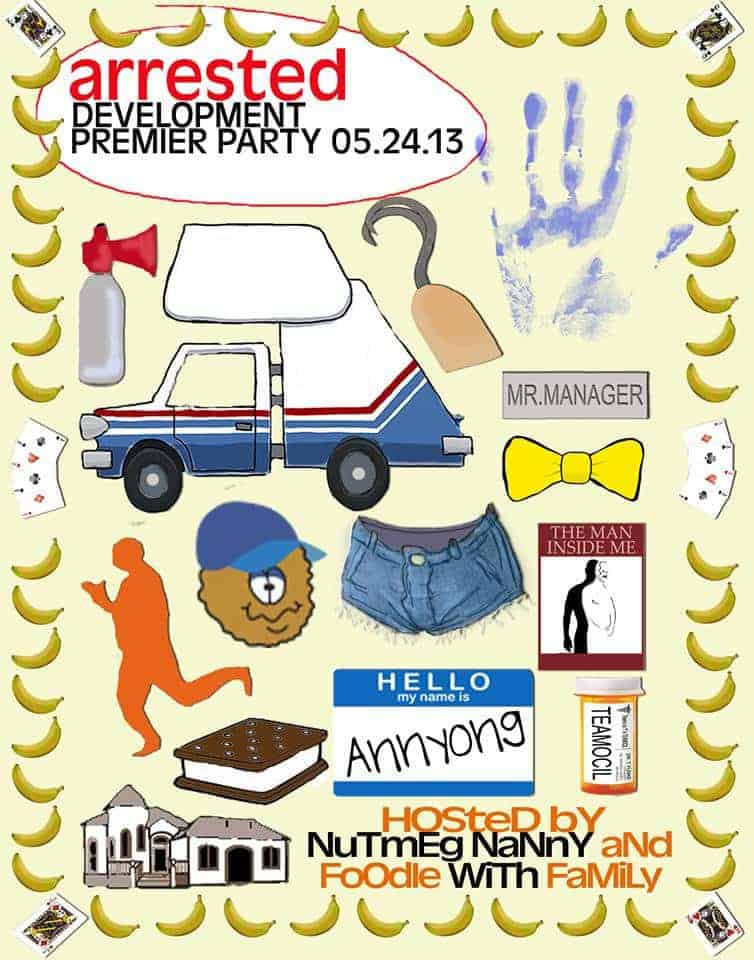 Grilled pound cake is something you really need to add to your summer dining lineup. Adding more butter to butter cake? Heck, yes! You can also grill the fruit by using foil packets instead of a baking dish in the oven. But be aware – when I roasted the bananas and cherries, the bananas turned an unattractive color. Let's face it – bananas just aren't pretty, especially compared to cherries. But that doesn't mean they aren't tasty.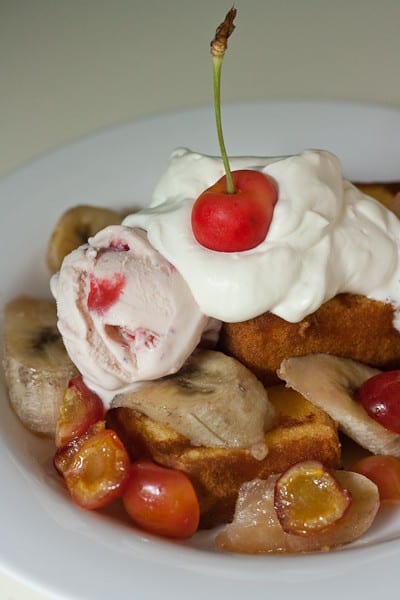 In honor of awkward family relationships everywhere, enjoy this dessert with a loved one.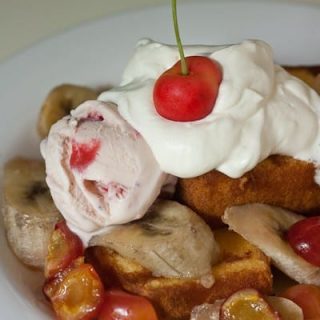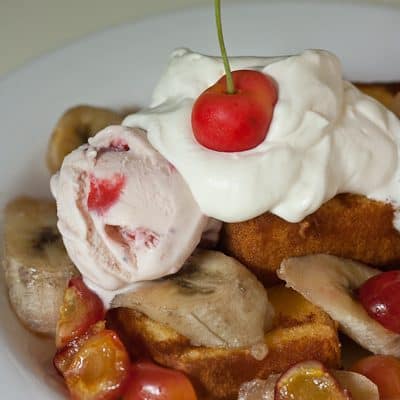 Grilled Pound Cake with Roasted Fruit
Yield: 2 servings
Prep Time: 10 minutes
Cook Time: 20 minutes
Total Time: 30 minutes
Grilled pound cake is unexpected for dessert, but it makes a wonderful ending to a summer evening cookout.
Ingredients
1 banana
10 cherries
1/2 tablespoon honey
1/2 cup heavy whipping cream
1/2 teaspoon vanilla sugar, or regular granulated sugar
Two thickly cut slices of pound cake
1 tablespoon unsalted butter
Ice cream of choice
Instructions
Preheat oven to 400°F. Peel banana and slice on a diagonal, then arrange slices in a shallow baking dish. Pit and halve cherries and add to bananas. Drizzle fruit with honey, and bake for approximately 15 minutes.
Meanwhile, beat the whipping cream and sugar until peaks form. Chill until ready to use.
Heat a grill or stovetop grill pan to medium. Butter both sides of pound cake slice. When fruit is done roasting, grill cake for 1-2 minutes on each side.
Plate pound cake and spoon roasted fruit over the top. Add 1-2 scoops of ice cream per person and a dollop of whipped cream. Top with a fresh cherry.
Recommended Products
As an Amazon Associate and member of other affiliate programs, I earn from qualifying purchases.
Nutrition Information:
Yield: 2
Amount Per Serving:
Calories: 601
Total Fat: 39g
Saturated Fat: 23g
Trans Fat: 1g
Unsaturated Fat: 13g
Cholesterol: 132mg
Sodium: 185mg
Carbohydrates: 60g
Fiber: 3g
Sugar: 45g
Protein: 7g
Check out the other recipes created for our party!