This post contains affiliate links. As an Amazon Associate, I earn from qualifying purchases.
Easy to make with no cooking required, bread and butter pickles have the classic sweet and tangy flavor everyone loves! They're delicious on their own or on top of burgers, hot dogs, and more.
Every year I plant cucumber in my garden, and every year it does so well I'm equally proud and regretful.
Try as I might, I can never seem use up all of the cucumbers that grow. Thankfully, there are easy recipes like these bread and butter pickles to help make the most of them!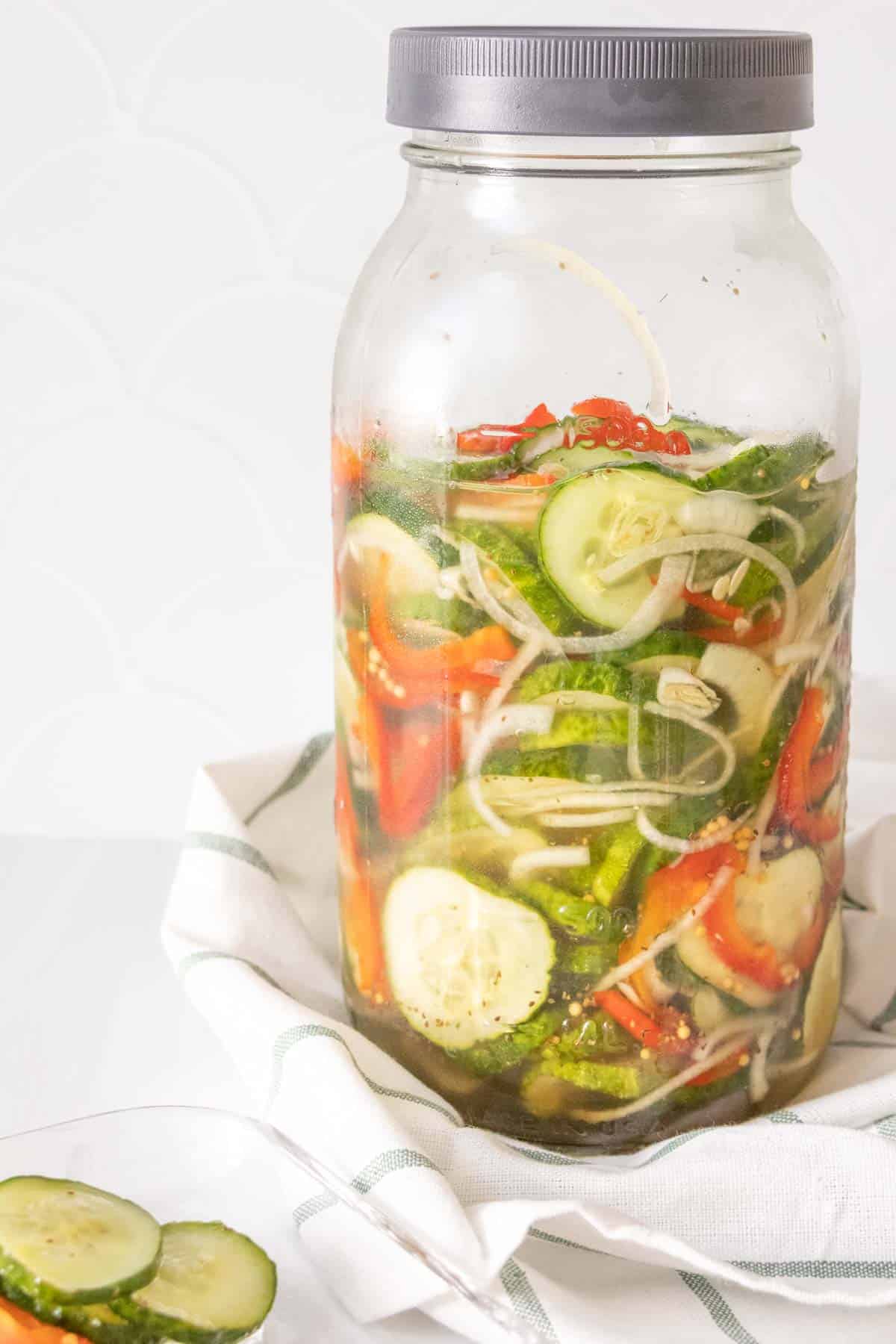 Bread and butter pickles are likely the pickle you remember your grandparents making, because they are so easy and don't require turning on the stove.
We love to have a jar on hand in the fridge for easy snacking or chopping up and making into a relish.
They're crunchy, sweet, and tangy — the perfect combination on a hot summer day!
Ingredients for bread and butter pickles
You'll need a half gallon glass jar or large bowl, plus: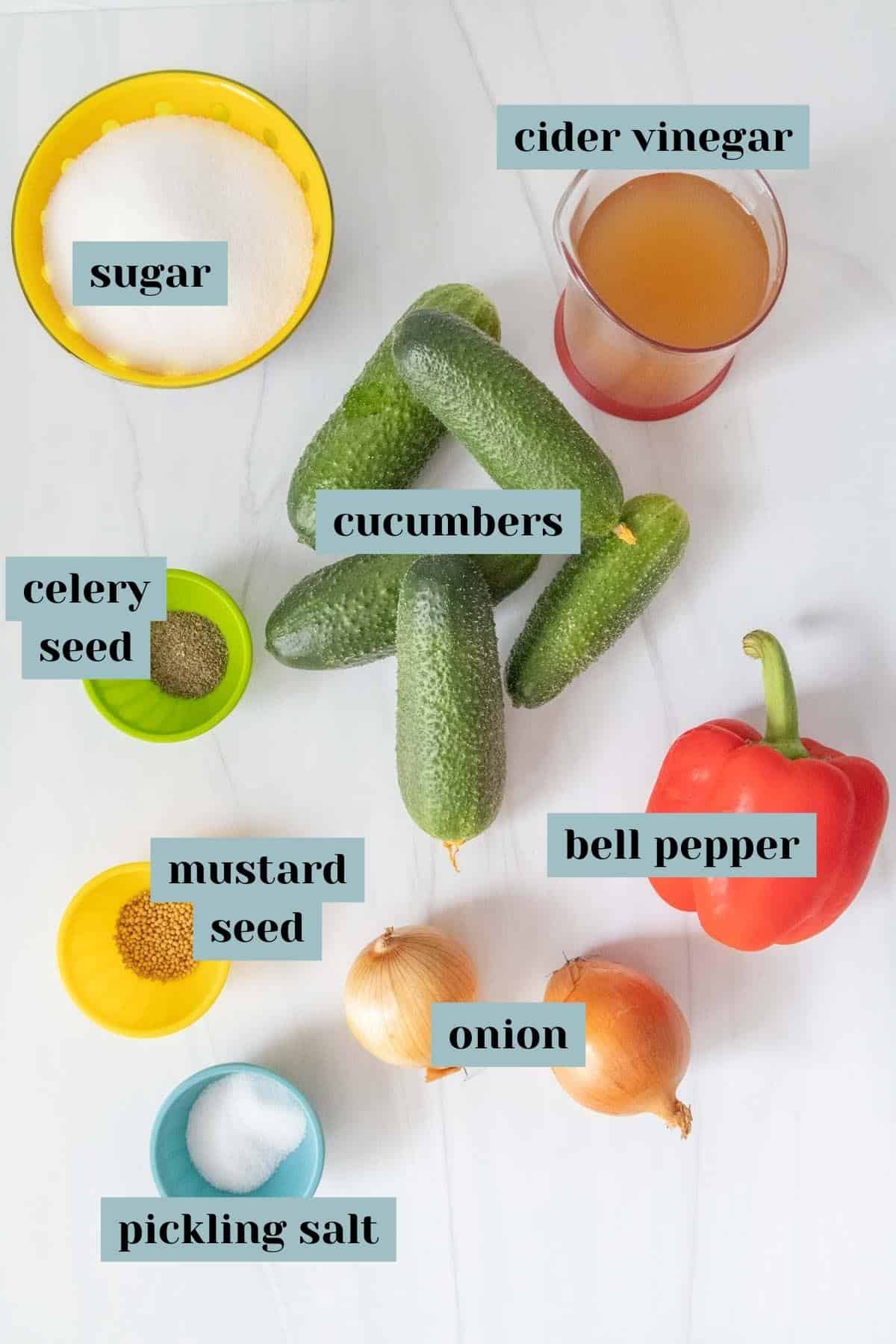 Cucumbers – You don't need to worry about peeling your cucumbers, or removing the seeds. Use cucumbers that are firm with no soft spots. This will help keep the pickles nice and crunchy.
The number of cucumbers you'll need will depend on the size, as cucumbers can vary a lot! You will need about 2 pounds of cucumbers for this recipe.
Bell pepper – Red bell pepper works wonderfully in this recipe as it provides a beautiful contrast to the green cucumbers. Red bell peppers are sweeter than green bell peppers, so you can swap in your favorite color if you like.
Onion – Use white or yellow onion for this recipe. Red onion is too sharp, and sweet onion is too sweet.
Pickling salt – Pickling salt (aka canning salt) is a very fine salt that dissolves easily. It is usually sold in large boxes. Salt does not expire, but if you do not want to buy pickling salt, you can use a fine sea salt instead.
Celery seed – Celery seed is similar in flavor to fresh celery, with earthy and bitter notes. It's great in tangy recipes like pickles or homemade coleslaw.
Mustard seed – Mustard seeds are pungent and somewhat bitter, helping to balance the sweetness of the pickle brine.
Cider vinegar – Also called apple cider vinegar, this is not to be confused with the sweet apple cider drink. It adds flavorful tang to the vegetables and is a key component in making pickles.
Sugar – Use granulated sugar here. I do not recommend using sugar substitutes.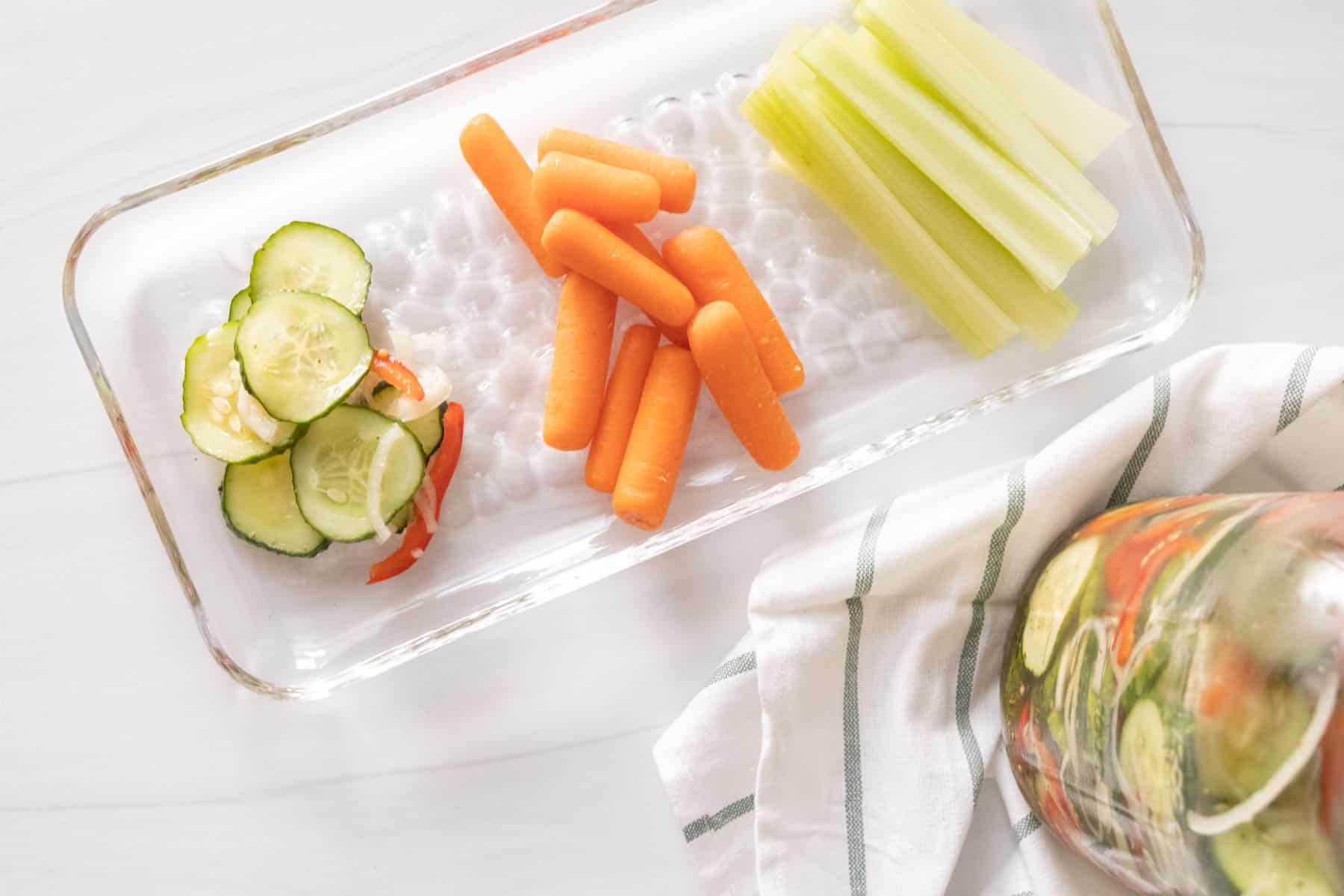 What kind of cucumbers are used for pickles?
While "pickling cucumbers" are often the go-to when it comes to pickles, you can actually use a wide variety of cucumbers to make pickles. Probably any cucumber you have available will work!
Look for English cucumbers, which are smooth skinned, or smaller seedless cucumbers (they tend to be available in a multipack).
Any garden cucumber works well, from gherkins to Kirbys to Persian cucumbers.
If you are growing your own cucumbers, make sure to remove the spines before using.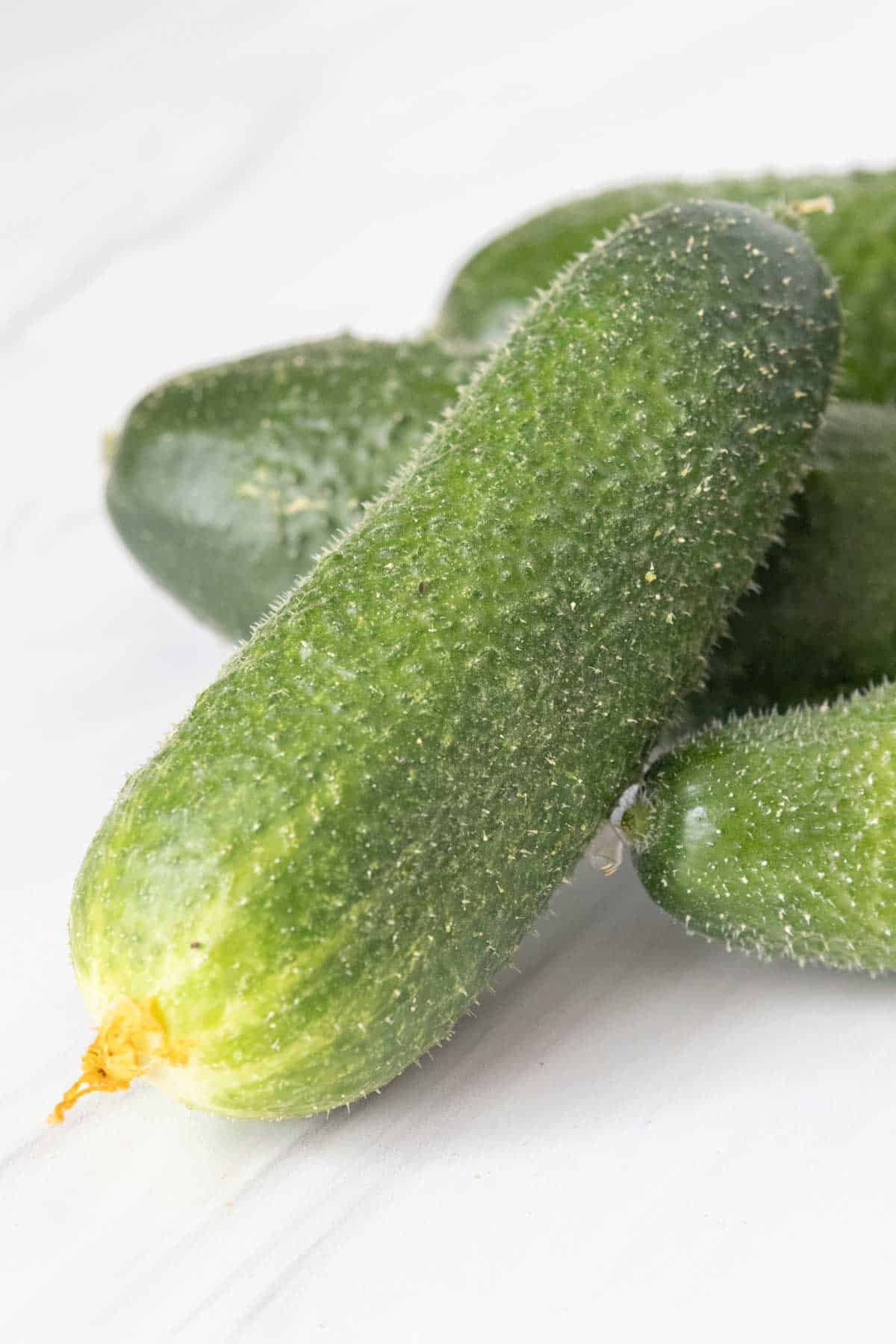 The easiest way to do this is to gently rub the sides with a vegetable brush or your thumb while wearing gloves. Make sure to rinse the cucumber well to remove any tiny spines that might have stuck on.
How to make this recipe
First, make sure you have a large enough jar to put the pickles in. A half-gallon mason jar is the perfect size.
You can also use multiple smaller jars; just make sure to divide the vegetables and brine equally.
Slice the cucumbers into rounds, and thinly slices the bell pepper and onion. Combine in a large bowl.
Sprinkle on the pickling salt, celery seed, and mustard seed. Mix well to coat the vegetables.
Stuff the vegetables into the mason jar. You should be able to get all of it into the jar. It's OK to press down a bit to fit.
Loosely place the lid and let sit for 1 hour.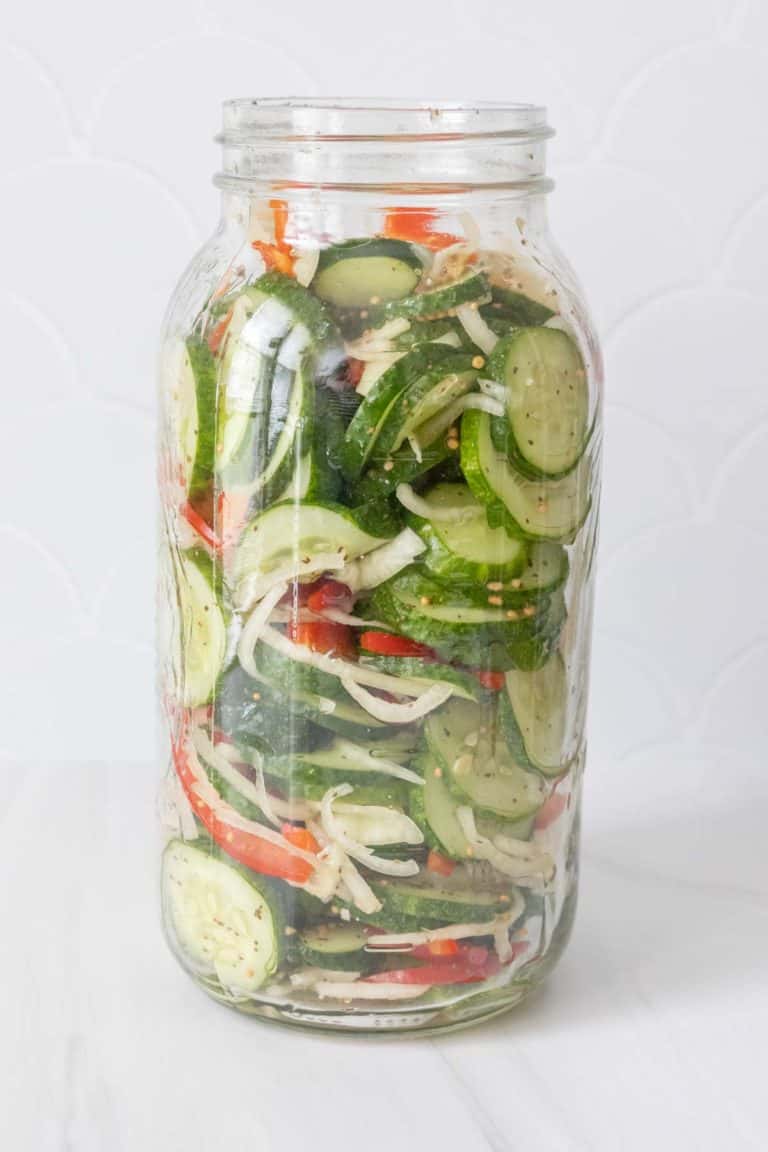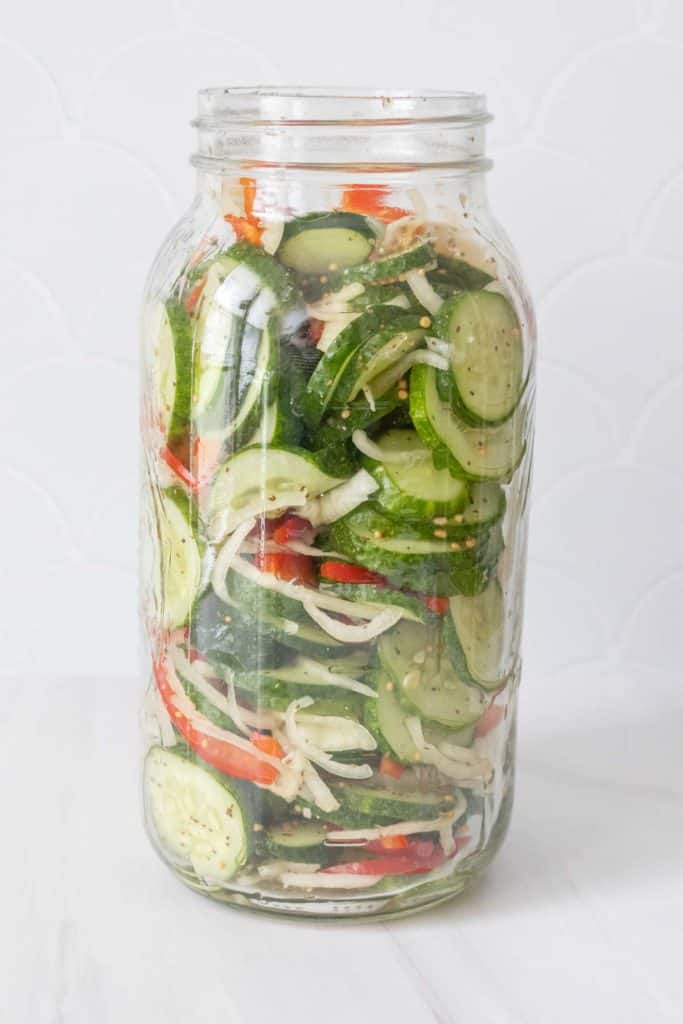 As the vegetables sit, the salt will draw out water and the vegetables will reduce in volume. This will combine with the vinegar to create the brine.
After 1 hour, whisk together the cider vinegar and sugar until the sugar is completely dissolved. Doing this in a liquid measuring cup or bowl with a pouring lip is helpful.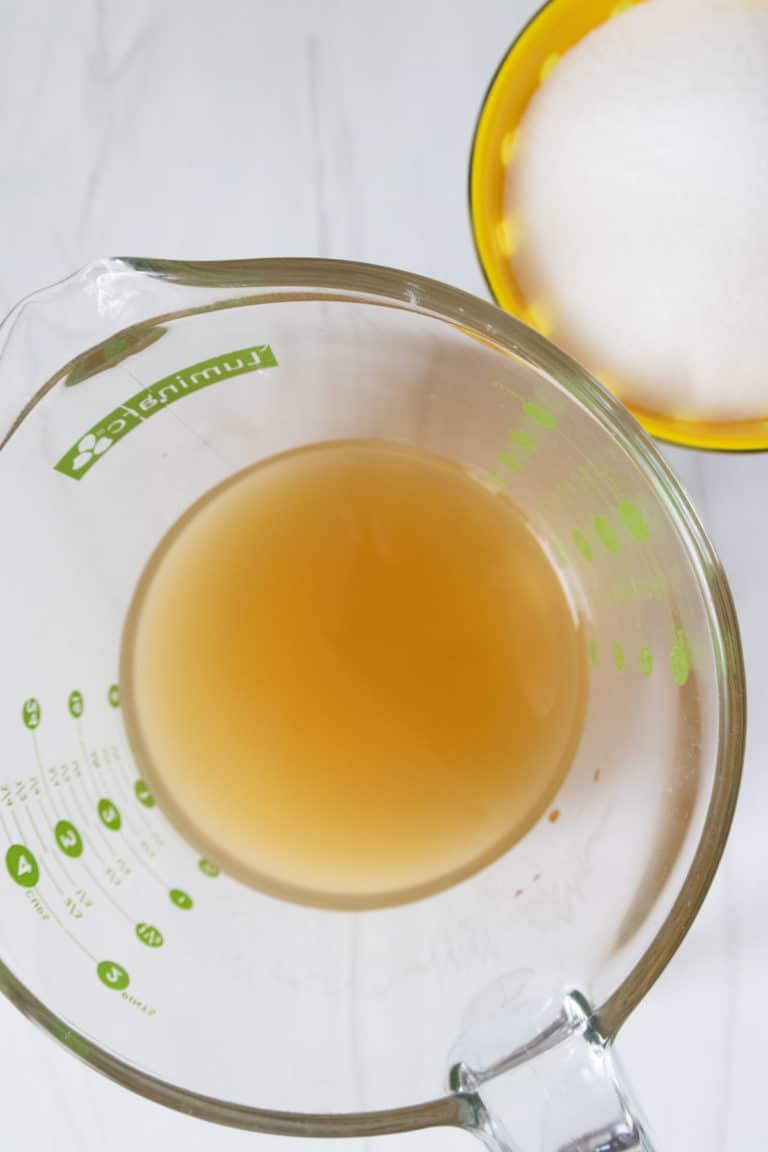 Pour the vinegar mixture into the jar and screw on lid. If you like, you can turn the jar over a few times to mix.
Place the jar in the refrigerator and let rest for at least 2 days before eating. The longer you can wait, the better they will taste!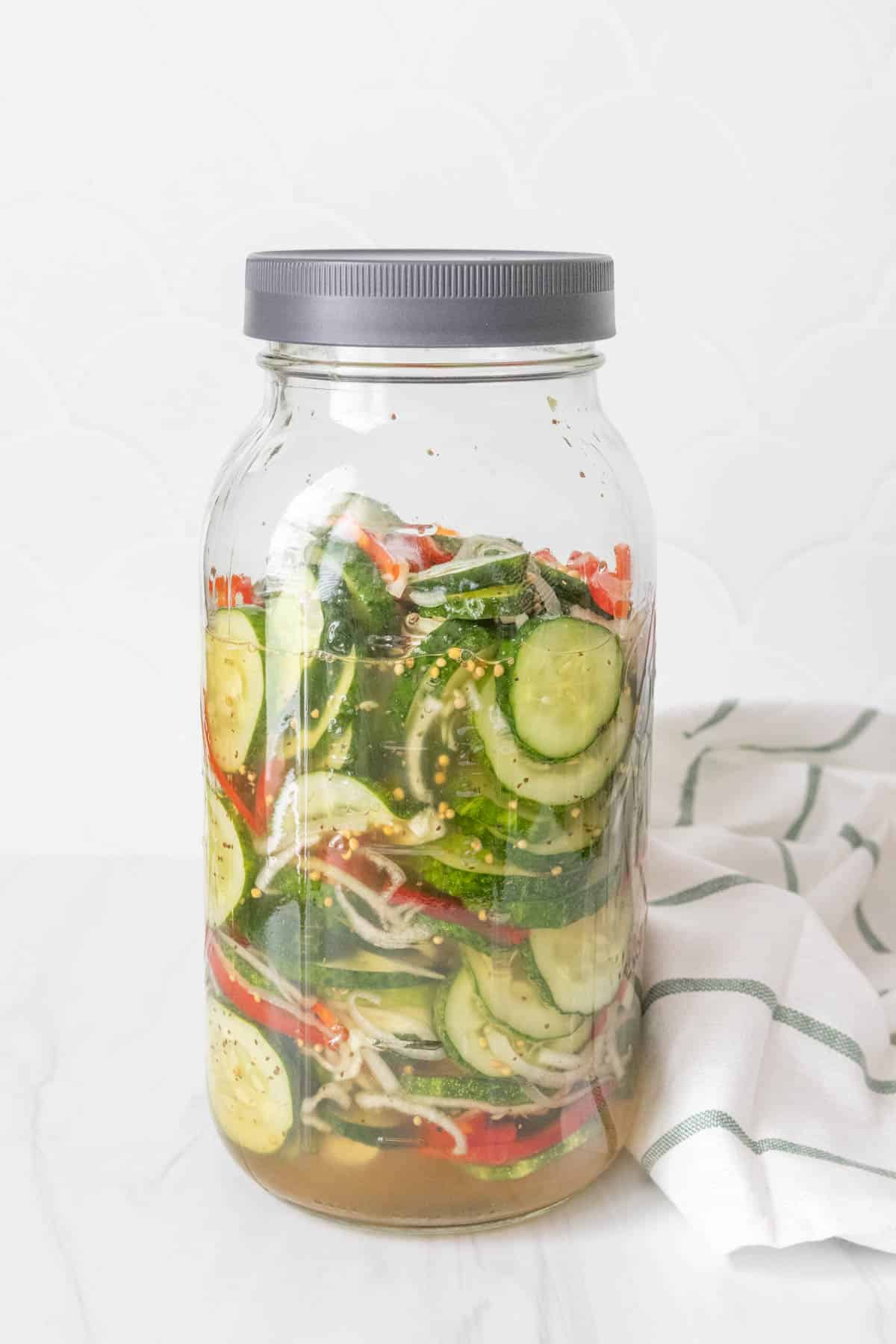 FAQ
What kind of vinegar should I use for pickles?
I love the flavor that cider vinegar adds to these pickles, but you can definitely swap in distilled white vinegar.
You can also use white wine vinegar, but I recommend using only a portion of that in combination with the white vinegar, or the flavor could be overpowering.
Do not reduce the amount of vinegar in the recipe or add water.
How long do homemade pickles last?
These sweet pickles will last quite a long time stored in an airtight container in the refrigerator.
In fact, bread and butter pickles benefit from a longer resting time. While they are ready to eat in 2 days, they taste even better after 2 weeks!
When eating your pickles, be sure to use a clean fork, tongs, or spoon to remove the pickles from the jar, not your fingers. Using your fingers can introduce bacteria into the jar.
Stored properly, homemade pickles will keep for a few months.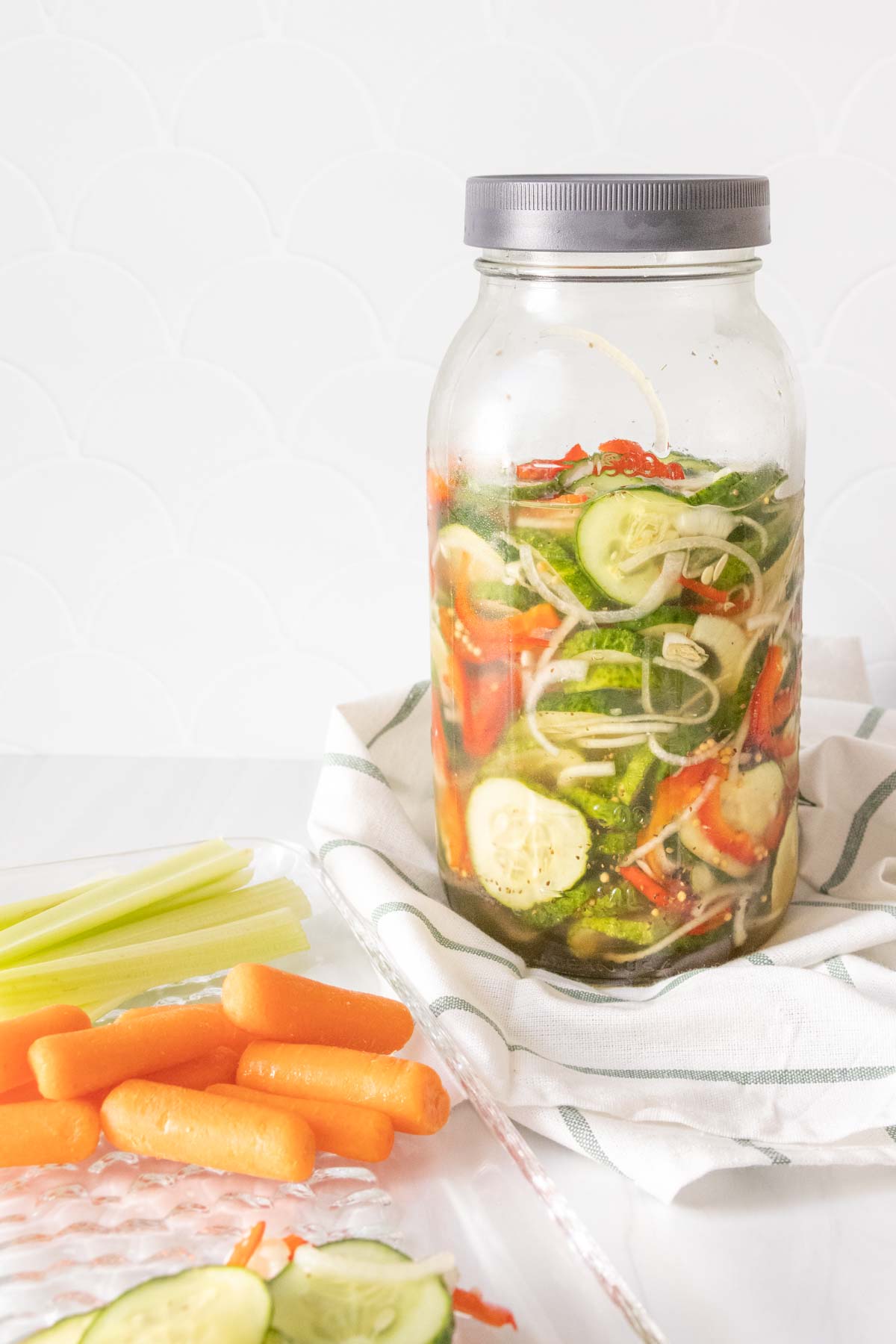 Can this recipe be used for canning?
Because the brine is not heated in this recipe, it is not appropriate for water bath canning.
If you would like to can this recipe for pantry storage, follow these steps:
Combine the vegetables and salt in a large bowl and let sit for 1-2 hours. Drain in a colander and rinse well.
Meanwhile, prepare jars and a water bath canner.
In a large saucepan, combine vinegar, sugar, celery seed, and mustard seed, and bring to a boil, stirring to dissolve sugar. Add the vegetables, stir, and bring back to a boil. Remove from heat.
Pack into hot jars, leaving ½ inch of space at the top. Ladle extra brine into the jar to cover. Use a chopstick or dowel to remove air bubbles, then place lids and screw on rings fingertip tight.
Place jars in canner and bring to a boil. Process jars for 10 minutes. Remove canner lid, wait 5 minutes, then remove jars to cool.
What can I add to bread and butter pickles?
If you like, you can use other spices in place of or in addition to the celery seed and mustard seed. Ground turmeric is one option, as well as dill seed.
You can also use a variety of sweet peppers in place of the bell pepper, or use your favorite color of bell pepper in place of the sweet red bell peppers.
For a variation on these pickles without other vegetables, try my quick pickled cucumbers.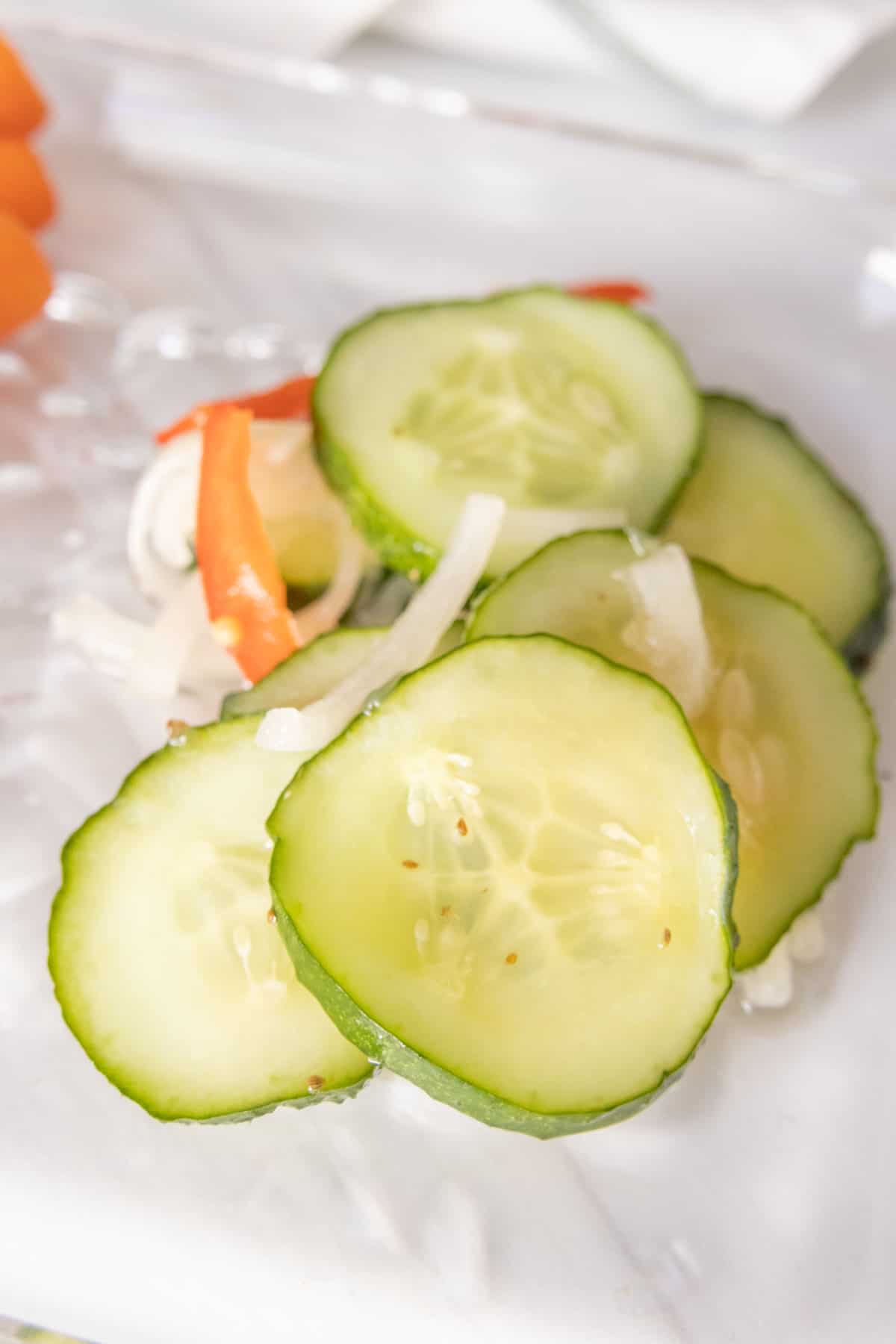 More pickle recipes to enjoy
Why not try your hand at pickling other veggies? Check out a few of my favorites:
Enjoy this bread and butter pickle recipe as a quick snack or chop it up for a tangy hot dog relish!
Love this recipe? Please leave a 5-star review below! It means so much when you enjoy my recipes, so let me know how it goes and leave a comment if you have any questions.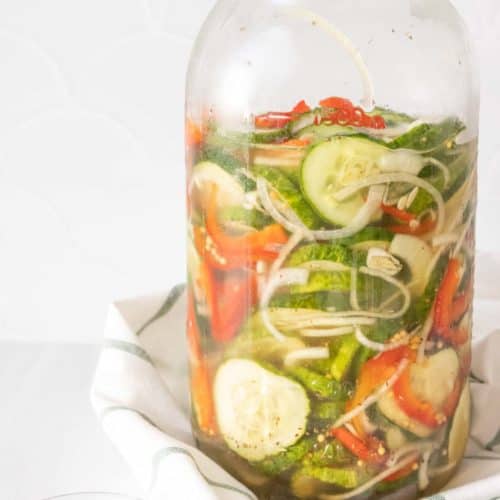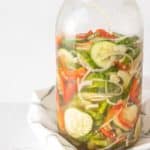 Bread and Butter Pickles
Sweet and tangy, this classic bread and butter pickle recipe requires no cooking. It's a summer must-make!
Print
Pin
Save
Saved!
Ingredients
2

pounds

cucumbers

1

red bell pepper

1

medium

onion

1

tablespoon

pickling salt

1

teaspoon

celery seed

1

teaspoon

mustard seed

1

cup

cider vinegar

1

cup

granulated sugar
Instructions
Slice cucumbers into rounds, and thinly slice bell pepper and onion. Combine in a large bowl. Sprinkle on salt, celery seed, and mustard seed and mix well to combine and coat vegetables with seasoning.

Stuff vegetable mixture into a half-gallon mason jar or multiple smaller jars. Loosely place lid and set aside to rest for 1 hour to draw out liquid.

After 1 hour, remove lid. Do not drain liquid.

Whisk together the cider vinegar and sugar until sugar is completely dissolved. Pour over the vegetables. Screw on jar lid.

Place in the refrigerator and let pickle for at least 2 days before eating, but preferably longer for the best flavor.
Nutrition
Calories:
51
kcal
Carbohydrates:
12
g
Protein:
0.4
g
Fat:
0.2
g
Saturated Fat:
0.02
g
Sodium:
351
mg
Potassium:
94
mg
Fiber:
1
g
Sugar:
11
g
Iron:
0.2
mg
Nutrition information is provided as a courtesy and is an estimate based on online calculators. Any nutritional information found on Stetted should be used as a general guideline only.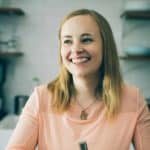 About Megan
I focus on fresh ingredients and easy methods, with spins that keep meals interesting. Dinnertime shouldn't be stressful or complicated, and I'm here to help you enjoy the time spent in the kitchen. Read more…