Instant Pot Irish lamb stew is a comforting meal full of tender lamb and vegetables. Warm up with a bowl tonight.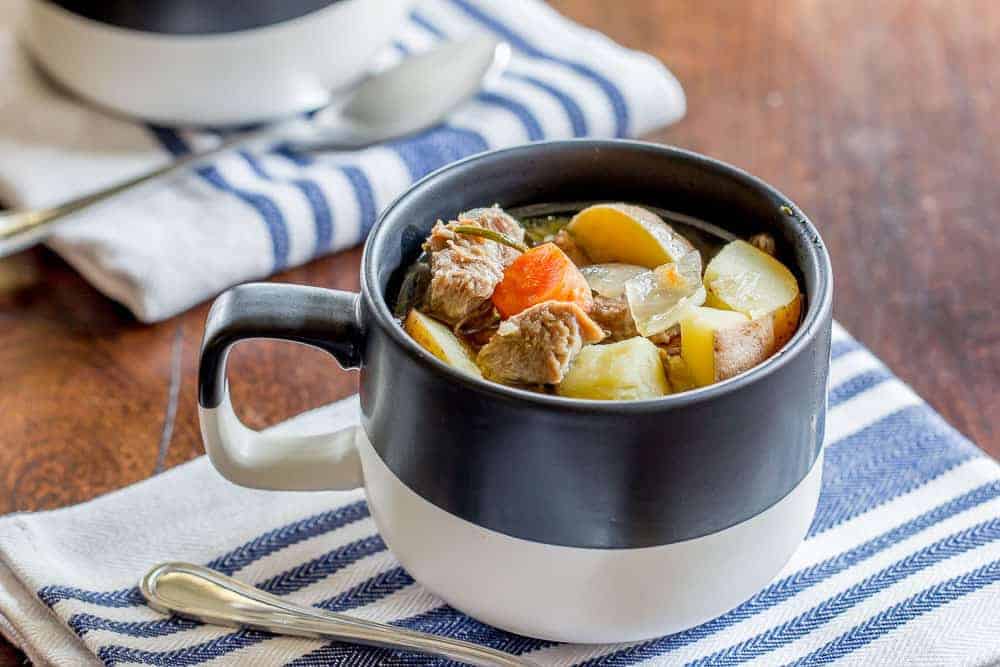 If I close my eyes and breathe deeply, for just a moment I can forget January and be at peace.
Usually February is the month I detest, but this year it seemed like January would never cease. Overall one would think we came out even, with a family trip to Hawaii and a work trip to Florida, and plenty of time spent with people I love in both places.
But the things that were bad squeezed the good things until they popped, like a child squeezing a balloon. A very temperamental child.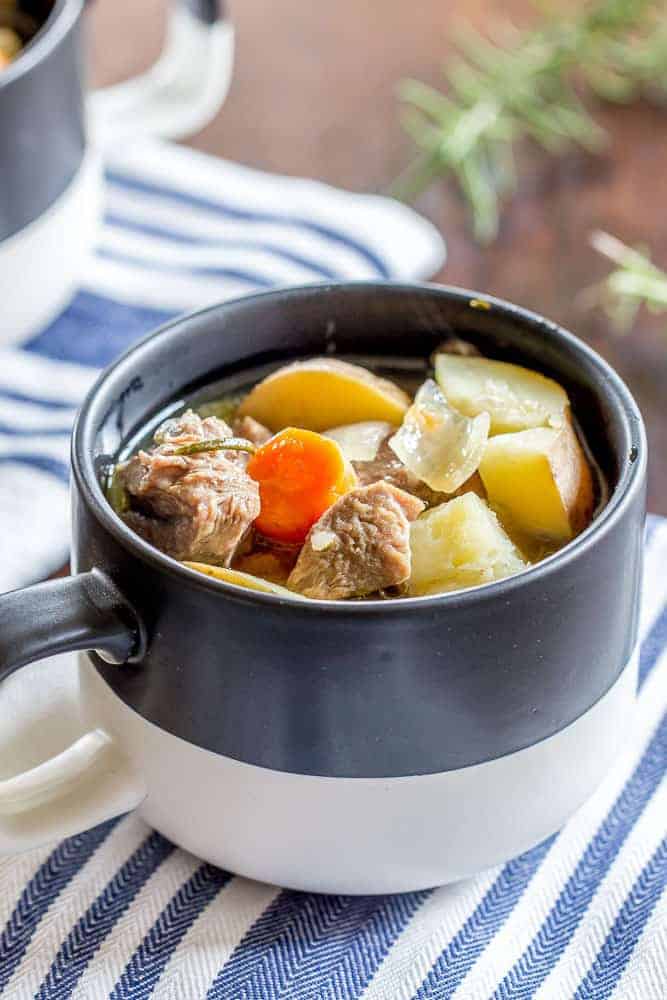 I even decided to open a bottle of wine on January 31, as a way to say good riddance to the month.
Note that we don't often drink wine at home, because I hate opening a whole bottle to only drink one glass. But making risotto was a good excuse for wine, so I set to work opening the bottle.
And the cork broke.
Of course.
January was here to remind us that we're not in control. But February? I have high hopes for you.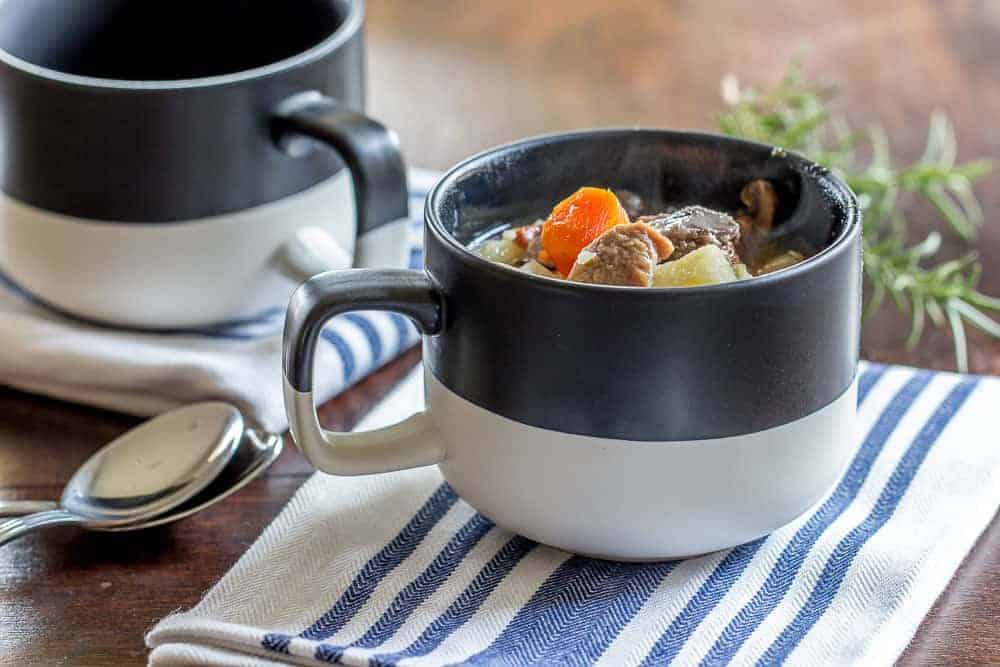 It's not that the first day of February has been markedly better than January, except for the fact I was able to hunker down over a steaming mug of this Instant Pot Irish lamb stew. Meals like this slow everything down, even when they are made quickly.
Now, I love to simmer soups and stews over the stove, but when my my work day is fully loaded, it's hard to remember to use the bathroom, much less stir the soup.
I know some of you are tired of the Instant Pot trend, but I say this "trend" is as much here to stay as the slow cooker was when it was introduced. (Fictional This is Us disasters notwithstanding.)
We use ours nearly every day, from breakfasts like quiche and bacon and egg risotto, to dinners like this stew.
Irish lamb stew is very similar to classic beef stew, simply using lamb instead of beef. I like cooking with lamb for a nice change from beef, especially because it is a much more sustainable meat in terms of production.
The flavor is often much milder than you might expect, depending on the cut and preparation. All in all, it's a great meat to add to your dinner plan.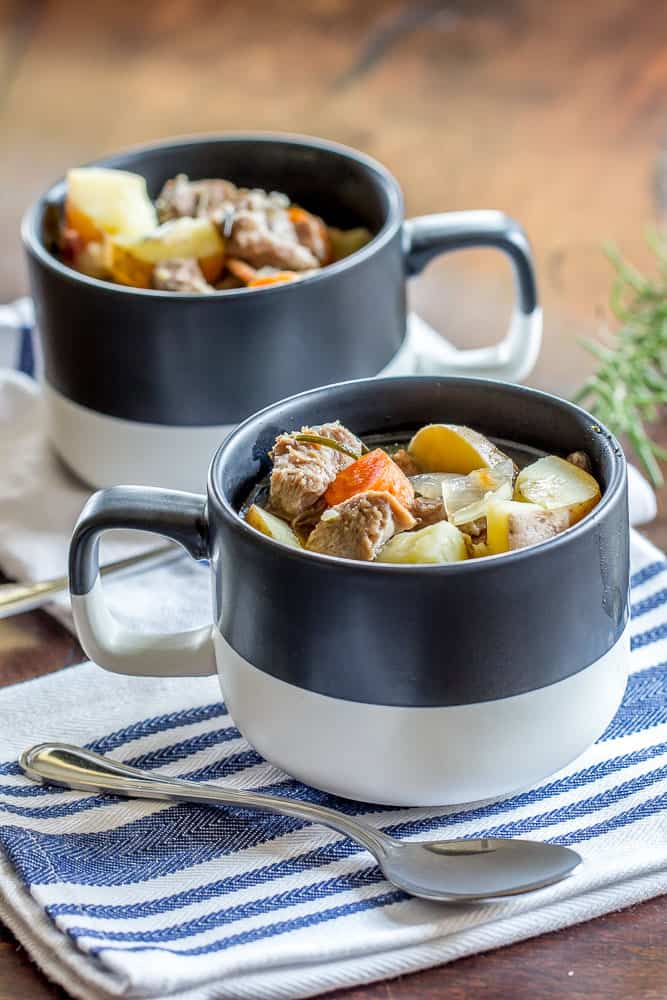 Another great thing about this stew is that if you have whiny children who refuse to eat it, your leftovers will be even better the next day. And your lunch will already be done. Take that, 2018.
Tips for Instant Pot Irish Lamb Stew
If you prefer to use your slow cooker, follow the same method for browning in a sauté pan, then transfer to the slow cooker. Add all the ingredients and cook on Low for 8 hours.
Don't forget to remove the bay leaves and stems from the rosemary and thyme before eating. If you prefer, you can use a bit of tied cheesecloth or empty teabag to create a bouquet garni that you can remove easily after cooking.
Don't forget to scrape up the browned bits from the bottom of the pot after sautéeing the meat. This makes the broth's flavor richer, as well as thickening it just slightly.
Cut your vegetables approximately the same size for even cooking, otherwise you could end up with mushy ingredients.
Mushrooms are not a traditional ingredient, but are great for added umami.
Serve the stew with biscuits or crusty bread.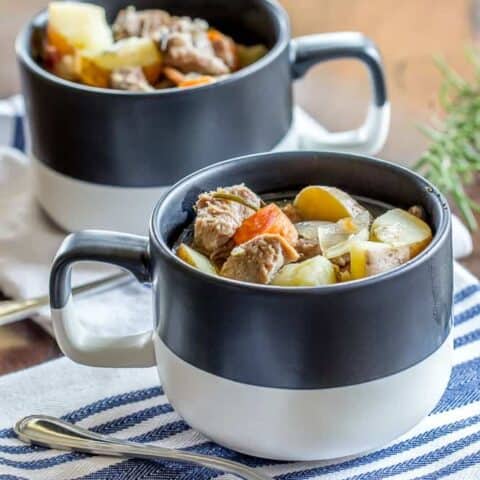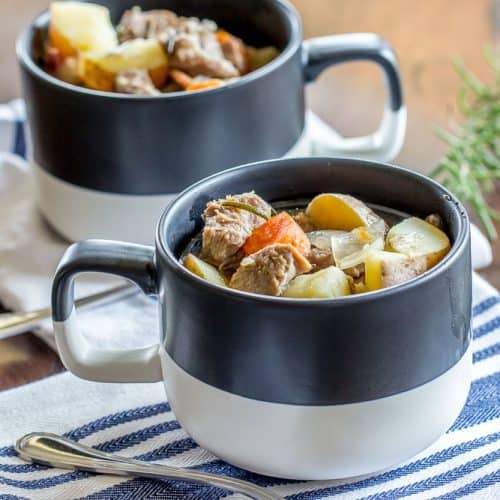 Instant Pot Irish Lamb Stew
Yield: 6
Prep Time: 25 minutes
Cook Time: 1 hour
Total Time: 1 hour 25 minutes
Instant Pot Irish lamb stew is a comforting meal full of tender lamb and vegetables. Warm up with a bowl tonight.
Ingredients
4 slices bacon, chopped
1 pound lamb stew meat
1/2 teaspoon fine sea salt
1/4 teaspoon ground black pepper
2 tablespoons all-purpose flour
4 cups beef broth
2 bay leaves
1 sprig fresh rosemary
1 sprig fresh thyme
1 onion, diced
1 cup sliced button mushrooms
1 1/2 cups sliced carrots
1 pound small red or yellow potatoes, quartered
Salt and pepper to taste
Instructions
Place chopped bacon into Instant Pot and set to Sauté. Cook until bacon is browned and fat is rendered, about 5 minutes.
Place the lamb in a bowl. In another bowl, mix together salt, pepper, and flour, and pour over the lamb, tossing to coat. Add the lamb to the bacon and brown on all sides.
Pour in 1 cup of the beef broth, scraping up any browned bits from the bottom of the pot. Add the rest of the broth, and the bay leaves, rosemary, and thyme.
Close the Instant Pot and set to Seal. Cook on Manual High Pressure for 30 minutes. When the timer beeps, do a manual release of pressure.
Add the onion, mushrooms, carrots, and potatoes. Close the pot again, re-seal, and cook on Manual High Pressure for 10 minutes. When the timer beeps, let rest for 10 minutes, then do a manual release of pressure.
Season with salt and pepper to taste, then serve.
Recommended Products
As an Amazon Associate and member of other affiliate programs, I earn from qualifying purchases.
Nutrition Information:
Yield: 6
Serving Size: 6 Servings
Amount Per Serving:
Calories: 265
Saturated Fat: 3g
Cholesterol: 58mg
Sodium: 963mg
Carbohydrates: 20g
Fiber: 3g
Sugar: 3g
Protein: 21g