You know the scene – you're at a party, and it's time for the cake to be served. The cake sure looks beautiful, but the frosting … well, you never can tell with frosting. On the cake it all kind of looks the same. The flavor is a mystery. Will it send you running for your toothbrush with its sweetness? Or even worse, will it taste like a dollop of butter?
Both can ruin a good cake and cause people to doubt the skills of the cake baker. Unless you never want to be asked to make a cake again (sometimes tempting… ), you need to work on your frosting skills.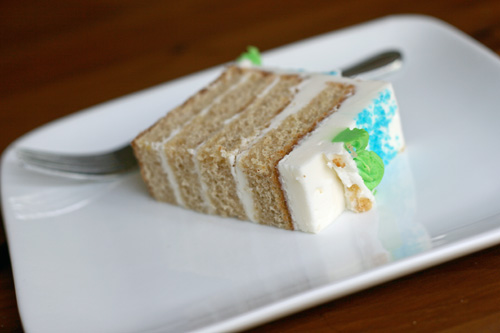 Last week I was
roped into
asked to coordinate last-minute baby shower for one of our temps whose last day was Friday. It being Tuesday already, I figured no one else would volunteer to bake a cake (and since I had my new Wilton decorating set just waiting for an opportunity) I pounced. The cake is Martha Stewart's
snickerdoodle cupcake
recipe and maybe my new favorite cake. The frosting is … well, you know you've done good when people come up to you later to compliment it and others (including a non-cookery man) ask for the recipe.
Megan's Perfect Buttercream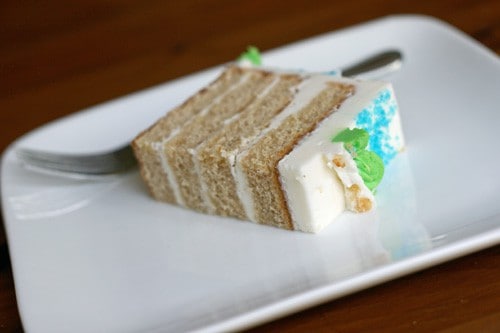 Instructions
Dump everything into a large bowl (preferably stand mixer bowl with whisk attachment). Beat slowly at first until everything starts to come together. If you go too fast you will get powdered sugar all over your counter. Don't do that. Once there is no longer any loose powder, lock the mixer and turn that baby up to 10. Let whip for approximately 5 minutes, until frosting is light and fluffy. Spread on cake as desired.
* Tip – the trick to getting smooth frosted cakes is to frequently scrap off excess frosting and dip your spreader into a cup of warm water, then continue spreading. It will look a bit wet as you go along, but the frosting will harden up beautifully.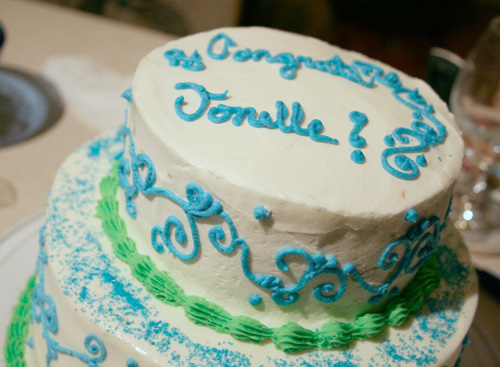 For more sweet inspiration, check out my Cake and Pie board on Pinterest!
Follow Megan Myers | Stetted's board Cake and Pie on Pinterest.