These whole wheat pumpkin muffins with pepitas are full of autumnal flavor.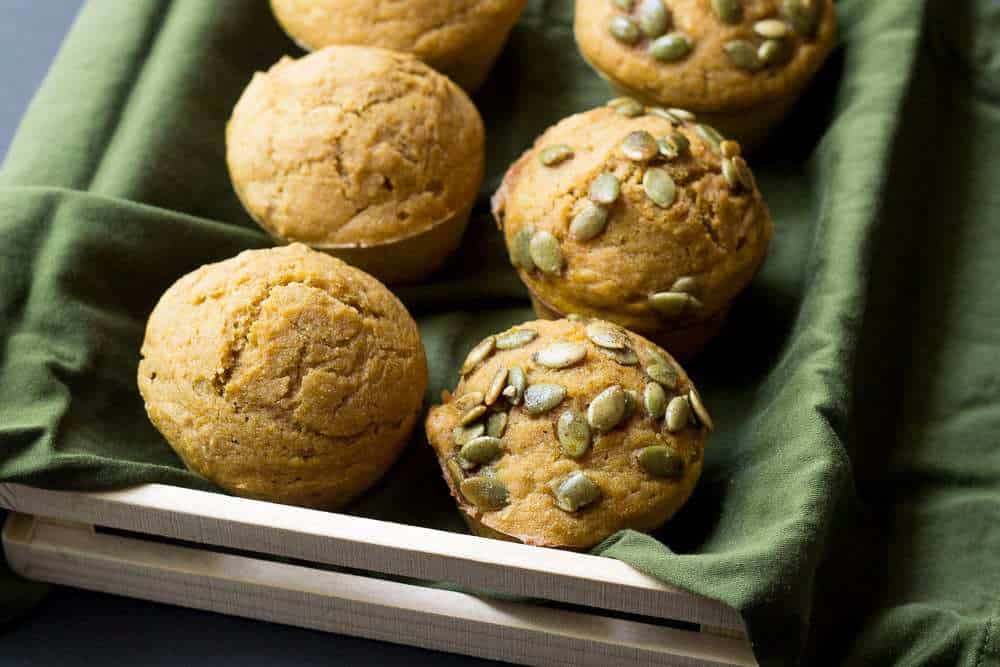 Yeah yeah, I hear you. You think it's too early to be using pumpkin. But did you know that canned pumpkin is available year-round? I know, it's crazy. But y'all never get worked up about cherry pies at Thanksgiving (one of my family's traditional pies), do you?
These pumpkin muffins with pepitas are a bit different because they actually taste like pumpkin. Strange, I know, but most of the pumpkin baked goods I've tasted in recent years taste like cinnamon and cloves and sugar.
We've confined our palates to a place that only rewards fat and sweet, and neglect the fact that many of our fruits and veggies are just dandy without a ton of concealer. (Just like you.)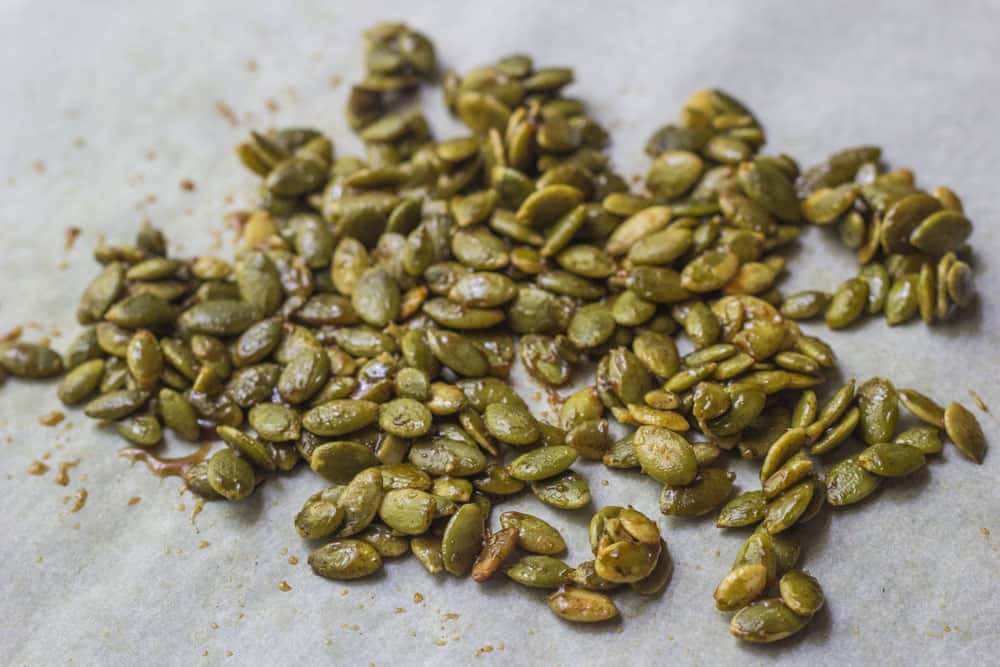 These also are made with whole wheat flour for ultimate snacking power, and I decided to use spiced pepitas to give the muffins crunch as well as a little bit of kick.
These pumpkin seeds are shelled, which most people don't bother to do when roasting their carving pumpkin seeds, but getting rid of that chewy exterior makes the seeds much more satisfying, in my opinion.
You can find them at most grocery stores, either in the bulk bins or among the nuts and sunflower seeds.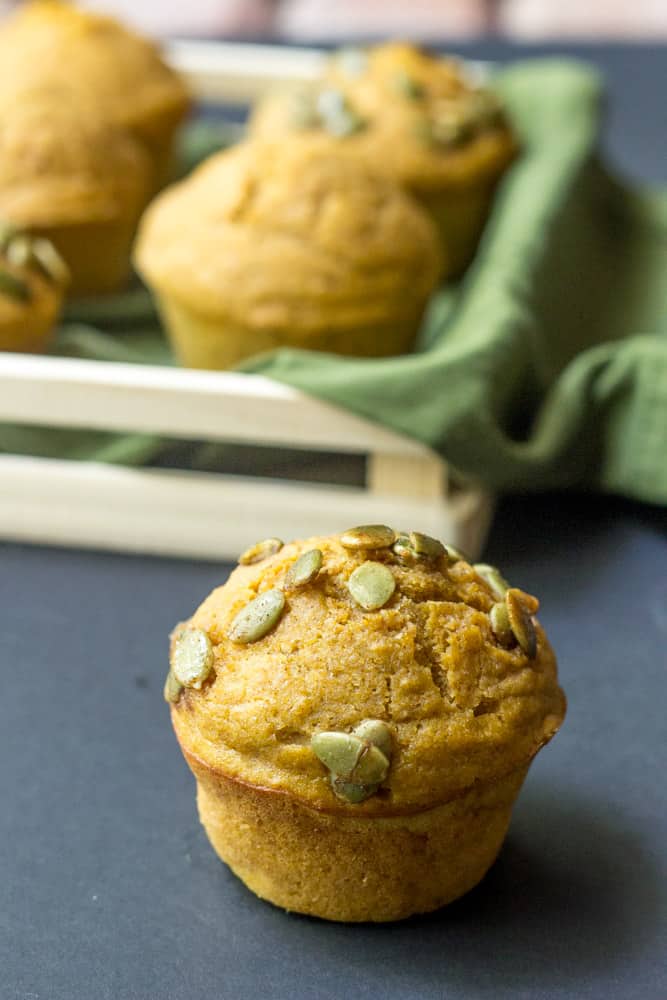 You can also fold the pepitas into the batter if you don't have any picky eaters in the house. I kept mine limited to topping the muffins just for extra precaution, as I never know what will be on the approved list from day to day.
Muffins are perfect for snacks because they are quick to prepare, are easy to store, and are pretty much endlessly customizable.
These are a great breakfast option, just like my pumpkin scones with white chocolate chips. Bake 'em both up and pretend you have your own coffee shop display going on and see which one sells out first.
Or just make sure to have them on hand next time your snacking hand goes a-wandering.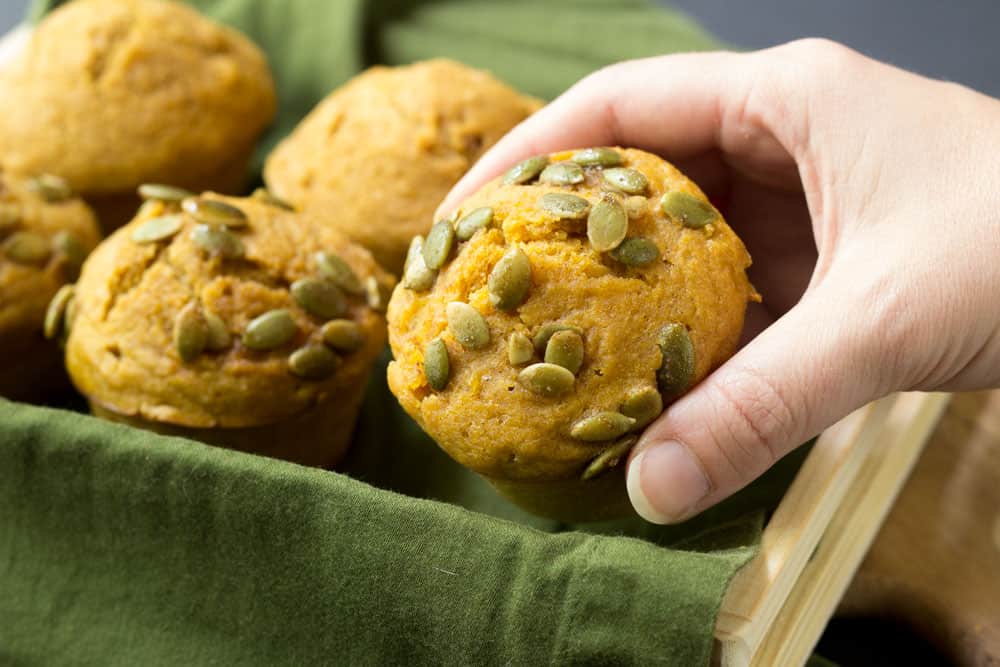 The recipe makes between 16 and 18 muffins, depending on how you fill your pan, so keep that in mind when dividing the batter. Once the muffins have cooled, store in an airtight container in the fridge for up to three days or in the freezer for up to a month.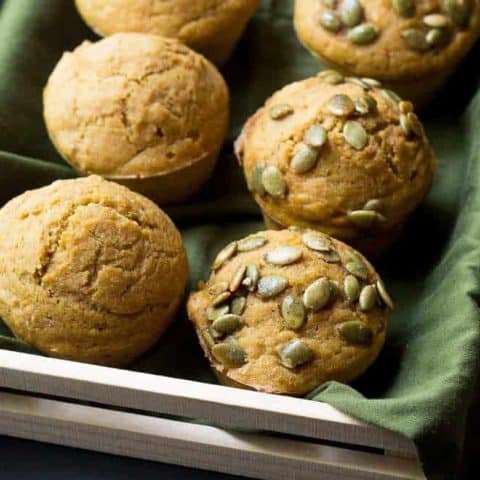 Pumpkin Muffins with Spiced Pepitas
Yield: 18
Prep Time: 15 minutes
Cook Time: 25 minutes
Total Time: 40 minutes
These whole wheat pumpkin muffins with pepitas are full of autumnal flavor
Ingredients
Spiced Pepitas
2 teaspoons unsalted butter
1/2 cup pumpkin seeds (pepitas)
1/4 teaspoon cinnamon
1/8 teaspoon ground chipotle pepper
1/4 teaspoon cumin
1/8 teaspoon salt
1 tablespoon honey
Pumpkin Muffins
Nonstick cooking spray
3 1/2 cups white whole wheat flour
2 1/2 teaspoons ground cinnamon
2 teaspoons baking powder
1 teaspoon kosher salt
1/2 teaspoon baking soda
1 15-ounce can pumpkin puree (about 2 cups)
1 cup sugar
3 large eggs
1 1/2 cups milk
Instructions
For the Spiced Pepitas:
In a nonstick skillet, melt butter over medium heat. Add pumpkin seeds and stir to coat. Mix together cinnamon, chipotle, cumin, and salt, and sprinkle over pumpkin seeds. Stir well and cook for 2 minutes, until seeds start to get toasty.
Stir in honey, and continue to cook for 2 more minutes. Pour seeds out onto wax paper, parchment paper, or a Silpat liner, and let cool.
For the Pumpkin Muffins:
Preheat oven to 375° F. Coat twelve 2 1/2-inch muffin cups with cooking spray; set aside.
In a large bowl, whisk together flour, cinnamon, baking powder, salt, and baking soda.
In a medium bowl, whisk together pumpkin and sugar. Whisk in eggs, one at a time, then the milk, until well combined.
Pour pumpkin mixture into flour mixture. Stir briskly, with a spatula, until batter is combined. Batter will be thick. Do not overmix. Fill each muffin cup with about 1/3 cup of the batter. Sprinkle each with the spiced pumpkin seeds.
Bake until a toothpick inserted into the center of the muffins comes out clean, about 18 minutes. Remove muffins from tins while still warm.
Recommended Products
As an Amazon Associate and member of other affiliate programs, I earn from qualifying purchases.
Nutrition Information:
Yield: 18
Serving Size: 1
Amount Per Serving:
Calories: 170
Total Fat: 3g
Saturated Fat: 1g
Trans Fat: 0g
Unsaturated Fat: 1g
Cholesterol: 34mg
Sodium: 246mg
Carbohydrates: 33g
Fiber: 4g
Sugar: 13g
Protein: 5g