These Thai peanut chicken burgers add so much flair to dinner. Inspired by classic Thai flavors, it might be your new favorite burger!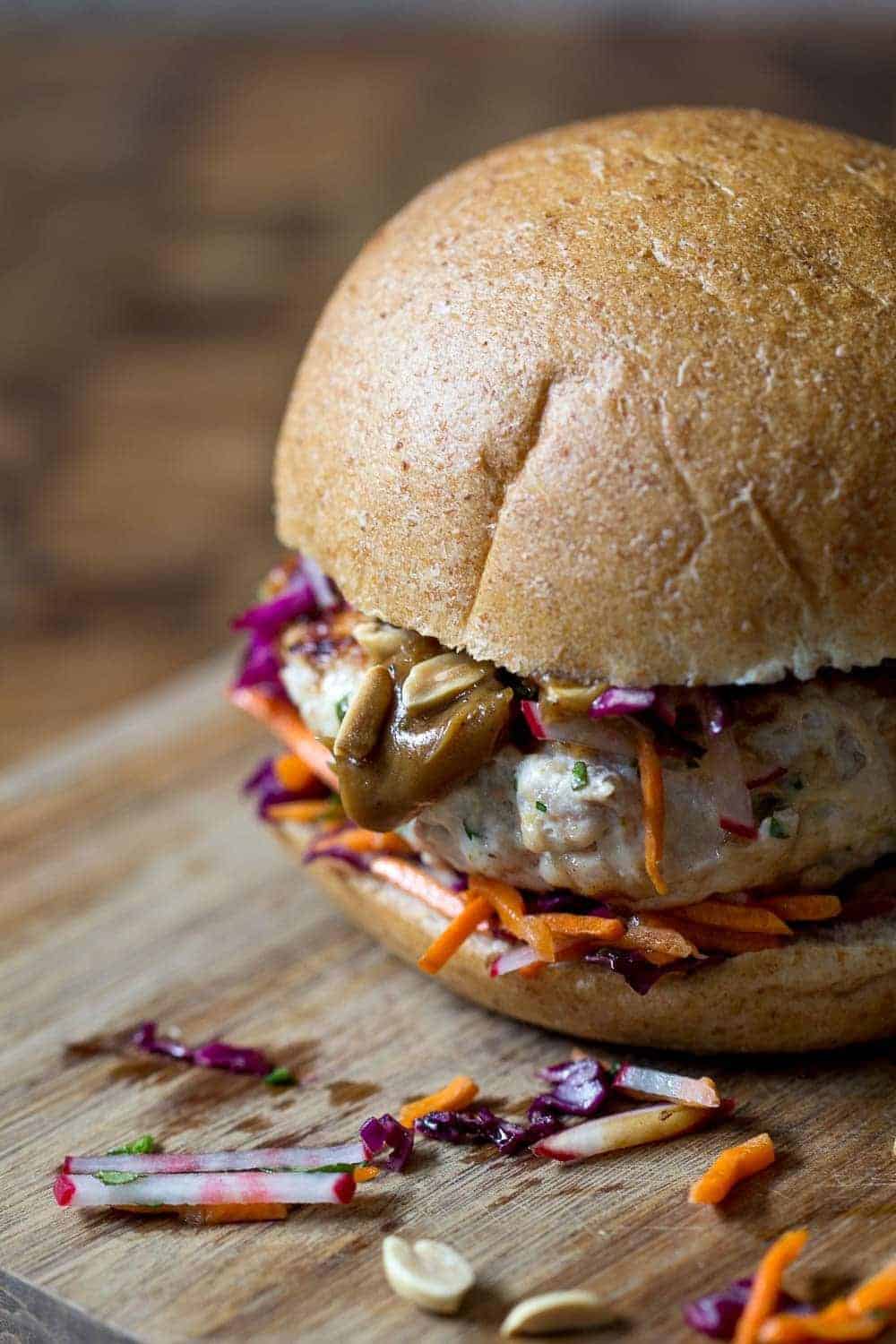 I know, I just shared some burgers with you (those yummy Texas Heat Burgers) but there's always room for more burger love. After all, it's National Burger Month and National Grilling Month. Who am I to deny whoever decides those random months?
But the main reason for making these Thai peanut chicken burgers is that it's Burger Month once again, thanks to Girl Carnivore! She's been bringing bloggers together to create epic burgers for a few years now, and since I love burgers (and have a bit of a crush on Kita) I had to join in.
You know the sandwich shop Schlotzsky's? Years and years ago, they had a Thai peanut chicken pizza, and it was my favorite thing. I don't know when they stopped carrying it, but recently I realized that I can re-create the flavors in my own kitchen. Sometimes I forget that I am a food blogger. Really.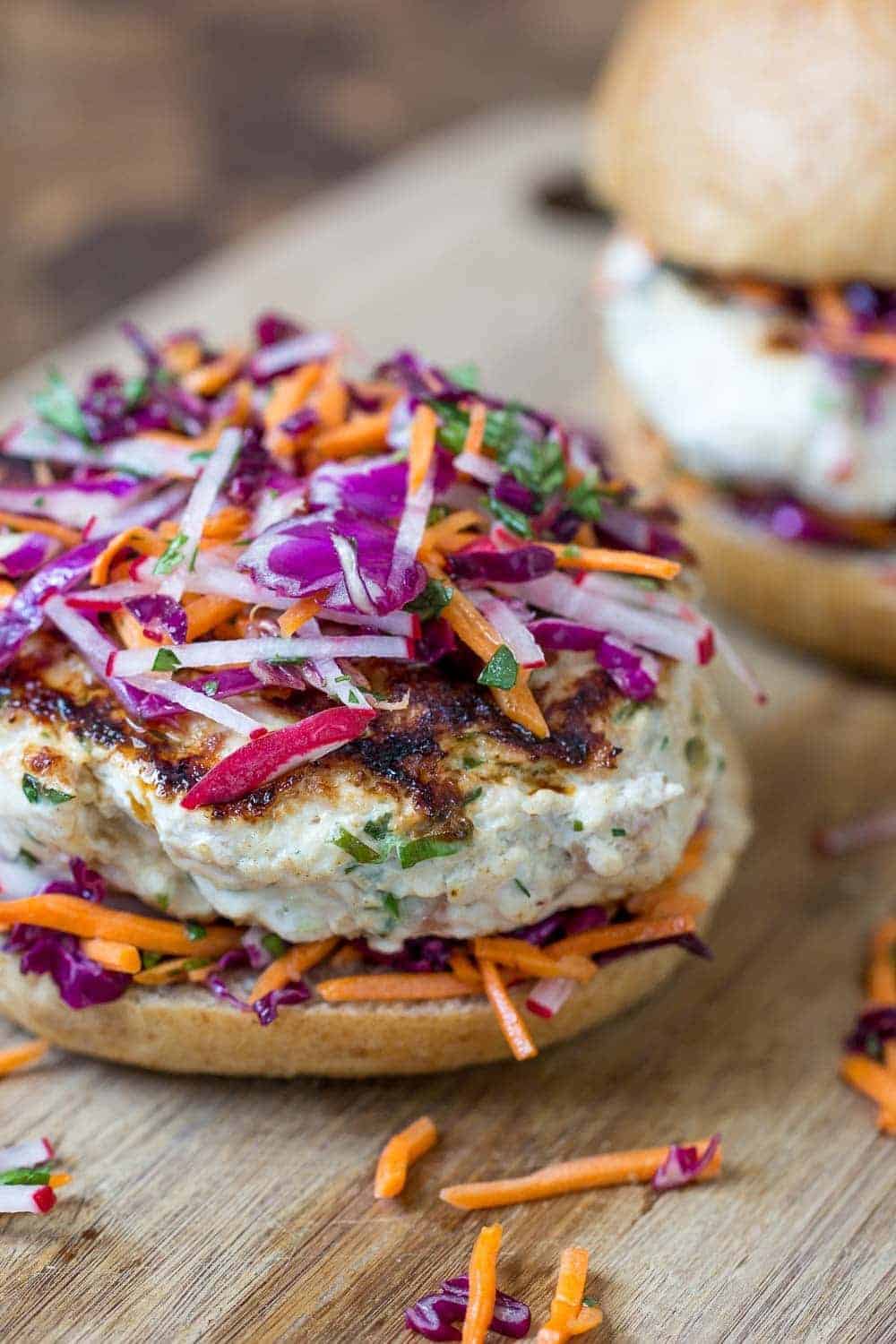 Thanks to our newly planted garden, I had plenty of fresh herbs to add to my Thai peanut chicken burger. Cilantro, mint, and Thai basil are all common ingredients in Thai dishes so I knew they had to be in this burger. Even though I'm not a huge cilantro fan, there's no denying how essential it is in certain foods.
For the burger itself, I used a mix of ground chicken thigh and ground chicken breast. While some people exclusively cook with chicken breast because of the lower fat, the higher fat content of the thighs helps to keep the burgers moist. I liken it to using a certain kind of ground beef in a classic burger — the best burgers are made with more fat, such as an 85/15 mix rather than 95/5.
Topped with a simple slaw and spicy peanut sauce, these Thai peanut chicken burgers are easy to make and totally crave-worthy. (If you like peanut sauce, I highly recommend either my marinated peanut butter beef satay or peanut soba noodles with bok choy!)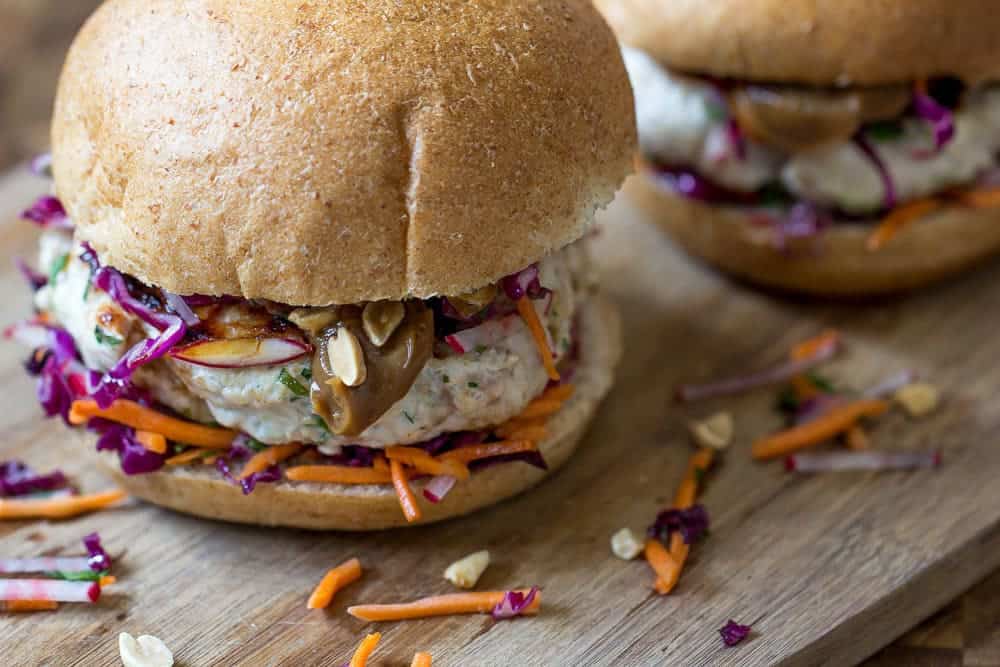 This recipe makes two big burgers, perfect for a date night in (or just for a meal you can enjoy while the kids have mac & cheese yet again). Feel free to add more heat to the sauce to your liking. You can add your favorite hot chile sauce as well, instead of the crushed red chile flakes. Just don't forget the fresh herbs, because they really add so much flavor to the burger.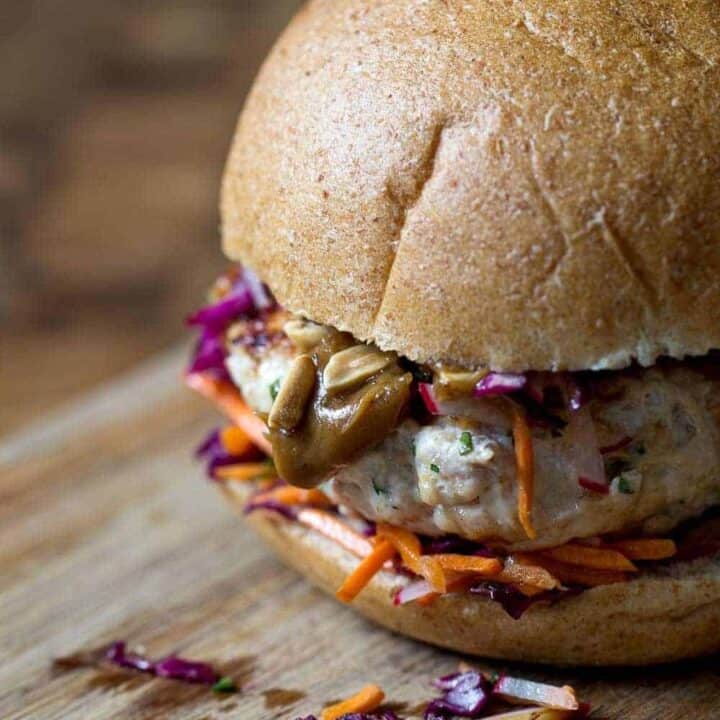 Thai Peanut Chicken Burger
Yield: 2 burgers
Prep Time: 10 minutes
Cook Time: 10 minutes
Total Time: 20 minutes
These Thai peanut chicken burgers add so much flair to dinner. Inspired by classic Thai flavors, it might be your new favorite burger!
Ingredients
1/2 pound ground chicken breast
1/2 pound ground chicken thigh
2 green onions, chopped
2 cloves garlic, finely chopped
2 teaspoons grated ginger
1 tablespoon chopped fresh cilantro
1 tablespoon chopped fresh Thai basil
2 whole wheat hamburger buns
For the slaw
1/2 cup shredded red cabbage
1/2 cup shredded carrots
1/4 cup radish matchsticks
1 tablespoon chopped fresh cilantro
1-2 teaspoons chopped fresh mint
1 tablespoon sesame oil
2 teaspoons brown rice vinegar
For the sauce
2 tablespoons peanut butter
1 1/2 teaspoons soy sauce
1 tablespoon honey
1 teaspoon brown rice vinegar
2 cloves finely chopped garlic
1 teaspoon sesame oil
Crushed red chile flakes, to taste
Chopped peanuts
Instructions
In a large bowl, mix together ground chicken, green onion, garlic, ginger, cilantro, and Thai basil. Divide mixture into two patties and set aside.
Prepare a grill or stovetop grill pan.
Cook patties for about 5 minutes on each side over medium heat, until completely cooked through.
To make the slaw, in a bowl mix together cabbage, carrots, radishes, cilantro, mint, sesame oil, and brown rice vinegar. Set aside.
In another bowl, whisk together peanut butter, soy sauce, honey, brown rice vingear, garlic, sesame oil, and crushed red chile flakes.
Assemble burgers on buns with chicken patties, slaw, and peanut sauce. Sprinkle crushed peanuts over the top and serve.
Recommended Products
As an Amazon Associate and member of other affiliate programs, I earn from qualifying purchases.
Nutrition Information:
Yield: 2
Serving Size: 1 burger
Amount Per Serving:
Calories: 689
Saturated Fat: 8g
Cholesterol: 195mg
Sodium: 704mg
Carbohydrates: 40g
Fiber: 4g
Sugar: 16g
Protein: 49g