Applesauce pancakes make mornings at the campsite easier! There's nothing like starting the day with a good breakfast. This post is brought to you by Whole Foods Market 365.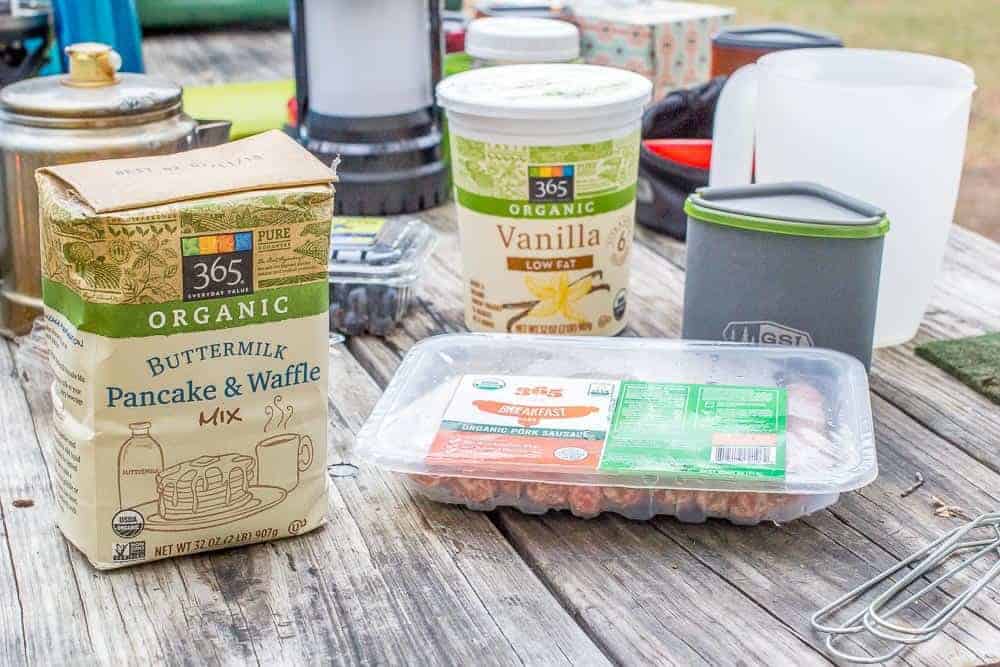 One of my goals as a parent (and as a person, actually) is to spend more time outside. As a kid I feel like I spent almost every minute outside, but I know that things are different these days. Getting kids outside can be hard.
That's why we've been making it a priority to go camping more often. We have a standing group reservation for Veteran's Day weekend, and we always look forward to those few precious days outside.
I know, camping in November? But don't forget that I'm in Texas, and November is actually one of the best months to camp here. Not hot, and generally not too cold. Perfect for hammock lounging, hiking, and campfire chats alike.
It can be a lot of work camping with kids, but one of the ways we make it easier is to make a few shortcuts in our food prep. Hot dogs and s'mores are great of course, but we don't want to rely on them for every meal!
Luckily, there's a Whole Foods Market 365 on the way to our campsite, and I know I can grab staples that are perfect for camping. Not just breakfast food, but also trail mix, fresh fruit, and veggies for snacking, all at a price point you might not expect with the Whole Foods Market name.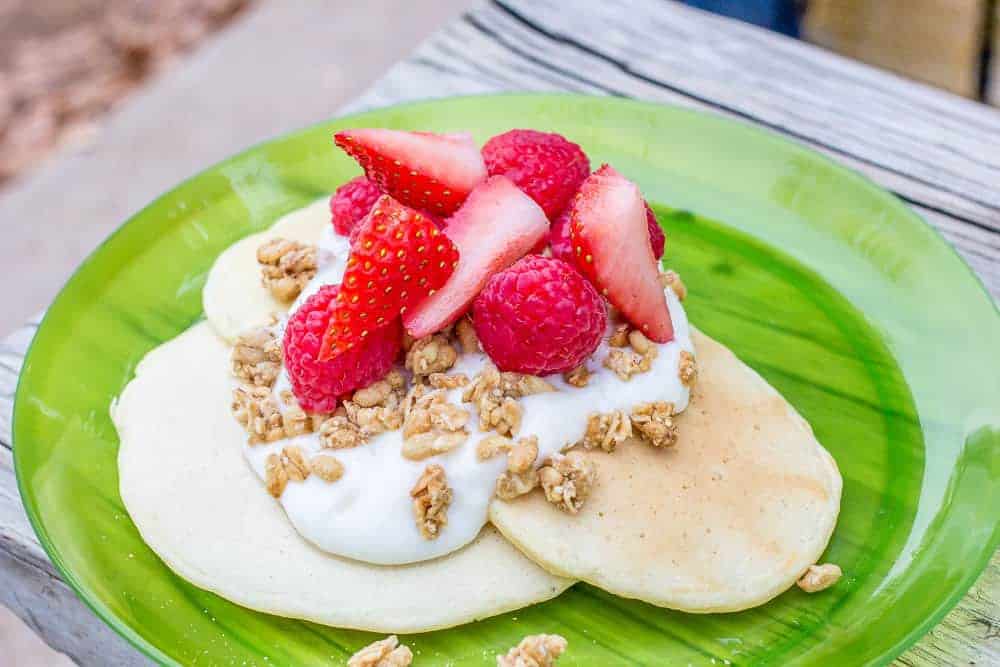 Our go-to breakfast while camping is pancakes and sausage. It's ideal because we can make a lot for the whole crowd, and everyone can either customize their toppings, or roll up pigs in a blanket for a portable breakfast on the way to the hiking trail.
These applesauce pancakes start out with the 365 Everyday Value Organic Buttermilk Pancake Mix and get a boost of flavor from unsweetened applesauce, which also helps keep them moist.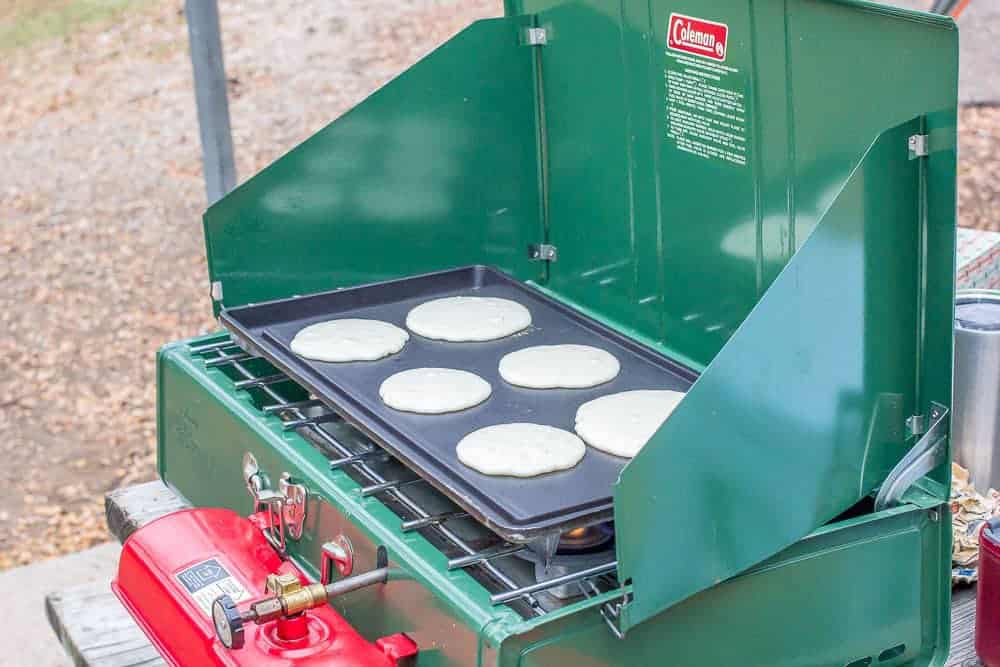 One reason I love this mix is because we don't need to bring along milk in our cooler — water works just fine, and the applesauce helps compensate for the lower fat. You can even skip the eggs if you prefer!
We top these with yogurt, granola, and berries for a completely hearty breakfast. Serve up some 365 Everyday Value Pork Breakfast Sausage on the side and you've got the fuel you need for a full day of hiking!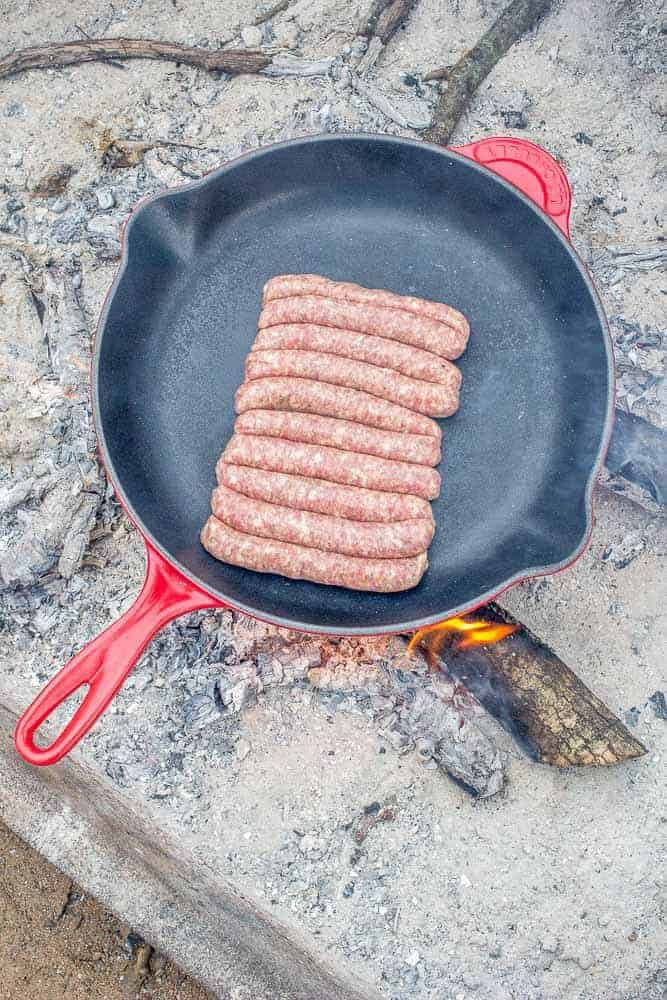 Tips for Camp Cooking
If you can, invest in a [amazon_textlink asin='B00005OU9D' text='camp stove' template='ProductLink' store='stetted-20′ marketplace='US' link_id='074328ea-cb30-11e7-808d-472e0c1061ab'] and [amazon_textlink asin='B00008GKDQ' text='flat griddle' template='ProductLink' store='stetted-20′ marketplace='US' link_id='1bdff3f2-cb30-11e7-a3eb-a5e20f552ac3′]. The ease of getting the flame going will easily beat even the best fire-building expert.
For cooking over the fire, build your fire early so you can cook over the reduced coals.
[amazon_textlink asin='B00006JSUB' text='Cast iron skillets' template='ProductLink' store='stetted-20′ marketplace='US' link_id='33566c74-cb30-11e7-9b6a-d5e7b2b91eb4′] are the best for cooking over a fire. Lodge makes great affordable options.
Pre-measure ingredients you need to reduce required space in your cooler or trunk. Small mason jars with reusable lids are perfect.
Fresh fruit is often overlooked, but essential! Whole Foods Market 365 has great prices on organic berries, apples, and more.
Chop snacking veggies like carrots, bell peppers, or radishes ahead of time so they're ready to go for snacking, salads, or adding to dinner.
Consider cooking items at home and freezing before heading out to the campsite. Soups, stews, and chili are perfect for this — they keep the rest of your items cold and only need to be reheated for dinnertime.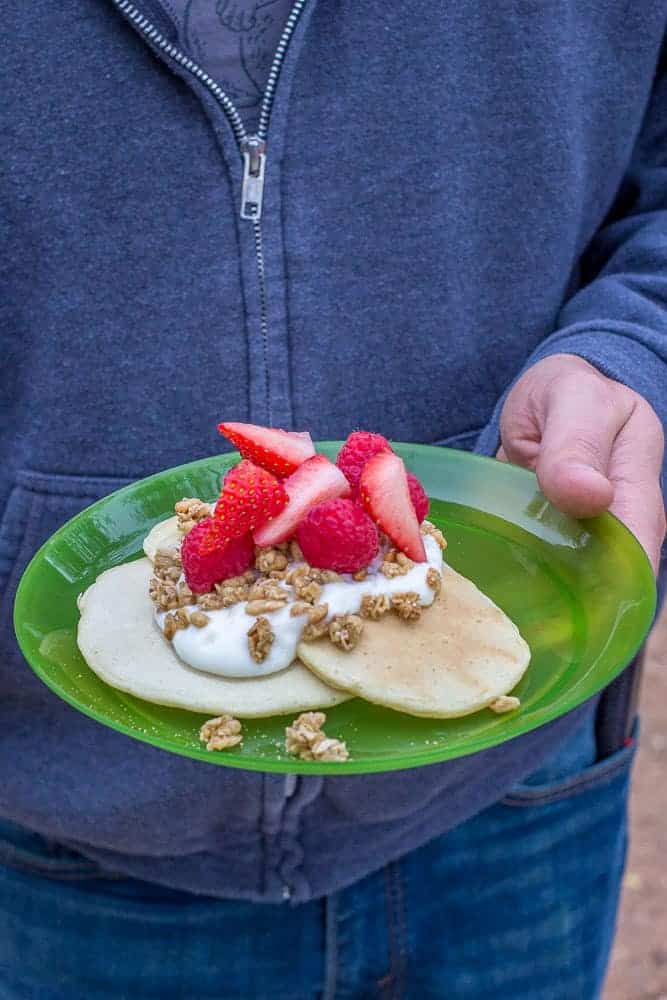 Even if you're not planning a camping trip soon, you should whip up these applesauce pancakes for your next weekend breakfast!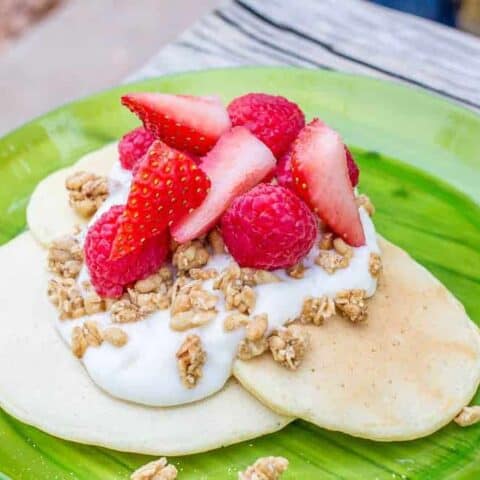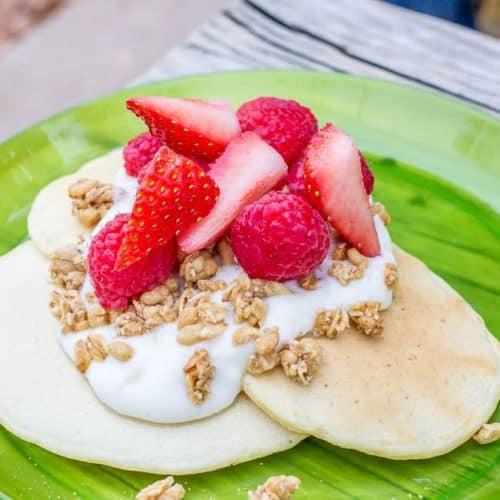 Applesauce Pancakes
Yield: 6
Prep Time: 5 minutes
Cook Time: 15 minutes
Total Time: 20 minutes
Applesauce pancakes make mornings at the campsite easier! There's nothing like starting the day with a good breakfast.
Ingredients
1 cup unsweetened applesauce
1/2 cup water
2 tablespoons canola oil
2 eggs, optional
Vanilla Greek Yogurt
Granola
Fresh berries
Instructions
In a large bowl (preferably one with a spout for easy pouring onto the griddle), whisk together all ingredients.
Heat griddle over a fire or on the stove. To test temperature, flick water onto the griddle. If it sizzles, it's ready.
Pour about 1/4 cup of batter onto the griddle and repeat until griddle is full. Cook pancakes 2-3 minutes, until edges are dry and bubbles appear, then flip and cook until underside is browned.
Serve with granola, yogurt, and fruit on top.
Recommended Products
As an Amazon Associate and member of other affiliate programs, I earn from qualifying purchases.
Nutrition Information:
Yield: 6
Amount Per Serving:
Calories: 173
Saturated Fat: 1g
Cholesterol: 85mg
Sodium: 241mg
Carbohydrates: 17g
Fiber: 1g
Sugar: 3g
Protein: 5g