Carrot top pesto makes quick, zesty work of leftover carrot greens.
A few years ago one of the books that was all the rage among the food-obsessed was Tamar Adler's An Everlasting Meal. The idea of it was that you would use every little bit of food that came into your house, with as little waste as possible.
While the book's premise was good in theory, for the average American, even those who love to cook and especially those with hungry families, it all just seemed a little too precious in my mind. This is not the fault of Adler at all but more the sort of thing that seems to go hand-in-hand with the Pollans and Bittmans of the food stage: eat less, cook more, never mind the real trials of it.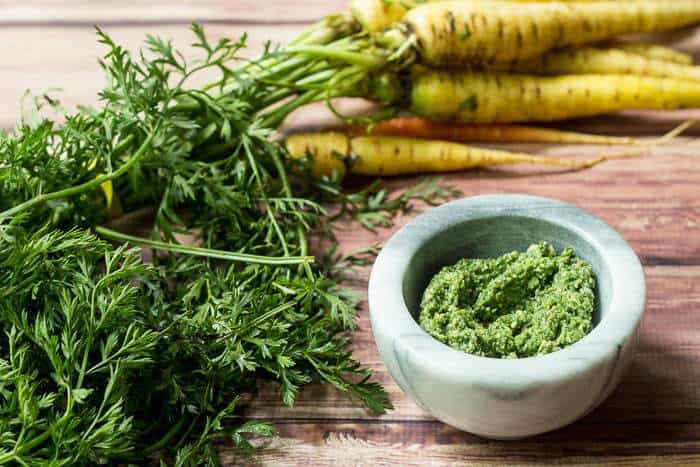 While I am not going to ever get to the point of using the same pot of water to cook pasta, vegetables, potatoes, and beans in succession, there are a few ideas of the less-waste trend I can easily get behind. Case in point? This carrot top pesto.
Pesto is a marvelous thing, because it can be made with practically any variety of greens and nuts. Truth be told, I like the nontraditional pestos better than the basil and pine nut variety.
Pine nuts? We don't need no stinkin' pine nuts. They're hard to find in many places and often very expensive, so let's just dispose of the idea that we need to use them, shall we?
We often get carrots from our CSA or at the farmers market that have tops attached, and it seemed silly to just toss them. After all, the tops are what rabbits go for, since the carrot root is hidden underground. Carrots are closely related to dill, parsley, and fennel, so the leafy fronds of the carrot are a logical herbal ingredient.
Mixed with olive oil, cheese, and whatever nuts you have on hand, this carrot top pesto has a bit more bite to it than basil pesto, and is wonderful as a pasta sauce, pizza spread, or even just slathered onto crackers and eaten with tomatoes.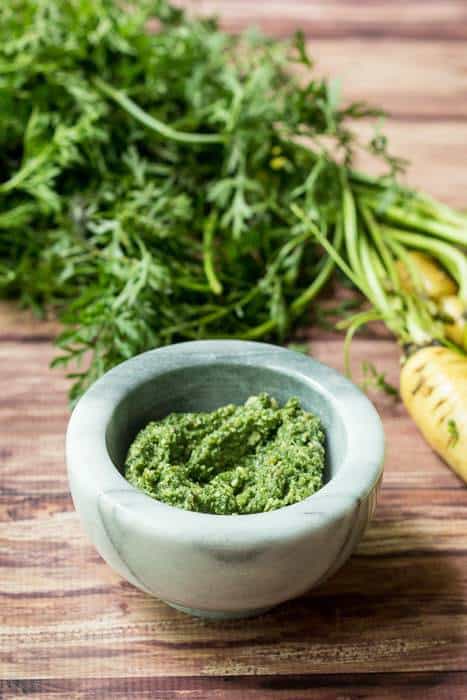 I used slivered almonds for this batch because it's what I had on hand, and I encourage you to use whatever nuts you might already have. Walnuts, almonds, and pistachios are all ideal for this recipe.
The carrot top pesto will keep in a jar in the fridge for a long time, but you can also freeze it in an ice-cube tray for individual portions. Once frozen, just pop them out and store them in a freezer-safe container.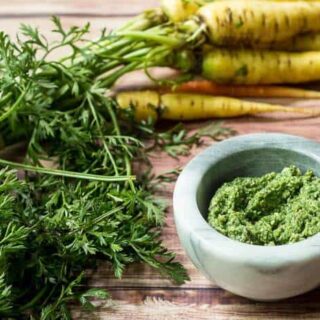 Carrot Top Pesto
Yield: 1 cup
Prep Time: 5 minutes
Total Time: 5 minutes
Carrot top pesto makes quick, zesty work of leftover carrot greens
Ingredients
3 cups packed carrot tops, about the amount from 1 bunch of carrots
1/4 cup slivered almonds
1-2 cloves garlic
1/4 cup grated asiago cheese
1/4 teaspoon salt
Cracked pepper to taste
1/2 cup olive oil
2 tablespoons lemon juice
Instructions
Place carrot tops, almonds, garlic, cheese, salt, and pepper in a food processor and pulse until well chopped. Pour in the olive oil and lemon juice while pulsing, and blend until smooth.
Recommended Products
As an Amazon Associate and member of other affiliate programs, I earn from qualifying purchases.
Nutrition Information:
Yield: 16
Serving Size: 1 tablespoon
Amount Per Serving:
Calories: 86
Total Fat: 8g
Saturated Fat: 1g
Trans Fat: 0g
Unsaturated Fat: 6g
Cholesterol: 1mg
Sodium: 70mg
Carbohydrates: 3g
Fiber: 1g
Sugar: 1g
Protein: 1g