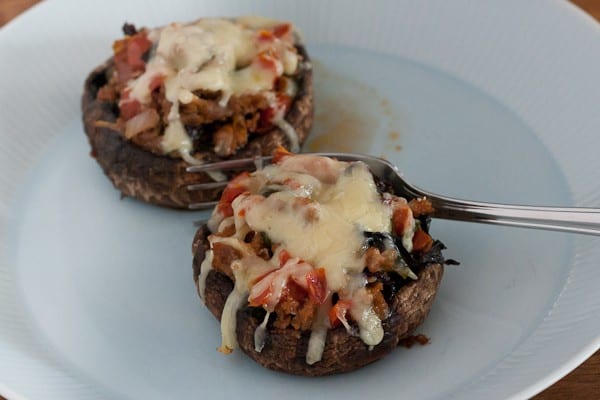 Lately I've been trying to remember that I have a bookcase full of cookbooks. It shouldn't be hard to forget, since we installed the new shelves right into the kitchen island, but when dinner rolls around I usually just throw something together from the cobwebs that make up my headspace these days.
Happily, this weekend I decided to look at Plenty, and while it kind of drove me crazy because I was starving before I was halfway through, I came out of that collection of lickable photography with, well, plenty of ideas for how to use the contents of my most recent vegetable delivery.
After all these years I'm still rather meh about mushrooms, but there are ways to get them on the table and in my stomach. Stuffing mushrooms is always a hit, and with large portobellos you can really go for a hefty topping. I had some Dai Due Wild Boar Chorizo on hand, and if you're in Austin and can get some I really recommend it for this dish, although regular Mexican-style chorizo works just fine.
Depending on the size of your mushrooms, you might have extra filling, but it makes for great breakfast tacos as well – just add a scrambled egg.
Chorizo-Stuffed Portobello Mushrooms
Prep Time: 10 minutes
Cook Time: 30 minutes
Total Time: 40 minutes
Servings: 2 -4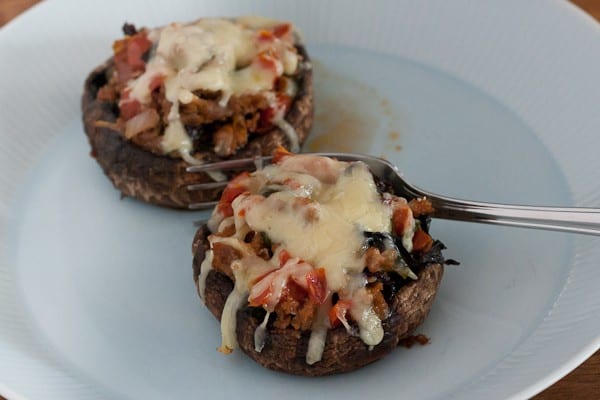 Ingredients
4 portobello mushrooms stems removed
1 tablespoon olive oil
Salt and pepper
8 ounces bulk chorizo
1/4 cup diced onion
3/4 cup diced tomato
2 cups torn greens such as chard, kale, or spinach
1 cup shredded cheese I used Kerrygold Skellig
Instructions
Preheat oven to 350°F. Line a baking sheet with foil. Place mushrooms, gills side up, on the baking sheet and drizzle with olive oil, and sprinkle with salt and pepper to taste. Bake for 15 minutes.

While the mushrooms are cooking, heat a skillet over medium. Add the chorizo and cook until browned. Add in the mushrooms and tomatoes and cook until tomatoes are starting to break down. Stir in the greens and cook until wilted.

Divide the chorizo mixture among the mushrooms, piling it on top. (You might have extra filling.) Top each mushroom with shredded cheese.

Bake an additional 10 minutes.
More mushroom recipes you might like:
Chickpea and Spinach Stuffed Portobella Mushrooms – Fake Food Free
Indian-Spiced Mushrooms and Lentils – Stetted
Mascarpone and Crab Stuffed Mushrooms – My Kitchen Addiction
Mushroom Barley Stew – The Austin Gastronomist
Mushroom Pesto Grilled Cheese – Stetted
For more tasty inspiration, check out my Pork board on Pinterest!
Follow Megan Myers | Stetted's board Pork Recipes on Pinterest.