Did you know I studied French all through junior high and high school and a year of college? I don't think I could even attempt plus-que-parfait now, but some things stayed with me.
We explored France through food a lot in class. Those were my first experiences with crepes, real chocolate mousse, chicken cordon bleu, bouche de Noël, and tarte tatin, which I cooked for my teacher out of a French cookbook. (Yes, I was an insufferable foodie even then.)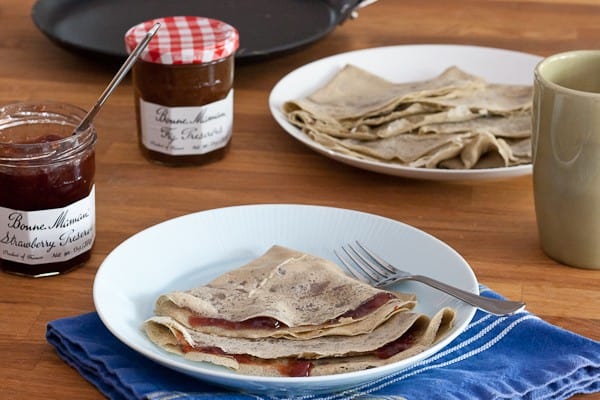 Crepes are one of the things that I love to make – they're super easy and endlessly customizable. By using buckwheat flour and King Arthur Flour's gluten-free blend, I don't need to worry about making a different dish for my gluten-free friends. The buckwheat adds a little more heft, but they still cook up wonderfully, especially if you use a special crepe pan.
Crepe pans are actually more versatile than you might think — I use mine to warm tortillas, cook pancakes, and even fry burgers sometimes! Because they do have a slight rim, you can use them without worrying about liquids seeping over the edge.
My favorite crepes are filled with jam or chocolate. Or jam and chocolate. Or just chocolate. You know. I recommend having your toppings set out for whoever is enjoying the crepes with you, rather than filling them as you go. I do find it is easier to fold the crepes right after you take them off the pan, but you can unfold them to fill and fold again.
The crepe batter does benefit from resting after mixing, which is the perfect time to get out your jam, chocolate, sliced fruit, whipped cream, or peanut butter, and make yourself a coffee to sip on while you swirl and flip your crepes with ease. It's how the French do it. So I hear.
More gluten free recipes you might like:
Blueberry Coffee Cake – My Kitchen Addiction
Gluten Free Pumpkin Pancakes – Love & Lemons
Gluten Free Strawberry Mini Muffins – Good Life Eats
Gluten-Free Vegan Pumpkin Bread – Stetted
Gluten-Free Wild Boar Chorizo and Spinach Pizza – Stetted
For more morning inspiration, check out my Breakfast board on Pinterest!
Follow Megan Myers | Stetted's board Breakfast on Pinterest.