This post contains affiliate links. As an Amazon Associate, I earn from qualifying purchases.
Gluten free crepes featuring nutty buckwheat flour are easy to make at home. Fill with ham and cheese for a classic dish, or your favorite jam.
Did you know I studied French all through junior high and high school and a year of college? I don't think I could even attempt plus-que-parfait now, but some things stayed with me.
We explored France through food a lot in class. Those were my first experiences with crepes, real chocolate mousse, chicken cordon bleu, bouche de Noël, and tarte tatin.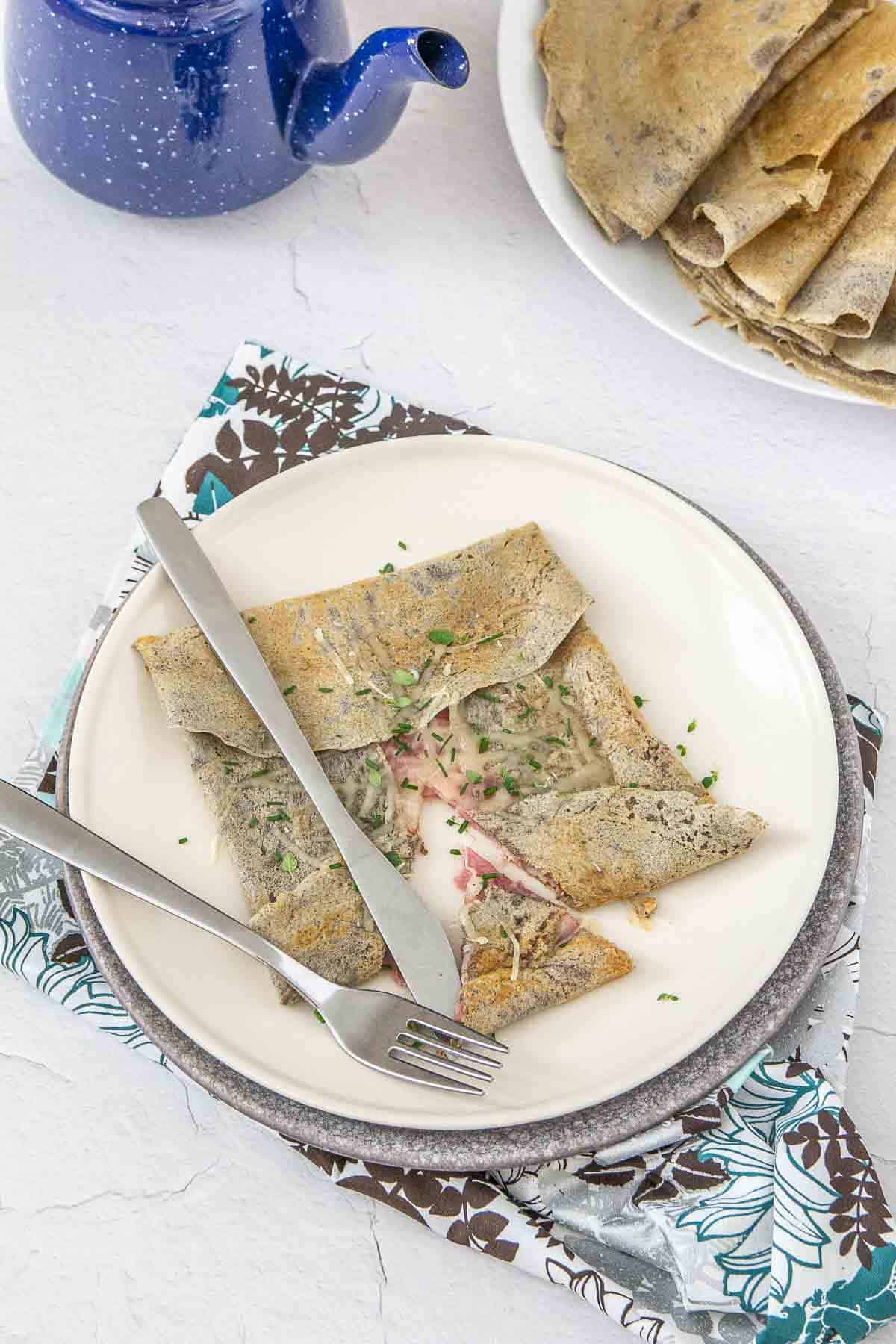 Crepes are one of the things that I love to make — they're super easy and endlessly customizable.
It makes sense, because I love pancakes, and crepes are basically ultrathin pancakes!
Gluten free crepes might seem like a trend, but buckwheat crepes (galletes) are traditional to Brittany and surrounding areas of France.
The buckwheat adds a little more heft than in other crepes, but they still cook up wonderfully.
Plus, they are delicious with any variety of fillings, so whether you love sweet or savory brunches, you'll be set!
Ingredients for gluten free crepes
Crepes only require a few ingredients, so the batter is easy to whip up.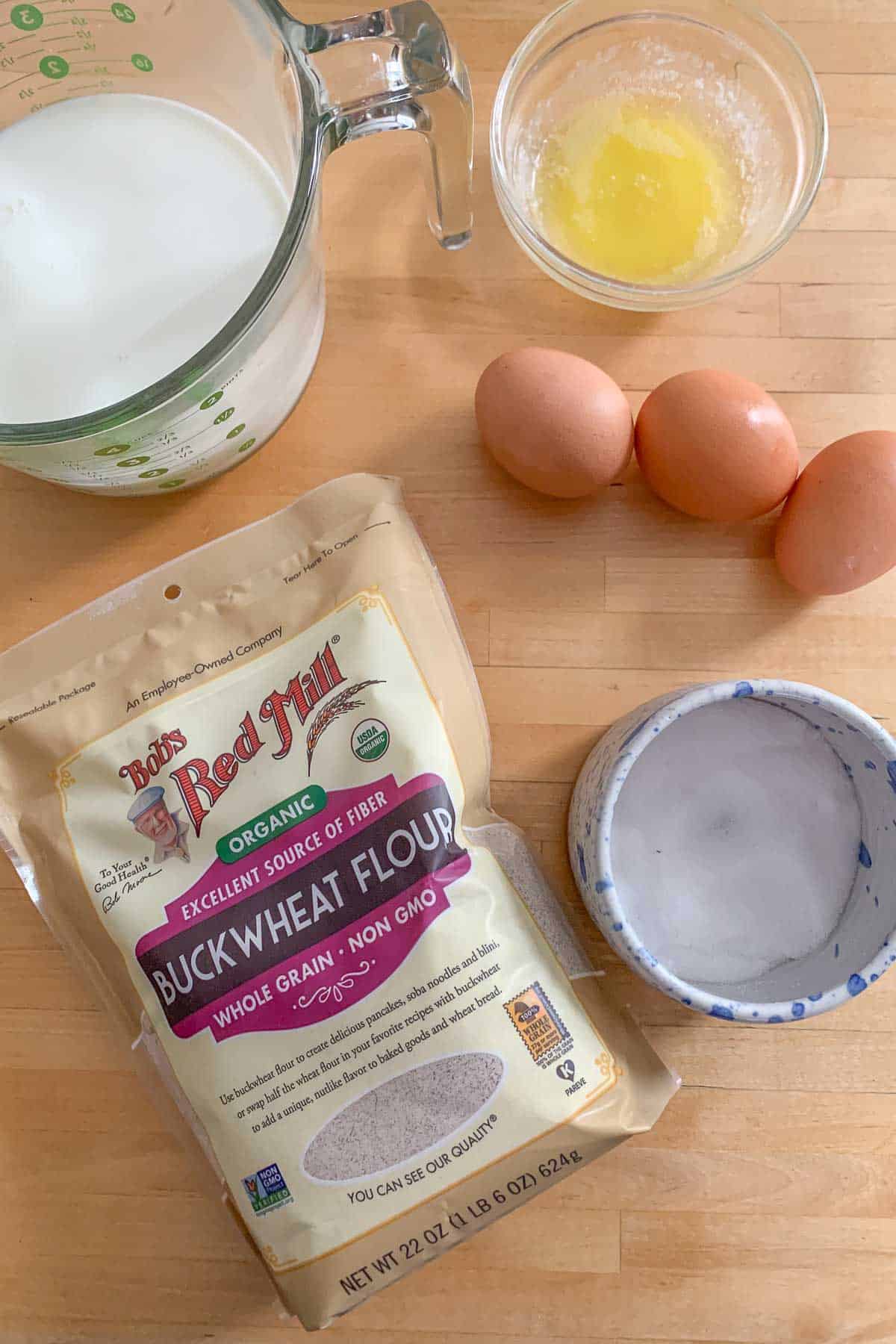 Buckwheat flour – While buckwheat has "wheat" in the name, buckwheat does not contain any wheat or gluten.
If you are celiac, make sure to check the label to see where the flour was processed. Note that the Bob's Red Mill, pictured here, is not produced in a gluten-free facility.
If you can't find buckwheat flour, you could swap in a gluten free flour blend.
Eggs – Regular large eggs are used here.
Milk – I use 2% milk because that's what I have on hand. You can use other milks, including milk alternatives like soy or almond milk.
If you use alternative milks, make sure it is unflavored and unsweetened.
Butter – The butter is melted and cooled before adding to the batter. If the butter is too hot it can cook the eggs, so melt it ahead of mixing the batter so it has time to cool.
Salt – If you are using salted butter, you can reduce the added salt or leave it out completely.
Sugar and vanilla – Optional, for a sweet crepe recipe. I don't add these when making savory crepes! If you want to serve these crepes with both sweet and savory toppings, leave out the sugar and vanilla.
Tools for making crepes
I want to stress that you do not need to run out and get special tools to make crepes. All you really need is a frying pan, a spatula, and a bit of patience.
However, if you plan to become a crepe connoisseur, you could invest in a crepe pan.
Crepe pans are actually more versatile than you might think — I use mine to warm tortillas, cook pancakes, and even fry burgers sometimes!
Because they do have a slight rim, you can use them without worrying about liquids seeping over the edge.
Another useful tool is a crepe spreader, called a rateau. This wooden tool looks like a T, and when you turn it in a clockwise motion on the crepe pan, it spreads the batter in an even layer.
The rateau does take some practice to use, but it's a fun way to make crepes!
You can get a crepe spreader and spatula in a set on Amazon, or other online stores.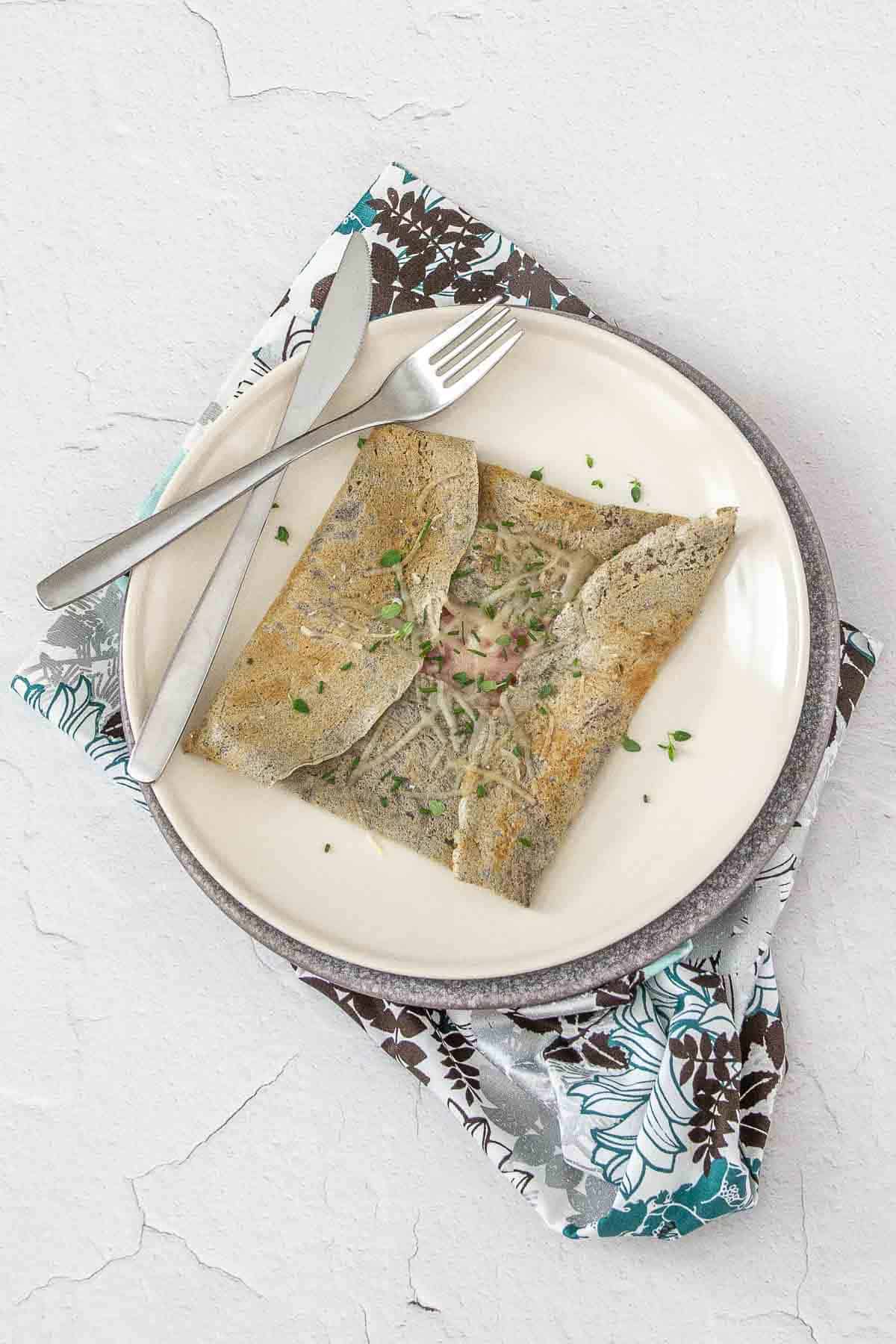 How to make a crepe
Crepe batter benefits from resting, so plan to mix it at least 30 minutes before you want to cook the crepes. You can even make the batter the night before and just give it a good whisk before using.
In a large bowl, whisk together the milk, buckwheat flour, eggs, melted butter, and salt until smooth. It should look like a thin pancake batter.
Cover the bowl with a lid or plastic wrap and chill for at least 30 minutes.
When you're ready to cook, heat a nonstick skillet or frying pan over medium. Add butter or cooking spray to the pan to coat evenly.
Remove the batter from the fridge and whisk to reincorporate ingredients. Pour a small amount of batter into the center of the pan.
Quickly tilt the pan to spread the batter in an even layer. If using a crepe spreader, turn it clockwise in the pan to spread the batter to the edges.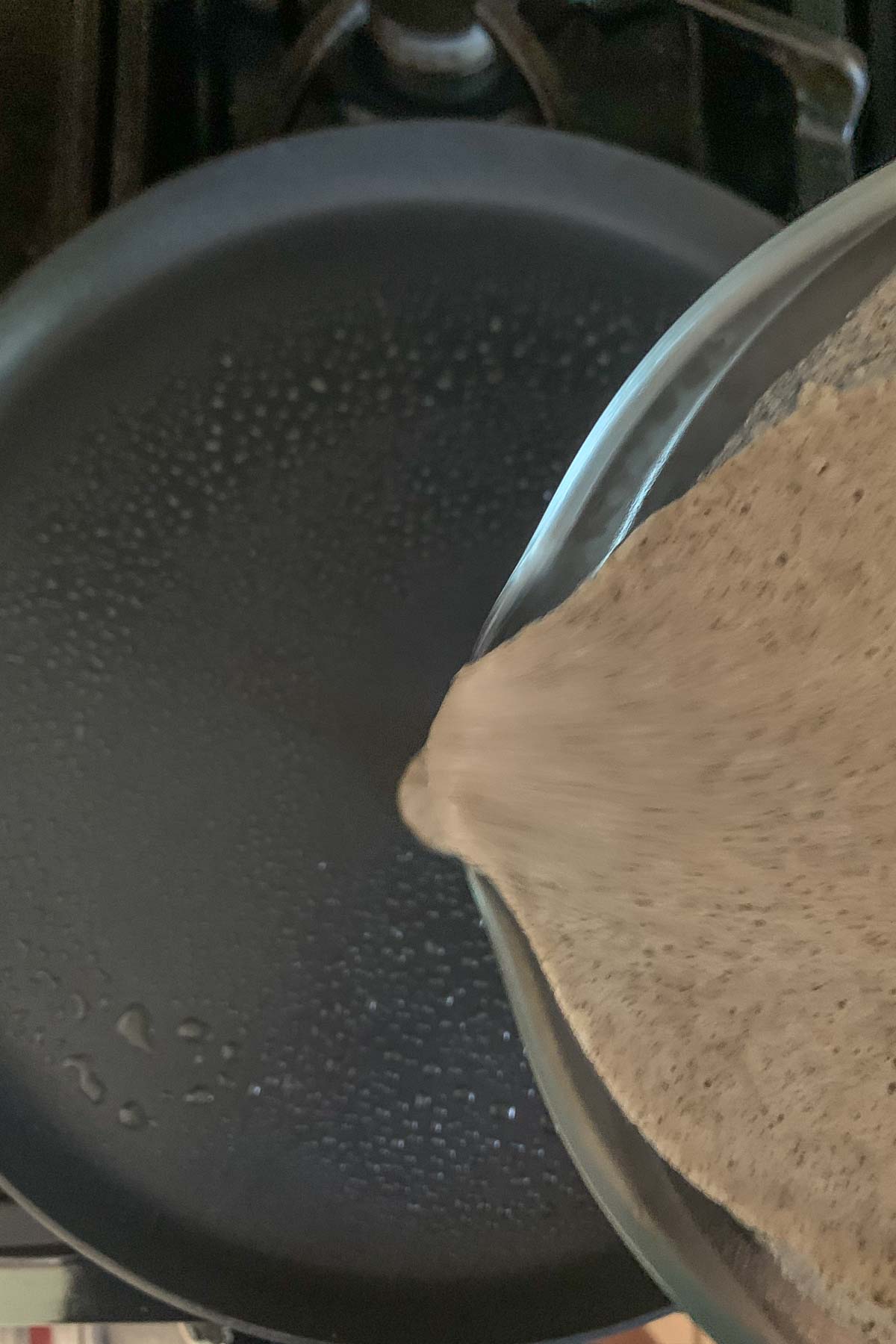 Cook the crepe for 1-2 minutes. Loosen the edges using a thin spatula or butter knife edge, then carefully flip to the other side and cook for 1-2 minutes more, until lightly browned.
Transfer the cooked crepe to a plate and place in the microwave or warm oven to keep warm. Repeat with the remaining batter until it is all used.
It might take a few test crepes to get the hang of spreading and cooking them, but don't fret! You'll get a feel for it quickly.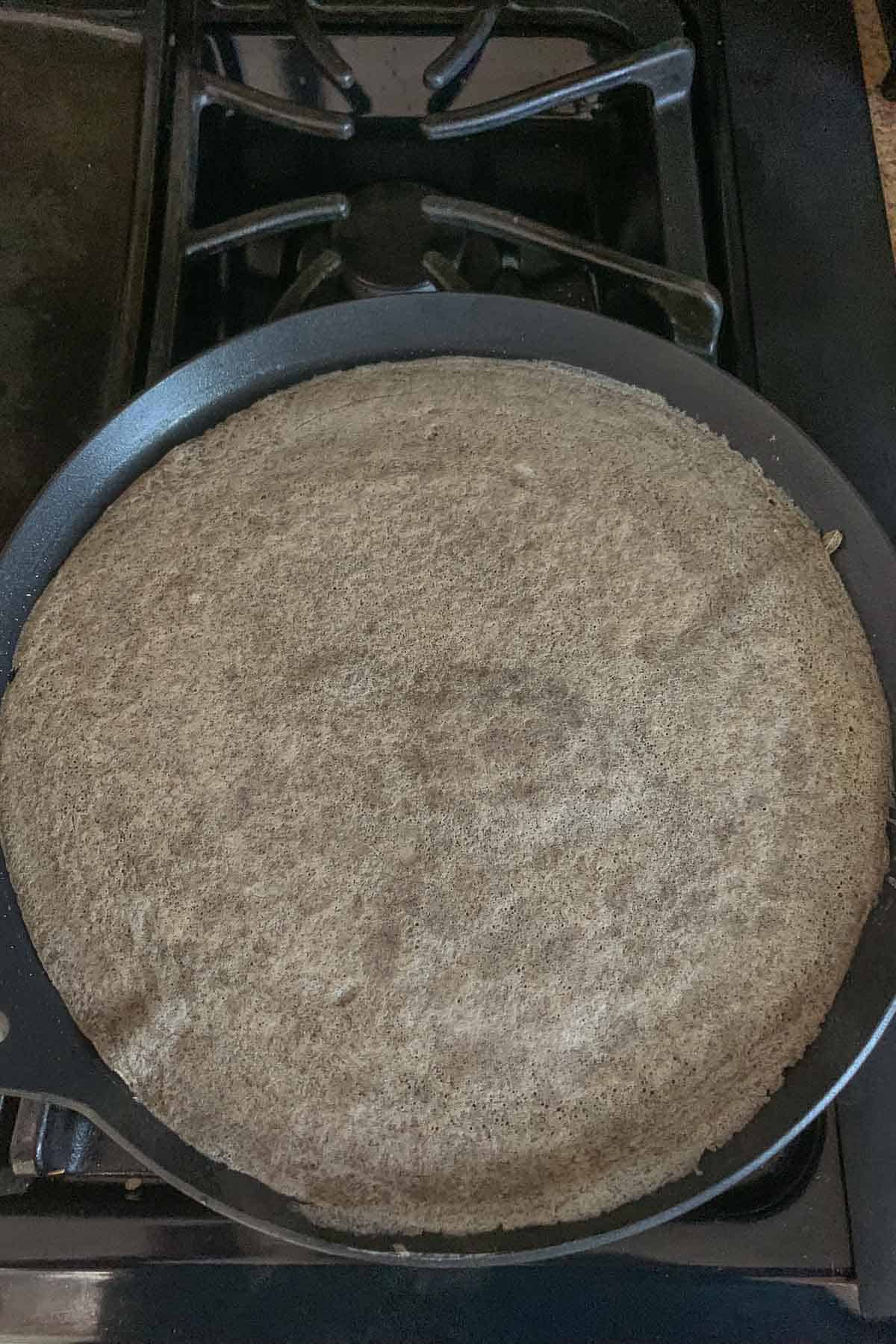 Crepe fillings
There are so many ways to fill crepes. If you've ever been lucky enough to grab a crepe from a street stand in France, you'll know how long the list of toppings is!
My favorite crepe filling is chestnut cream, but for these buckwheat crepes I love doing the traditional cheese and ham.
When doing a cheese and ham crepe, place a cooked crepe on the warm pan. Sprinkle on some cheese, then thin slices of ham, then more cheese.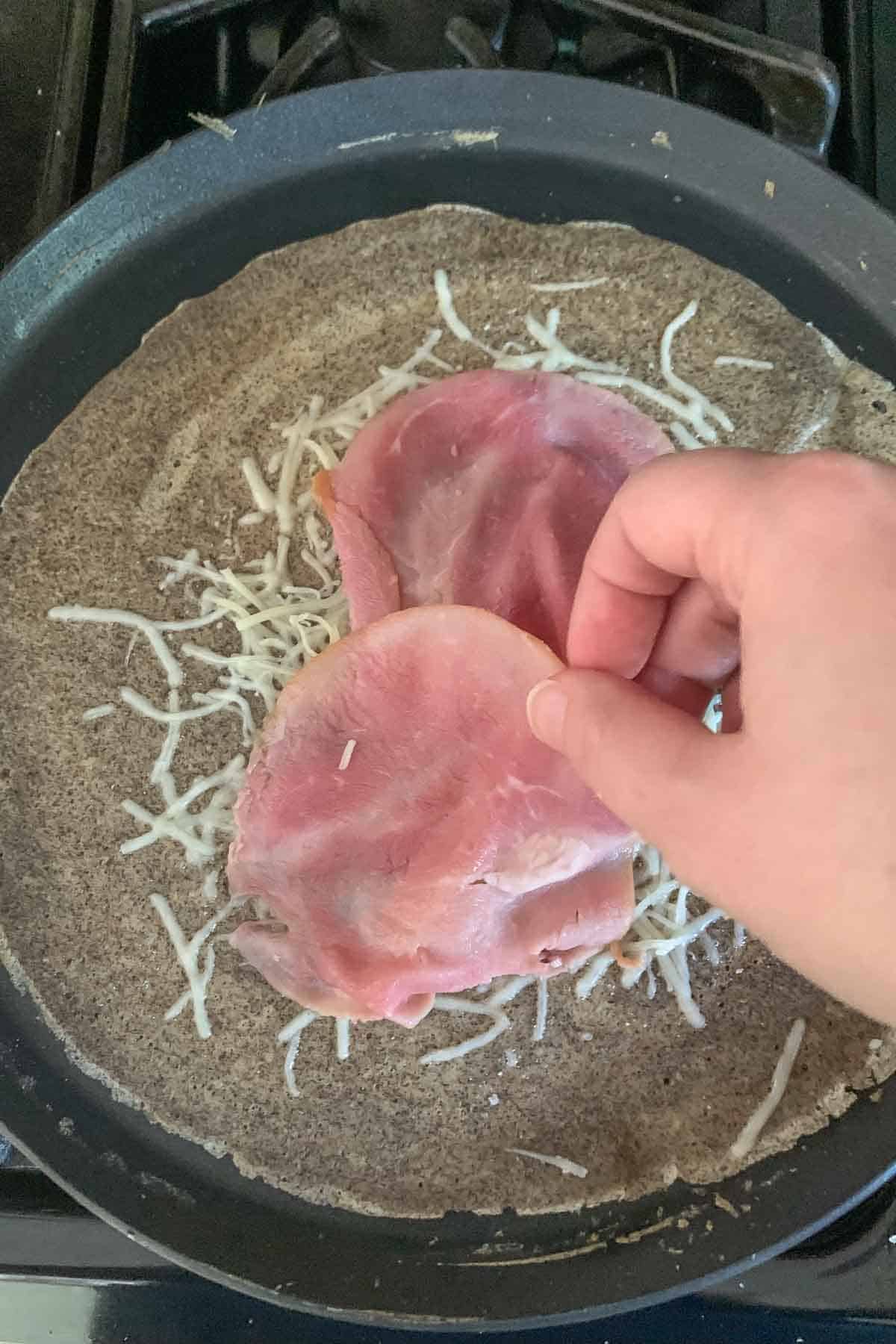 Cook until warmed through and the cheese is melted. Fold the edges over to make a square, then top with herbs or a fried egg. Yum!
Try any of these options on your crepes:
Sliced strawberries and whipped cream, or any fresh fruit
Shredded chicken and spinach
Nutella
Peanut butter and jelly
Whipped sweetened ricotta
Lemon curd
Sautéed mushrooms
Salmon and dill sauce
Sweetened cream cheese and blueberries
Maple syrup
I recommend having your toppings set out for whoever is enjoying the crepes with you, rather than filling them as you go.
I do find it is easier to fold the crepes right after you take them off the pan, but you can unfold them to fill and fold again, or simply roll the crepes instead of folding.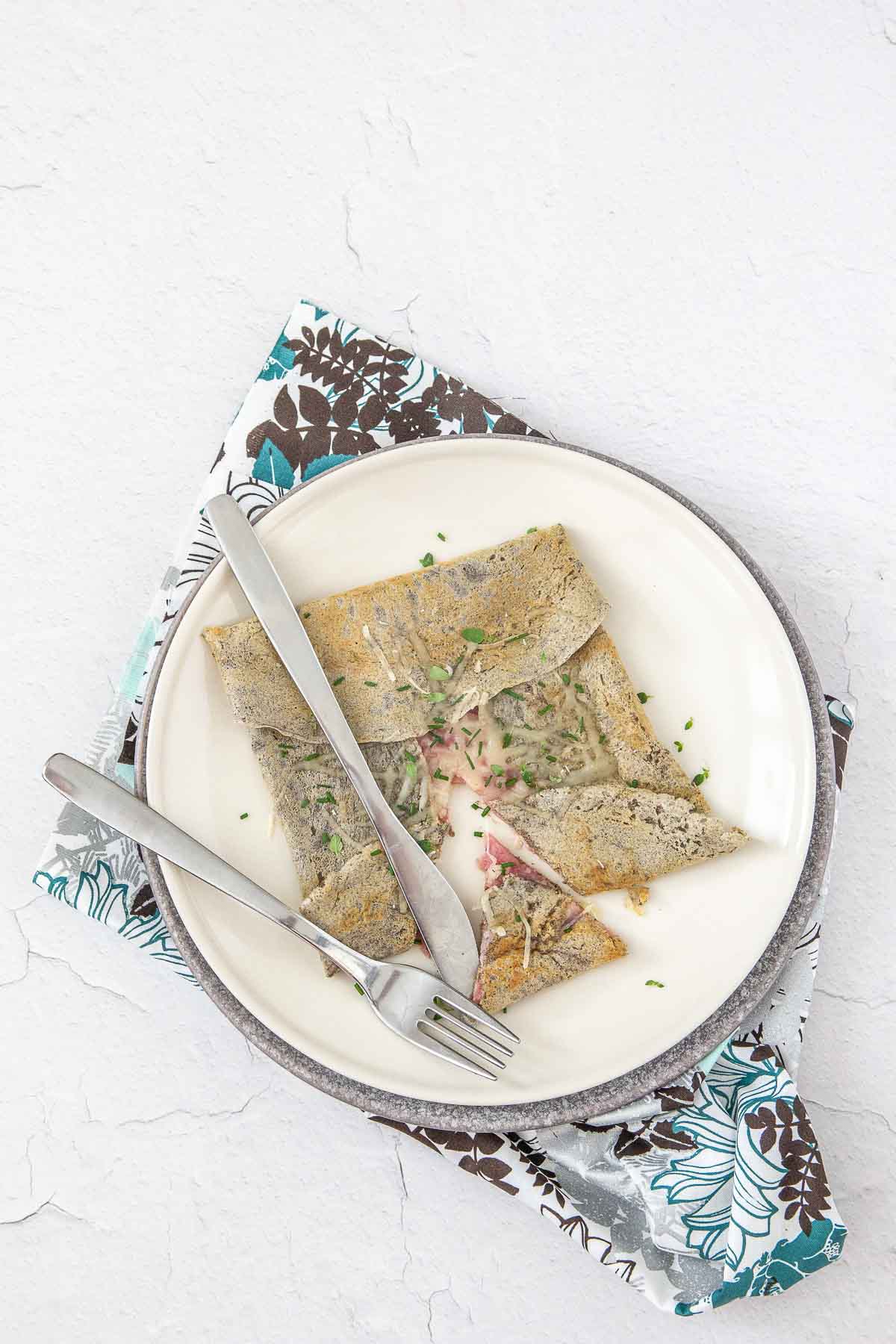 These gluten free crepes are such a fun and easy dish to make no matter how you fill them!
Love this recipe? Please leave a 5-star review below! It means so much when you enjoy my recipes, so let me know how it goes and leave a comment if you have any questions.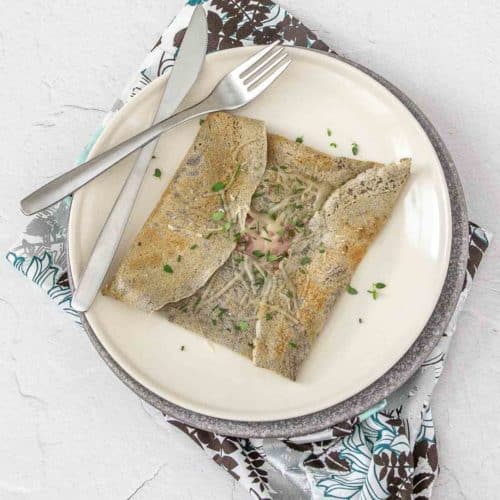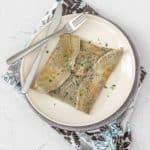 Gluten Free Crepes
Gluten free crepes featuring nutty buckwheat flour are easy to make at home. Fill with ham and cheese for a classic dish, or your favorite jam.
Print
Pin
Save
Saved!
Ingredients
1

cup

buckwheat flour

2

tablespoons

granulated sugar

,

optional, for sweet crepes

3

eggs

1 1/2

cups

milk

2

tablespoons

unsalted butter

,

melted and cooled

1/4

teaspoon

salt

1

teaspoon

pure vanilla extract,

optional, for sweet crepes
Instructions
Sift together flours and sugar (if using), then beat in eggs, milk, melted butter, salt and vanilla (if using) until batter is smooth.

Let batter rest in refrigerator overnight, or at least 30 minutes.

When ready to cook, heat a crepe pan or flat frying pan over medium. Lightly coat with nonstick spray or add a small amount of butter to melt.

When pan is hot, pour about 1/4 cup of batter into the center of the pan. Tilt pan to evenly coat it with batter, or use a rateau to spread.

Cook crepe until edges are crispy and the top no longer looks wet (about 2 minutes). Flip and cook for another minute or so. Fold crepe and set aside until the whole batch is done.

Repeat with remaining batter. Serve crepes with your choice of toppings, such as ham and cheese, fresh fruit, or Nutella.
Notes
Batter should rest for at least 30 minutes, but is even better if you give it overnight.
If celiac, be sure to check the buckwheat flour packaging to ensure it is produced in a gluten-free facility.
Nutrition
Calories:
268
kcal
Carbohydrates:
32
g
Protein:
11
g
Fat:
12
g
Saturated Fat:
6
g
Cholesterol:
145
mg
Sodium:
238
mg
Potassium:
346
mg
Fiber:
3
g
Sugar:
12
g
Iron:
2
mg
Nutrition information is provided as a courtesy and is an estimate based on online calculators. Any nutritional information found on Stetted should be used as a general guideline only.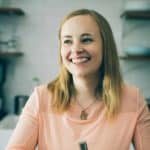 About Megan
I focus on fresh ingredients and easy methods, with spins that keep meals interesting. Dinnertime shouldn't be stressful or complicated, and I'm here to help you enjoy the time spent in the kitchen. Read more…