This post contains affiliate links. As an Amazon Associate, I earn from qualifying purchases.
The summer sun is still beating down on our little house every day, but on a bookshelf inside rests a stack of brand-new folders, notebooks, and markers. My older son starts kindergarten in two weeks, and despite what the thermometer insists, it's time for me to acknowledge that the season is almost over.
I feel like I didn't get much done this summer. Yes, I went to two conferences and gave birth to a very snuggable baby, but in terms of kitchen work? In terms of the ubiquitous "summer fun"? My shelf of empty canning jars are telling me that this summer hasn't been my most productive, and my blindingly pale legs remind me that I last stepped into a pool in May.
If you couldn't tell, I am a person who thrives on busy-busy-busy, followed by a do-nothing vacation. A year ago we drove north and spent a week in a riverside cabin, doing not much but fishing and eating s'mores and lounging in the hammock. Now that I work from home, any down time seems just like regular time if I don't escape these four walls.
My previous summers also featured plenty of "putting up", getting jars of salsa, diced tomatoes, strawberry jam, and other goodies ready for us to use when even Austin's long growing season results in nothing but greens and root vegetables. As ambitious as I am, I knew I just couldn't handle canning pasta sauce this year, at 9 months pregnant.
Luckily, pasta sauce keeps well in the freezer too, and allows for much more flexibility when it comes to the recipe. After a trip to the farmers market and a CSA delivery, I had enough tomatoes for a small batch of sauce. Add some onion, a zucchini, and herbs, and I was ready to go.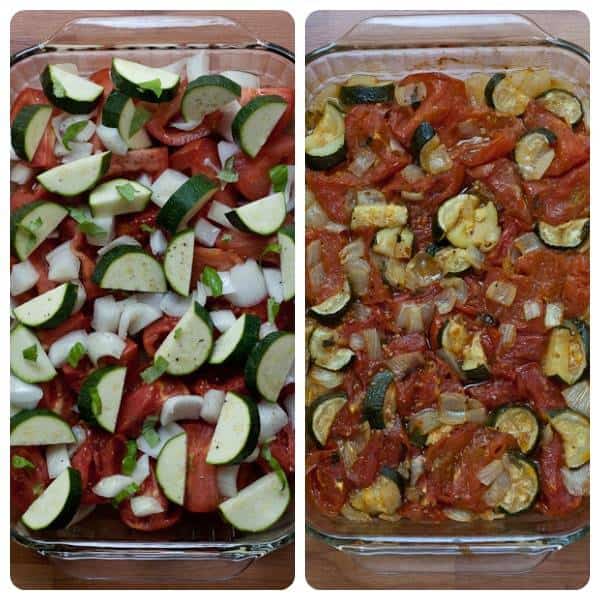 This oven-roasted pasta sauce really couldn't be much easier, and it will add a heavenly perfume to your kitchen as it cooks in the oven.
Once it has roasted and cooled, simply puree in a blender or food processor and package into individual containers for the freezer. I like to use freezer bags because they thaw easily as well as stack flat in the freezer, saving lots of space.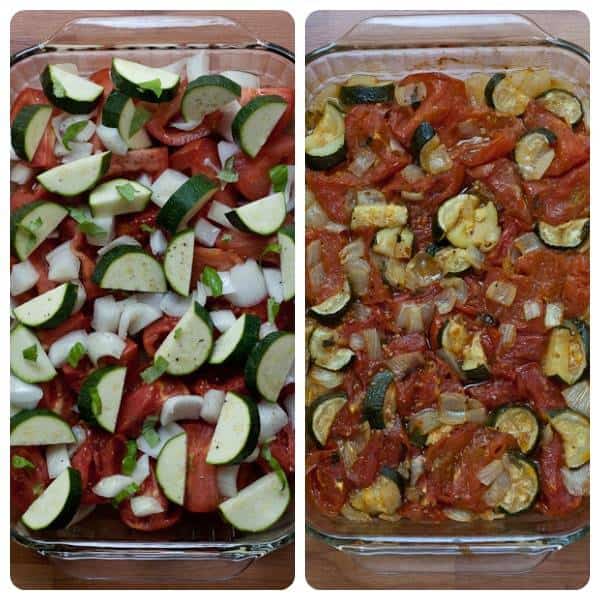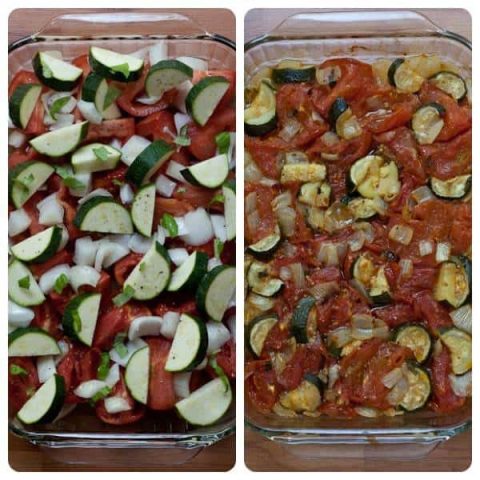 Oven-Roasted Pasta Sauce
Total Time:
2 hours
10 minutes
This pasta sauce is full of summer veggies that benefit from a slow roast in the oven.
Ingredients
3 pounds tomatoes
1/2 pound onion
10 ounces zucchini
2-4 cloves garlic
Handful fresh basil
Olive oil
Salt and pepper
Instructions
Preheat oven to 350°F.
Dice tomatoes, onion, and zucchini. Pour into a 9x13 baking dish. Drizzle olive oil over the top, and sprinkle on basil, salt, and pepper.
Roast for about two hours, until tomatoes have broken down.
Let cool and puree in a blender or food processor. Taste and adjust seasoning.
Package into individual freezer-safe containers.
Recommended Products
As an Amazon Associate and member of other affiliate programs, I earn from qualifying purchases.
Nutrition Information:
Yield:

6
Amount Per Serving:
Calories:

90
Total Fat:

3g
Saturated Fat:

0g
Trans Fat:

0g
Unsaturated Fat:

2g
Cholesterol:

0mg
Sodium:

64mg
Carbohydrates:

15g
Fiber:

4g
Sugar:

9g
Protein:

3g
More sauce recipes you might like: