Gluten free mini peach crisps are a great dessert for parties! Bonus, they have blueberries too.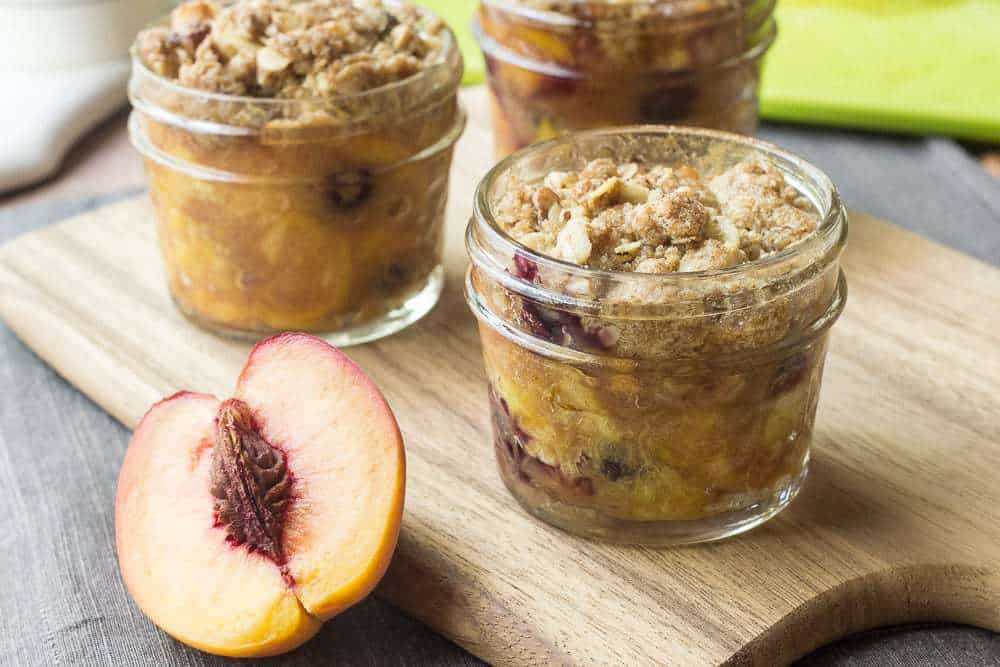 My husband's birthday is coming up, which means we typically have a party. It doesn't hurt that the day always falls around Labor Day — we can combine the two for a full weekend blast. Sometimes this goes well, and sometimes I'm wondering why we've invited so many people over. Hey, I'm an introvert. My time is precious.
One year for his birthday I made a bunch of these mason jar margaritas. They were a hit, but a little bit in that "stop teaching my preschooler how to play flip cup" way. Still, I love the idea of serving things in mason jars for ease and portion sizing, so I wanted to have something on hand for the party.
Gluten free mini peach crisps are a great dessert for the end of summer. Peach season is at its end, so I've been trying to capture as much of it as possible by making peach barbecue sauce, peach cobbler ice cream, and these little jarred desserts.
Using small mason jars for the crisps means you already have portioning taken care of (always a drag at a party) and no one needs to have anxiety about being the first one to cut into a whole dessert (it happens). And if you're not having a party, you can just pop any extras into the freezer and heat them up when you want to have a warm, summery dessert as you plan for Thanksgiving dinner.
These crisps also feature blueberries, whose tartness pairs wonderfully with the more traditionally sweet peaches. Plus, making the crisps gluten free means our celiac friends can enjoy a fantastic dessert without feeling left out of cake time. Heck, they might even be getting the better end of the dessert deal!
Get the recipe for these gluten free mini peach crisps with blueberries here!
For more sweet inspiration, check out my Cake and Pie board on Pinterest!
Follow Megan Myers | Stetted's board Cake and Pie on Pinterest.