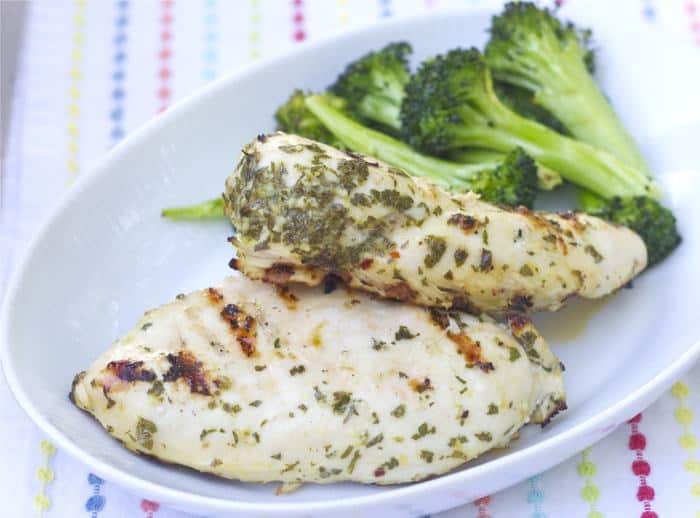 While I don't shy away from the oven in the summer months (hey, it's already hot, might as well get something made in the meantime), grilling is one of our favorite ways to cook, and we fire it up multiple times a week.
Our garden herbs have been exploding lately. In fact, my parsley plant is in dire need of culling again, so I've taken to mixing up a variety of sauces to preserve them. I tend to make more sauce than needed for a particular recipe and then freeze the extra so I always have it on hand, even if I don't have any herbs left.
For this chicken recipe, the original called for just serving the chimichurri over the top, but since I absolutely love chimichurri, I thought marinading the chicken would be a better way to enjoy the flavor, as well as having extra to serve with it.
Have you ever had chimichurri? I think I might actually like it better than the summer stalwart pesto, thanks to the added zing from the lemon. I use it anywhere pesto would go, including in my scrambled eggs and over pasta. It's particularly delicious with crispy roasted potatoes, too.
I also grilled broccoli for this meal, which I highly recommend as an alternative to steaming. If you have a grill basket it is super easy, but you can also make sure your broccoli is cut large so it doesn't fall through the grates. This summer I am planning to grill all manner of things we haven't tried before, and a few we want to try again (hello, peaches and whole fish!) that we enjoyed the first time around.
Herby sauces are like a secret weapon in your dinner arsenal. Why not give this recipe a try?
Check out my post for Chimichurri Chicken over at Recipe.com!
For more tasty inspiration, check out my Chicken board on Pinterest!
Follow Megan Myers | Stetted's board Chicken on Pinterest.src="//assets.pinterest.com/js/pinit.js">