This post contains affiliate links. As an Amazon Associate, I earn from qualifying purchases.
Homemade sausage gravy is easier to make at home than you think, and a great way to start the weekend.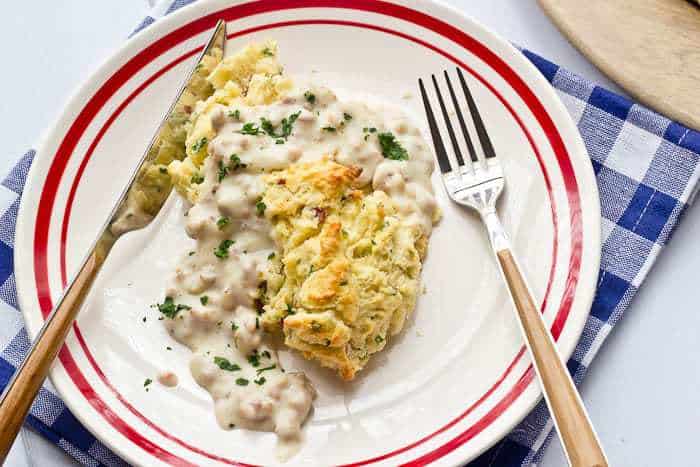 For years I resisted sausage gravy. My northern upbringing can only claim half the blame; the remainder falls squarely on the shoulders of restaurants, hotel breakfast buffets, and lazy cooks who make flavorless goop that can only be compared to kindergarten glue paste.
Now, I wasn't one of those kids who ate glue paste, so you can see my predicament. But after moving to Texas and sampling a few dishes with gravy, I realized I had been missing out.
After all, once you live in the South, there are certain rules that must be followed.
Homemade sausage gravy, like other gravies, is very easy to make, a point which should be obvious thanks to the American idioms of the gravy train and it's all gravy, both alluding to something that is easy to obtain. The ease of making gravy certainly helped its popularity, even though its rise among the masses likely grew out of necessity rather than the Thanksgiving-and-chicken-fried-steak decadence we often associate it with.
Because gravy requires meat drippings, but not a lot of meat, it ended up being a go-to dish in the U.S. for feeding cowboys, harvesters, lumberjacks, and anyone else who needed to be fed for little money. It not only could be used as a sauce for bread, but also to make tough, last-of-the-larder meats more palatable.
While each region has its own take on gravy, from Red-Eye Gravy (made with ham drippings and coffee) to Sawmill Gravy (made with cornmeal, though the cooks were sometimes accused of thickening with sawdust instead), sausage gravy is popular all over the country, especially when served with piping-hot biscuits.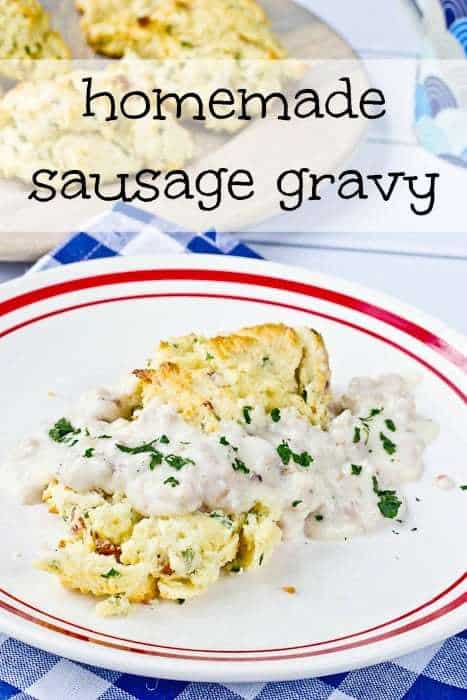 You only need a half pound of pork sausage for this homemade sausage gravy recipe, so it's economical while still having plenty of meaty flavor. If you like, try a different kind of sausage, but note that leaner meats such as chicken might require an addition of fat to the recipe for a proper gravy. The fat is key to the gravy, so don't skim it off after the sausage is cooked, either.
As the gravy cooks it will thicken, so even if it seems like you need more flour, resist the urge. This gravy is best served immediately, but if needed can be stored in the refrigerator and reheated in a saucepan.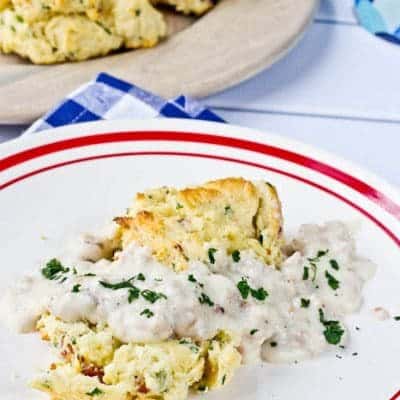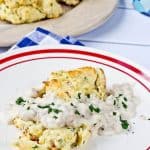 Homemade Sausage Gravy
Homemade sausage gravy is easier to make at home than you think, and a great way to start the weekend.
Print
Pin
Save
Saved!
Ingredients
1/2

pound

pork breakfast sausage

3

tablespoons

all-purpose flour

2

cups

milk

Salt and pepper

,

to taste
Instructions
In a large skillet set over medium heat, cook pork sausage until browned, breaking up large pieces as it browns.

When sausage is cooked, whisk in flour to form a paste, then add milk, whisking as you pour.

Lower heat to medium-low and continue to whisk mixture until it thickens.

Season to taste and serve over biscuits.
Nutrition
Calories:
134
kcal
Carbohydrates:
6
g
Protein:
8
g
Fat:
9
g
Saturated Fat:
3
g
Cholesterol:
29
mg
Sodium:
300
mg