When I first started canning, I wanted to try as many different things as possible. This was both a good idea and a bad idea, because while I expanded my experience, my pantry (and my husband) groaned from the excess.
It turns out that transforming fruits and vegetables into beautifully contained preserves doesn't actually mean you'll eat more of them. Who knew?
Over the past few years, I've continued canning but with an eye on what will really end up in our bellies. One of my favorite things to make (and eat) is jalapeño jelly, thanks to the urging of a friend who grew up eating the stuff.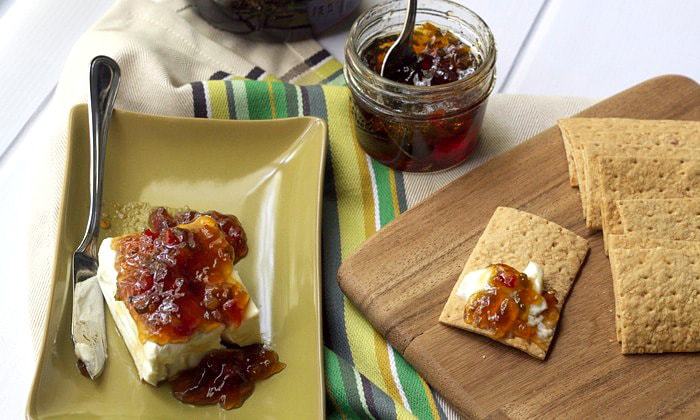 In Wisconsin our condiments are pretty limited to ketchup, mustard, and liquid cheese, so I quickly embraced this spicy-sweet jelly and started putting it on everything. It's classically served over cream cheese to spread on crackers, but it's also a good topping for burgers and a surprising way to serve baked chicken. Because of the sugar content, when it's spread over meat and baked you end with a wonderfully sticky and flavorful dish.
Most versions you'll see of jalapeño jelly are clear or slightly golden, but my version is wonderfully red. I could say that it was intentional, but it's really just because I didn't have enough white wine vinegar and knew red wine vinegar would be a great substitute. I think I might actually prefer this version — it seems just a little bit more tart, and I love the contrast of the jelly on the cheese. I'm already thinking ahead to how festive it will look on the table during the holidays.
This recipe is canned in a water bath, but because the yield is small, you can also just pour it into jars and store in the fridge once cooled. I guarantee you'll find lots of ways to enjoy it.
More jalapeño recipes you might like:
Baked Jalapeño Popper Dip – Foodie with Family
Jalapeño Cream Cheese Stuffed Burgers – Savvy Eats
Pimiento Cheese Jalapeño Poppers – Stetted
Spiced Jalapenño Crab Dip – Bake Your Day
Strawberry Jalapeño Palmiers – Stetted
For more tasty inspiration, check out my Canning, Preserves, & Pickles board on Pinterest!
Follow Megan Myers | Stetted's board Canning, Preserves, & Pickles on Pinterest.