This post contains affiliate links. As an Amazon Associate, I earn from qualifying purchases.
Jalapeño jelly is a spicy-sweet condiment that's easy to make at home. You'll love using this classic pepper jelly on everything!
When I first started canning, I wanted to try as many different things as possible. As a result, my pantry groaned from the excess, but it didn't stop me from adding more to the shelves.
One of my favorite things to make (and eat) is jalapeño jelly, thanks to the urging of a friend who grew up eating the stuff.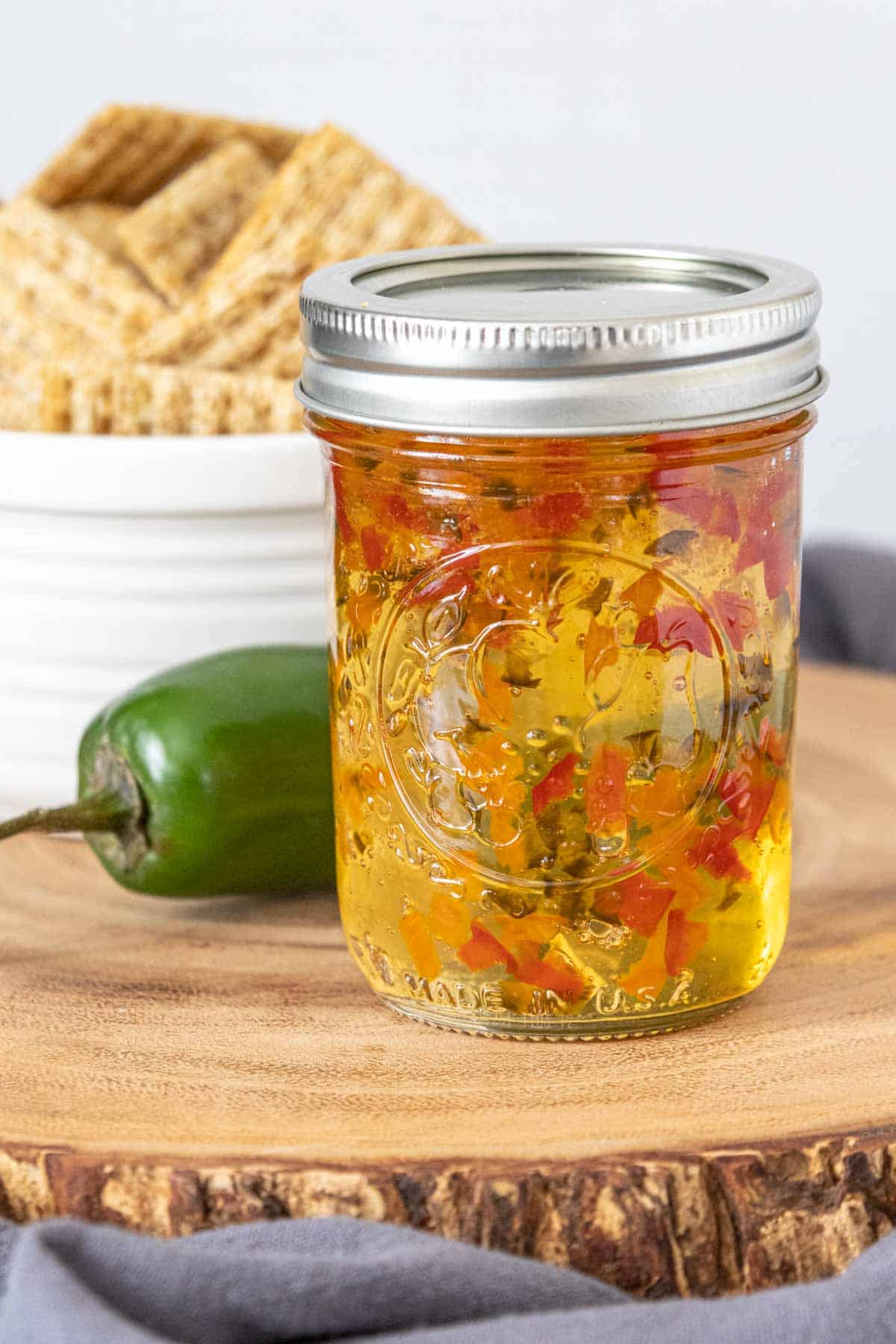 I make this pepper jelly every year and look forward to spooning into onto crackers with cheese as soon as the jars cool.
If you've never had pepper jelly, it's a classic in the South. While some versions only have sweet bell peppers, I add jalapeños to get a sweet heat flavor that is absolutely delicious.
This recipe makes four 8-ounce jars, which is the perfect size for keeping a jar (or two) for yourself and gifting the rest.
Ingredients for jalapeño jelly
In addition to the ingredients below, you'll also need a ladle and 4 8-ounce jars or equivalent sizes, such as 8 4-ounce jars. Don't forget the lids!
If canning, you'll need a water bath canner and jar lifter.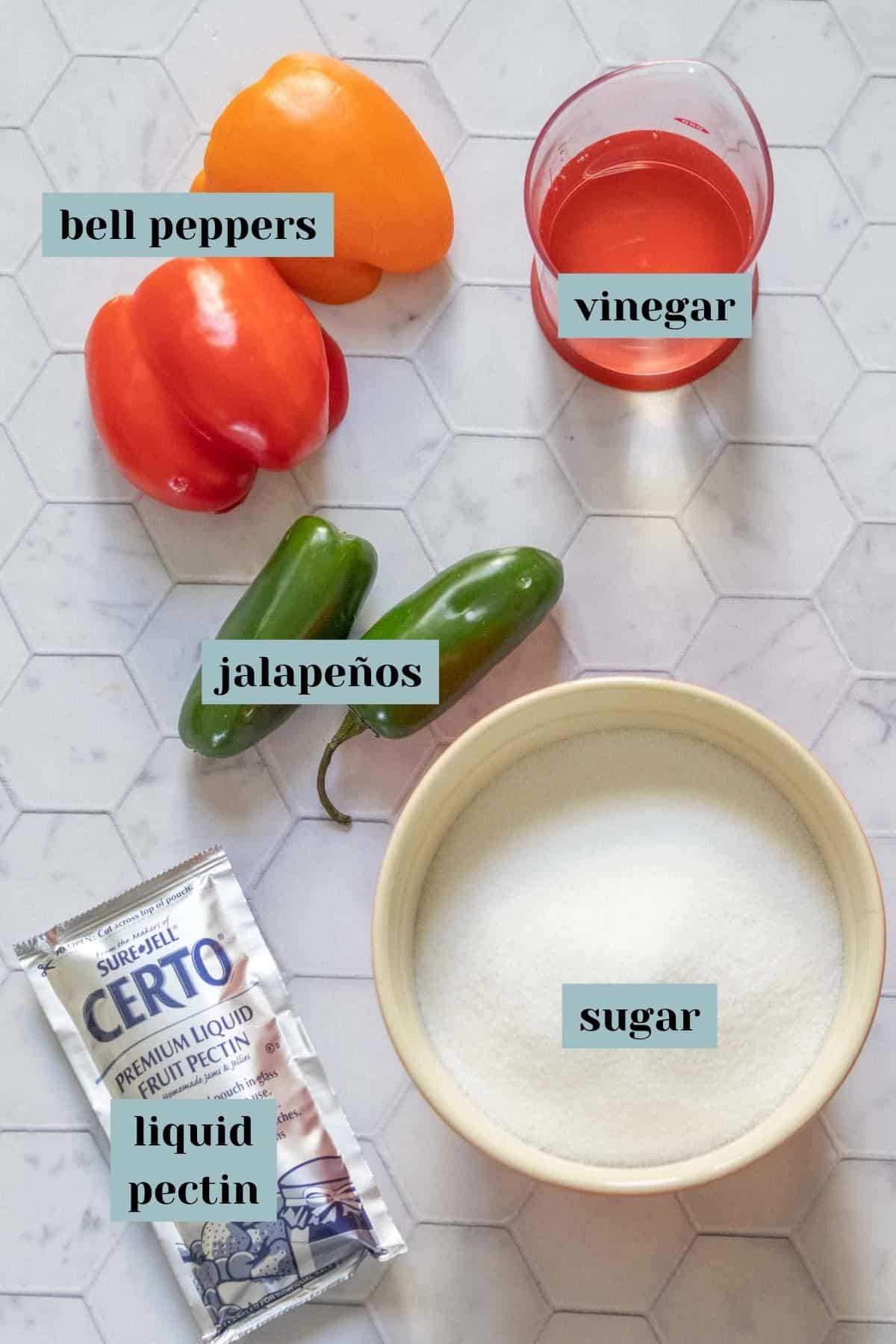 Jalapeños – Choose jalapeños that have smooth skin and are not wrinkled or soft. You can remove the seeds, or leave them in if you want a spicier jelly.
Bell peppers – You can use a single color of bell pepper, or a mix. I like to use both red and orange bell peppers for a rainbow of colors in the jelly.
Sugar – Sugar is needed both for sweetness and to help the jelly set. Do not reduce the amount of sugar used, or the jelly might not set.
Vinegar – I have made this jelly both with distilled white vinegar and red wine vinegar. Both versions are fantastic, so use what you prefer.
White vinegar will yield a slightly golden jelly, while the red wine vinegar will be a jewel-like red.
Liquid pectin – Liquid pectin comes in packets usually sold in boxes of two. Make sure you get liquid pectin, not powdered pectin.
It can usually be found among the canning supplies at your store, sometimes near the vinegars.
How to make pepper jelly
Make sure your jars are clean and sterilized before using.
tip
Cut open the pectin pouch and stand it up in a glass so it is easier to add while cooking.
In a large nonreactive saucepan (such as enameled cast iron or stainless steel), combine the sugar, peppers, and vinegar. Bring to a boil over medium-high heat, stirring to dissolve the sugar.
Once at a rapid boil that cannot be stirred down, boil for 1 minute, taking care it does not boil over.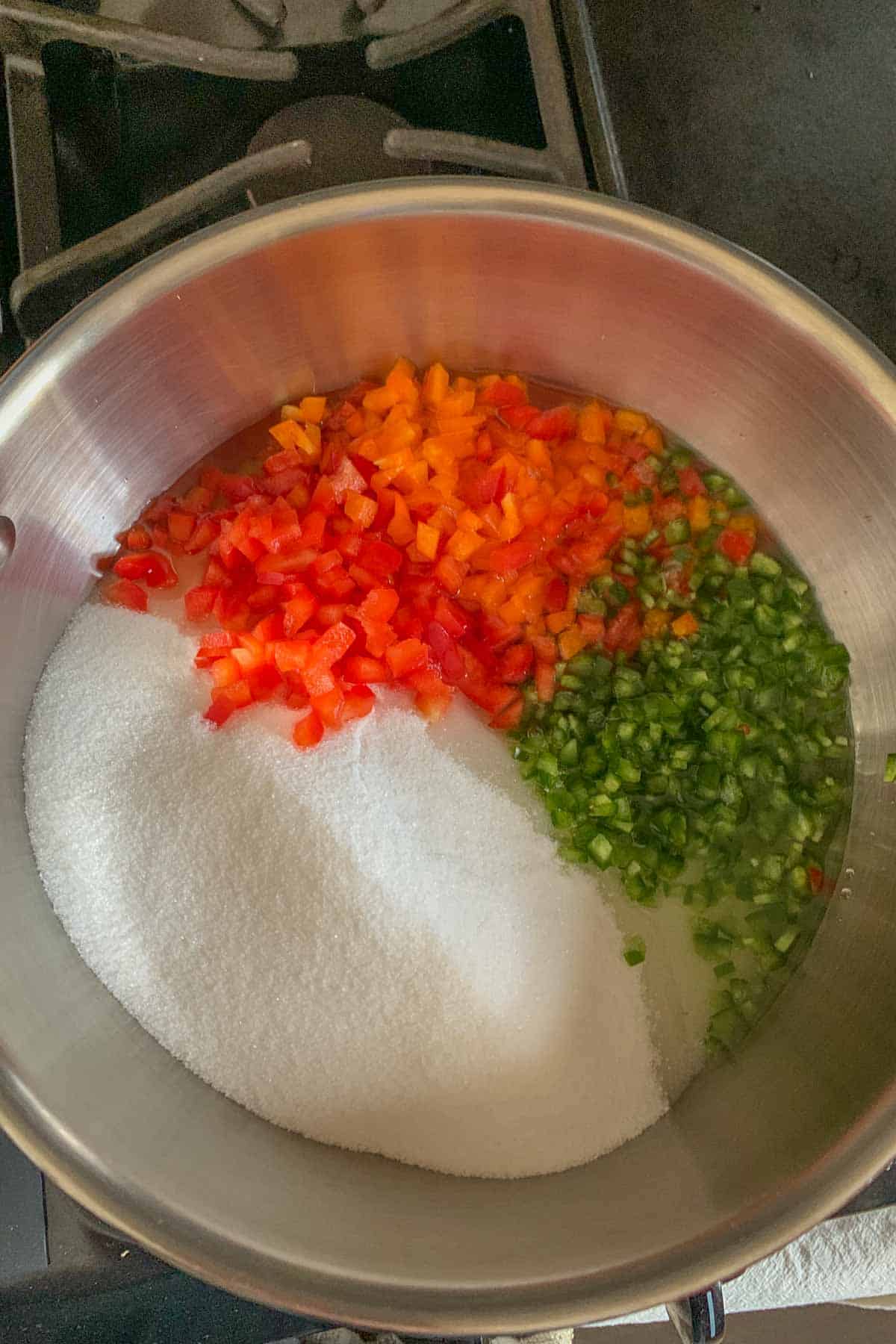 Pour in the pectin all at once and bring back to a boil, stirring constantly. Boil hard for 1 minute, then remove from heat.
Ladle the jelly into the jars, leaving 1/4-inch headspace at the top. Place on lids and screw on bands.
If not canning, let cool to room temperature, then label and place in the refrigerator.
How to prepare pepper jelly for canning
If canning, set a water bath canner or very large pot filled with water over high heat. Bring to a boil.
Cook the jelly as directed and ladle into jars. Place on the lids and screw bands on fingertip-tight.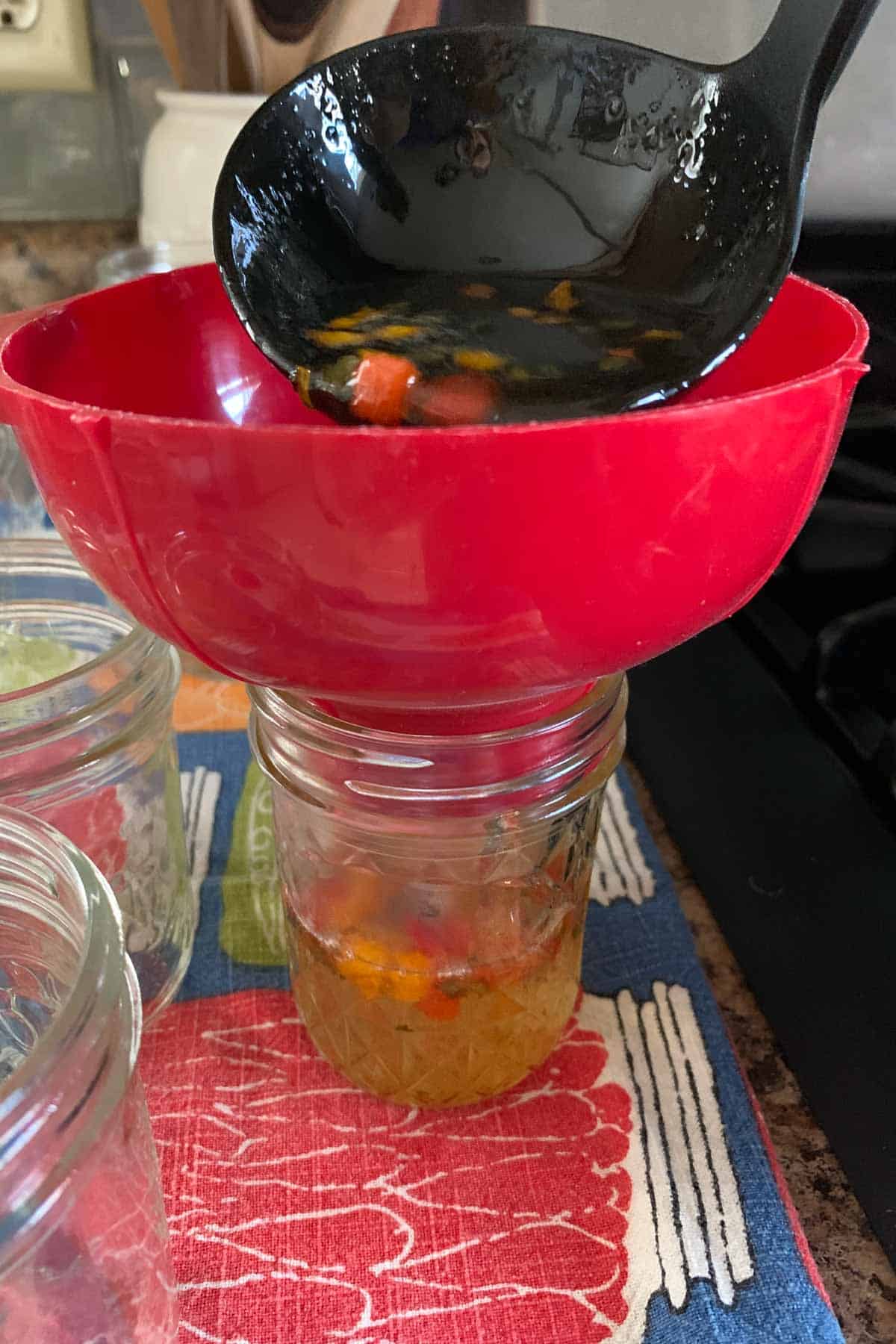 Using the jar lifter, carefully transfer the jars into the boiling water bath. Cover the pot and let boil (process) for 10 minutes. Turn off heat and let cool 5 minutes, then remove jars to a towel-lined surface.
Let the jars cool for 24 hours before labeling and transferring to the pantry.
As they cool, the center button on the lid will "ping," sealing the jar. If any jars do not seal, store in the refrigerator.
remember!
Do not store any jars that have not been properly sealed in a water bath canner in the pantry. They are not shelf-stable and can create unsafe bacteria.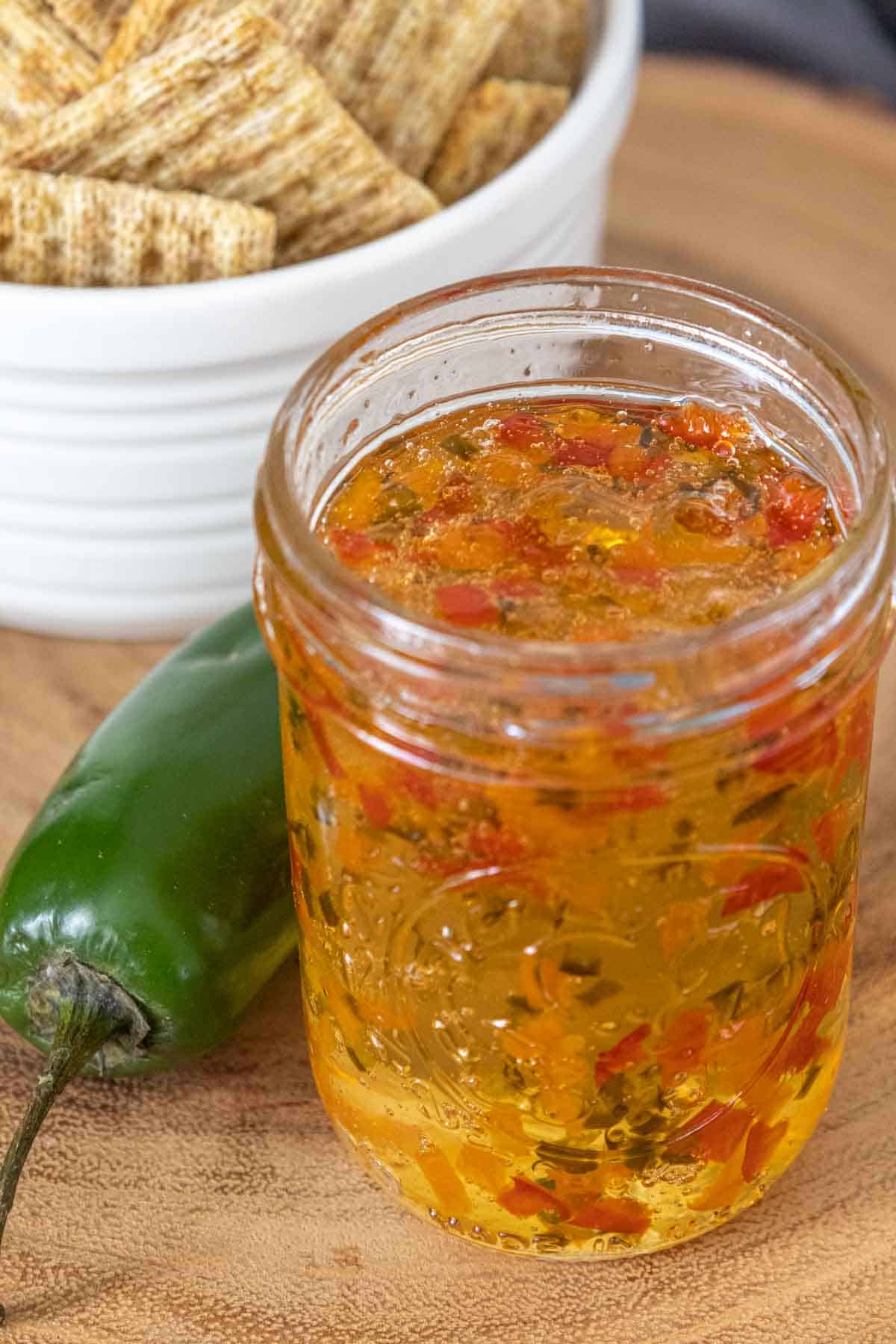 FAQ
Why did my peppers float to the top?
This is totally normal! Fruit often floats when making preserves due to the difference in viscosity.
You can help prevent this by stirring the jelly for about 5 minutes after removing from the heat and before pouring into the jars.
Or, if you are canning the jars, after removing them from the canner you can flip them upside down. Let the jars rest that way for about 20 minutes, then flip again. Repeat a few times to disperse the peppers as the jelly sets.
You can also stir the jelly after opening the jar.
My pepper jelly is too spicy/too sweet
Jalapeños have a Scoville rating of 2,000 to 8,000, which means they can vary a lot in heat! I recommend tasting your jalapeños before adding them to the jelly.
You can also guesstimate the heat level of the jalapeño by looking at the skin. More smooth peppers tend to be less spicy.
If you find that you've made your jelly too spicy, I recommend serving it with cream cheese to even out the flavor.
If it is too sweet, you can mix in chopped hot peppers when you serve the jelly.
How long does pepper jelly last?
Stored in the refrigerator, an opened jar of pepper jelly will last about a month.
If you have canned the jars, they will last stored in a cool dry place for about 18 months.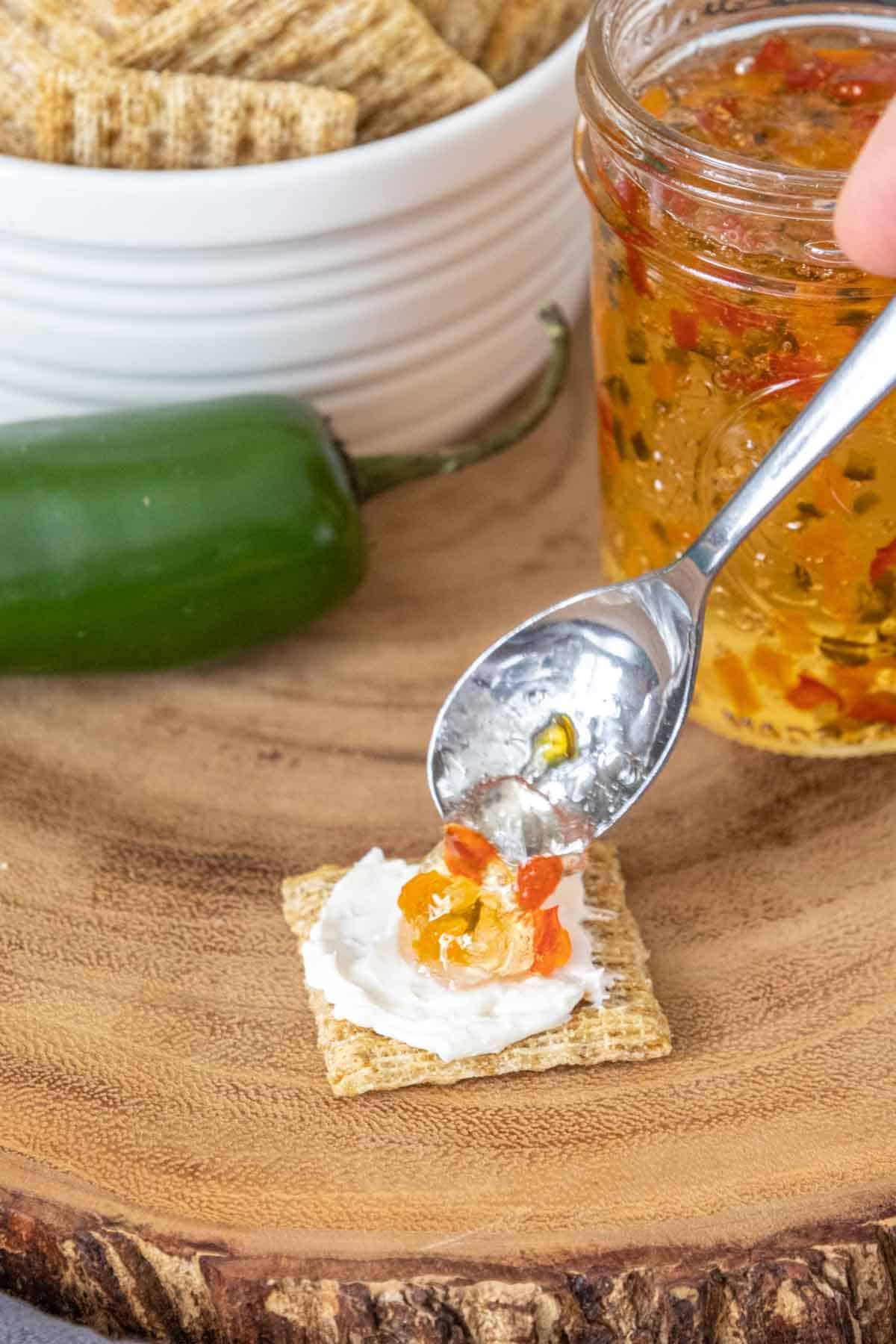 Ways to use jalapeño jelly
Jalapeño jelly is most commonly served with cream cheese, but there's lots of other ways to enjoy it.
Top a bison burger or hatch turkey burgers with jalapeño jelly. 
Add it to this cranberry cream cheese dip for a sweet-tart-spicy flavor. Or use it in place of the cranberries in cranberry brie bites.
Use it instead of traditional glazes for glazed ham or tuck it into roast beef sandwiches.
You can also serve it on a cheese board with your favorite cheeses and spreads. It goes great with aged cheddar and goat cheese alike!
Love this recipe? Please leave a 5-star review below! It means so much when you enjoy my recipes, so let me know how it goes and leave a comment if you have any questions.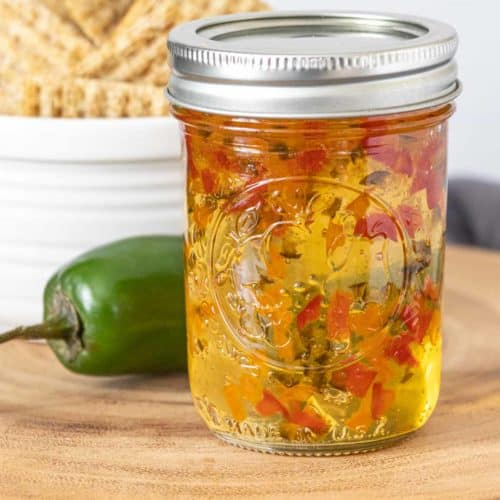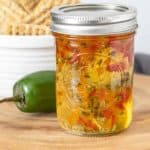 Jalapeño Jelly
Spicy-sweet jalapeño jelly is wonderful with cheese. Makes 4 8-ounce jars, or use 4-ounce jars for gift giving.
Print
Pin
Save
Saved!
Ingredients
1/2

cup

diced red bell pepper

1/2

cup

diced orange bell pepper

2

jalapeños

,

seeded and diced

3/4

cup

white vinegar

3

cups

granulated sugar

1

packet

liquid pectin
Instructions
Prepare jars by boiling them in a large pot of hot water while the jelly cooks. Set lids in a small pot of water and simmer.

In a large nonreactive saucepan, combine peppers, jalapeños, vinegar, and sugar and bring to a boil, stirring to help the sugar dissolve.

Boil hard for 1 minute, then pour in liquid pectin.

Bring the jelly back to a boil and boil hard for 1 minute, stirring, then remove pan from heat.

Remove jars from water and fill with jelly. Wipe rims, then place lids and screw on rings.

If not canning, let jars cool to room temperature, then store in the refrigerator.
For Canning
Process in boiling water for 10 minutes, turn off the heat, and let rest 5 minutes. Remove from water and let rest 24 hours. If any jars do not seal (the center button will pop down), store in the refrigerator.
Nutrition
Serving:
2
tablespoons
Calories:
38
kcal
Carbohydrates:
10
g
Protein:
0.03
g
Fat:
0.04
g
Saturated Fat:
0.002
g
Sodium:
0.3
mg
Potassium:
6
mg
Fiber:
0.1
g
Sugar:
9
g
Iron:
0.02
mg
Nutrition information is provided as a courtesy and is an estimate based on online calculators. Any nutritional information found on Stetted should be used as a general guideline only.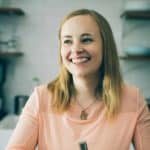 About Megan
I focus on fresh ingredients and easy methods, with spins that keep meals interesting. Dinnertime shouldn't be stressful or complicated, and I'm here to help you enjoy the time spent in the kitchen. Read more…