My husband told me his work potluck was coming up. "Can you make me some cookies?"
I looked at him. "Nooo," I said slowly. "You know how to make cookies."
Then I said I would make him a cake.
Queen of Sheba
In the quest to use all of my POM juice (seriously, why do I still have some around?!) I came across a recipe for Queen of Sheba cake a few months ago, figured I could use POM instead of liqueur, and tried to think of occasions in which it would be appropriate to make such a cake. (It's Wednesday didn't seem to fit.)
So this weekend I found the recipe again, tweaked it some, and made a ridiculous show-off cake perfect for a dinner party.
And then he didn't go. Long story, but it involves the toddler. Either way, it means this cake has been sitting in my kitchen for far too long, as the two of us have already polished off half of a cake that is meant to serve 12.
Send reinforcements. Send carrot sticks. Most importantly, someone please take this cake off my face.
Pomegranate Queen of Sheba Cake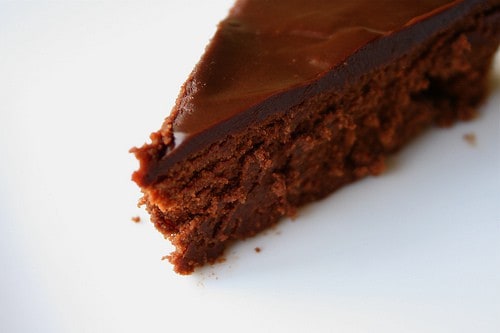 Ingredients
6 oz bittersweet chocolate
1 stick unsalted butter
1/2 cup pomegranate juice
3/4 tsp almond extract
1/8 tsp salt
1/2 C almond meal
2 tbsp all-purpose flour
4 large eggs , separated
3/4 C sugar
1/8 tsp cream of tartar
Instructions
Cover the bottom of a 9-inch cake pan with a round of parchment paper. Oil the entire pan, then dust with flour.

Preheat oven to 375°.

Melt the butter and chocolate together in a double boiler (or a bowl set over a pot of gently simmering water), removing from the heat when they are almost completely melted and stirring until smooth.

While the chocolate is melting, pour the pomegranate juice into a small saucepan and boil it down until it is reduced by about half.

To the melted chocolate, stir in the juice, almond extract, and salt, and set aside to cool.

In a small bowl, stir the flour and almond meal together, and set aside.

In a large bowl, whisk the egg yolks together with 1/2 cup sugar until well blended. Stir in the chocolate mixture.

Beat the egg whites and cream of tartar until they reach soft peaks. Gradually add the remaining 1/4 cup sugar and keep beating until they reach stiff peaks.

Fold the almond meal and flour and about 1/4 of the egg whites into the chocolate mixture. Once incorporated, fold in the rest of the egg whites.

Pour into prepared pan.

Bake for 25 minutes, or until a toothpick inserted about 1 1/2? from the edge comes out clean, but a toothpick inserted into the center still comes out slightly gooey.

Place the cake pan onto a rack and let it cool. It will deflate, but that is what is supposed to happen.

When cooled, invert onto a serving plate and remove parchment paper from top. Trim the top and edges if desired, then cover with chocolate ganache or a dusting of powdered sugar.
For more dessert inspiration, check out my Cake and Pie board on Pinterest!
Follow Megan Myers | Stetted's board Cake and Pie on Pinterest.