This post contains affiliate links. As an Amazon Associate, I earn from qualifying purchases.
If you love pickles, you'll need to keep this pickling spice recipe on hand! Made with pantry ingredients, it's ideal for pickling all your favorite veggies.
Have you ever come across a recipe for pickles that calls for pickling spice, and wondered, what the heck is that?
Or, if you are familiar with the prepackaged jars, maybe you've questioned if you really need to buy it.
The truth is, you probably already have all of the ingredients you need for homemade pickling spice in your spice cabinet!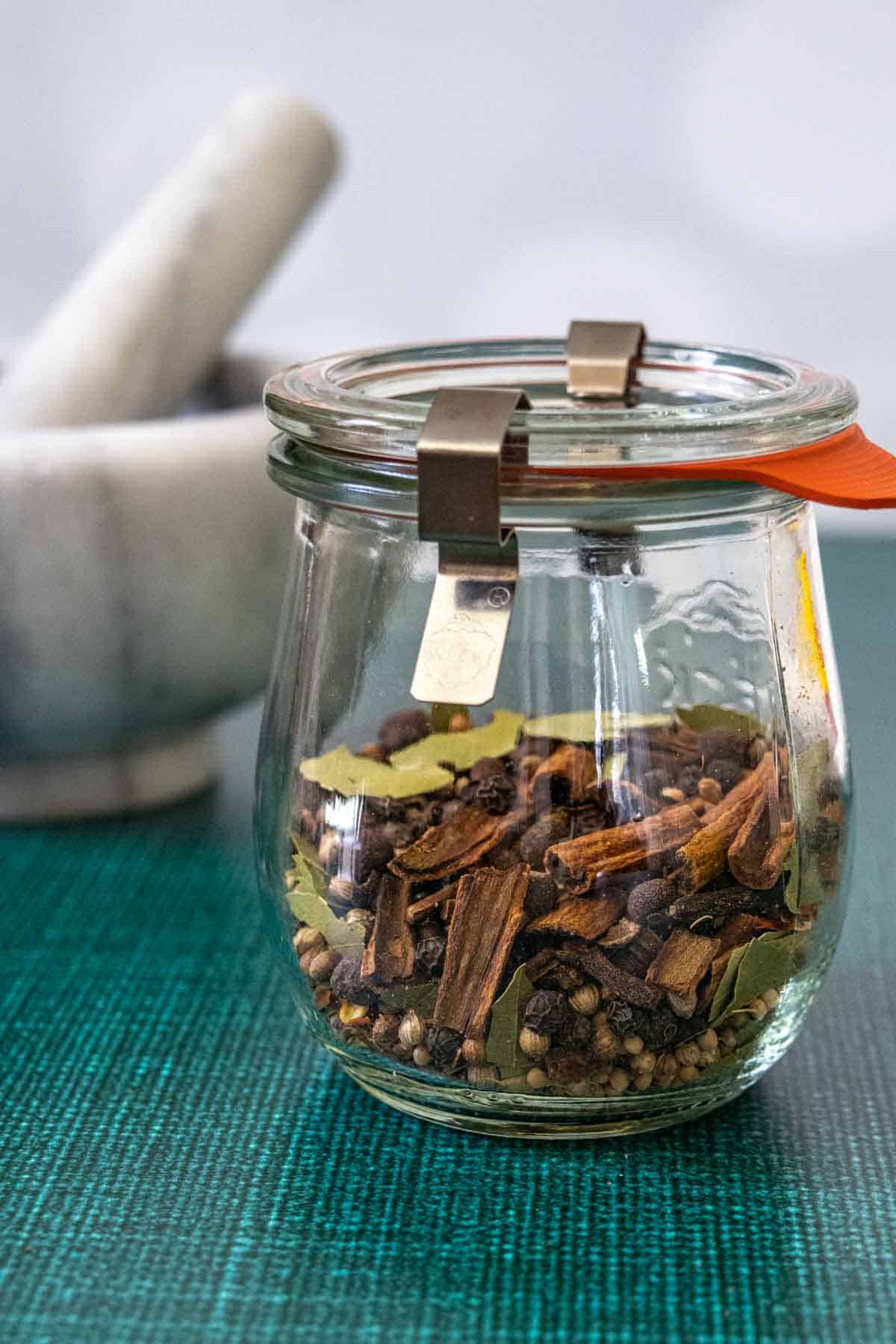 This easy blend is made with common spices and can be totally customized based on your preferences.
Just a few minutes of prep work, and it's ready to use in all your favorite pickles, from quick pickled cucumbers to pickled green beans.
Pickling spice ingredients
While pickling spice blends can vary, there are a few common ingredients in them all. These are what I use in my own blend.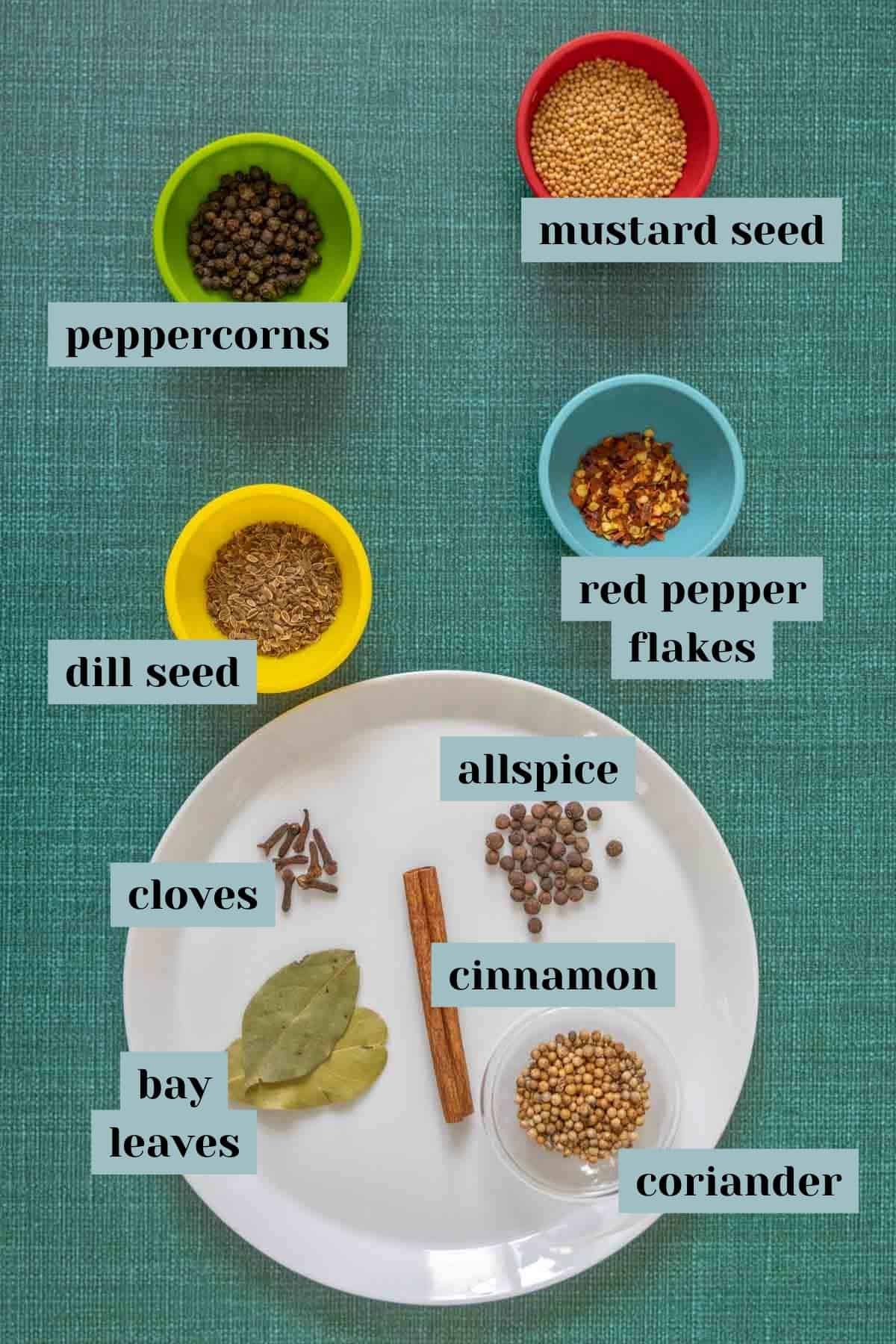 Mustard seed – Mustard seeds are used for more than just making mustard! They add sharp, pungent flavor to pickles.
There are multiple varieties of mustard seed; the most commonly found in the United States is yellow. You can use black or brown mustard seeds for a slightly different flavor.
Dill seed – Dill seed and dill weed are frequently used in pickling. While dill weed is used to make brightly flavored dill pickles, dill seed has more of an anise flavor.
Whole peppercorns – While peppercorns come in multiple varieties, black peppercorns are what we use for pickling spice.
This is the same peppercorn you'd use in your pepper mill.
Coriander seed – Coriander seed comes from the plant of the same name, though in the U.S. we usually call it cilantro.
Coriander seed (whole and ground) is a cooking staple in many cultures, and the seed has quite a different flavor than the fresh herb.
In fact, if you dislike the taste of fresh cilantro, you might actually enjoy coriander seed! It is warm, aromatic, and a little bit sweet, without the "soapy" taste some get from fresh cilantro.
Crushed red pepper flakes – Also known as crushed red chile flakes, you probably have these in your pantry for topping on pizza or pasta. They add heat to pickles, so if you like things hot, add more to your pickling spice recipe.
Whole allspice – These large dried berries are like a combination of cloves, nutmeg, and cinnamon, which is how it got its name.
Because this blend is also using cloves and cinnamon, you could omit the allspice if you prefer.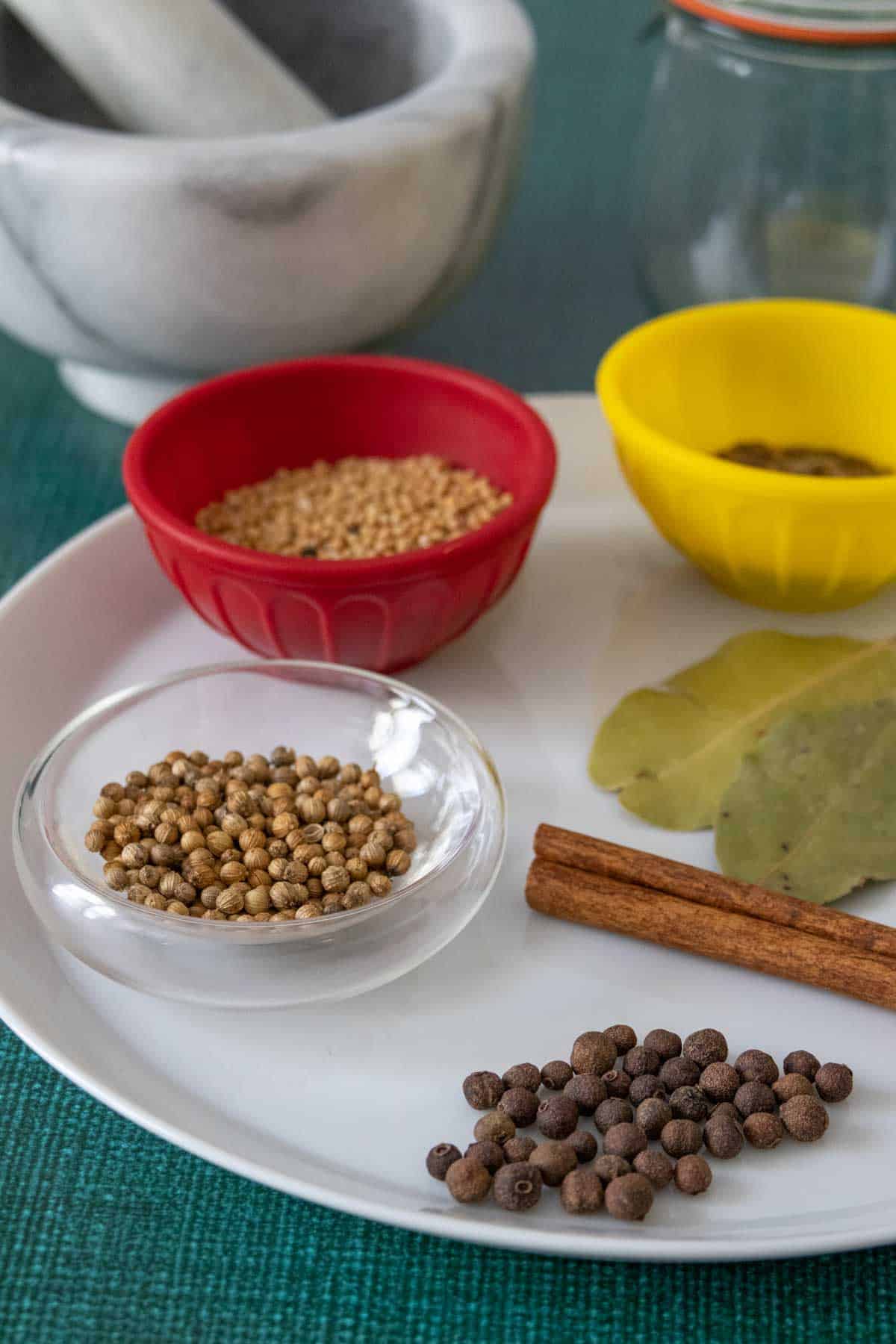 Whole cloves – Cloves are warm with both sweetness and bitterness, making them ideal in a wide range of recipes. They're wonderfully aromatic, which is why you often will see them stuck into citrus for holiday decorations, or added to homemade apple cider.
Bay leaves – Who doesn't have bay leaves lurking in their cabinet? While you don't want to eat bay leaves, they are a foundation-building spice.
Bay leaves add a slight bitterness that counteracts sweet or rich flavors for a smoother overall taste.
Cinnamon stick – For warm, woodsy flavor, I love cinnamon sticks.
Note that cinnamon sticks can sometimes be hard to break into pieces. Ceylon cinnamon has thinner layers and is easier to break, while Cassia cinnamon sticks are generally a thicker single rolled layer.
You can pulse cinnamon sticks a few times in a grinder to break up, or place in a sealed plastic bag and smash with a rolling pin.
How to make pickling spice
Now that you know what is in pickling spice, let's make it!
Grab the jar you plan to store the spice in. This pickling spice recipe makes about 1/3 cup of pickling spice, so a standard glass spice jar should be large enough.
I use a mortar and pestle to gently crush some of the seeds, but it's not a problem if you don't have one!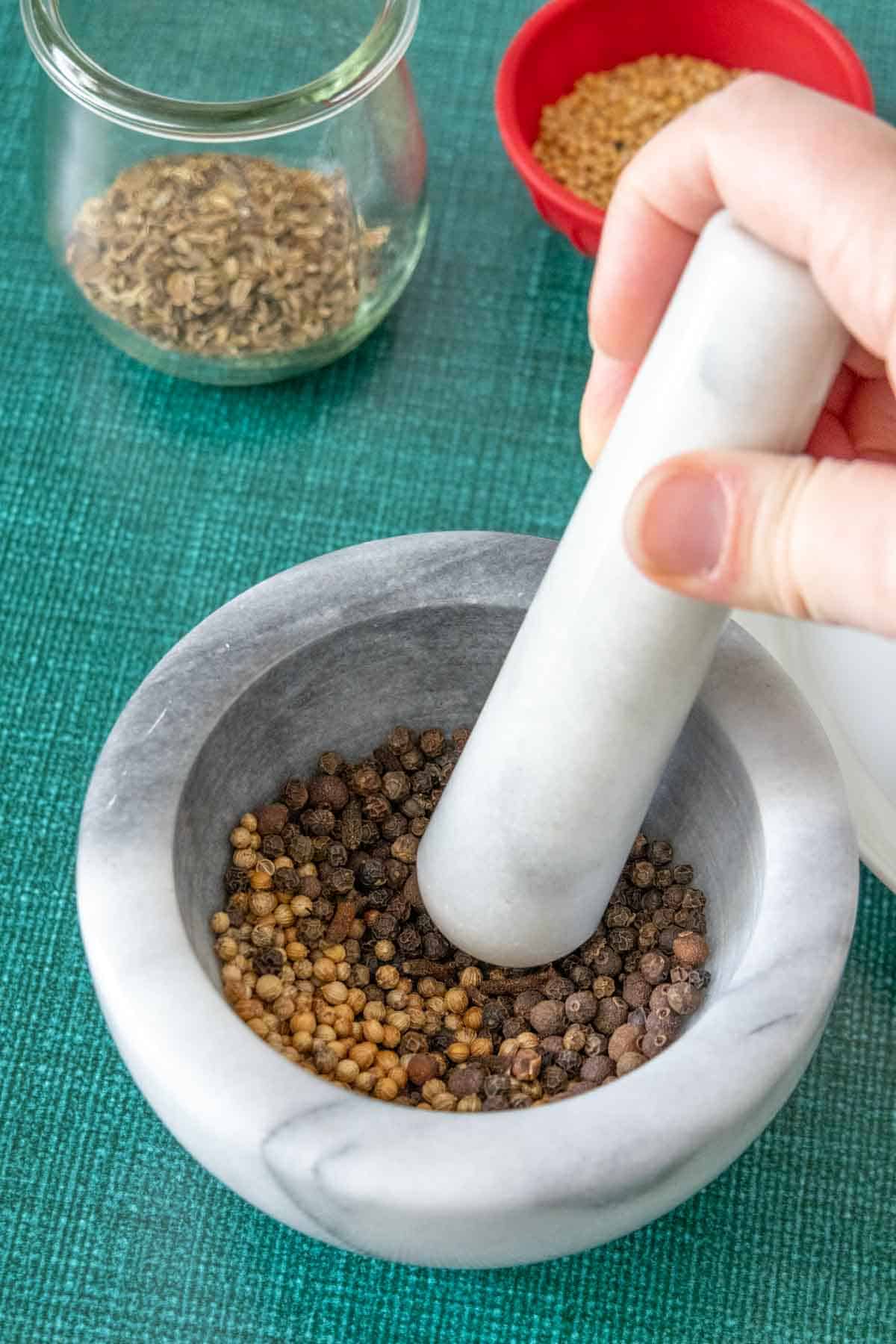 Grab two bowls (preferably metal or ceramic) that nest inside each other. Pour the spices into one, set the second bowl on top, and firmly press down to crush the seeds.
You can also place the spices in a ziptop bag, remove excess air and seal. Run a rolling pin over the bag to crush slightly. Be careful to not press too hard or the bag might tear.
tip
Use a coffee grinder to crush spices with just a few pulses. Remember to clean it well before and after to avoid flavor contamination.
Pour the seeds, pepper flakes, and crushed spices into the spice jar.
Break the bay leaves and cinnamon stick into small pieces with your fingers or with the mortar and pestle, then add those to the jar as well.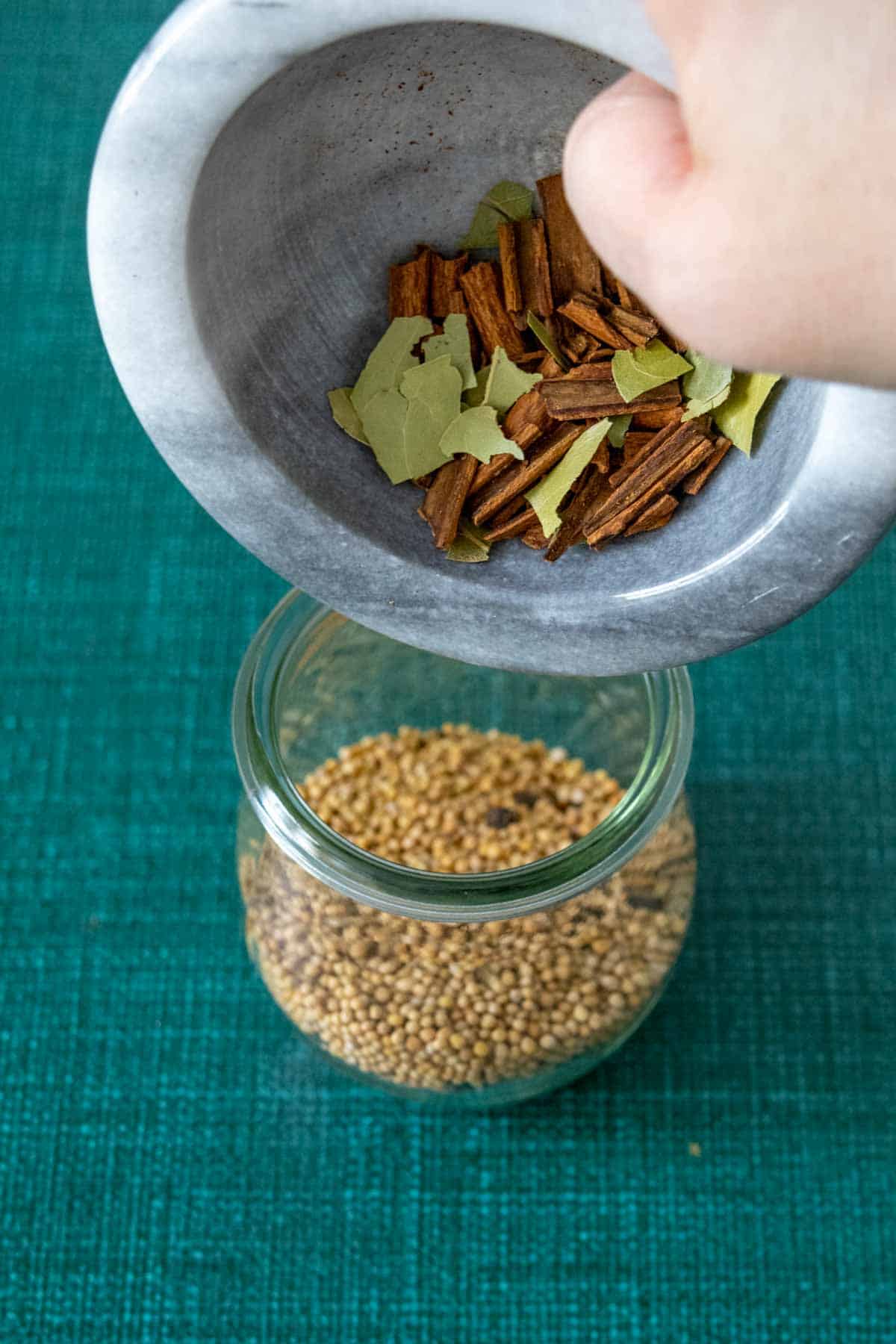 Note that you can skip crushing the seeds if you prefer (I like to do it so the spices release more into the pickle brine) but do not skip breaking up the bay and cinnamon.
Place the lid on the jar and shake well to distribute the spices evenly.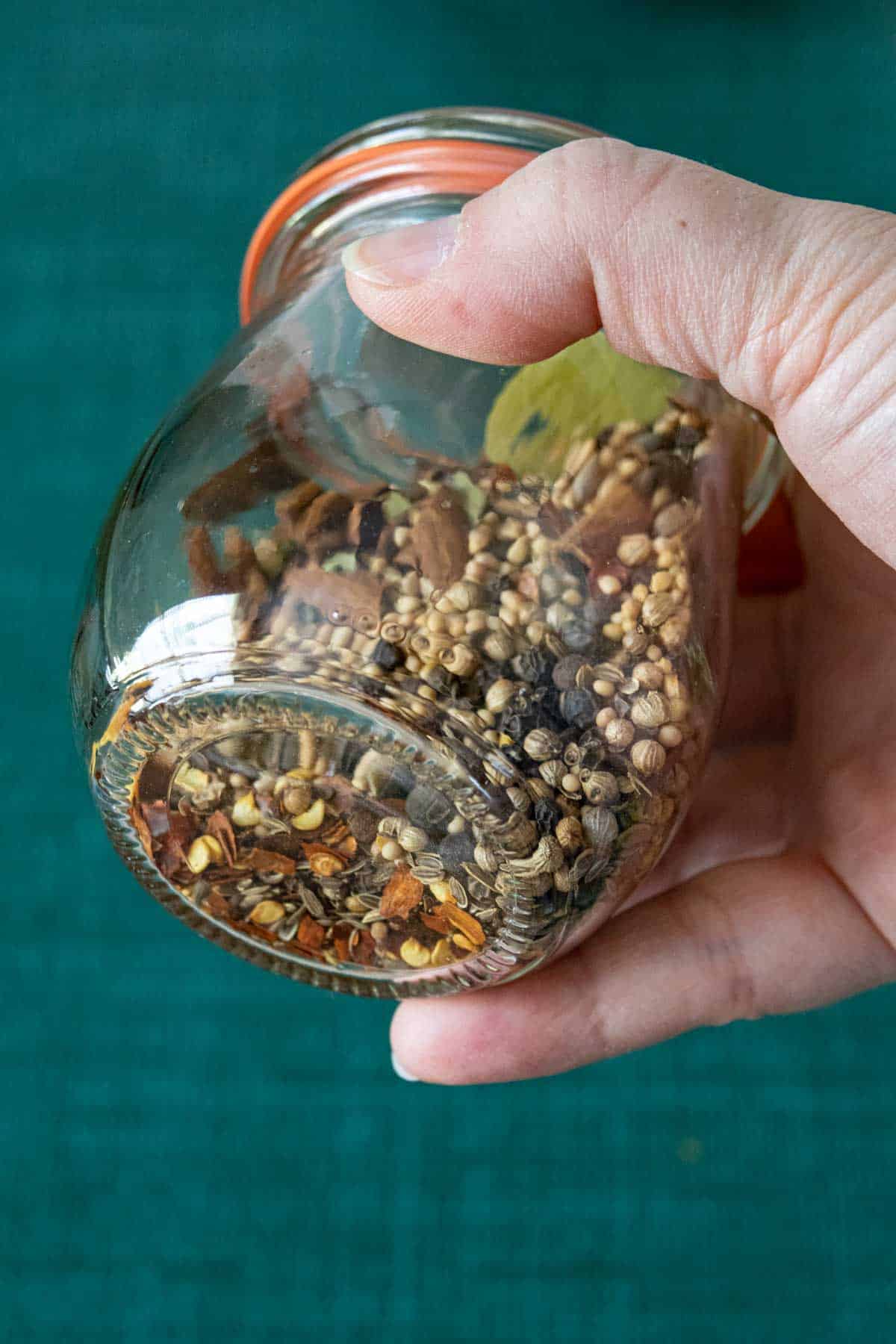 I recommend shaking it before using as well, to ensure you get a bit of every spice when measuring out what you need.
Storage tips
Because whole spices are used, pickling spice can stay fresher longer than ground spice mixes.
Keep your pickling spice in an airtight container such as a mason jar with tight fitting lid, spice jar, or even ziptop bag.
Spices should be stored in a cool dry place away from direct sunlight and heat. Try to not store spices directly over or alongside your stove, as it can degrade the quality of your spices much more quickly.
Stored well, this pickling spice can keep for 6 months to 1 year.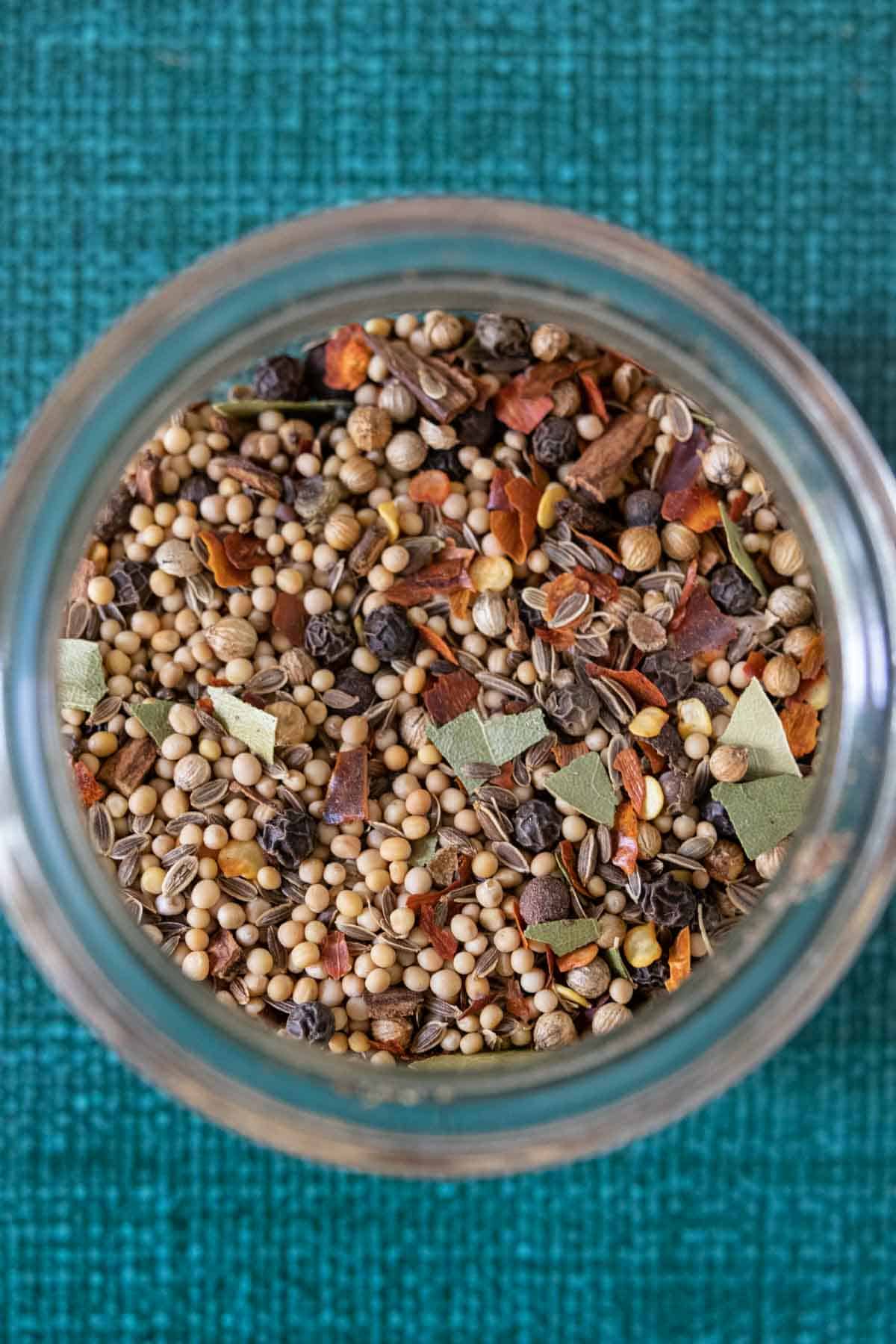 How to use homemade pickling spice
Homemade pickling spice can be used in any recipe that calls for it, such as pickled garlic.
You can also swap it in place of individually measured spices, adding to your taste preferences.
Remember to not swap out the sugar or salt! These ingredients are used in the brine.
Try this pickling spice recipe in these pickles:
It makes a great gift for a beginning home canner, too! Package it with a new set of jars, canning kit, and pickle fork.
Keep this pickling spice on hand for all your future pickle needs.
Love this recipe? Please leave a 5-star review below! It means so much when you enjoy my recipes, so let me know how it goes and leave a comment if you have any questions.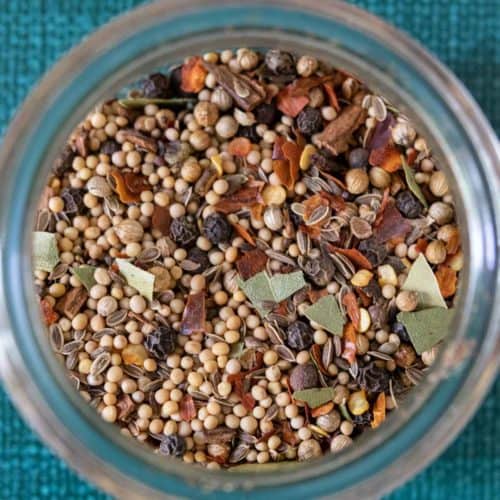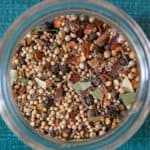 Pickling Spice
If you love pickles, you'll need to keep this pickling spice recipe on hand! Made with pantry ingredients, it's ideal for pickling all your favorite veggies.
Print
Pin
Save
Saved!
Ingredients
2

tablespoons

mustard seed

1

tablespoon

dill seed

1

tablespoon

black peppercorns

2

teaspoons

coriander seed

1

teaspoon

crushed red pepper flakes

1

teaspoon

whole allspice

8

whole cloves

2

bay leaves

1

stick

ground cinnamon
Instructions
Combine mustard seed, dill seed, peppercorns, coriander, red pepper, allspice, and cloves in a mortar and crush just slightly with a pestle, or leave uncrushed and pour into a jar.

Break the bay leaves and cinnamon into pieces and add to the jar. Screw on lid, shake well to evenly distribute the spices.

Store in a cool dry place and use in your favorite pickle recipe.
Notes
Makes about 1/3 cup.
Stored properly, will keep for 6 months to 1 year.
Nutrition
Calories:
10
kcal
Carbohydrates:
1
g
Protein:
0.4
g
Fat:
0.5
g
Saturated Fat:
0.04
g
Sodium:
2
mg
Potassium:
26
mg
Fiber:
1
g
Sugar:
0.1
g
Iron:
0.3
mg
Nutrition information is provided as a courtesy and is an estimate based on online calculators. Any nutritional information found on Stetted should be used as a general guideline only.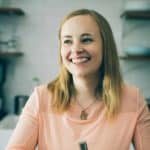 About Megan
I focus on fresh ingredients and easy methods, with spins that keep meals interesting. Dinnertime shouldn't be stressful or complicated, and I'm here to help you enjoy the time spent in the kitchen. Read more…