This post contains affiliate links. As an Amazon Associate, I earn from qualifying purchases.
Everyone loves pie. Everyone loves pizza. I don't think everyone is quite sold on quiche yet, but it turns out if you call something a pie it turns from "Ewwww!" to "Yum!"
At least among the under-4 set.
This recipe uses more liquid than I typically use for quiche, but I might have to switch over. This quiche is so light and fluffy, and when it comes out of the oven it is gorgeously puffed up. Kale isn't typically a pizza topping, but I never pass up an opportunity to throw it into something I can get my kid to eat.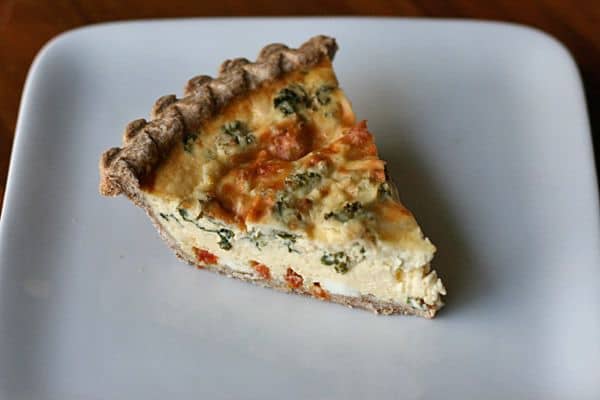 The tomatoes and pepperoni do sink to the bottom and the kale floats on top for the most part. This is not to the quiche's detriment. After all, you're not going to eat it in layers, are you? That would be weird.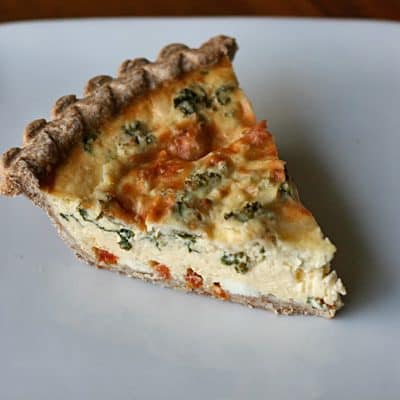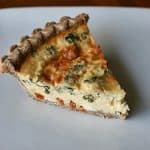 Ingredients
1

prepared pie crust in 9-inch pan

6

eggs

3/4

cup

cream

1/2

cup

milk

1

cup

kale

,

torn into bits

10

slices

pepperoni

,

diced

1/4

cup

sun-dried tomatoes

,

diced

1/2

cup

shredded mozzerella
Instructions
Preheat oven to 350°F.

In a large bowl, beat eggs until frothy. Add milk and cream and stir well.

Scatter kale, pepperoni, and tomatoes in crust. Pour over egg mixture, and stir toppings to evenly distribute.

Sprinkle cheese over the top, and bake for 40-45 minutes, until top is puffed and golden brown.
Nutrition
Calories:
370
kcal
Carbohydrates:
19
g
Protein:
13
g
Fat:
27
g
Saturated Fat:
13
g
Cholesterol:
232
mg
Sodium:
328
mg
Fiber:
2
g
Sugar:
3
g