This post contains affiliate links. As an Amazon Associate, I earn from qualifying purchases.
It is cold down here.
OK, it's not COLD like I remember in Wisconsin, where your eyelashes would freeze and your nose would run and then that would freeze too, and school only got canceled once the windchill hit -50. True.
But I've gotten used to the weather in Texas the past 4.5 years, and I quite like it. So these windy days with morning temps down in the 20s has gotten me shivering again. I just don't know how to handle it anymore.
Good thing there is always food to fall back on.
One thing I remember having a lot as a kid was potatoes and onions, sauteed with a ton of butter on the stove. Everything would caramelize and it was just the perfect thing to have alongside meatloaf.
Oh, man. Just thinking about it makes me want some. (And now that I think about it, I want some Hot Buttered Crispix too. Anyone else do that?)
Of course, since I'm not eating meatloaf these days, a bigger helping of potatoes and a salad will have to do.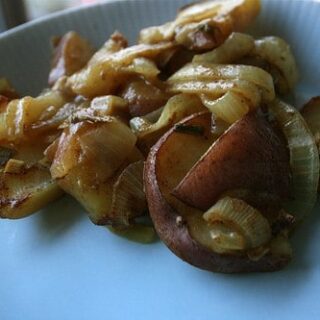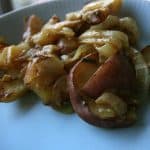 Ingredients
1/2

teaspoon

cumin powder

1/2

teaspoon

ground coriander

1/2

teaspoon

ground cardamom

1/2

teaspoon

ground cinnamon

1/2

teaspoon

grated nutmeg

1/2

teaspoon

chili powder

1/2

teaspoon

turmeric

2

pounds

potatoes

2

medium onions

1/2

cup

canned coconut milk

5

shoots green garlic

,

bulb and all; if you don't have green garlic just use 2 cloves garlic

1

tablespoon

ginger

,

grated

1

cup

vegetable broth

1/2

teaspoon

salt
Instructions
Preheat oven to 350°F.

Blend the spices together and set aside.

Peel and slice the onions and potatoes into rounds 1/4 inch thick and put in a large bowl.

Combine the coconut milk, garlic, ginger, and spice mix. Drizzle over potatoes and onions and toss to coat.

Spread the vegetables in an even layer in a shallow 11×7 baking dish. Pour the stock over the top, and sprinkle on the salt.

Bake for 1 1/2 hours, until thoroughly cooked and browned on top.
Nutrition
Serving:
1
Servings
Calories:
154
kcal
Carbohydrates:
29
g
Protein:
4
g
Fat:
3
g
Saturated Fat:
3
g
Sodium:
235
mg
Fiber:
3
g
Sugar:
3
g