Strawberry lemonade cake needs no frosting to make it shine. The sweet-tart flavor is perfect for spring gatherings.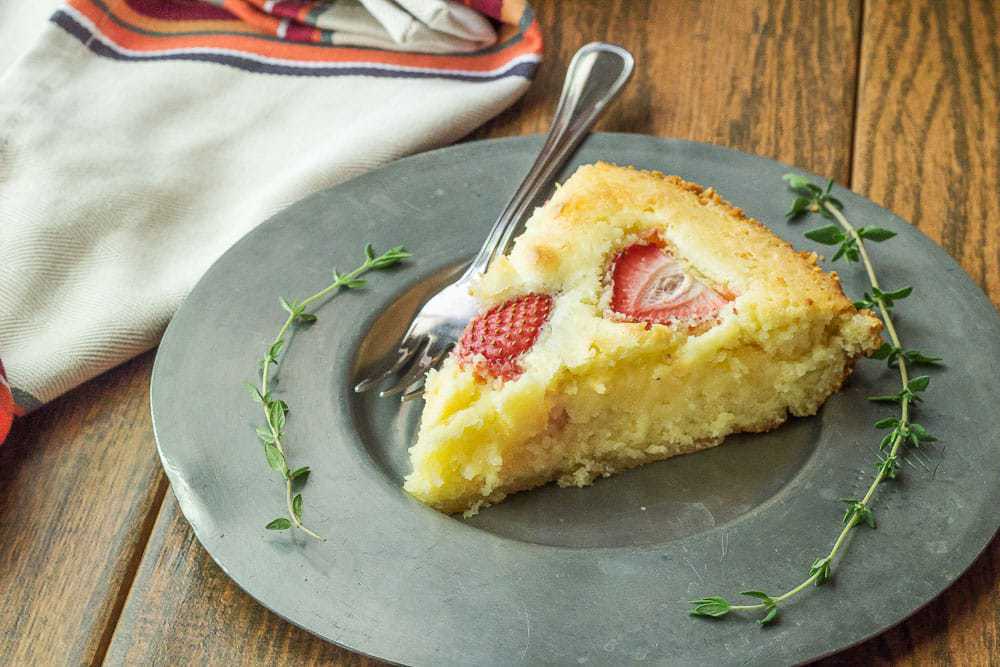 I'm always a little apprehensive when my birthday rolls around. It's not that I'm hearing the drumbeats of the march of time; it's just that nervousness that comes from hoping you don't get dragged to a surprise party and pee yourself when everyone jumps up, or worse, frowns and sighs.
I'm a classic Taurean introvert who doesn't like surprises (but still wants to be fussed over) so I like to make my own birthday cake. This usually works out pretty well because I can actually make the flavor I want, never mind the kids' tastebuds, and I know it will actually turn out. Not that I didn't appreciate the chocolate-zucchini-raspberry cake my husband and son made me one year.
This year I had been thinking about doing something with strawberries, and I recalled how much I liked the fig and nectarine cake I made in the fall. It already heavily featured lemon, so I thought a strawberry lemonade cake was just the thing for my birthday.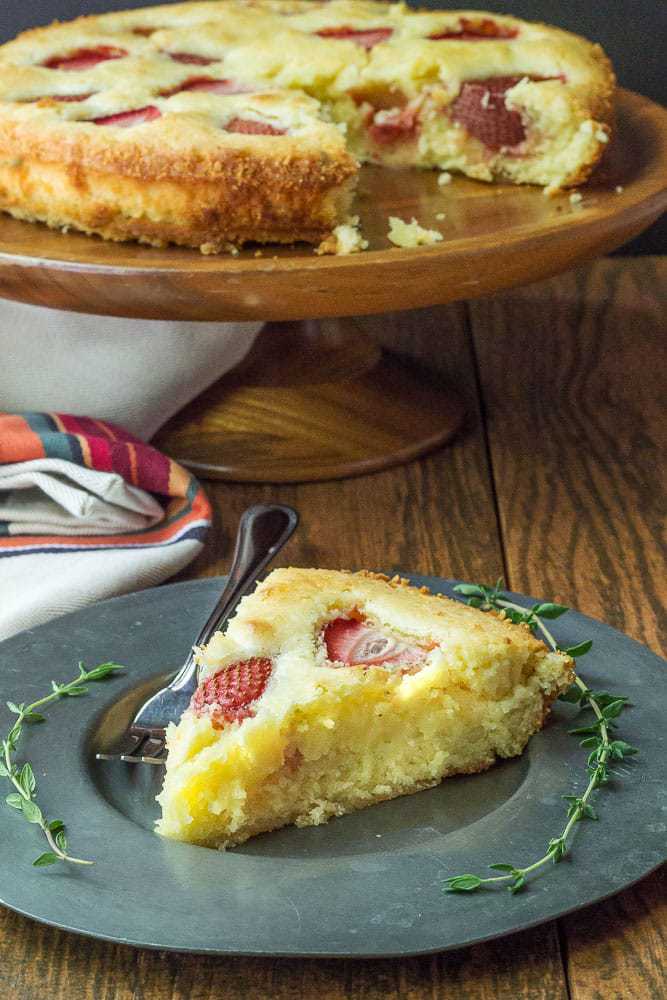 I also decided to add a light bit of herbal taste to this cake. I like to add herbs to my lemonade anyway, so it only seemed fitting. Right now our garden is full of herbs in preparation for summer and house showings, so I decided to use delicate thyme. You can skip the thyme if you like, or try mint instead.
Now, I baked this strawberry lemonade cake for a bit less time than the fig and nectarine cake, and didn't bother with changing the oven temperature halfway through. As this cake doesn't use baking powder or baking soda, you get a denser, tart cake that actually reminds me of frangipane, despite the complete lack of almonds.
You can use more strawberries if you like, but adding more will also add to your baking time to account for the additional moisture. Gently press them into the top of the batter; they will sink slightly but still be visible, so create a pretty pattern if you like.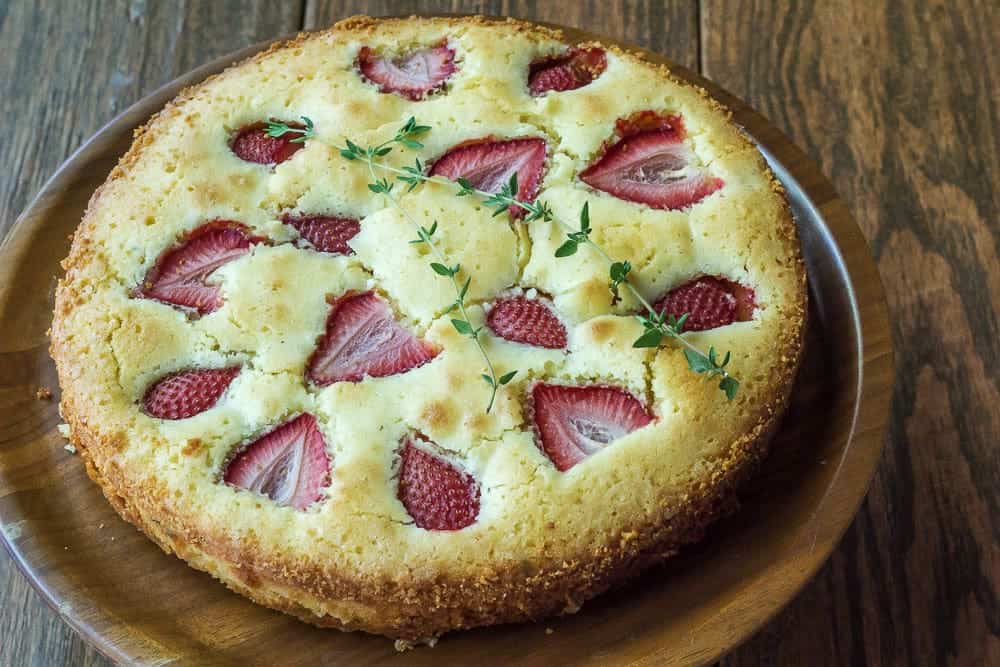 You can serve this strawberry lemonade cake with vanilla ice cream, whipped cream, or just on its own. It doesn't really need anything else —  except maybe someone to celebrate with.
Strawberry Lemonade Cake
Strawberry lemonade cake needs no frosting to make it shine. The sweet-tart flavor is perfect for spring gatherings.
Prep Time: 15 minutes
Cook Time: 50 minutes
Total Time: 1 hour 5 minutes
Course: Dessert
Servings: 8 servings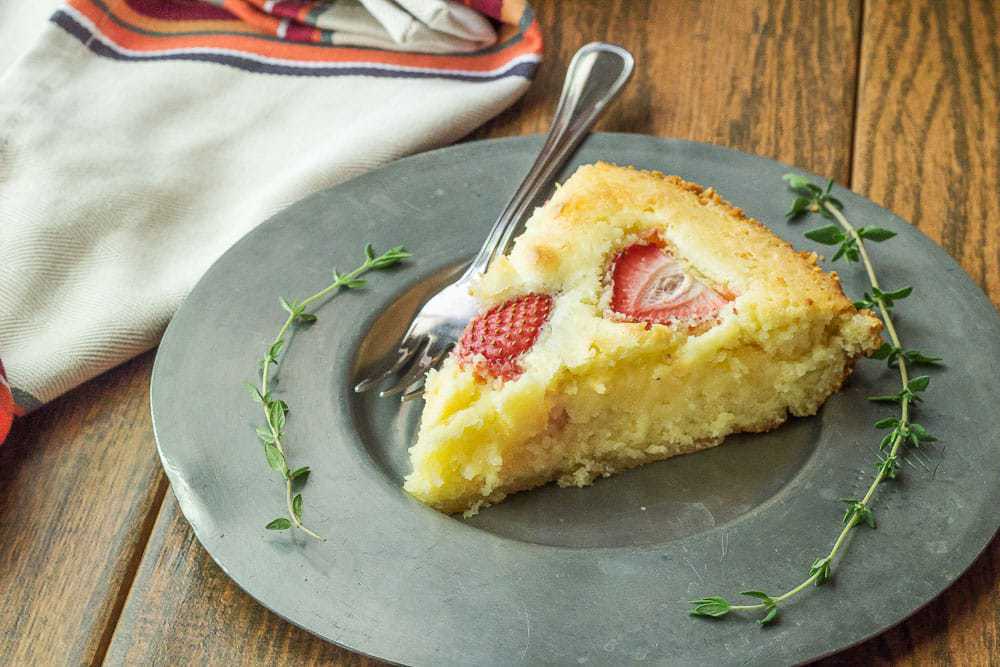 Ingredients
Dry bread crumbs , for dusting
1 1/2 cups granulated sugar
3 large eggs
1 stick unsalted butter , melted
3 lemons
1 tablespoon fresh thyme
1 1/2 cups all-purpose flour
8 ounces strawberries , hulled and halved
Instructions
Preheat the oven to 350° F. Butter a 9-inch springform pan and coat with bread crumbs. In a bowl, using a handheld mixer, beat the granulated sugar and eggs at high speed until fluffy, about 2 minutes.

Beat in the butter. Zest the lemons and set aside 1/3 of the zest. Beat the remaining 2/3 zest and the thyme into the batter.

Juice the lemons and remove seeds. At low speed, alternately beat in the flour and lemon juice until almost incorporated. Using a rubber spatula, gently fold the batter until smooth.

Scrape the batter into the prepared pan and smooth the surface. Gently press in the strawberries.

Bake the cake on the bottom third of the oven for 45-50 minutes, until a cake tester inserted in the center comes out clean with a few crumbs attached.

Transfer the cake to a rack to cool. Run a thin knife around the edge and release the springform. Sprinkle with the remaining lemon zest, cut into wedges and serve.
Nutrition facts per serving
Calories: 377kcal
Fat: 13g
Saturated fat: 7g
Cholesterol: 91mg
Sodium: 126mg
Potassium: 152mg
Carbohydrates: 61g
Fiber: 2g
Sugar: 39g
Protein: 5g
Vitamin A: 9.9%
Vitamin C: 47.9%
Calcium: 3.5%
Iron: 10.5%